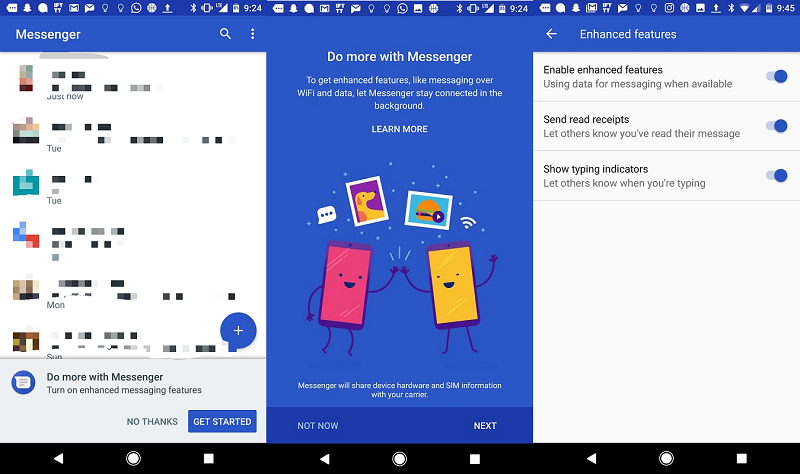 Google has started Rich Communication Service (RCS) roll out for select Google Messenger users. The update brings all the features of RCS to the standalone text messaging app from Google that was launched in 2014.
For those unaware, RCS is a new standard for carrier messaging which brings features such as group chats, high res photos, support for emoticons, location sharing, and exchanging files and more. Some users are getting alerts about the new Google Messenger RCS features with popup messages. The app gets three new toggle settings: "Enable enhanced features", "Send read receipts" and "Show typing indicators". The report says the RCS features have been enabled with Sprint customers who have a Google Pixel XL and Nexus 6P. It also points out that carriers have to support RCS on their networks.
Google had acquired Jibe Mobile in October last year to adopt RCS standard. Earlier this year in February, Google teamed up with large number of global operators to accelerate the availability of RCS on Android devices.
Google Messenger changelog:
Messenger has been completely redesigned to make conversations easier, faster, and more fun.
Here are a few of the new features:
Simple design, quick photo sharing, and top contacts one tap away
Enhanced features that let you send messages over Wi-Fi or your data network, see when friends are typing, and more (some carriers only)
Unread messages indicator on your Messenger's home screen icon (some Android phones only)
Android N compatibility