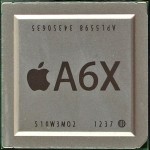 A new report from AFP claims that Taiwan Semiconductor Manufacturing Company (TSMC) will being trial production of Apple's A6X chips sometime this quarter. The chip is currently used in the fourth generation iPad. By doing so, this will reduce Samsung's role in Apple's supply chain significantly.
The Taiwanese company has been contracted to manufacture the A6X chip, which drives Apple's iPad4 tablet, with trial production set for the first quarter of this year, Taiwan's Commercial Times reported.

The move is the latest in a strings of efforts by Apple to switch mass manufacturing contracts away from Samsung, it said.
Apple has been long rumored to switching its mobile chip manufacturing from Samsung to TSMC. The iPad maker, has been interested to remove Samsung's presence from its iOS devices as the companies are involved in a number of patent infringement lawsuits around the world. The entire transition from Samsung to TSMC chips is expected to take as long as 18 months to complete.