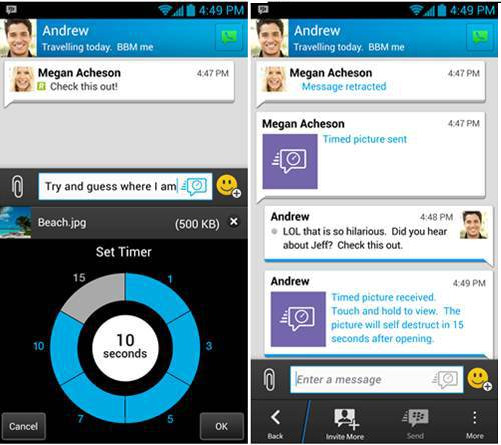 BlackBerry has rolled out an update for its BBM app on BlackBerry 10, Android and iPhone that gets new privacy features such as  Timed Messages feature that lets you set a timer to control how long messages and pictures you share with contacts can be viewed and Message retraction feature that lets you cancel the message in case if you had sent it to the wrong person. Both these features were rolled out for limited beta users on Android and BlackBerry 10. 
The update also brings high quality image trasfers and option to see what music your contacts are listening to in BBM Feeds. The BlackBerry 10 app also gets BBM Bulletins to learn about the latest BBM products and services and improvements to BBM feeds that now lets you see how many new updates are in BBM feeds since you last checked.
New features in BBM for BB 10, Android and iPhone
Timed Messages: Set how long contacts have access to messages and pictures shared in a chat
Message Retraction: 'Retract' a message to remove it from your BBM chat
A quicker sticker picker: Adding stickers to your BBM chats is now even quicker with a new picker
HD Picture Transfer: It's easier than ever to get a high quality version of the pictures you receive in BBM
Discover Music: See what music your contacts are listening to in BBM Feeds.
These new features have already started rolling out for Android and BlackBerry 10 devices and would roll out for iPhone users soon. Timed Messages and Message Retraction are premium features that will be available free and without restriction to BBM users over the next three months. After this time, unrestricted access to these features will become part of a broader bundle of features that will be offered as part of a BBM subscription, says BlackBerry.