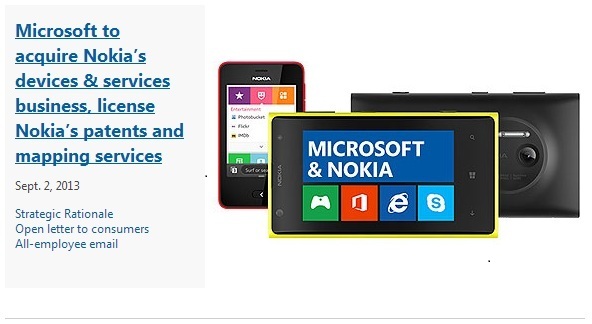 By now, you've likely read about Nokia's Devices and Services division being acquired in a deal by Microsoft. You've also likely read about the movement of CEO Stephen Elop amongst others back to Redmond and Microsoft. What has been less clear is the fallout likely to come from this deal as well as the reasoning behind this acquisition.
Thankfully, Microsoft has outlined, in as general sense as possible, their rationale for the deal and it includes some rather enlightening pieces of information. The full PDF can be viewed at the source link below but the following key takeaways can be found below.

Possibly fearing a Samsung-esque situation with Windows Phone as is being experienced with Android, coupled with the imminent expiration date of their initial strategic partnership (2014). Worryingly few OEM's were contributing serious attention and effort to Windows Phone, in spite of languishing market and subsequently financial performance for those prioritizing the Android platform.

The Nokia brand has NOT been licensed by Microsoft for use on smartphones, solely feature-phones. Could mean that the Lumia brand is spared but it could also mean that it provides the opportunity for Nokia to move into smartphones in the future with little to no confusion. That said, rumors abound that Nokia (the separate entity not what is being acquired by Microsoft) is precluded using the Nokia name on any smart devices until 2015.

Nokia's patent licensing and other deals with major players like Motorola, Qualcomm, Kodak, Apple etc will all be assigned to Microsoft for the duration of their current terms
The deal expected to close within the next 6 months(early 2014) and Microsoft is hoping for a few knock-on effects, including much faster Time-to-Market in addition to lowered cost and higher gross margins.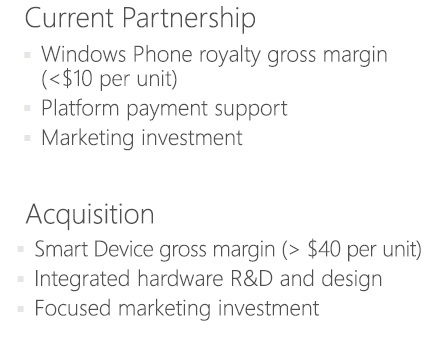 With these lowered costs, Microsoft projects a break-even target of 45 million devices annually, a seemingly low number compared to their competition, but would require an increase of ~35% on Nokia's most recent quarterly run-rate in addition to incredible stability or significant increase in sales during the holiday period.
The overall aim for Microsoft  being to occupy at least a 15% share of the market by 2018 contributing $45 Billion to Microsoft's bottom line, bring new experiences and services to their users and increase the degree of synergy between the consumer-facing options in their portfolio
It will be incredibly interesting to see what else comes to the fore after Stephen Elop and Steve Ballmer address the media and investors later today.
We'll keep you briefed as the news comes in.
Source: Microsoft News