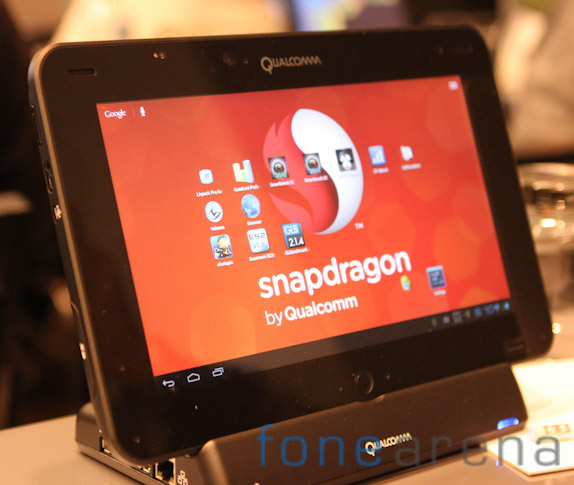 At the Mobile Benchmarking Workshop here in San Francisco , Qualcomm showed off it's next generation Quadcore mobile processor – the Snapdragon S4 Pro (APQ 8064) .  And guess what Qualcomm just did not make just a boring announcement about a chipset and that the devices using the chip will be in the market later this year. But , Qualcomm let us use a tablet (prototype obviously ) which uses the new quadcore chip with 4 Krait cores along with the new Adreno 320 GPU. We ran a lot of tests on this device and this device hit the ball out of the park in most cases.Interesting  numbers are reported below.
Here are the specification of the device we played with
Snapdragon S4 Pro APQ8064 MDP/T ( Mobile Development Platform) / Tablet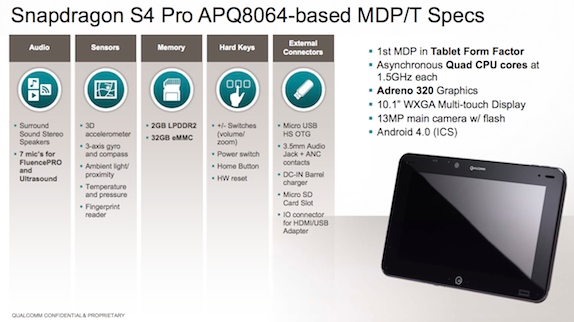 Highlights
4 Asynchronous Quad CPU cores running at 1.5GHz
Adreno 320 GPU
10.1 inch display
13 Megapixel Camera with Flash
1080p video capture and playback
7 microphones
2GB of RAM and 32GB of inbuilt storage
Android 4.0 ICS
5200 mAh battery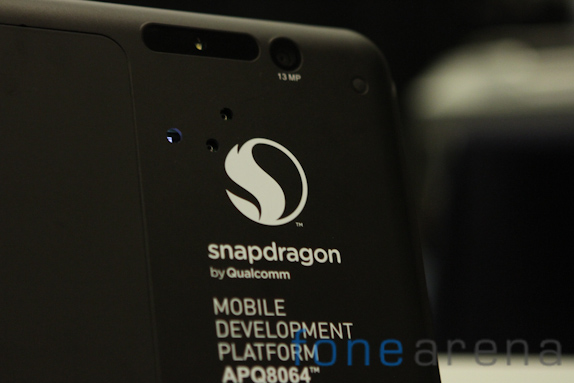 Here is where the S4 Pro stands in the Snapdragon lineup of processors from the company.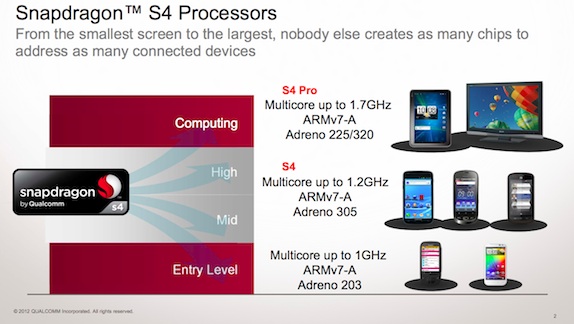 Qualcomm says that each core on the APQ8064 CPU can be clocked at a different frequency based on the load/usage and that the 5th core used for power saving is not necessary. This is being called Asynchronous Symmetric Multiprocessing or aSMP which allows each CPU to be run at a different voltage and frequency thereby saving power when the phone is in standby or on a phone call and all the 4 cores kick in when playing a resource intensive game.The company said that the Quadcore CPU has been designed to deliver all  day battery life.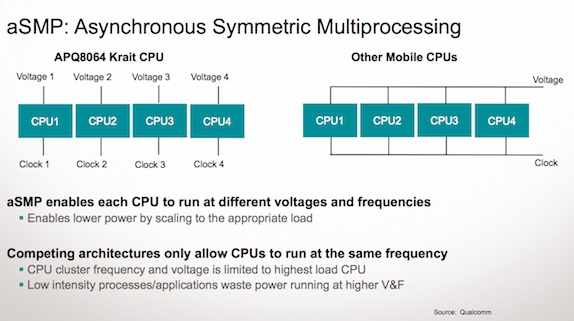 All new Adreno 320 GPU
Qualcomm is also introducing an all new Adreno 320 GPU along with the new Quadcore CPU. Adreno is the name of the integrated GPU (Graphics Processing Unit). If you have used a personal computer, the term GPU might sound pretty familiar to you especially if you are into gaming. Most smartphones and tablets in the market today pack a GPU the best example being the new Apple iPad.Other GPUs in the mobile market include GeForce and PowerVR.
Below is an illustration from a game running on the previous generation Adreno 225 GPU and the new Adreno 320 GPU. Qualcomm claims that the graphics processing capacity on the Adreno 230 is 3 to 4 times more than the Adreno 225. There is support for displays beyond HD and I wonder what kind of resolutions we might see on tablets and mobile phones in the coming years.
If you wonder why a GPU is essential on a mobile device, you can check out the use cases below.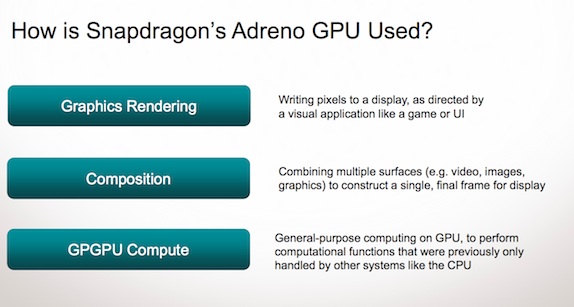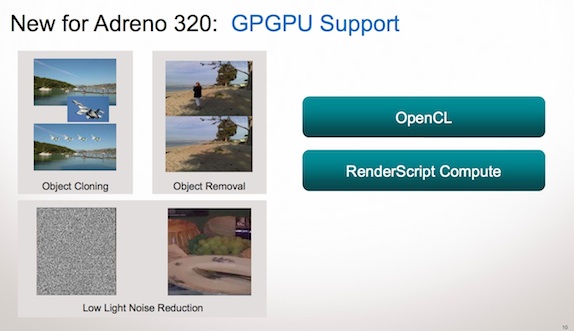 What got me most excited about the new GPU is the support for a Object Cloning , Object Removal and Low Light Noise reduction. Object Removal is so awesome in scenarios when there is an obstacle when you click a photo and you cant really go back and click another photo. Scalado showed off a similar offering earlier this year called Scalado Remove. Most Android phones and tablets have pretty bad camera performance in low light and things might change.
Performance
Here is a quick test on Quadrant benchmark and it managed to score an awesome score of 7641 points, the best we have seen for a device till now.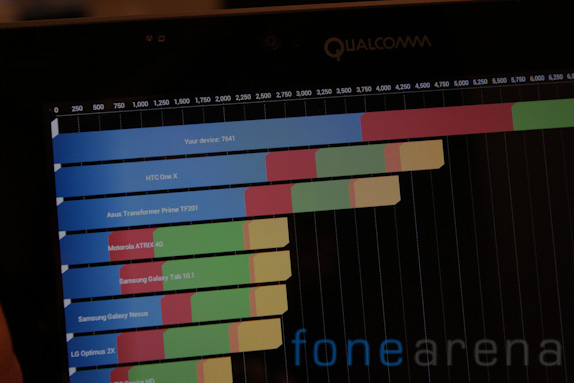 Smartbench 2012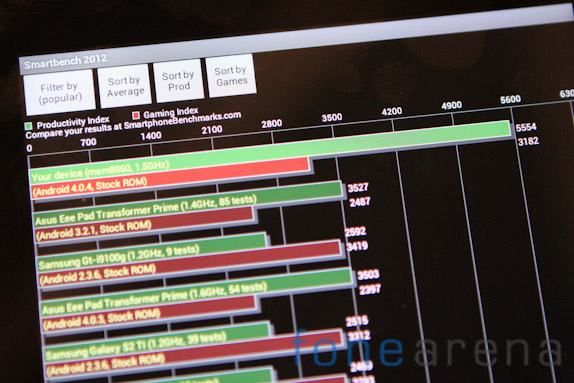 Nenamark 2.2 – the top-most item in the chart is the Qualcomm APQ 8064 tablet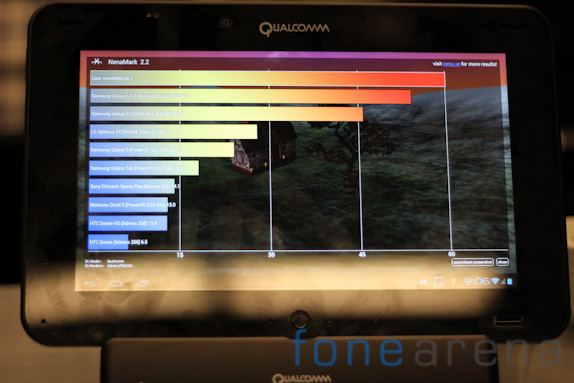 AnTuTu Benchmark – again an impressive 13971 points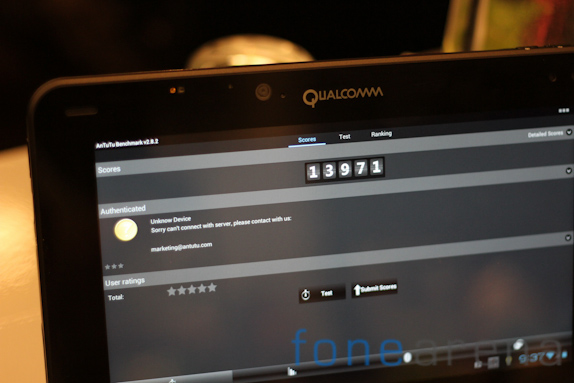 BrowserMark – 118938 points in Chrome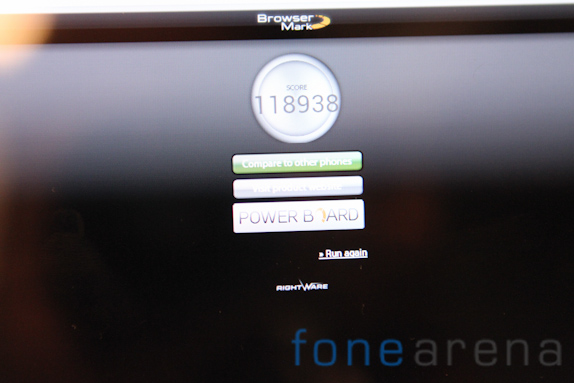 Comparison with other devices in the market should be up shortly. Very impressive numbers on the Snapdragon S4 Pro from the little time I got to play with it. It should be interesting to see which  tablet/phone makers brings the first device to the market based on this new chip.
This is a reference tablet available for purchase for developers for making applications and games for the next generation Snapdragon platform [Store Link]. It is not a consumer device at this point but we can expect tablets powered by this chip to hit the market some time later this year.