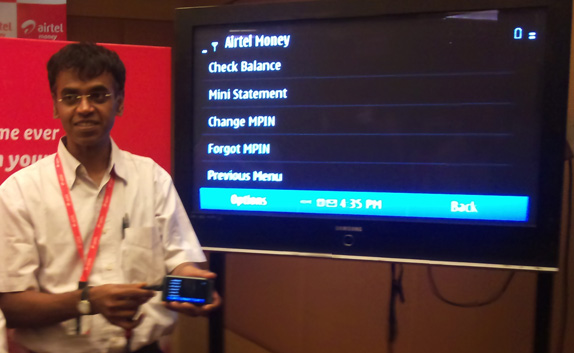 Airtel has launched its mCommerce service – Airtel Money, in Chennai, after the launch in Guragon this January. This lets the Airtel customers to make cashless payment using their mobile phone. Airtel has tied up with 750 merchants across Chennai including, Oriental Cuisines (Benjarong, Zara, Cascade and French Loaf), Univercell, Poorvika, Inox, PVR, Bharti AXA, LIC and more.
Other than retail payments, customers can also recharge any Airtel prepaid number or Airtel DTH, pay Airtel postpaid bills and electricity bills. As a promotional offer, there are special discounts for recharges and bill payments made through Airtel Money that include
Special talk time offers for Airtel prepaid users for the recharge denominations of Rs 75 and Rs 99
5% discount on monthly bill value for Airtel postpaid customers
5% extra value for DTH customers for the recharge greater than Rs 500
To use Airtel money, Airtel customers need to
Register at Airtel Money outlet by filling an application form and submit ID and address proofs and 2 passport size photographs.
Initial deposit for Airtel money is Rs 150, in which Rs 50 will be deducted for activation and Rs 100 would be credited back to your Airtel money account.
Your existing airtel SIM will be upgraded to the new 64K airtel SIM with airtel money service
Set your airtel money MPIN, that will be used for transactions.
Load cash to your Airtel Money account from your Airtel Money cash point
Perform the transactions after Airtel money is activated (takes 24 hours), which is limited to Rs 5,000/day and Rs 50,000 /month.
Airtel plans to roll out the service across other cities in phased manner. To know more about this service Airtel customers can call 12121 (toll-free) from their mobile phone and non-airtel mobile customers can dial 8800012121 or visit airtelmoney.in