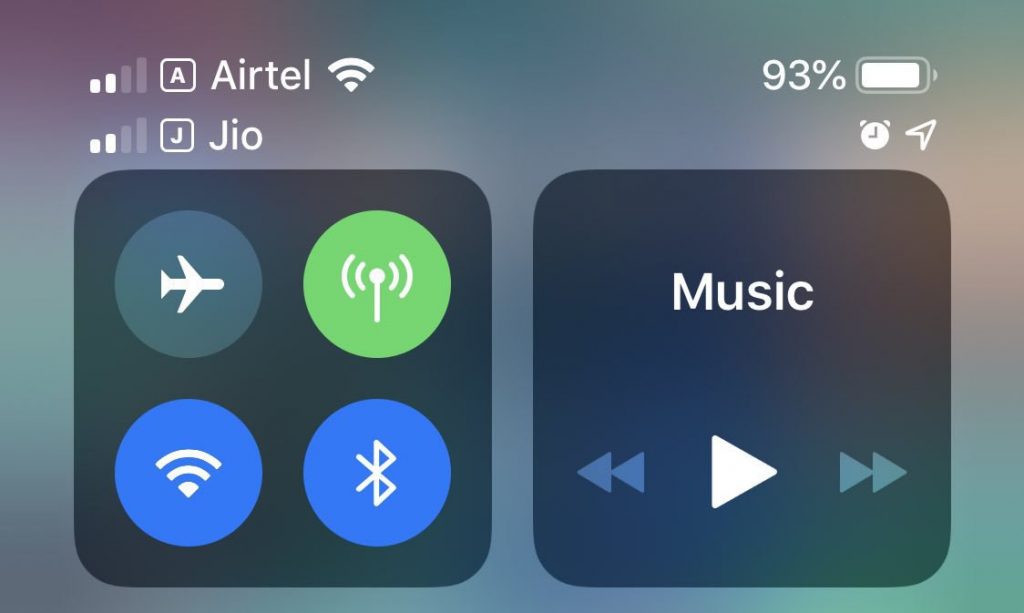 Apple's latest iPhone XS, iPhone XS Max and iPhone XR support Dual SIM cards worldwide since they have a primary nano SIM and secondary eSIM support working with carriers. Apple also announced that Airtel and Reliance Jio will support eSIM in India, and more partneres will be added next year. As promised it rolled out iOS 12.1 update few hours back that brought support for Dual SIM and eSIM functionality.
With Dual SIM support, you can use two numbers on the iPhone XS, iPhone XS Max or iPhone XR, one of your normal SIM, and the other one, a digital SIM that allows you to activate a cellular plan from your carrier without having to use a physical nano-SIM.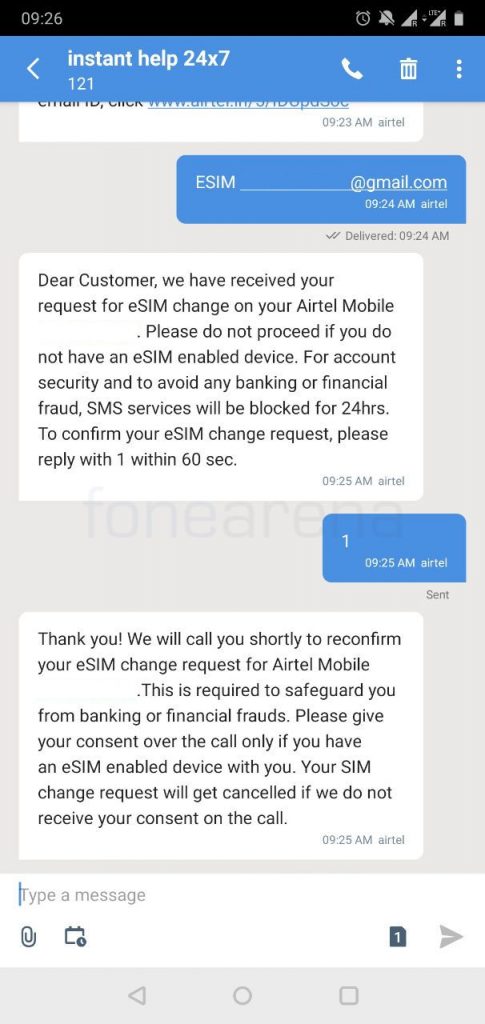 Here's how you can convert your Airtel nano SIM into an eSIM
Check if your iPhone has been updated to iOS 12.1
Send an SMS to 121 eSIM <registered email id> for converting your SIM to eSIM (Check the image for reference)
You will get an email from Airtel with QR code
Open the mail on other phone or a laptop
On the iPhone, go to Settings -> Cellular ->Add Cellular Plan ->  Use your iPhone to scan the QR code that your carrier provided.
You will get a message asking you to confirm eSIM change request by sending a reply with 1 within 60 seconds
Once it is done, you will get a call to reconfirm the eSIM change request to safeguard you from banking and financial frauds
Your eSIM will be activated within few hours
By default the primary SIM would be the nano SIM card and the secondary would be the eSIM which can be activated easily. This order can be changed and you can even use the eSIM as the primary SIM card of choice if your operator supports it. You can configure the Default line based on your preference :-
Use Primary as default line – Primary number will be used for voice, SMS, Data, iMessage, and FaceTime. Secondary will be available just for voice and SMS.
Use Secondary as your default line: With this option, secondary number will be used for voice, SMS, Data, iMessage, and FaceTime. Primary number will be available just for voice and SMS.
Use Secondary for cellular data only: You can use this option if you're traveling abroad and you want to keep main number for voice, SMS, iMessage, and FaceTime. This will allow you to use secondary number for data.
Both of your phone numbers can make and receive voice calls and send and receive SMS, but if one number is on a call, incoming calls on the other number will be busy or go to voicemail. iPhone can use one cellular data network at a time since this uses Dual SIM Dual Standby technology (due to Intel modem), unlike few phones that feature Dual SIM Dual Active technology. Reliance Jio has not rolled out the eSIM feature yet.
Update: Looks like Airtel has paused the eSIM activation since it is not available for everyone yet. It says that the official launch date for eSIM facility in India is yet to be confirmed by Apple and it is working with Apple to finalize the eSIM process.
Hi! The official launch date for eSIM facility in India is yet to be confirmed by Apple. We will share more details once it is launched. Thank you, Irshad https://t.co/2G23qpsqlP

— Bharti Airtel India (@Airtel_Presence) October 31, 2018