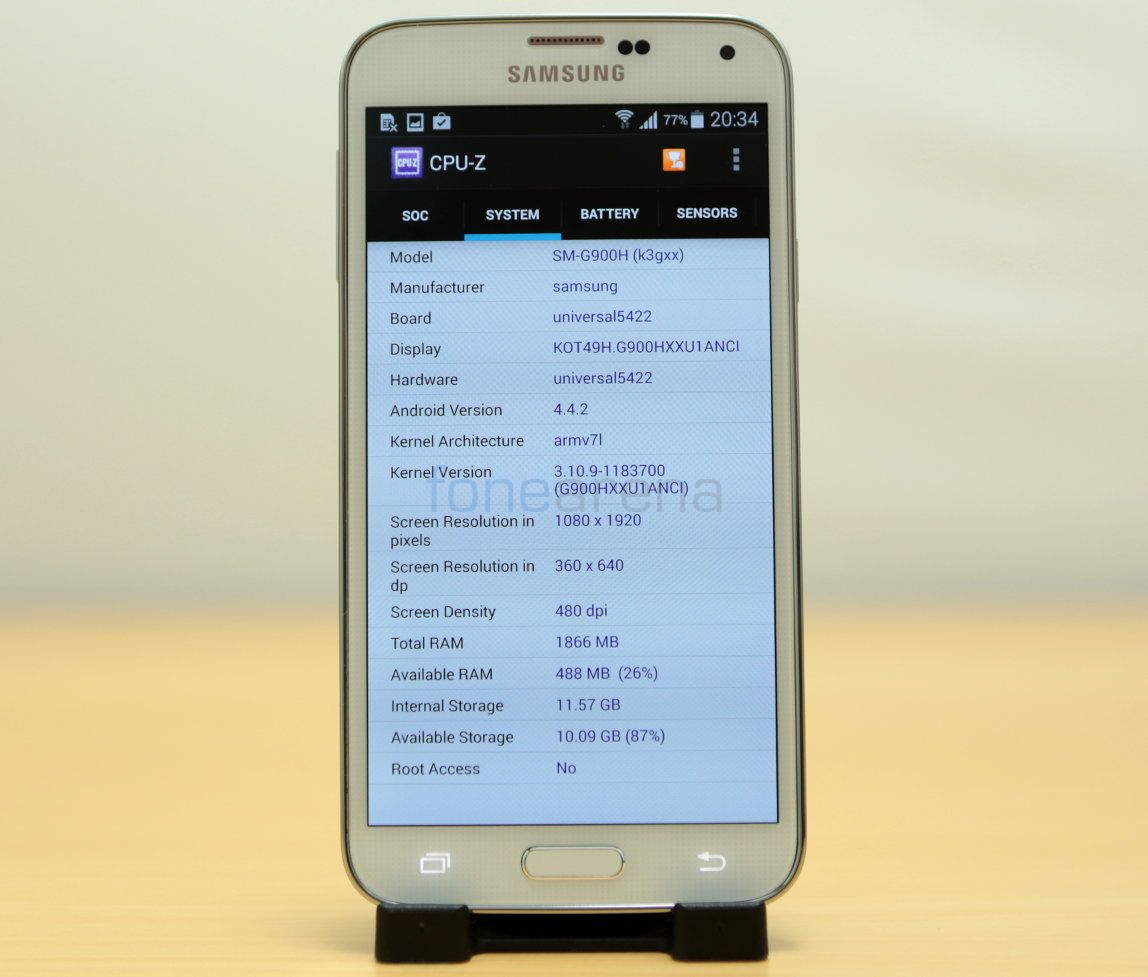 Samsung launched the Galaxy S5, the company's latest smartphone powered by the latest Exynos 5 Octa chip last week . We already brought you the unboxing and the photo gallery of the device, here we have the benchmarks of the smartphone. It is powered by an Octa-Core Exynos 5422 processor based on ARM big.LITTLE architecture and 28nm High K Metal Gate Process technology, similar to the previous Exynos 5 chips.
It has four ARM cortex A15 cores clocked at 1.9 GHz each and four ARM Cortex A7 cores clocked at 1.3 GHz each and has a ARM Mali T628 MP6 GPU. It also has True Octa-Core or Heterogeneous Multi-Processing that can run combination of up to eight cores to provide optimum performance. It has a 5.1-inch (1920 x 1080 pixels) IPS display, 2GB RAM and runs on Android 4.4 (KitKat) OS. Let's check out the performance of the smartphone in a range of synthetic benchmark tests.
Quadrant Benchmark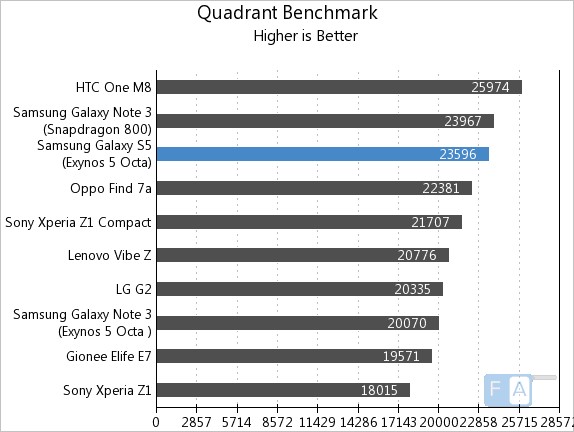 It scored 23596 points in the Quadrant benchmark.
AnTuTu Benchmark 4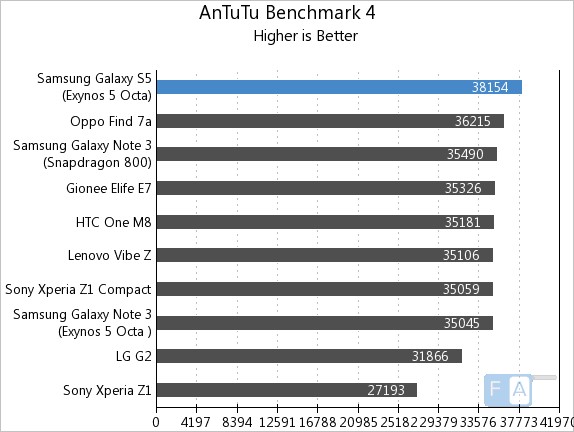 It scored 38154 points in the AnTuTu 4. In the AnTuTu Benchmark X it scored around 24000.
Vellamo 2.0 HTML5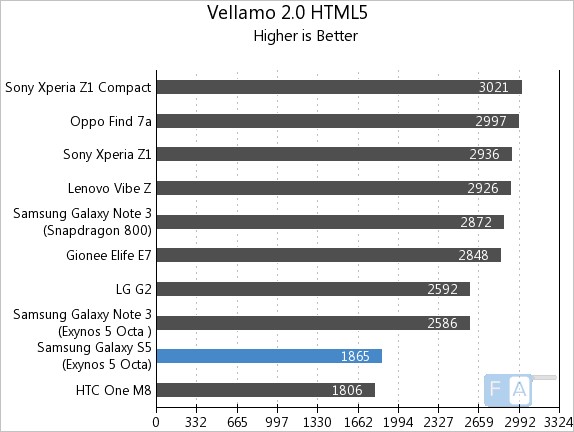 It managed to score just 1865 points in the Vellamo 2 HTML5 benchmark. Note sure why the scores are low compared to the Octa-Core Note 3. May be the benchmark might not be optimized for the latest Exynos chip.
Vellamo 2.0 Metal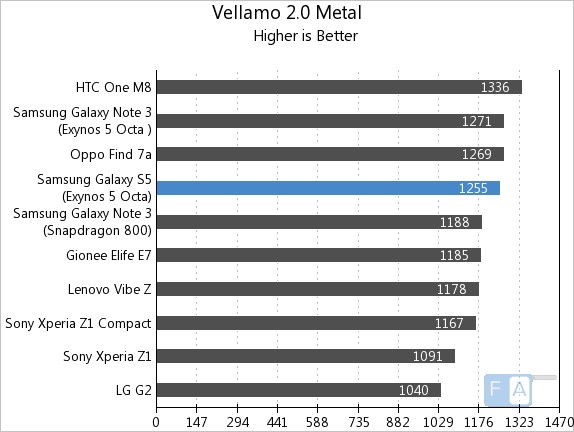 It scored 1255 points in the Vellamo 2 Metal, CPU subsystem performance test and lies behind the Note 3 Exynos variant.
Linpack Single Thread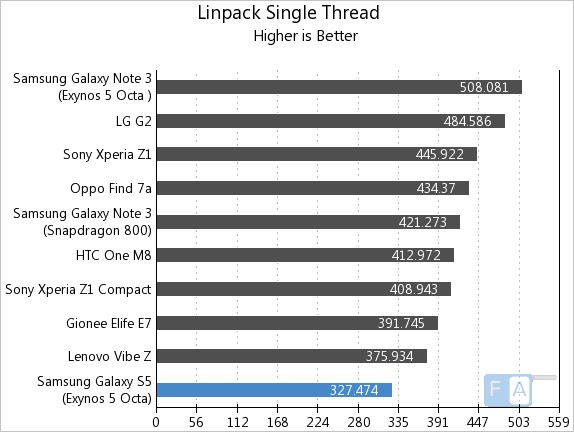 It managed to clock just 327.4 MFLOPS in the Linpack single thread benchmark.
Linpack Multi-Thread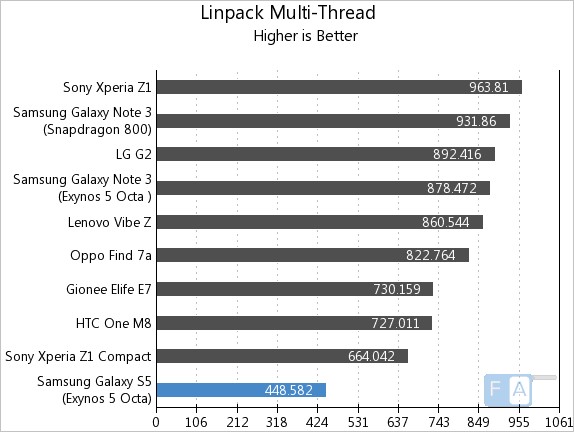 Again, it managed to clock around 448.582 MFLOPS in the Linpack multi-thread benchmark.
NenaMark 2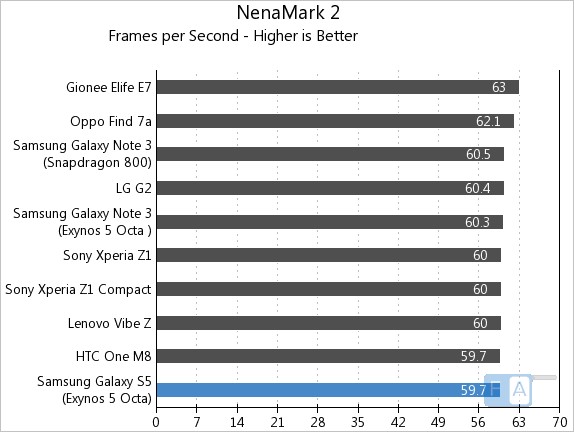 It managed to clock 59.7 fps in the NenaMark 2.
GFXBench 2.7 T-Rex (On screen)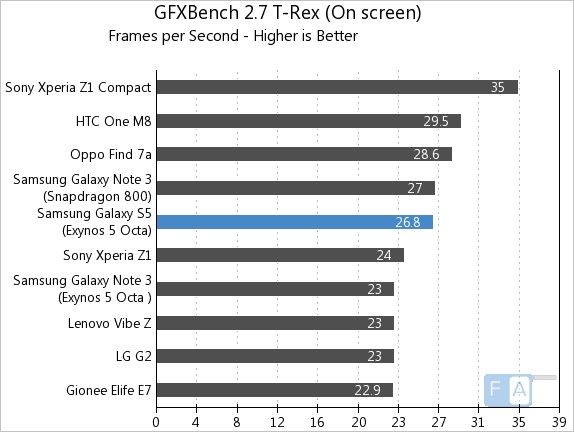 It managed to clock 26.8 fps in the GFXBench 2.7 T-Rex Onscreen benchmark and lies just behind the Snapdragon 800-powered Note 3.
Basemark X 1.0 HD (Onscreen)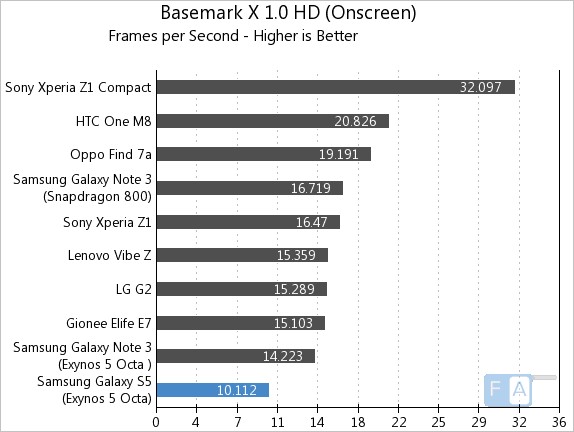 It managed to clock around 10.1 fps in the Basemark X 1.0 Onscreen benchmark.
Basemark X 1.0 HD (Offscreen)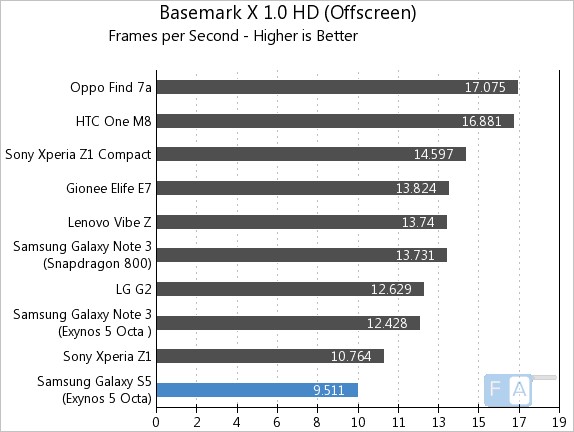 It clocked around 9.5 fps in the Basemark X 1.0 HD Offscreen benchmark.

Basemark OS II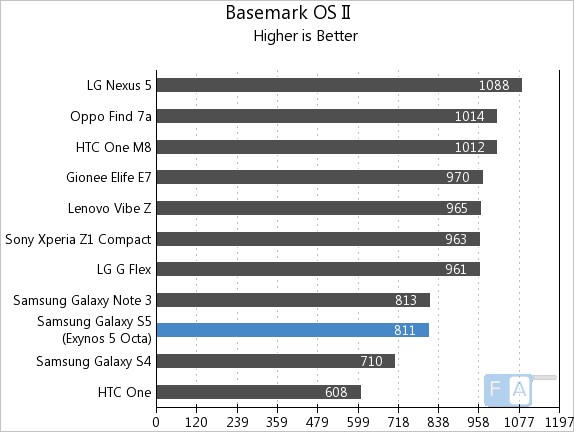 It managed to score 811 points in the Basemark OS II and lies ahead of Exynos-powered Note 3. We will be bring you the benchmarks of the Snapdragon 801 variant of the Samsung Galaxy S5 soon.
Updated the scores according to the video. Sandeep Sarma contributed to this report