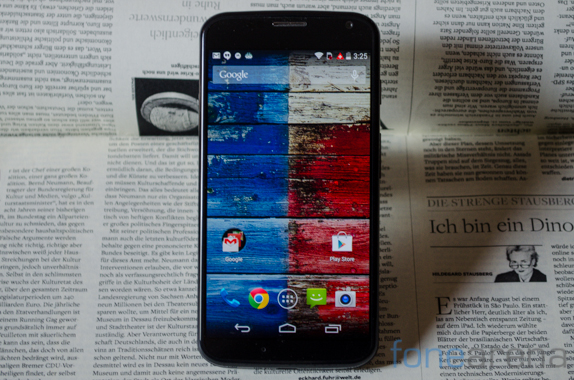 After the successful Moto G launch, Motorola launched the Moto X in India last month. This was announced even before the Moto X soon after Droid Mini, Droid Ultra and Droid Maxx. Moto X has a slightly larger display with 720p HD resolution, similar to the Moto G, but this has a AMOLED display instead of LCD. The Moto X has a more powerful dual-core Snapdragon Krait processor and a better camera. It is definitely better than the Moto G in all the aspects, but is it better than other smartphones in similar range? Let us find out in the complete review.
Unboxing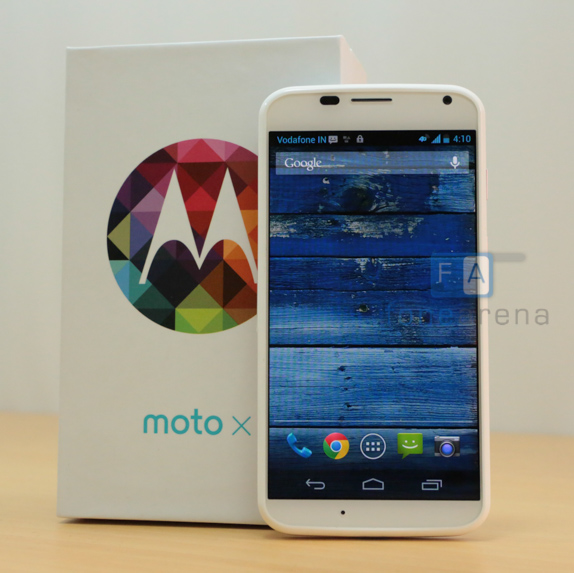 We unboxed the AT&T variant of the Moto G last year. Check out the unboxing video below.
httpv://www.youtube.com/watch?v=1qCzrsyYJVo
Box Contents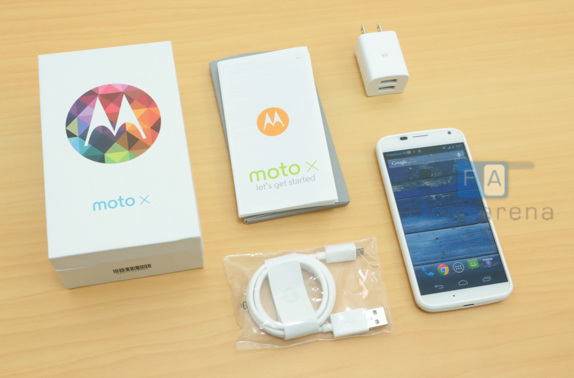 Moto X
USB wall charger
microUSB cable
SIM ejector tool
Quick start guide and safety information
Since the smartphone comes with a built-in 2200 mAh battery, it doesn't have a battery in the box. The Indian retail unit also comes with a headset and an Indian wall charger plug in the box.
Video Review
httpv://www.youtube.com/watch?v=0ZDAZW6zWgQ
Design and Hardware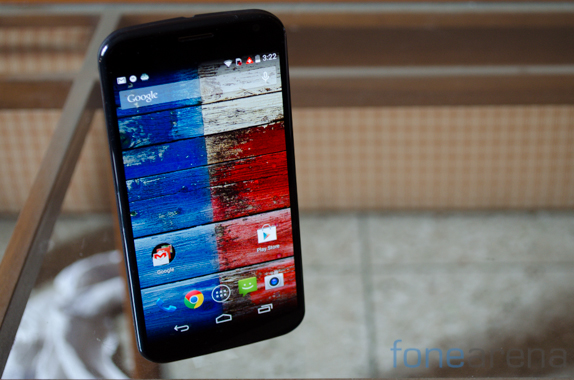 The first thing you notice is how compact the phone is. Even though it has a 4.7-inch screen, it is incredibly compact. Width of the phone is just 65.3, thanks to the narrow bezel that lets you hold it comfortably even if you have small hands. The Motorola Moto G with a 4.5-inch screen has a screen-to-body ratio of 65.21%, but the screen-to-body ratio of the Moto X is 72.12%.
Coming to the display, the Moto X has a 4.7-inch (1280 x 720 pixels) edge-to-edge AMOLED screen at a pixel density of around 316 ppi. It also has Corning Gorilla Glass protection. Even though the pixel density is slightly lesser than the Moto G, Moto X offers better viewing angles and vibrant colors. Sunlight legibility is pretty good, but the screen is more reflective than the Moto G in brightly lit conditions, especially while watching videos.
The Moto X has a 2-megapixel front-facing camera that is capable of recording videos at 1080p full HD resolution. It is pretty good for voice chats. It also has the usual set of proximity and ambient light sensors next to the earpiece.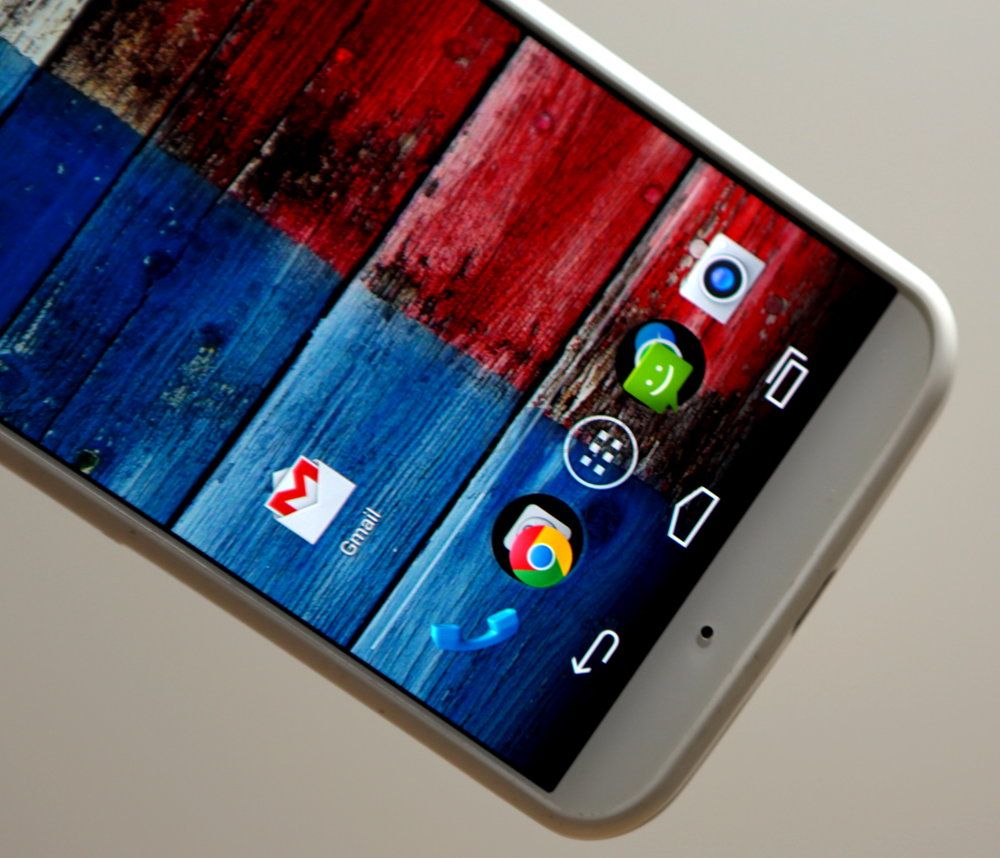 The Moto X has on-screen touch buttons similar to the Moto G and other Nexus devices. There is a small microphone hole on the bezel just below the display.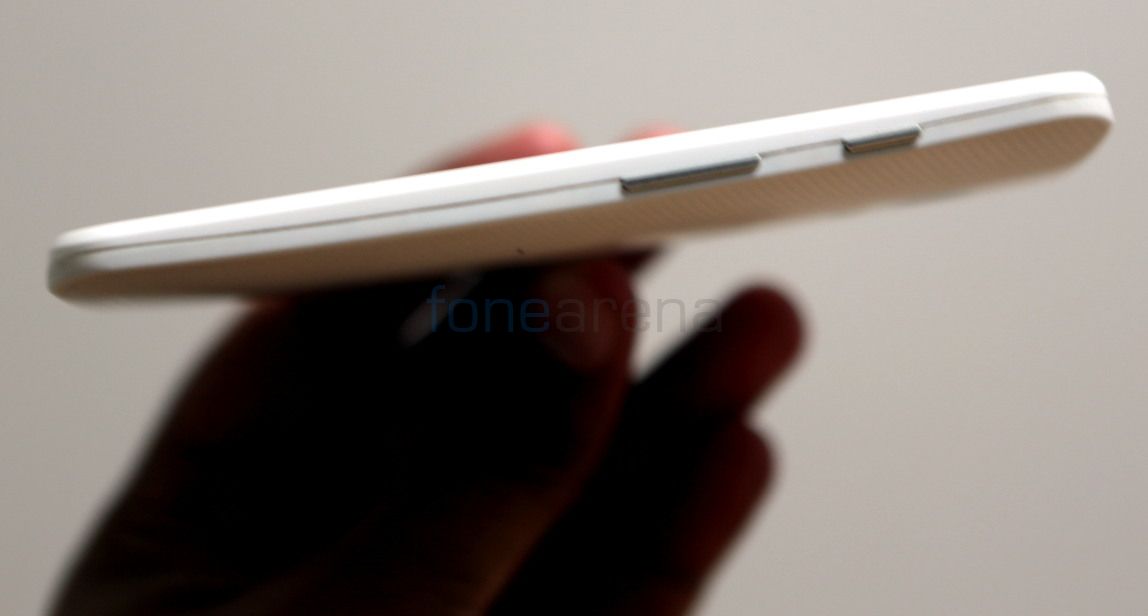 The Moto X is curved on the sides, similar to the Moto G. It is 10.4 mm on its thickest part and is just 5.7 mm thick at its thinnest. On the right side there is a power button and volume rockers below that. Both these buttons have a metal finish. The sides are made of plastic, making it a bit shiny.
On the right side there is a nano SIM slot. This is one of the few Android phones launched last year with a nano SIM slot after the Asus Padfone Infinity.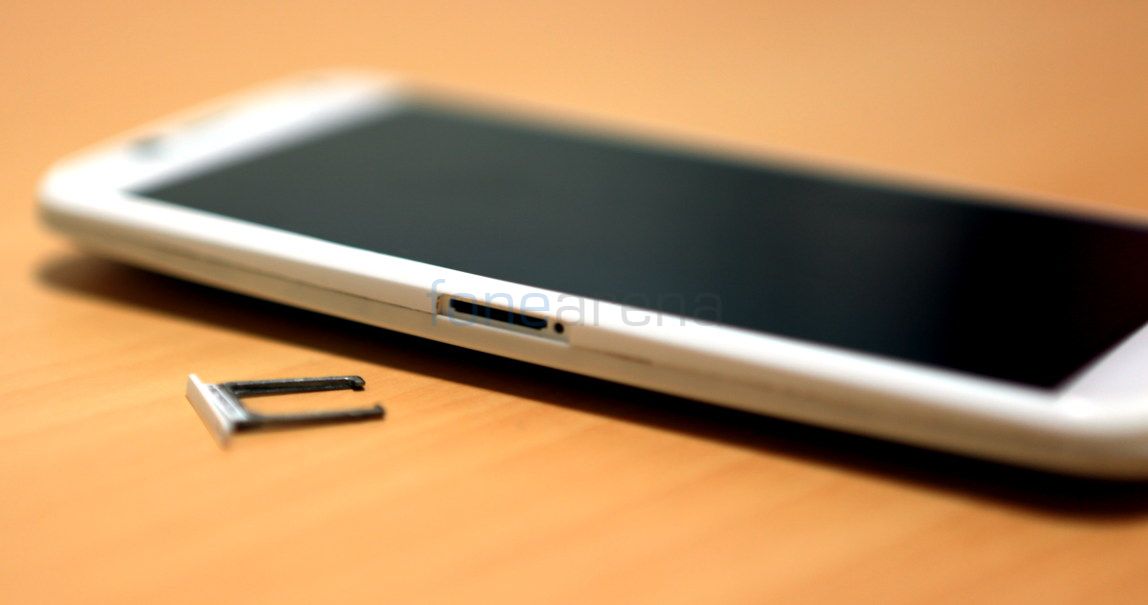 You need to use the SIM ejector tool to open the metal nano SIM tray. Since all the telecom operators in India don't offer a nano SIM card yet, you might just have to cut your mini or micro SIM cards into nano SIM size.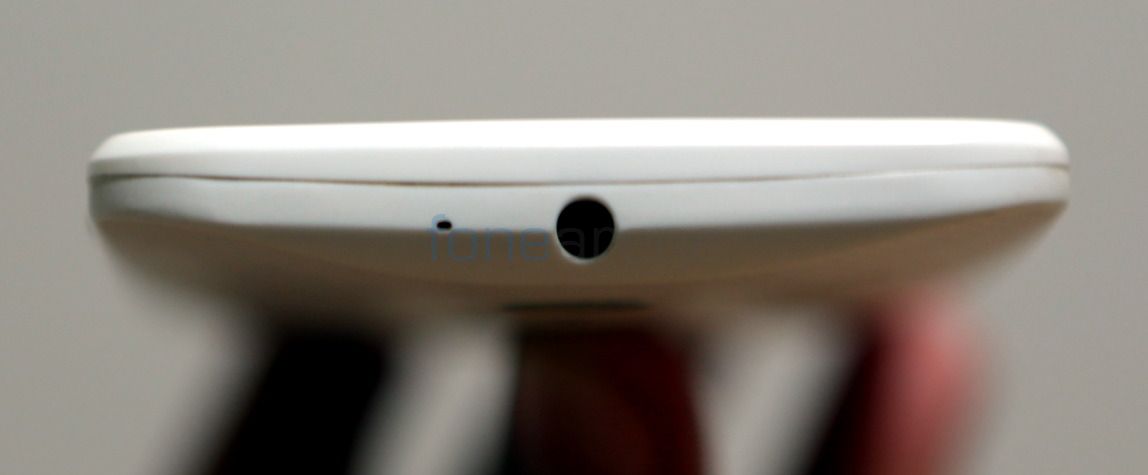 On the top there is a 3.5mm jack and a secondary microphone hole.

On the bottom there is a micro USB slot.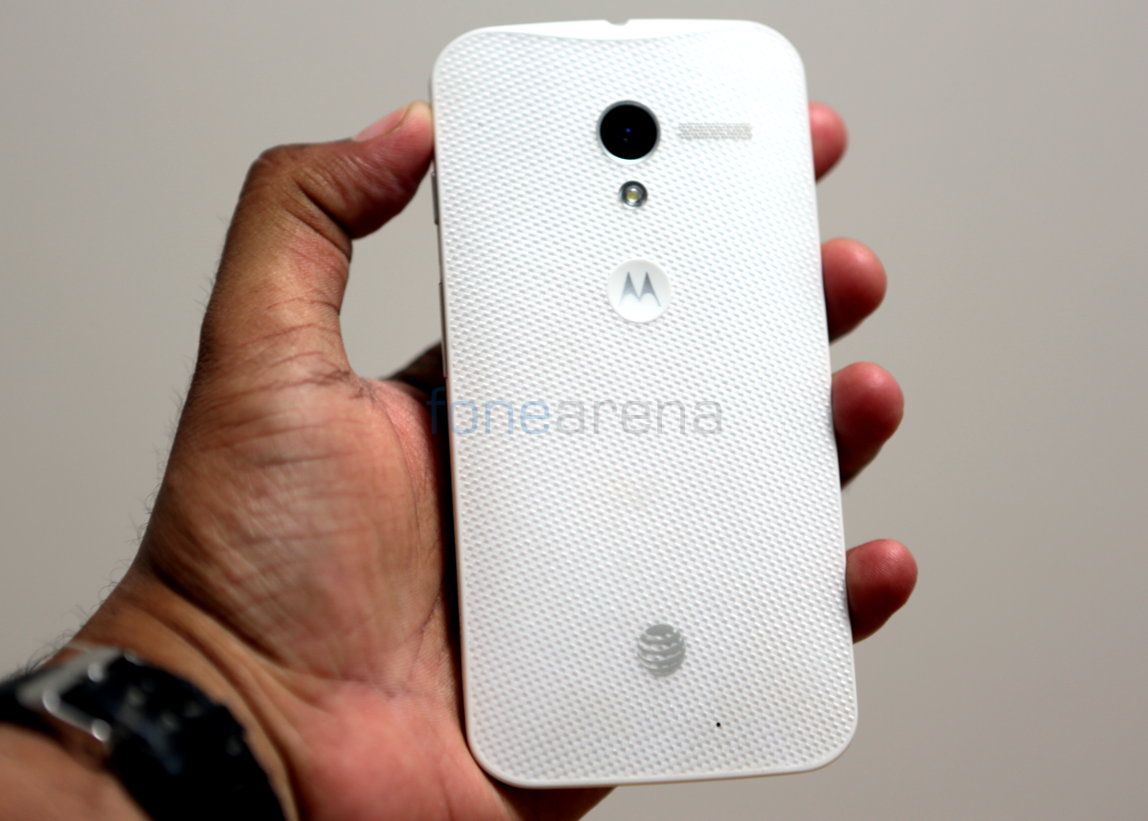 The phone is easy to hold and also offers a nice grip so that it doesn't slip out of your hand. It has tiny patterns on the back that is easily visible, unlike the patterns on the Nexus 5. Unlike the Moto G's removable back cover, this one has a sealed back cover. Since this is a AT&T variant, it has AT&T branding on the back. The phone has solid build quality.
Motorola sells the Moto X in five colors – Black, White, Red, Royal Blue and Turquoise in India. Only two wooden back variants – Walnut and Teak are available in India priced at Rs. 25.999 each, about Rs. 2000 costlier than the standard color variants. Moto Maker that lets you choose your own color, accent and engraving is not available in India.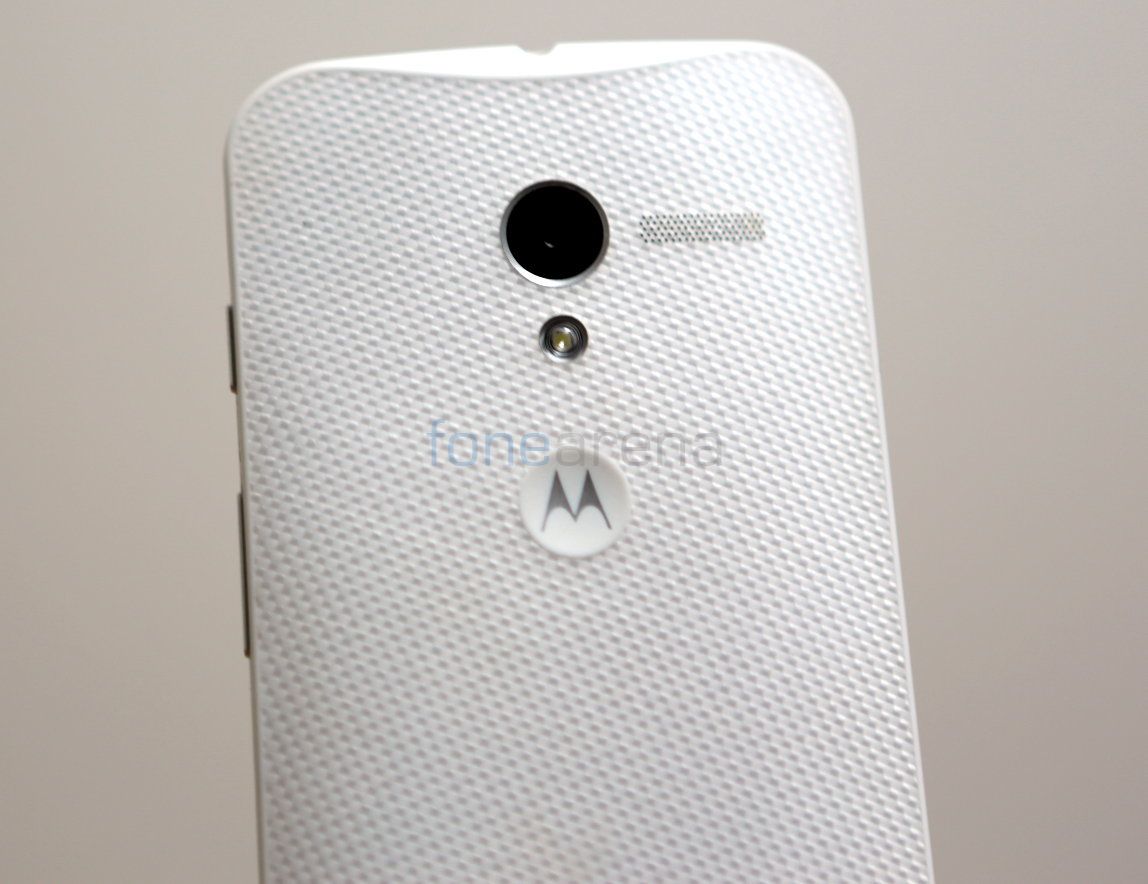 The Moto X has a 10.5-megapixel OmniVision (OV10820) 1/2.5″ 1.4 um sensor with an f/2.4 lens. It also has LED flash below the camera. You can also see the loudspeaker grill next to it.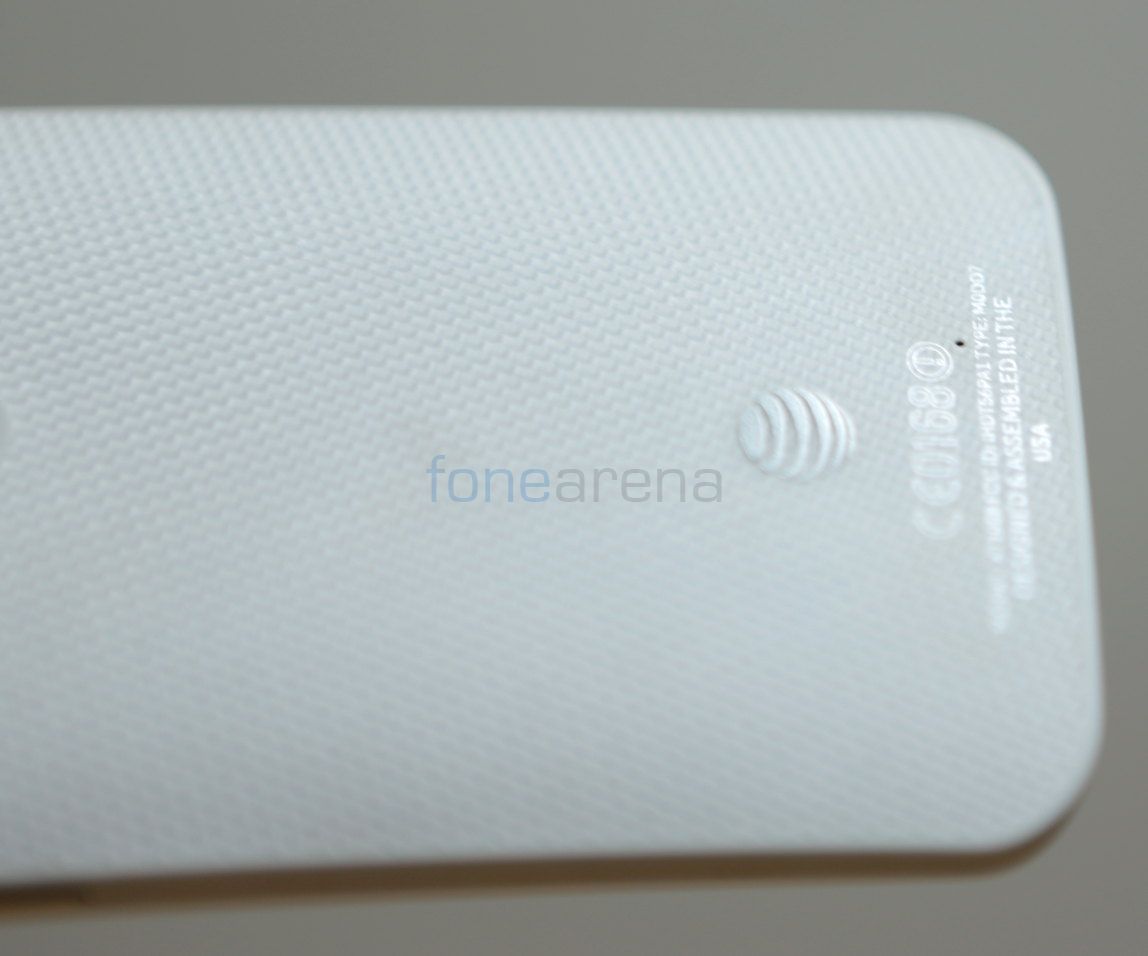 The Moto X actually has three microphones, mainly for the always listening option that we will discuss in the software part. The third microphone is present on the bottom part of the back.
Camera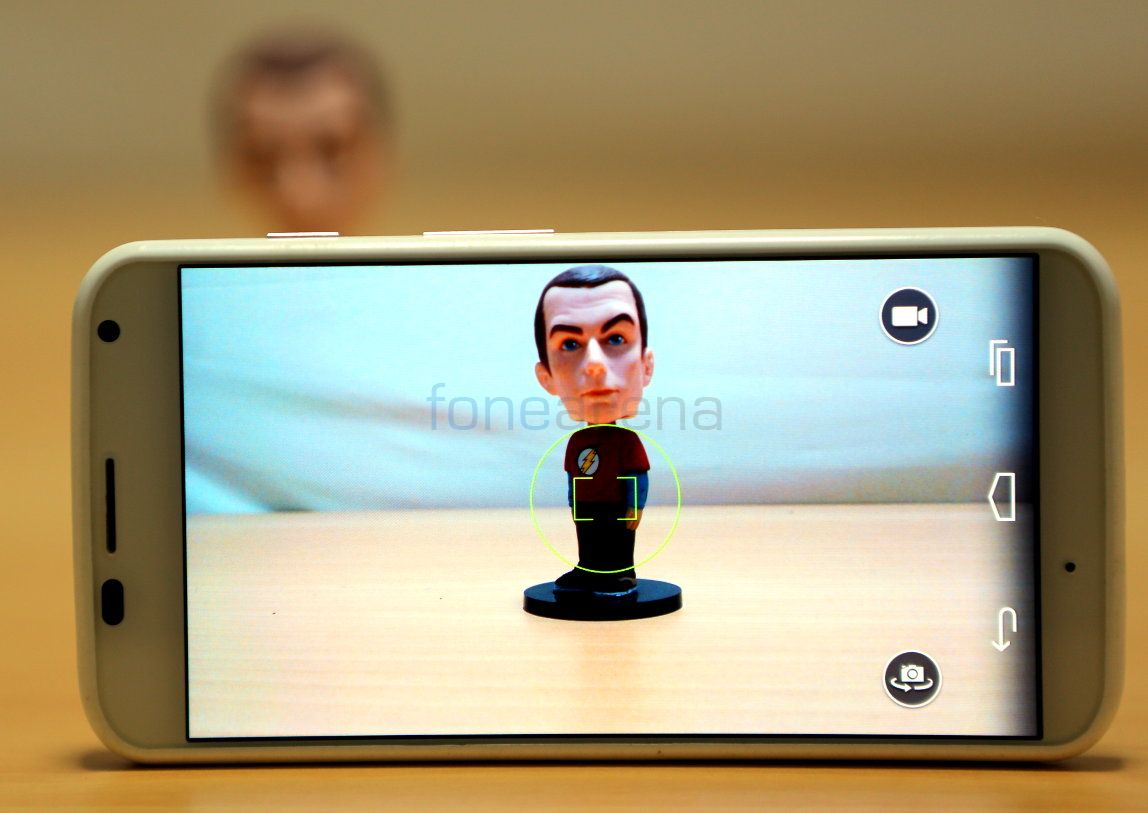 The 10.5-megapixel OmniVision (OV10820) 1/2.5″ 1.4 um sensor takes nice shots. This uses a new RGB Clear (RGBC) color filter that promises better low-light performance. It actually captures RAW images using a RGBC (red / green / blue / clear) color filter and the chip automatically converts the image into Bayer format.
Unlike most phones and the Moto G that captures images and videos in 4:3 aspect ratio, this captures images and videos in 16:9 aspect ratio by default. This offers wide viewfinder experience. Daylight, HDR and macro shots are pretty good, but the colors seems to be muted in all the images. Some images were too sharp. Low-light images were way better than the Moto G, thanks to the new CLEAR PIXEL (RGBC) technology, but low-light images still have a lot of noise. Overall, the camera is good, but it is not up to the mark compared to its competitors.
It has minimal features, similar to the Moto G. In addition, this has a new feature that lets you twist your hand to open the camera quickly, called Quick Capture. Check out some camera samples (click to view these images in full resolution) below.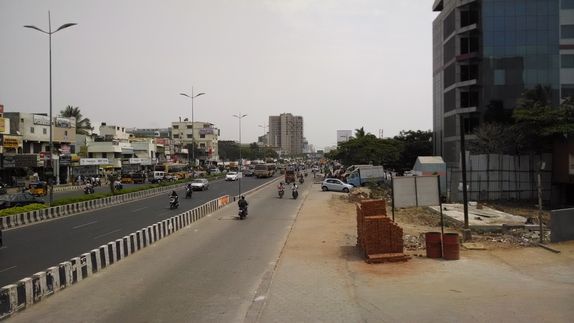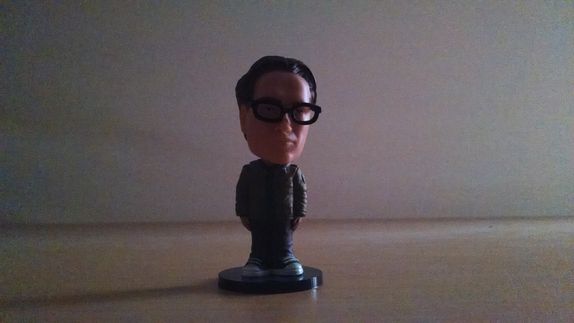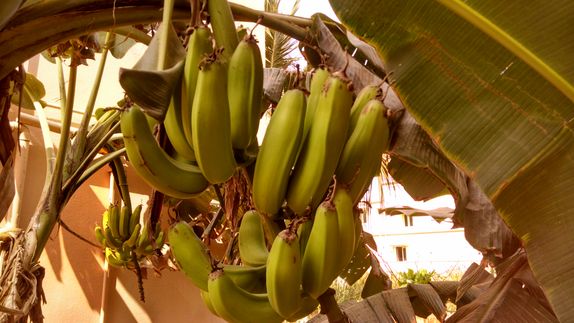 Check out the complete set of Motorola Moto X camera samples here.
The phone can record videos at 1080p full HD resolution at 30 frames per second. Recorded videos are stored in .MP4 format and uses H.264 codec. Video is good, but it is too sharp and are the colors seem over saturated. Audio output is good, thanks to the secondary microphone. It doesn't have an option to downsize the video resolution to 720p. Check out the 1080p camera sample below.
httpv://www.youtube.com/watch?v=Jsf1xWUT_08
It can also record slow motion videos in SLO mode. This actually records the video at 720p HD resolution at 60 fps and reduces the frame rate to 1/4th from the original video to 15 fps, similar to Moto G. Check out the slow motion video sample below.
httpv://www.youtube.com/watch?v=vt1oq0S4q_U
Software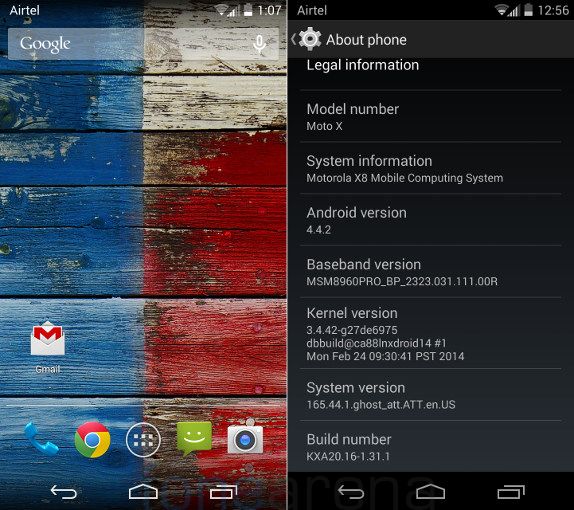 Coming to the software part, the Moto X runs on Android 4.4.2 (KitKat) that is completely stock. It was originally launched with Android 4.2 (Jelly Bean) in the U.S and later Android 4.4 update quickly. When it launched in India it came with Android 4.4 (KitKat) out of the box. Since it is completely stock, similar to the Nexus devices, there is nothing new to say about the software.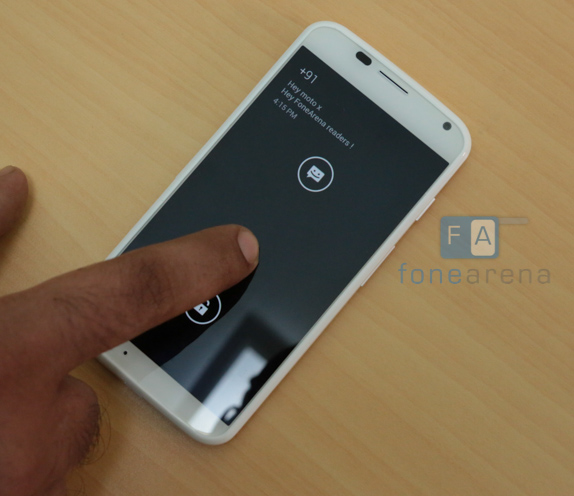 One of the best features in the Moto X is the Active Display. The Moto G had a LED notification light on top for notification alerts, but the Active Display is better than the notification light. It notifies when you receive a SMS, Email or any other alerts. You just have to swipe to the top to directly go view the notification or just swipe down to unlock the screen. It automatically shows you the time when you pick up your phone by detecting the motion and also detects when you place the phone in your pocket and fades the clock automatically, thus saving power. Since the phone uses an AMOLED display, it lights up only the part where the clock is displayed, making it comfortable for the eyes when you want to check the time at night and also uses minimal battery.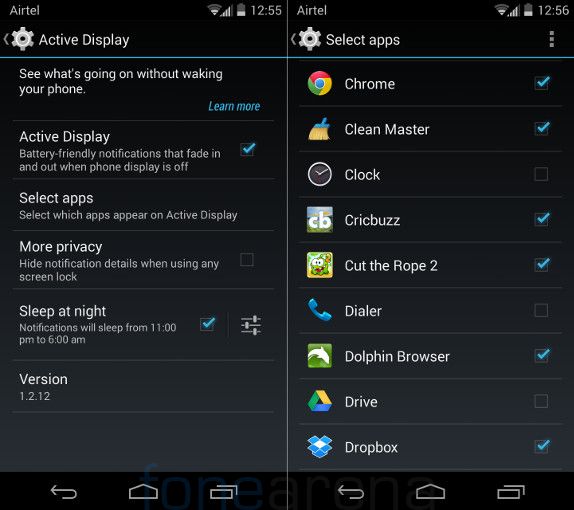 You can also customize to adjust exactly which apps publish notifications, hide the notifications when using a screen lock and also turn off the notifications when you are sleeping.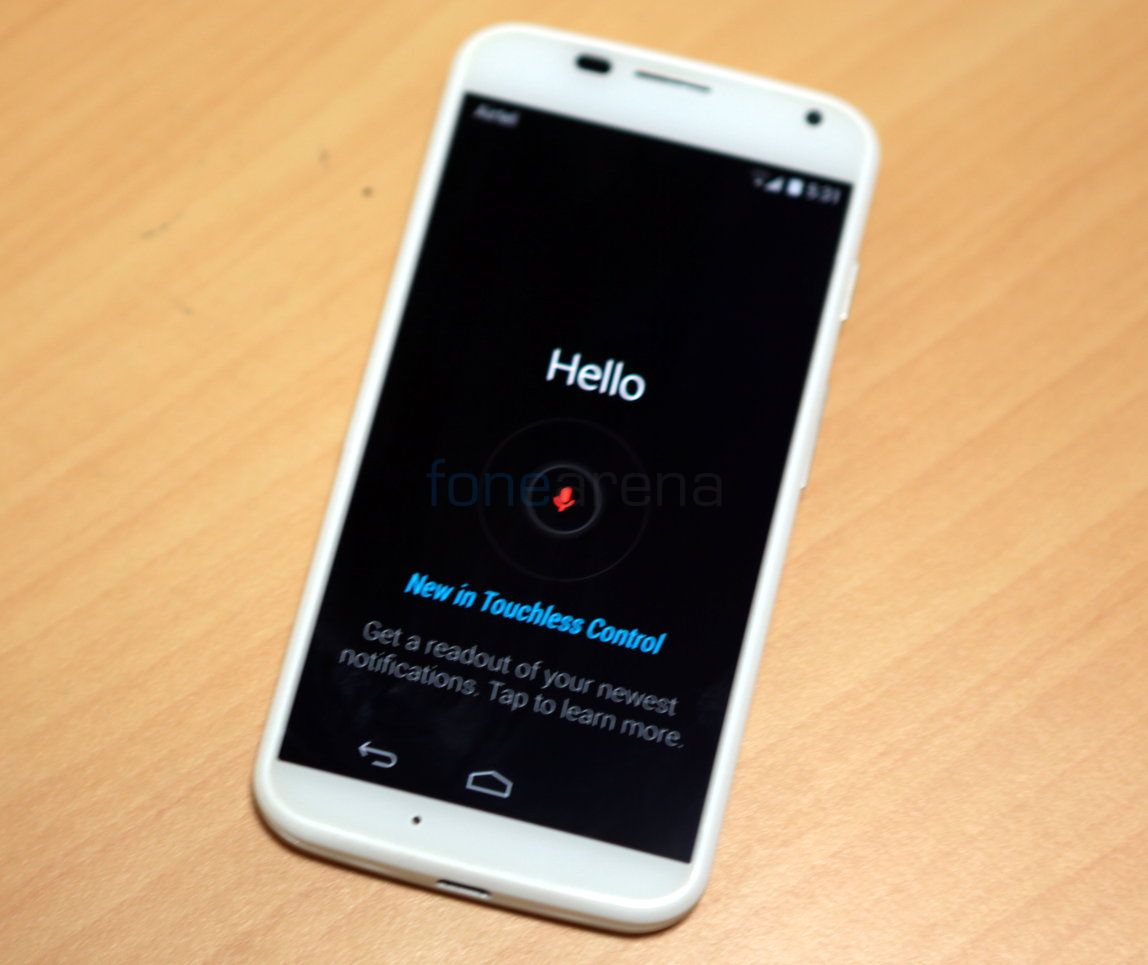 Another interesting and innovative feature is the touchless control that lets you control your phone hands-free by speaking commands. This makes use of all the microphones to listen more clearly. This doesn't work when the phone is placed on a table.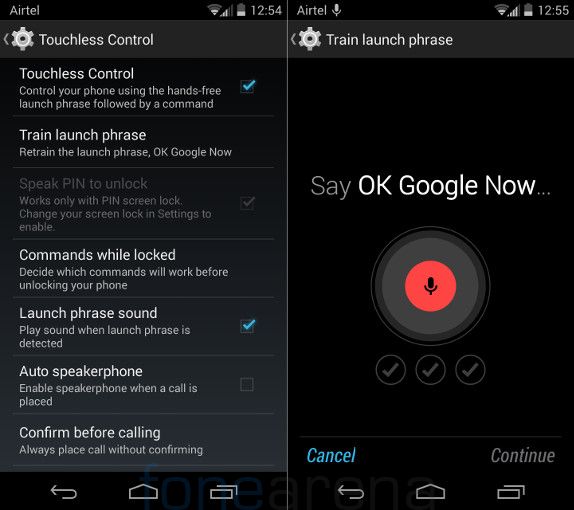 It is a bit hard to train your voice first, since it requires a quiet room. This lets you make a call to a person, get directions, ask questions to Google Now and more. There are also options in the settings to confirm before placing a call.
The Touchless control is powered by a specific NLP (Natural Language Processor) in the Moto X8 chipset. Motorola doesn't say up to what extent the Touchless control will affect the battery life of the phone. But if you don't want to use this feature, you can easily turn it off.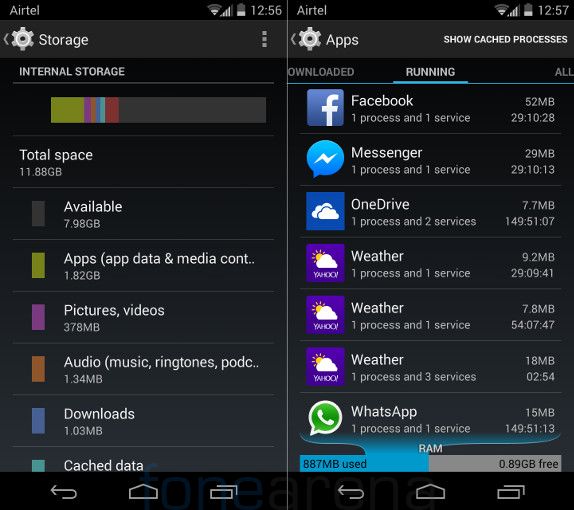 The Moto X comes only in 16GB version in India and also lacks a micro SD card slot. Out of 16GB of internal storage, you get 11.88GB of usable storage. This might be different in the Indian retail unit, since the AT&T version comes with some AT&T apps pre-installed. Out of 2GB of RAM, you get about 1.79 GB of usable RAM. Out of which 0.89GB of RAM is free when the phone is idle when some apps are running in the background.
Apps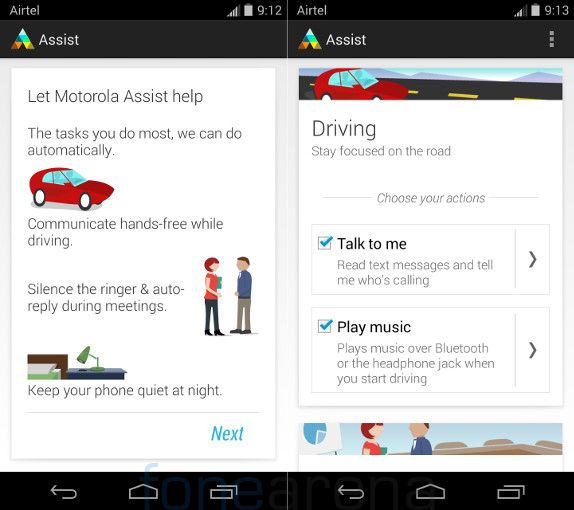 The Moto X also has Moto Assist, an app that assists you when driving, sleeping or when you are at meeting. Moto G only had sleeping and meeting modes, but the Moto X also has driving more. This automatically detects when you are driving and reads out your text messages and plays music over Car's Bluetooth once it is connected.
It also has Motorola Migrate that lets you migrate media, call, text messages and SIM contact from your old phone or move these to a new phone. It also has Spotlight Player that tells you an interactive story. Motorola automatically updates all these apps through the Google Play, so we can expect new features.
Other than these two, you get the usual set of Google Apps and utility apps.
Music Player and Video Player
Moto X can play most audio formats using the Google Play Music app. It can also play most videos formats in 1080p full HD resolution using the default player smoothly. FM Radio that was present in the Moto G is not available in the Moto X, which might be disappointing for some users who expect FM. Audio through the loudspeakers are pretty good. Ringtone can be heard clearly even in noisy environment.
Connectivity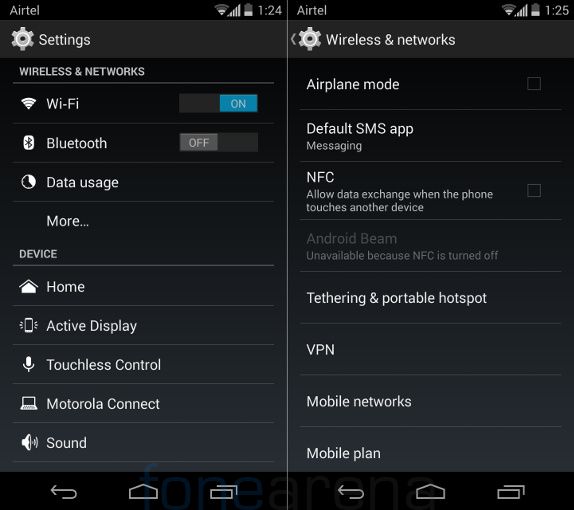 It comes with the usual connectivity features including 3G HSPA+ support up to 42 Mbps, WiFi 802.11 a/g/b/n/ac (dual band), Bluetooth 4.0 LE and GPS, GLONASS. The phone also has NFC and USB on-the-go (OTG) support.
Performance and Benchmarks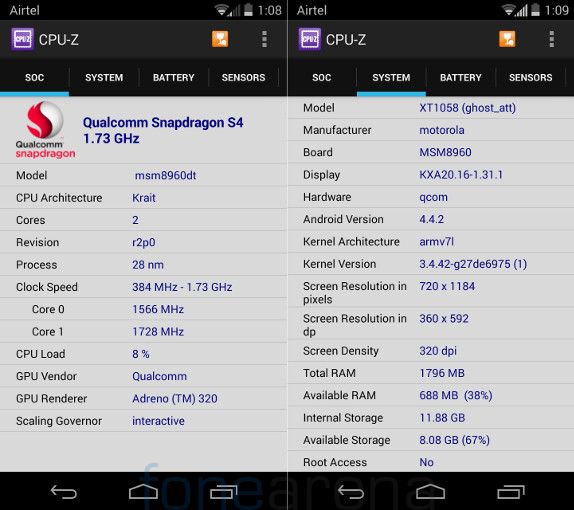 It is powered by a dual-core Qualcomm Snapdragon S4 Pro CPU with Krait 300 cores, each clocked at 1.73 GHz. The processor is better than the quad-core ARM cortex CPU used in the Moto G. Performance is snappy without any lags. Thanks to 2GB of RAM, multitasking was smooth.
Even though we published the Moto X benchmarks long back, were managed to compare the Moto X with the latest devices, including the Galaxy Grand 2 and the Nexus 5. Since the Android version in the Moto X and Moto G were old at the time we took these benchmark values, it might vary if you compare it after KitKat update. Check out some synthetic benchmarks scores below.
Quadrant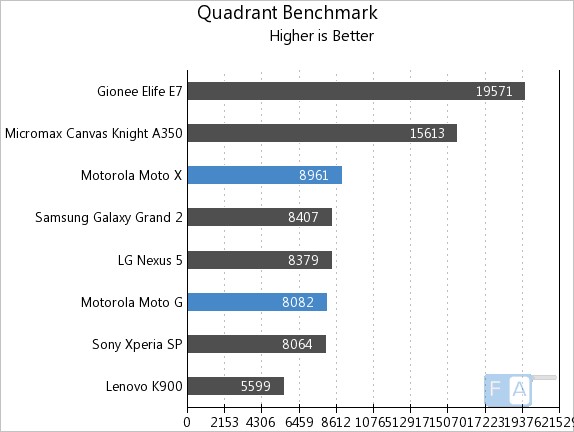 Vellamo 2 HTML5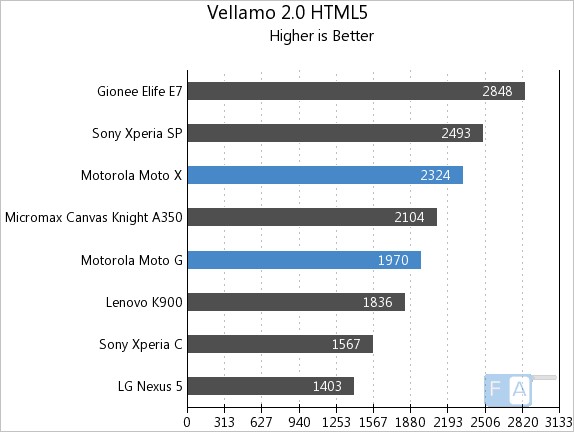 Vellamo 2 Metal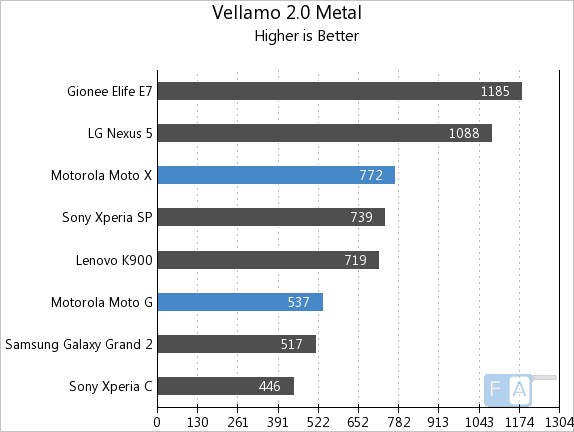 You can check out the complete set of Motorola Moto X benchmarks here from last year.
It has a 400 MHz quad-core Adreno 320 GPU. We tried out some games on the Moto X. Gameplay was smooth and the graphic details were also quite good in most games. Even though it has USB OTG support, it doesn't support PlayStation 3 controller. Check out the GTA San Andreas Gameplay below.
httpv://www.youtube.com/watch?v=JOvslor_Ijs
Check out the gaming review to know more about the gaming performance of the Moto X in detail.
httpv://www.youtube.com/watch?v=FUAbLNpMTyw
Battery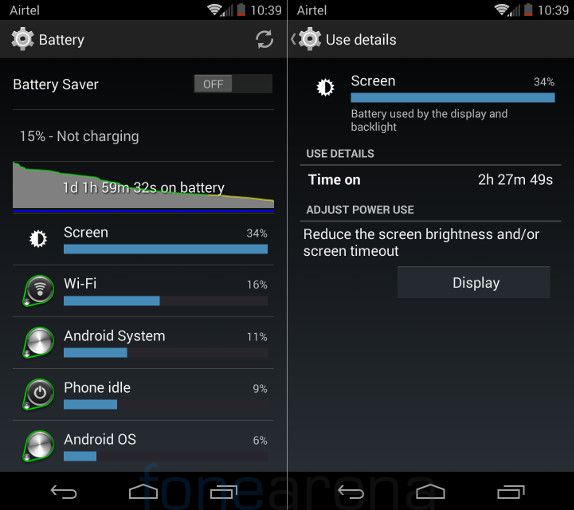 Coming to the battery, the 2200 mAh battery offers all-day battery life and even last till the next day morning with mixed use and about 2 and half hours of screen time. For me this is less than Moto G, but this is better than other smartphones with similar battery capacity. If you are a gamer playing intensive games and watch videos for few hours, battery will last less than this.
Conclusion
Overall, the Moto X is definitely one of the best smartphones under Rs. 23,999. It excels in performance, battery life and unique software features, but there are some drawbacks like non-removable back cover and just 12GB of usable memory. If you are looking for a smartphone with large 1080p screen and quad-core Snapdragon 800 processor , this phone is not for you. But, if you need a compact smartphone running on the latest version of stock Android under Rs. 25,000, this the best out there.
Pros
Solid build quality
Snappy performance
Brilliant battery life
Active display is impressive
Cons
Comes only in 16GB variant without SD card slot
Camera is not the best in class
Back cover is not removable