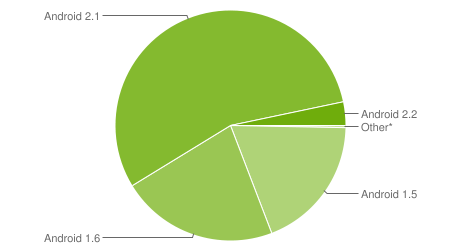 Android OS is known as the one of the famous and the fastest growing operating system. Google has revealed some new fresh details about Android OS. The new Android fragmentation details shows that 55% devices are now running on Android 2.1. The main reason of this rapid growth is Droid X, EVO 4G, Samsung Galaxy S, and Motorola Droid. Only 3.3% devices are running on Android 2.2, and at the moment only Nexus One is running Android 2.2.
Still more than 40% devices are running Android 1.5 and 1.6, which contains devices like Motorola Cliq, Xperia X10, Xperia X10 Mini etc. I hope that latest Android build for these devices will be out soon, and then in next fragmentation chart, we will see only few devices running on Android 1.5 and 1.6.
New Android version is rumored to be out in Q4, which is known as Gingerbread or Android 2.3, then we will see some good, latest, and more devices running it.
Have a look on the graph after the break: