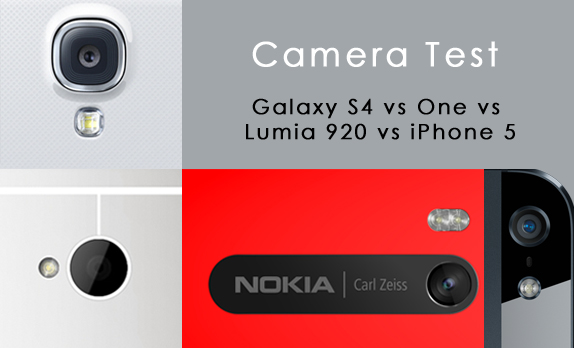 A lot of you readers have been asking us which phone has the best camera for video capture. I was recently in London for the Nokia Lumia 925 launch event and carried along some flagships like the Galaxy S4 , HTC One , Nokia Lumia 920 and the Apple iPhone 5. So here is is , a quick real life comparison of how these phones capture video. This comparison only includes the day light performance. Will try to include  a low-light performance later on. So here we have 2 supreme Android phones , the best Windows phone and latest iPhone fighting against each other in this camera comparison! Dive in and take a look.
Samsung Galaxy S4
The Samsung Galaxy S4 captures full HD videos like all the other high end smartphones, and quality does seem pretty good in day light.
httpv://www.youtube.com/watch?v=rBNzDU0CLLg
With software stabilisation on, the image was a bit cropped, and hence a narrower field of view for the final output. While the white balance was fine, it did struggle with exposure compensation by under exposing the scene in bright backgrounds, this is prevalent in most smartphone cameras with small-ish sensors. The audio is recorded in stereo and we were surprised to hear even little details in the output, but we are not sure how it will hold up in blaring sound. Moving on to the next one then.
HTC One
The HTC One has an ultrapixel camera, which means that it has bigger pixels than other smartphones in general. It performed decently well in day light.
httpv://www.youtube.com/watch?v=Gn34gPgTjRo
The optical image stabilization for the camera unit really helped in stabilizing the scene, with its wide angle view preserved without any alteration. While the white balance seemed fine, the colours were a bit washed and were as dull as overcast London, or maybe duller than we expected. With a large 2.0 micron pixel size, there was one caveat we expected, and it was blown highlights. As you can notice, the blown highlights are a bit of a problem when it comes to the HTC One and exposure compensation doesn't help much. It records stereo audio using HAAC HDR mics, which turned out pretty good.
Nokia Lumia 920
Nokia Lumia 920, touted as the best low light camera, performs well in video too.
httpv://www.youtube.com/watch?v=uDMpwdDosFQ
Recording in full HD, the warmer tones and slightly saturated look was slightly unreal for London. The white balance doesn't seem to handle itself well, nor does the exposure compensation which is too aggressive in some places. But the image was crisp with details perfectly intact, and stabilization using the OIS unit worked rather well, save for constant focus hunting that is a characteristic of the Lumia 920's camera. Audio was recorded in mono but with HAAC mics, and it was silent while picking up sounds really well.
Apple iPhone 5
Apple iPhone 5 was pretty good too, with a very detailed output in daylight.
httpv://www.youtube.com/watch?v=z-xwJaw_vMk
With software stabilization enabled, the field of view is a lot lesser than the other cameras, and it did help in resolving some fine details, but lost out in a wider view. The white balance was perfect and the exposure compensation too was not harsh at all. The audio was unnaturally silent but picked up loud sounds really well.
So, that was an objective detailing of each video in its own respect. Now it's up to you to decide which phone's video quality you like the most. Pick a choice below!
Youtube does alter the quality slightly and we will upload the raw files soon.