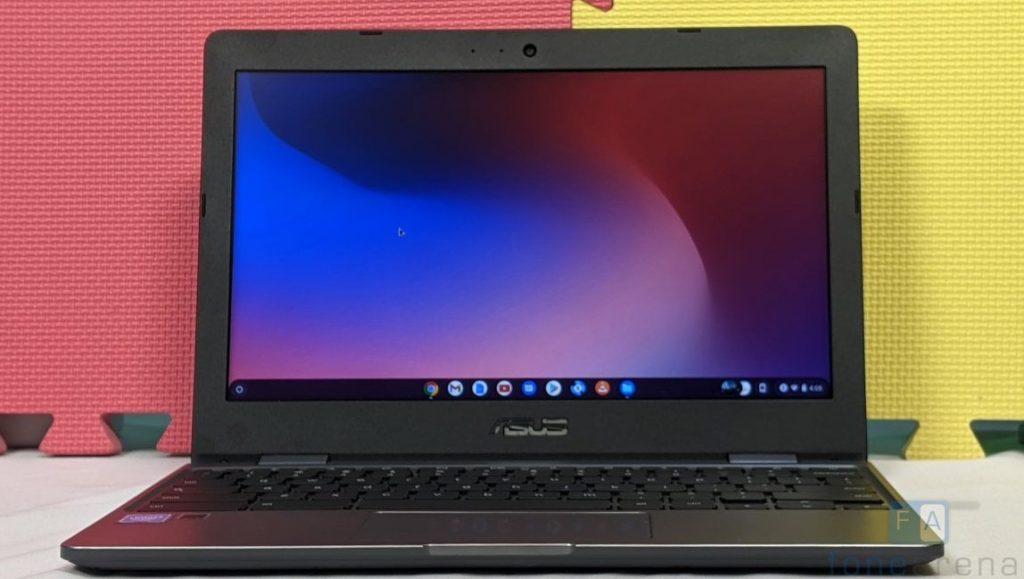 ASUS launched its Chromebook range in India a few days back. Except the Flip model, others were actually launched back in 2018, and are coming to India after almost 3 years. We have the Chromebook 12 (C223), the entry-level model. Is it still good? Is this a value-for-money Chromebook to get your work done? Let us dive into the review to find out.
Box Contents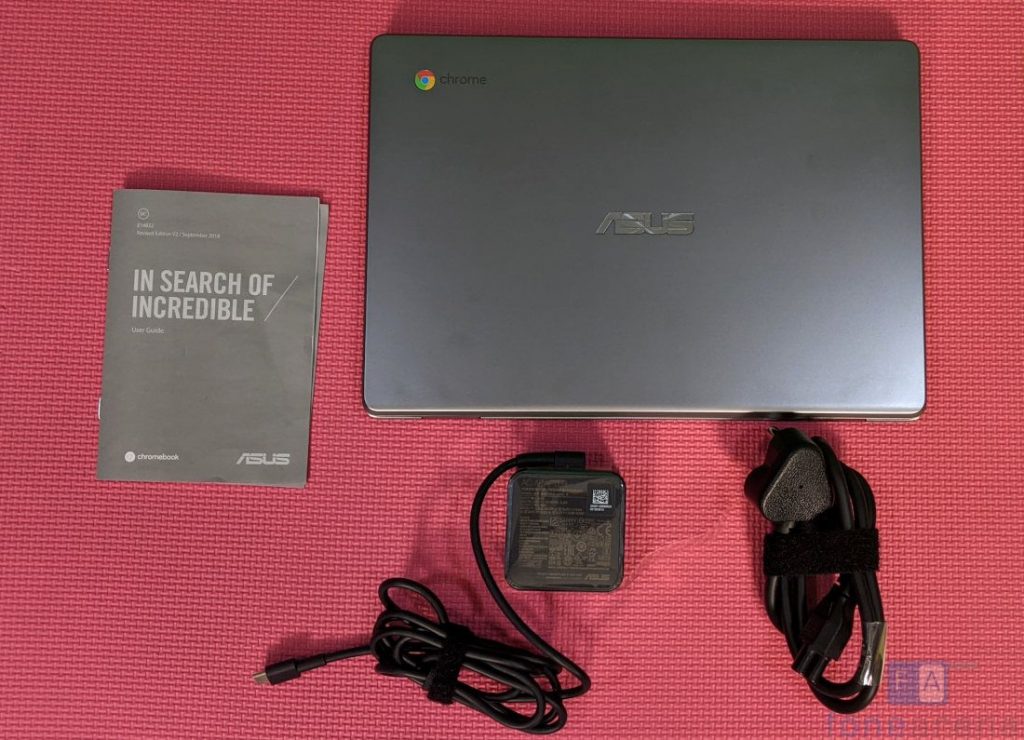 ASUS Chromebook 12 C223 in Grey colour
45W Type-C AC Adapter
User manual
Design and Build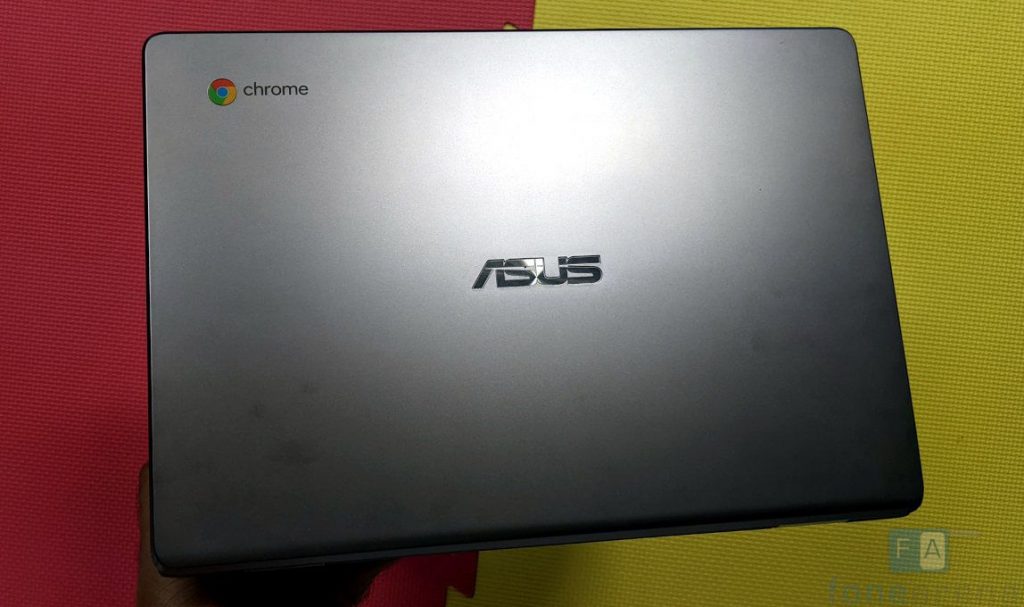 The ASUS Chromebook 12 C223 is an ultra-compact and ultraportable that weighs just 1kg and measures 286 x 199 x 17.3mm, so you can carry it in a small bag. It has a plastic body, and the outer case is prone to fingerprints, but the build quality is decent for the price. The company has released only the Grey version in India, while the Red colour version that is available in other countries look more attractive.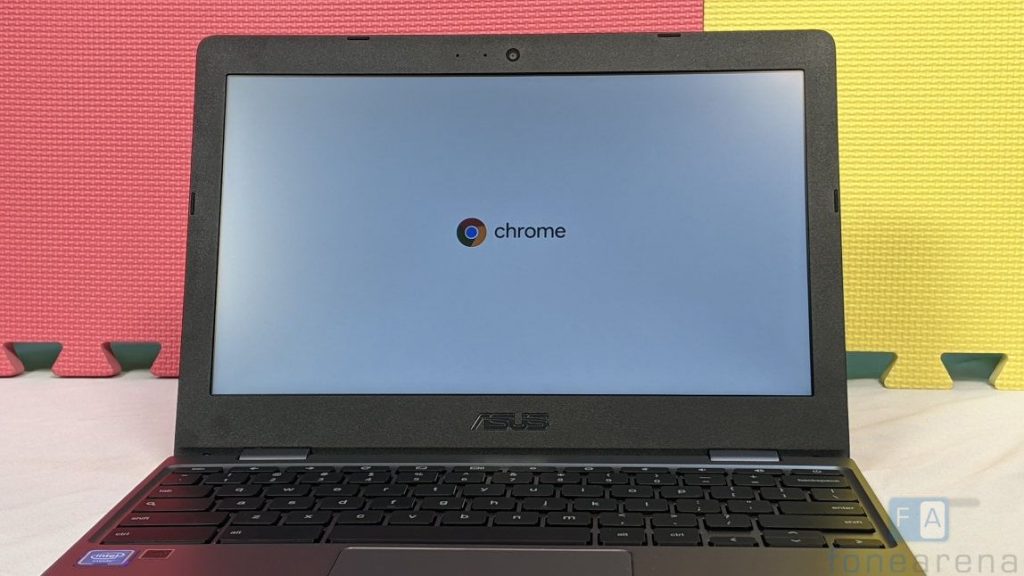 It has a huge bezel around the display with ASUS branding below the display and the HD webcam is present above it along with microphone. The webcam is decent for the price. You also have a chiclet keyboard and a multi-touch touchpad.
Regarding the ports, the right side has a USB-C 3.1 Gen 1 Type-C port and the left side has a USB Type-C port with charging indicator next to it, microSD slot that accepts cards up to 2TB, 3.5mm combo audio jack and a USB 3.1 Gen 1 Type-A port. Both the USB-C ports support PD fast charging.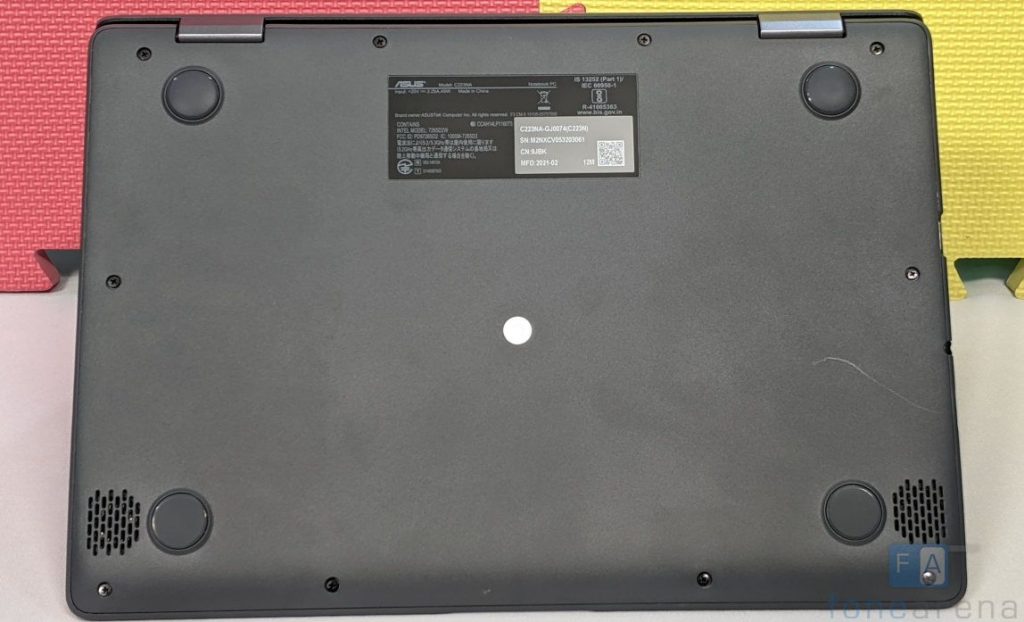 The bottom part has bushes and dual speakers on either sides. Audio from the speakers are decent, but the audio output is just average since it is present in the bottom.
Display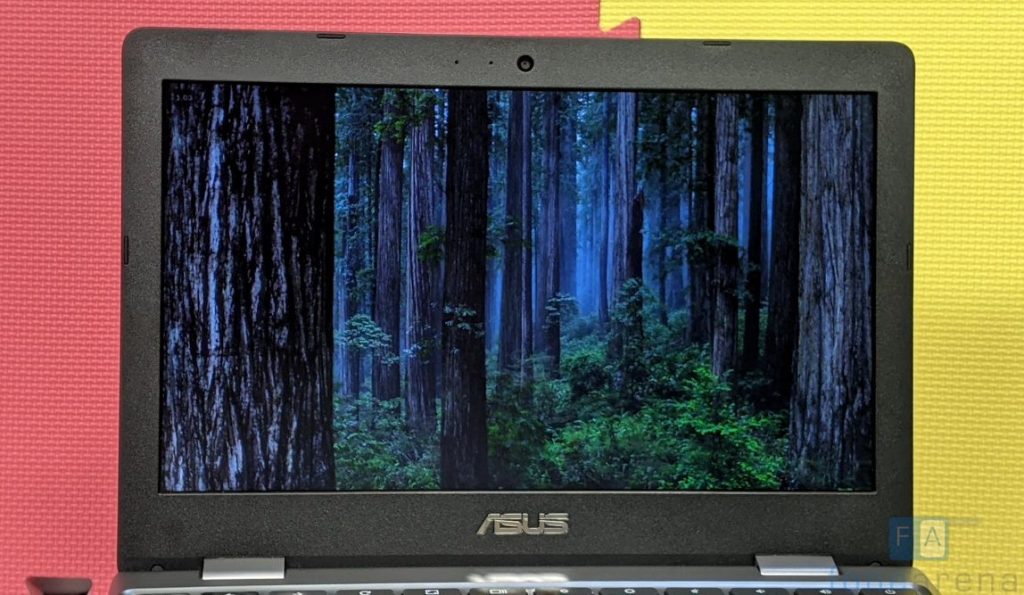 Coming to the display, the Chromebook has an 11.6-inch LED-Backlit LCD panel with 16:9 aspect ratio, 1366 x 768 pixels. Since the display has up to 200 nits brightness, it is decent in bright outdoors and the colours are decent as well since it has 45% NTSC colour gamut. It is an Anti-glare display that has a matte finish that promises less eye strain for day-long computing, but the viewing angles are limited.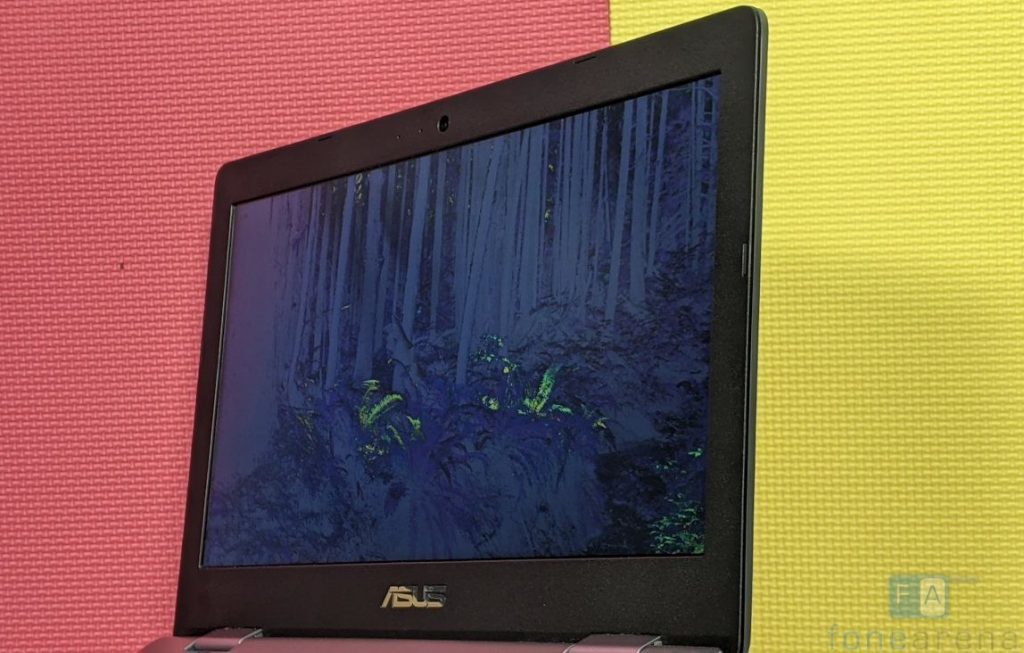 As you can see in the image, the screen is hardly visible when you view it from the side or when you tilt the display to a certain angle. It has a screen-to-body ratio of 74% mainly due to huge bezels around the screen. I don't have an issue with that, but the display is strictly average for media consumption.
Keyboard and touchpad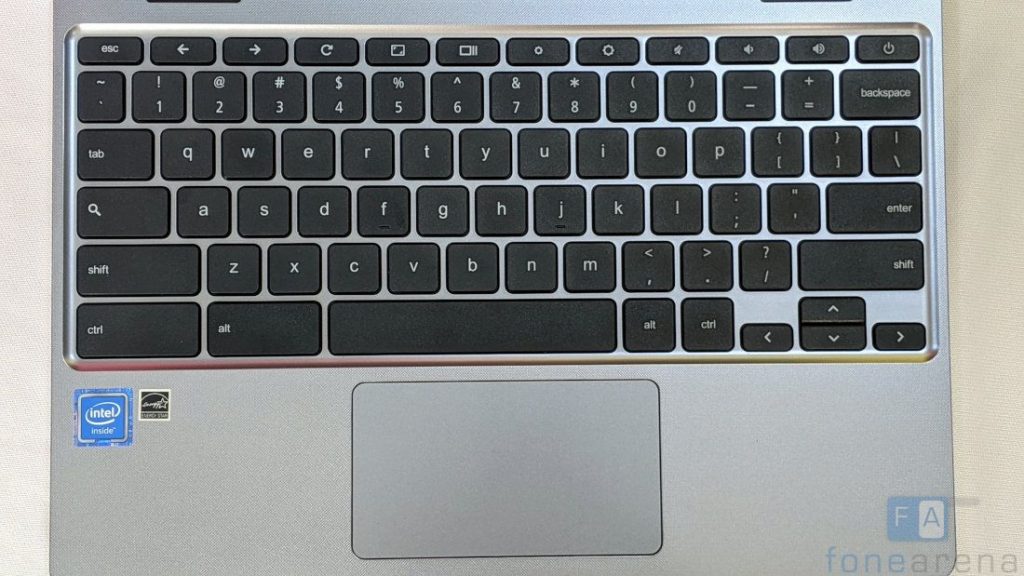 The chiclet keyboard with 1.5mm key-travel is comfortable to type, and the trackpad is also good for the price. The spill-resistant keyboard can resist up to 66cc of liquid spillage, says the company. The large touchpad that can intelligently recognize accidental palm contact during typing and rejects these inputs so that you can rest your hands naturally and comfortably while typing. The touchpad also supports multitouch gestures.
Chrome OS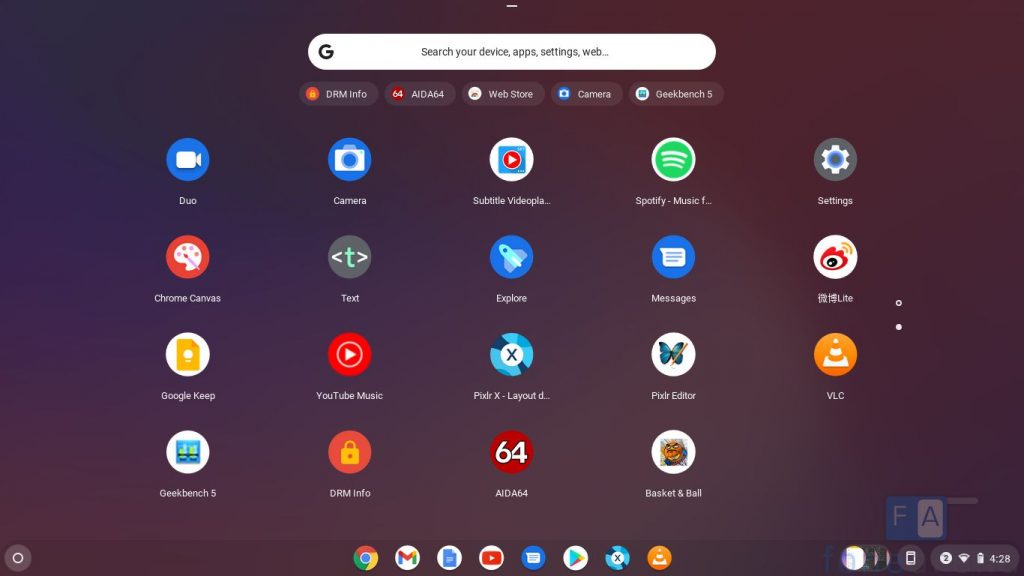 Regarding the software, the Chome OS has been improving over the years. It has a simple UI that is designed around the browser. You get Google G Suite apps, and you can install more apps from the Google Store. The company says that it has multiple layers of security to defend against malware, viruses and accidental mishaps. Google usually offers up to 8 years. Since the model was released back in 2018, the company will offer updates for this till June 2024, which is 6 years.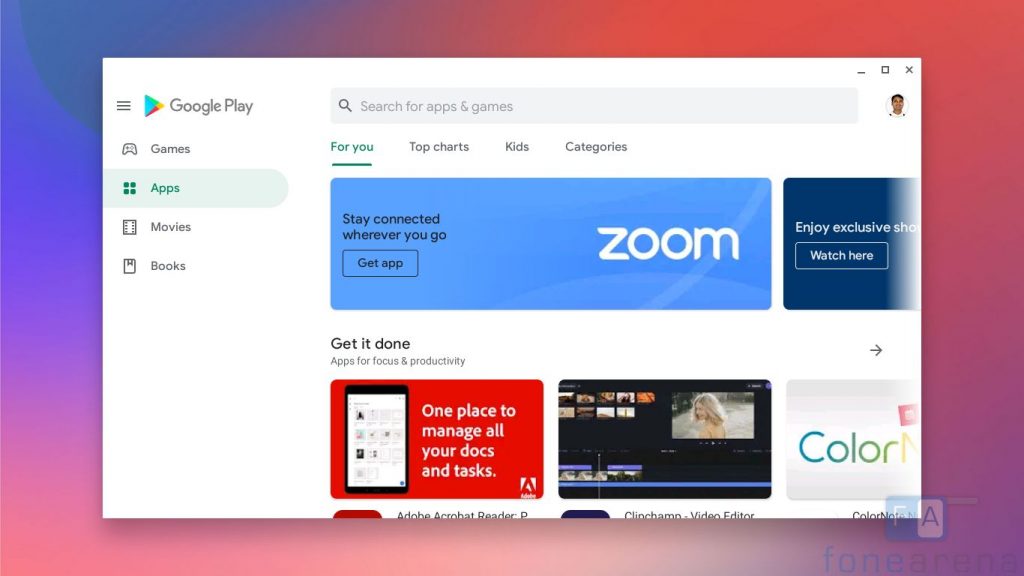 There is also Google Play Store to install Android apps, but not all the apps are optimized for the Chromebook or tablet, so these are displayed in the form of portrait UI for phones. It comes with 12-month 100 GB membership of Google One.
Google's Chrome OS now has Linux support, a feature that lets you use or even develop Linux based software using your Chromebook. You can install Linux command line tools, code editors, and IDEs on the Chromebook, but the Chromebook can't handle all the Linux apps smoothly since most of them crashed for me.
Performance and Connectivity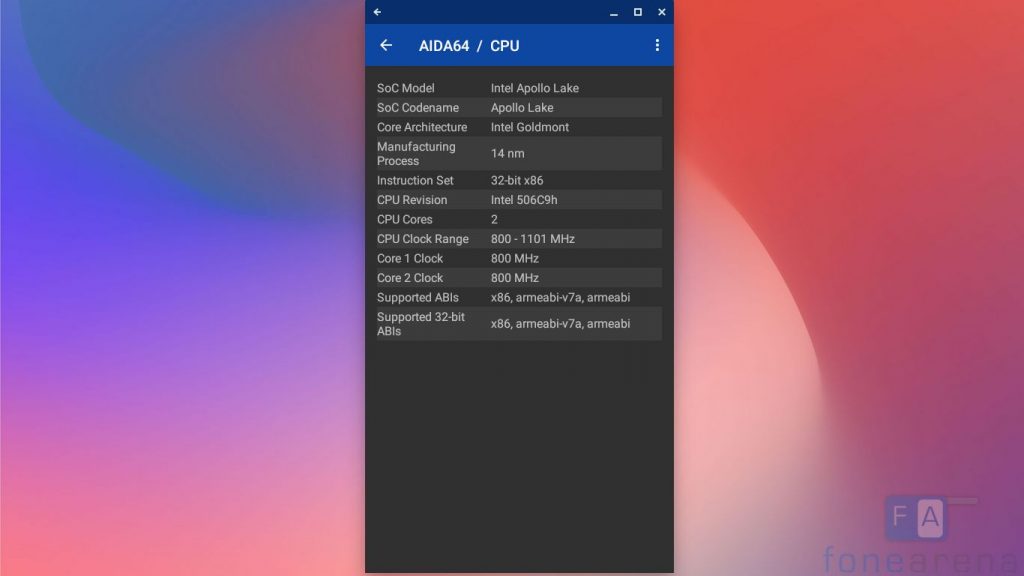 The C223 ChromeBook model that we have is powered by Intel Celeron N3350 (1.1GHz base clock / 2.4GHz burst / 2MB cache / 2 cores / 2 threads / 14nm architecture) processor with Intel HD Graphics 500, which can handle browsing well.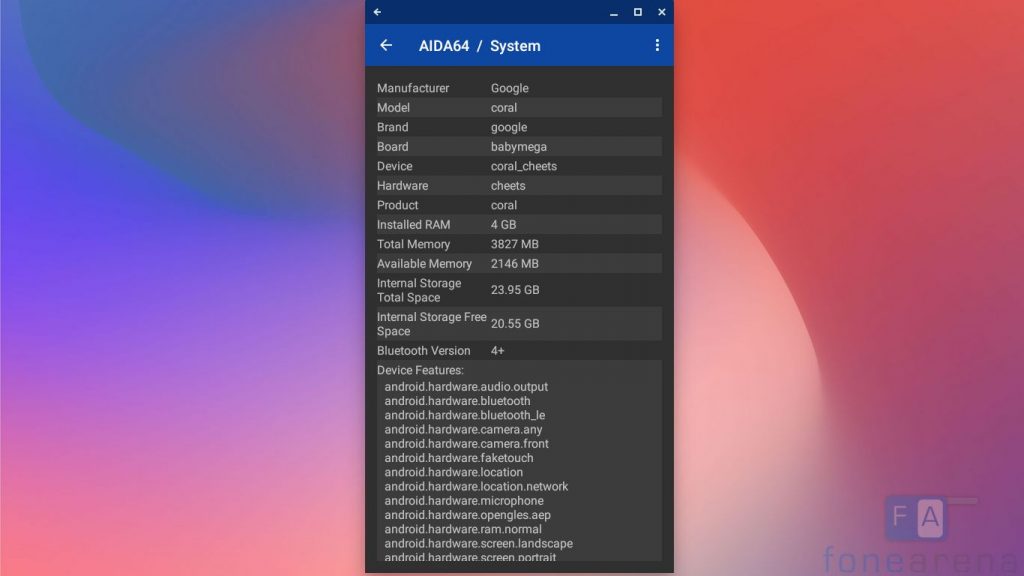 It is coupled with 4GB of LPDDR4 2400Mhz RAM and 32GB eMMC storage. It can boot quickly and lets you open a few Chrome tabs, but it can't handle resource-hungry process like opening more than 10 tabs or playing heavy 3D games or running several Android apps in the background.
The Chromebook scored 22 fps in Speedometer 2.0 and in Geekbench 5, it scored 253 on single-core and 515 in multi-core. In comparison, the MediaTek MT8183 Octa-Core SoC-powered HP Chromebook 11a that was launched in India recently scores 25fps in Speedometer 2.0, however the Geekbench 5 scores are similar.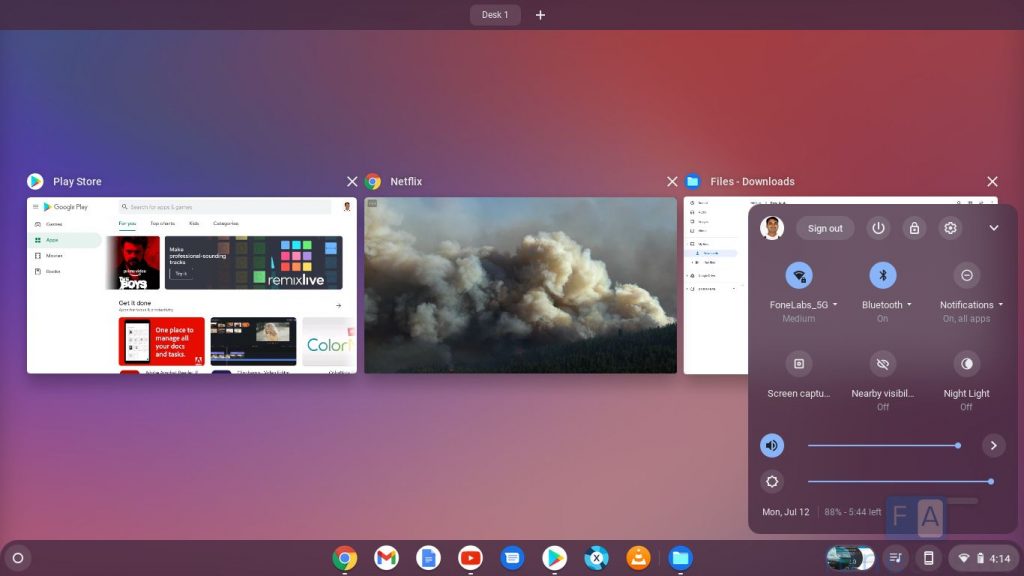 Regarding the connectivity, this has dual-band 802.11ac Wi-Fi and Bluetooth 4.0. I did not have any connectivity issues. Another feature I like in the Chome OS is that you can connect your Android phone to the Chromebook and easily use the 4G connection on the phone as a hotspot with easy setup without having to set it up on the phone manually. You can connect a USB Type-C directly or use the USB Type-A port to connect a hard disk, if you feel 32GB storage is less. You can also make use of the microSD slot, but it is better to use an external SSD instead for microSD since it is cheaper. The USB Type-C ports also act as a display port so that you can connect adapters to connect it to a monitor.
Multimedia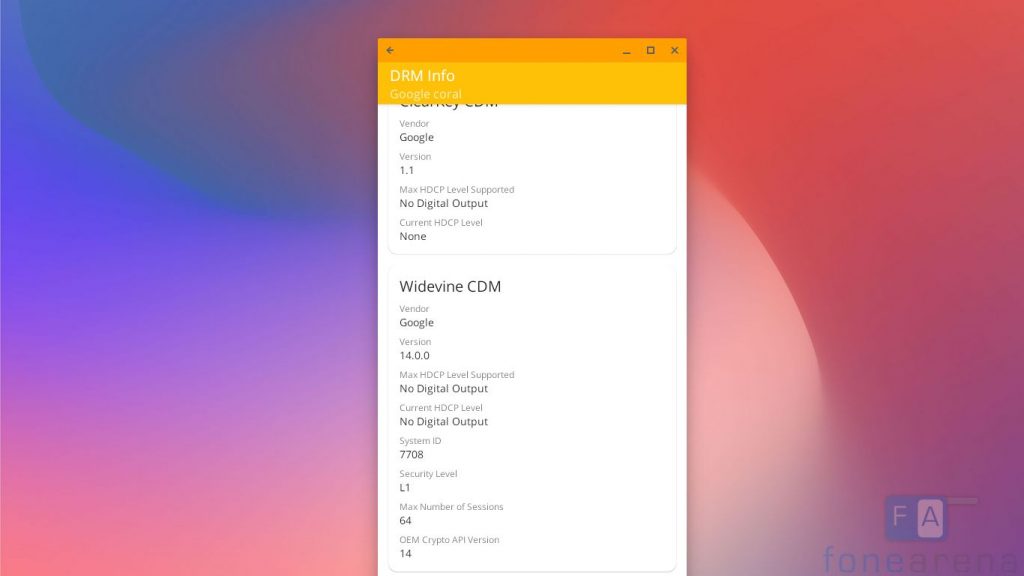 Even though this just has an HD screen, it can play 1080p or even 4K videos on YouTube. It also has Widevine L1 support, so you can play HD content on online streaming apps like Netflix and Hotstar and other apps.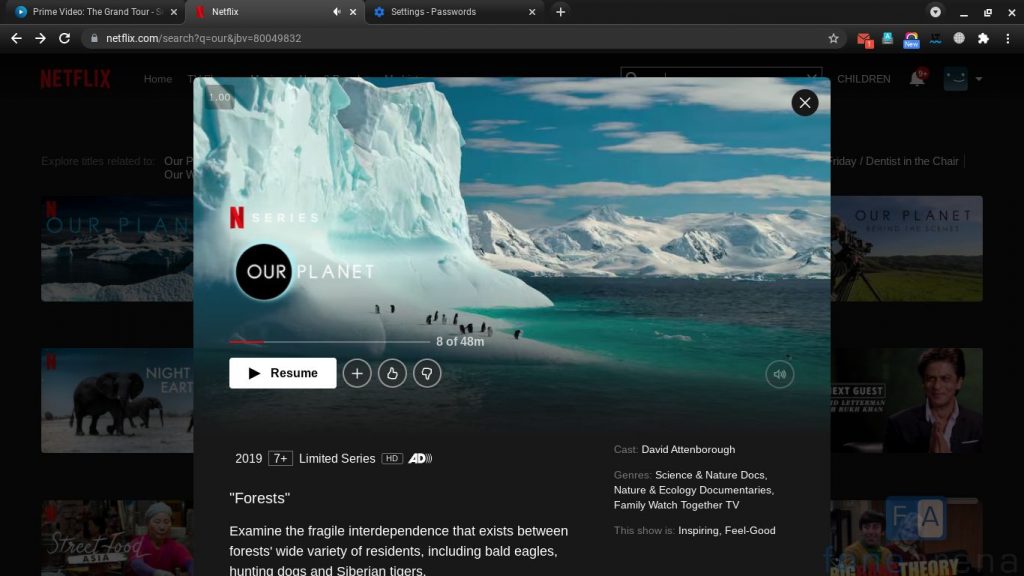 Even though I could play HD content on Netflix and Hotstar without any issues, I couldn't get to play HD content on Prime Video through the browser, but the Prime Video Android app supported HD playback without any issues. The built-in video player supports playback offline without any issues. Audio in some video formats couldn't be handled by the built-in player, and the VLC player was useful to play those videos without any issues. However, the Chromebook couldn't handle HEVC or x265 videos even with VLC, which might be due to processor restriction. I even tried the HEVC Player extension, but the video didn't play properly, and said that the processor is not powerful to encode the video.
Battery Life
The Chromebook has 38Wh lithium-polymer that promises 10-hour battery life. I managed to get close to 10 hours of battery life on a single charge with minimal brightness and mixed online browsing and offline video playback. This might vary depending on your use. With the 45W AC Adapter, you can charge that Chromebook is less than one and half hours from 0 to 100%. You can also any USB-PD charger to charge it. I tried the 65W OnePlus 9 Pro's, and it charged in the same 45W speed as the AC adapter.
Conclusion
Overall, the ASUS Chromebook 12 C223 is a decent entry-level compact Chromebook for the price if you use it for browsing (fewer tabs), video conferencing, online streaming, and offline document editing or video playback. When you start to stress it, then it starts lagging due to the entry-level processor. Video streaming and playback has no issues, but the TN display with limited viewing angles might not offer the best experience. One of the things I like about this Chromebook is the long battery life and support for PD fast charging. It will be available from Flipkart starting from July 22nd priced at Rs. 17,990.
Alternatives

ASUS has also launched Chromebook C423, C523 and a convertible Chromebook Flip C214 model with a better Intel N4020 processor at a higher price. There are also touch screen options, all under Rs. 25,000 price tag. You can't expect exceptional performance from these, since these are also powered by dual-core Celeron processors. If you need something smaller with a touch screen, then the  HP Chromebook 11a that was launched a few months back is a good option at a slightly higher price. In Windows, the latest Avita Cosmos 2 is a good option in the price range.
Pros
Compact and lightweight body
Good battery life with fast PD charging
Dual USB Type-C ports and a Type-A port
Cons
HD TN display has limited viewing angles
Average performance