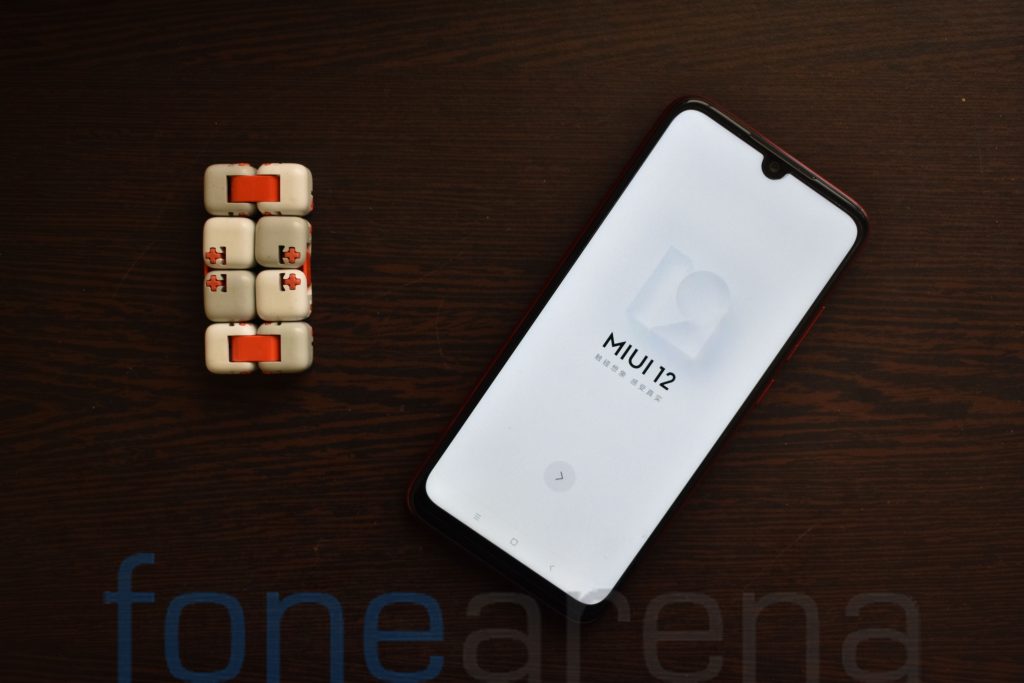 Xiaomi announced the latest iteration of its own proprietary Android skin MIUI, dubbed MIUI 12 along with Mi 10 Youth Edition at an event in China earlier this week. MIUI 12 brings brand-new Animations, Dark Mode 2.0, and focuses on Privacy and security. MIUI 12 shows all sensitive behaviours of an app and comes with improved Xiaomi 's AI phone assistant with AI calling.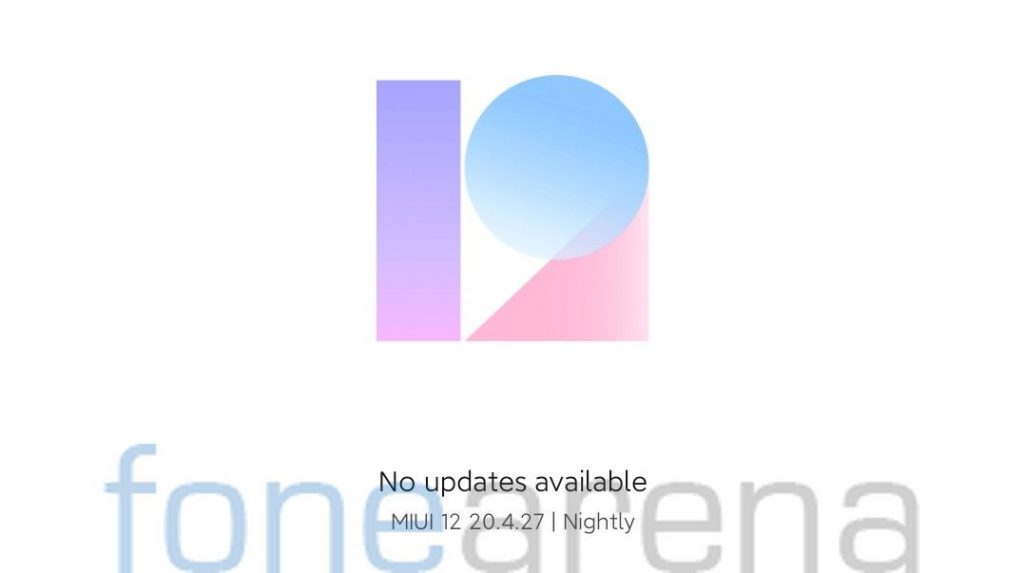 As per the schedule shared during the launch, Xiaomi has planned to roll out MIUI 12 (China ROM only) for all the supported devices starting June in three batches, while MIUI 12 Public Beta (China ROM) was scheduled to be rolled out for eligible devices starting May 8. On the launch day itself, MIUI 12 Nightly Beta (China ROM) was leaked for various devices, we flashed it on our Redmi Note 7 Pro and here is our first impressions of the same,
New Control Center:
Xiaomi has been doing experiments for the last couple of years with notification shade and MIUI 12 is no exception. Xiaomi has implemented a very iOSish control center on MIUI 11.
Swiping down from the right side brings Quick settings toggle such as Wi-Fi, Bluetooth, and Mobile Data, while swiping down from the left brings notifications.
Xiaomi has given an option to opt for the Control center, but users can stick to regular notification shade if they wish to.
2. Privacy Protection: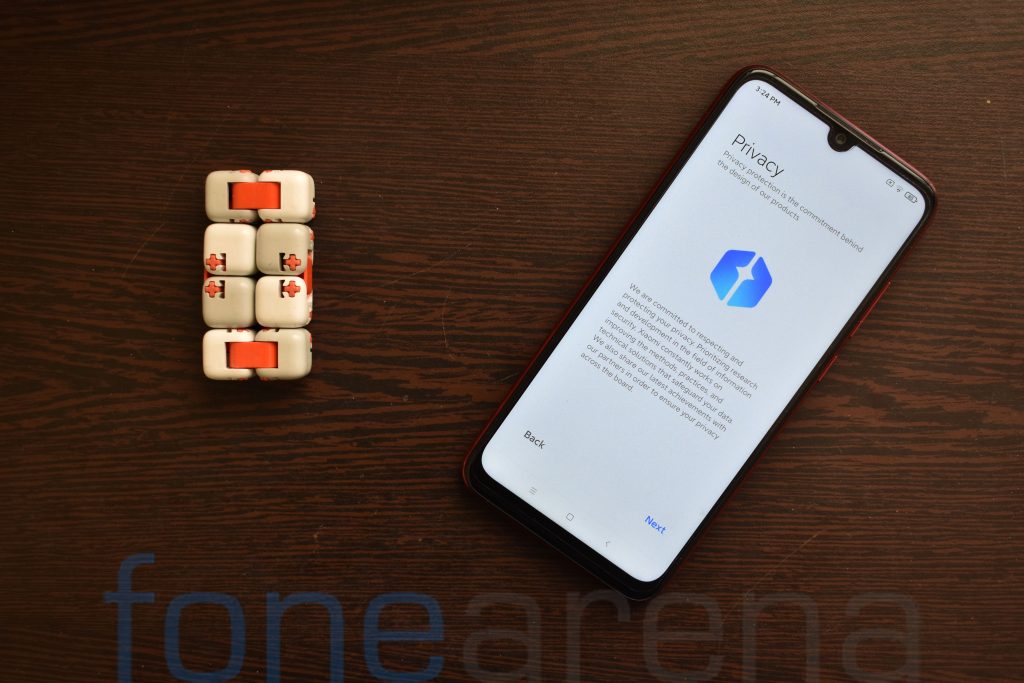 Privacy improvements include Flare, Barbed Wire, and Mask Privacy System and aim towards providing a secure user experience without worrying about privacy.
Barbed Wire asks only once, allow every time, or reject option when app asks for permissions.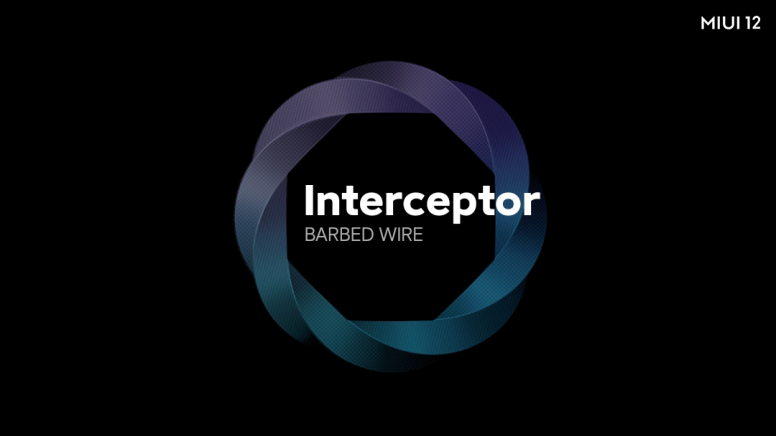 When an app asks for location, microphone, or camera access, the barbed wire prevents untrusted apps from accessing contacts, calendar, call logs.
Flare logs what all app has access to cameras, microphone, or GPS location.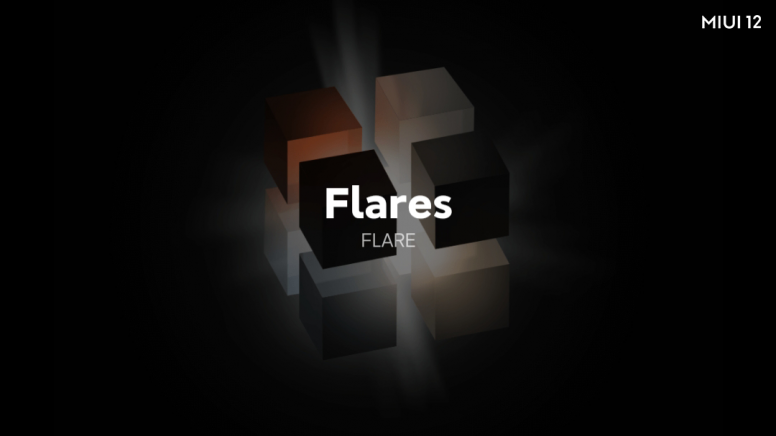 You can also search for a particular item such as Files or Contacts that apps have access to, and the system will show you a list of apps in chronological order.
Xiaomi has also introduced a hidden mask system that creates a virtual ID for third-party apps. It prevents apps from tracking user behavior and preferences to protect user privacy.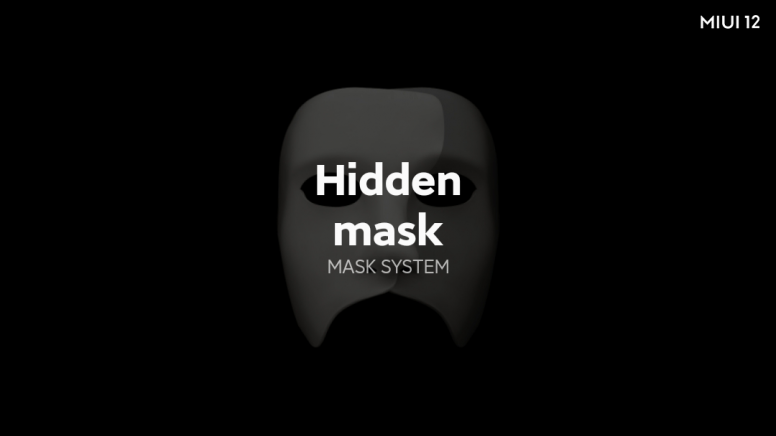 Xiaomi says that some personal recommendation features may not work when the option is turned on. Users can also reset their virtual ID with a single tap.
3. Floating Window:
Xiaomi says MIUI 12 floating window is probably the best multitasking implementation in a UI. All the apps are resizeable and can be opened in PiP mode which Xiaomi refers to as a floating window.
There are different gestures to interact with an app in floating window mode. Users can move around the floating window, resize it, run it in full screen or exit the app with the help of gestures without leaving the app.
4. Always on Display 2.0:
Xiaomi introduced Always-on display on MIUI 10 and further introduced more presets with MIUI 11. With MIUI 12, Xiaomi has taken always-on display to a whole new level, there are tons of presets and customization options for everybody.
5. Refreshed Design: Xiaomi has focused on details, the animations have been redesigned from scratch says Xiaomi. The UI has been updated a bit and looks a bit different compared to MIUI 11. You will notice more colors and cards everywhere throughout the UI.
Xiaomi has opted for Roboto font on MIUI 12 but it still has the dynamic scaling feature similar to MIUI 11 China ROM. Xiaomi didn't offer dynamic scaling feature on MIUI 11 Global and there are chances that we don't see it on MIUI 12 Global either.
6. New Animations: 
Self-developed physical animation engine rewrites the underlying rendering mechanism. Through the MAML illustration engine, Folme animation engine, and MiRender rendering engine, elegant visual and animation effects such as perfect dynamic rounded corners, advanced colour mixing, control-level real-time blur, physical space motion, and dynamic forms are improved.
Animations are totally different from what we have seen on MIUI 11. Wallpaper elements now move as you swipe between the screens for supported wallpapers.
MIUI Security app also gets new animations, you will notice new animation while optimizing the system, cleaning cache, or performing security scans.
You will also notice new animations when you open an app, the app window comes out from the app icon and converge into the app icon as soon as you close the app or go to the home screen.
7. Super Wallpapers: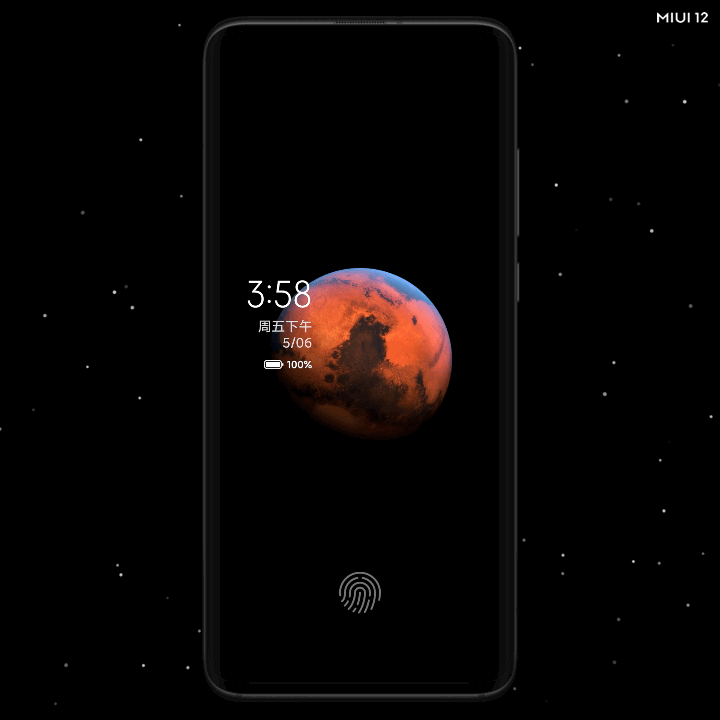 Xiaomi has introduced Mars and Earth inspired wallpapers on MIUI 12, Xiaomi calls these Super wallpapers. The lock screen shows the planet from a distance and takes you to the surface of the planet (zoom-in) on unlocking the device.
8. Dark Mode 2.0: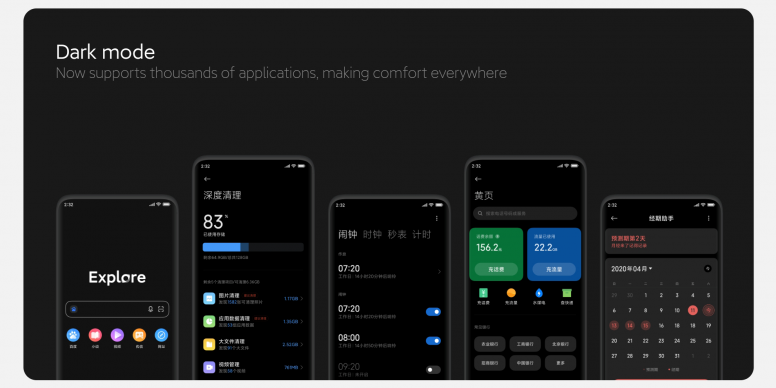 MIUI 12 brings Dark Mode 2.0 with support for 42 built-in applications and 20 mainstream applications. These apps are deeply customized for MIUI's dark mode, and several third-party applications now support non-linear colour invert algorithm that accurately identify interface elements, and dynamically inverts colours for each interface object.
In the dark mode, font-weight is adjusted dynamically to reduce glare and blur, screen brightness is automatically adjusted for accurate color, high contrast and contents are sharper in the light environment.
9. Focus Mode:
Xiaomi had introduced Screen Time last year in MIUI Global Beta ROM but it didn't make it to MIUI 11 Global Stable ROM since Google made it mandatory for OEMs to include Digital Wellbeing. MIUI China ROM still has the screen time feature but Focus mode is a new addition to it. MIUI Focus mode is very similar to Zen Mode from OxygenOS as it encourages you to minimize your smartphone usage and locks you out of the phone.
10: Video Toolbox: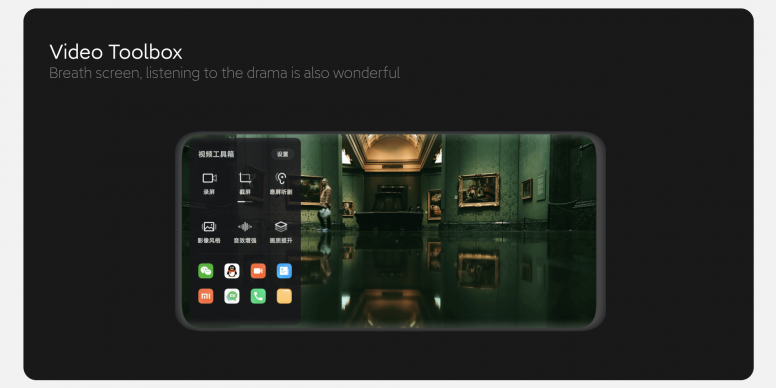 Xiaomi has introduced yet another very handy feature called Video toolbox with MIUI 12. As the name suggests, you can enable the feature for video streaming apps and video players such as Youtube, Hostar and MX Players.
The toolbar can be triggered by swiping towards the right side from left side. It shows a bunch of options such as record, screenshot, cast and the handiest play video in screen off mode. You can also open another app in floating window mode on top of the video from the toolbar.
11. New Gestures:
Google made it mandatory for OEMs to include Android 10 native gestures in their respective UI, due to which you will find a new option Hide full-screen indicator. Using this toggle users can switch between MIUI gestures and Android 10 gestures. MIUI and Android 10 gestures are very similar, but in case you wish to maintain a uniform way of navigate across devices from different OEMs, Android 10 gestures got you covered!
12. MIUI Health :
Xiaomi introduced Steps tracker in MIUI Global with MIUI 11, with MIUI 12, users will be able to track their sleep, workouts, and other activities. Xiaomi says MIUI 12 can detect snoring and talking as well. Audio tracking feature records your audio when you're sleeping and stores the file on your phone. Xiaomi advises users to have sufficient battery on their phones to avoid any interruptions in sleep and snoring tracking.
13. App Drawer:
App Drawer made it to MIUI devices a few months ago, MIUI 12  also provides an option to switch to the app drawer. In app drawer mode, you will notice similarities between MIUI launcher and the POCO launcher, be it app suggestions, app categories, app drawer background, or the search bar at the bottom of the app drawer.
14. Other Features: Xiaomi has introduced quite a few useful features one of them is ability to show FPS count without requiring an extra app. The option can be  enabled from power monitor option under developer options.
Xiaomi has also included TapPlus which can show recommendations based on the screen contents, similar to Google lens. Xiaomi has also introduced AI calling similar to Google Duplex but it is in Chinese and both these features may remain China ROM exclusive.
The above-mentioned features are available on MIUI 12 China Beta ROM only as of now, Xiaomi is yet to announce MIUI 12 Global ROM for regions including India and other countries. What do you think of MIUI 12 Features, what's the top feature of MIUI 12 for you? Got any questions about MIUI 12, drop your query in the comments below.
Thanks, Shreyas for providing Always-on Display screenshots and screenrecording.