Airtel launched 3G services in Bangalore today and we have some news about the plans and tariffs.
Activate 3G
First you have to send a SMS 3G to 121
You would get a reply from Airtel if your handset is compatible
We got back a message stating the tariff as Rs. 30p / 20kb and we were asked to confirm by sending 1 as a reply.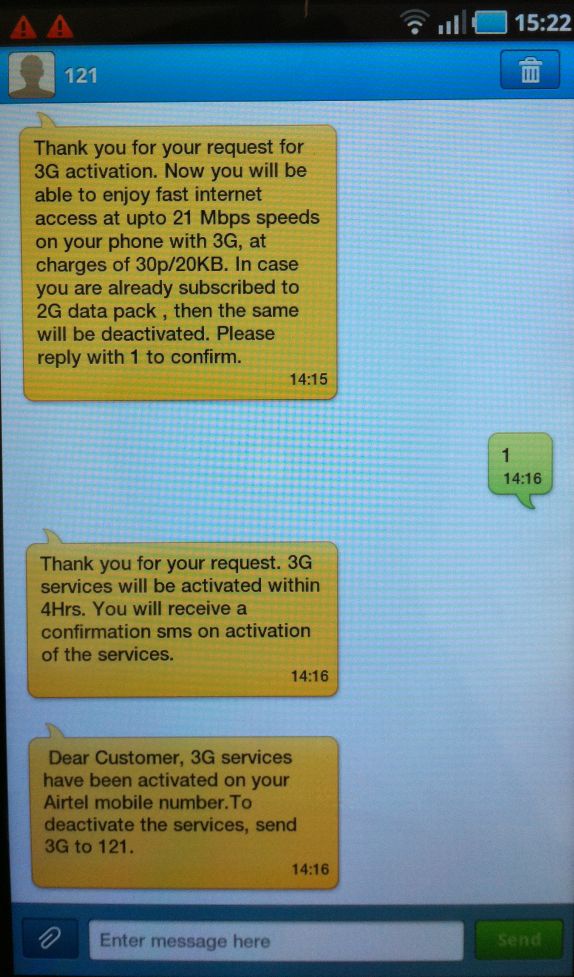 This is the pay as you go plan (3G PAYG VBC)
Any 2G pack will be de-activated once you activate 3G
We request you not to activate 3G as you might be charged heavily. Instead activate a data pack below by calling customer care !
Update tariffs chart added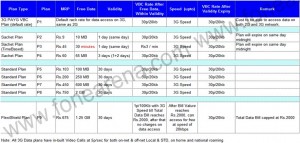 Airtel 3G Data Plans
Sachet Plans
Rs. 9 for 10 MB, validity 1 day (will expire on sameday midnight)
Rs. 60 for 65 MB, validity 3 days
Sacher Plan Time Based
Rs. 45 for 30 minutes and then Rs.3 per minute (will expire on sameday midnight)
Standard Plans
Rs. 103 for 100 MB, validity 30 days
Rs. 200 for 250 MB, validity 30 days
Rs. 450 for 600 MB, validity 30 days
Rs. 750 for 2 GB, validity 30 days
Flexi Shield Plan
There is also another plan in which you pay Rs. 675 as a monthly rental and get 1.25 GB free usage on 3G
Post 1.25 GB you will be charged 1 paise per 100 kB or 10 paise /MB
After that you pay for extra usage and max bill is Rs.2000 after which your speeds will drop to 20 Kbps
Volume Based Charging Plans
Prepaid Rs.13 , validity 20 days , no free usage but billed at 15p / 20kb
Postpaid Rs.20, validity 30 days,no free usage but billed at 15p / 20kb
Video Calls
Video calls both on-net and off-net will be charged at 5 paise / second for both local and national roaming
We shall update this page once we have more info !
What do you think of the tariffs ? Are you happy ? disappointed ?
Thanks to Varun Roy our Bangalore Ninja !