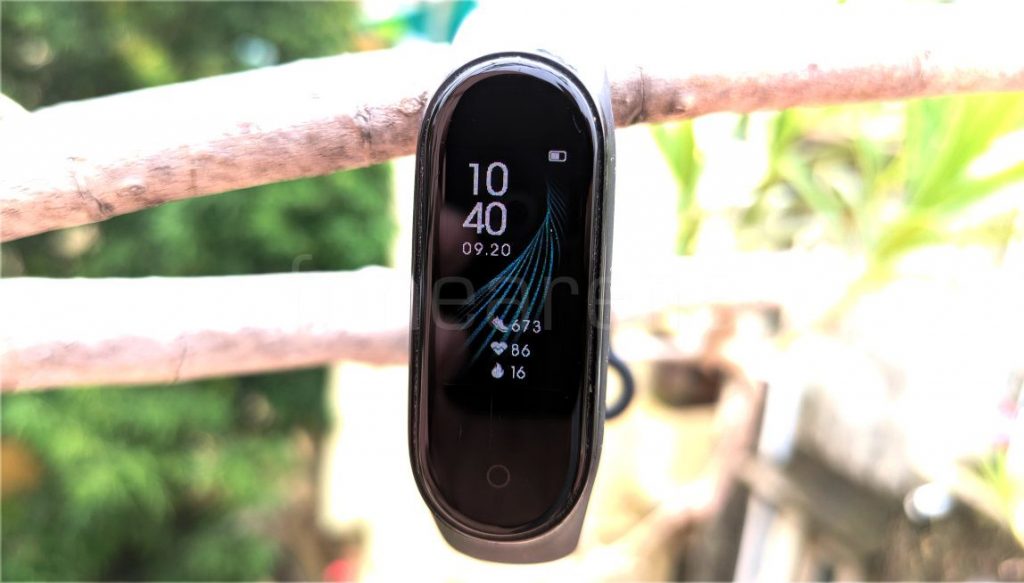 Xiaomi launched the Mi Smart Band 4, successor of last year's Mi Band 3 in India earlier this week. The upgraded version has a larger color AMOLED full-touch display with unlimited watch faces, and several features including music and volume controls, Swim tracking with stroke recognition and more. I have been using the latest fitness band from Xiaomi for about a month now, here is the review.
Box contents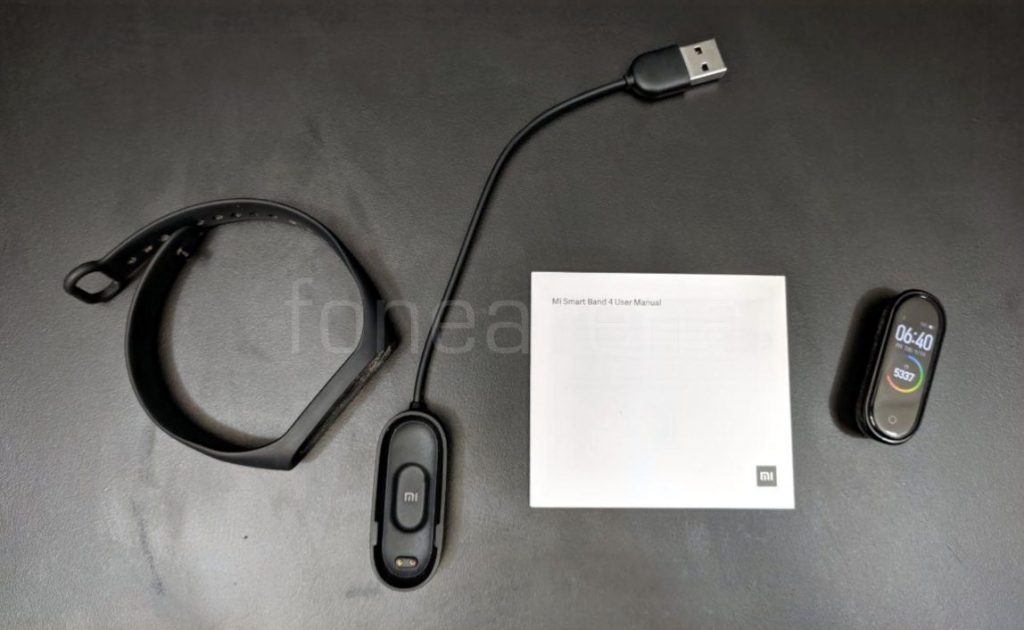 Xiaomi Mi Smart Band 4 device
Black silicone wrist band
Charging cable
Quick start guide
Design and Build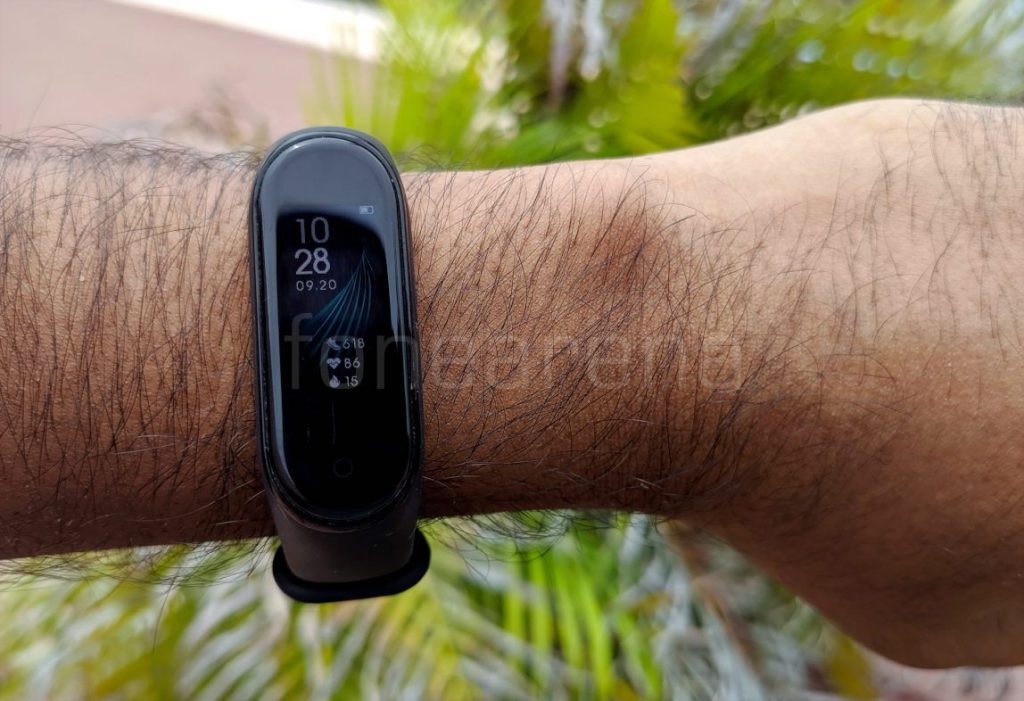 The Band 4 has the same elliptical design as the Mi Band 3, but the touch button below the screen is slightly smaller than the predecessor. It weighs 22.1 grams, slightly heavier, but you won't notice it since it's just 2 grams more. The dimensions should be same, since both the bands are similar. It has a polycarbonate body, similar to Mi Band 2 and 3.
It has 5ATM water resistance, so you can even wear when swimming. There is 3-axis accelerometer + 3-axis gyroscope sensor, and Bluetooth 5.0 compared to Bluetooth 4.2 in the predecessor to connect to Android and iOS devices. Since the Bluetooth chip is programmable, so it can store data even when it is disconnected from the smartphone.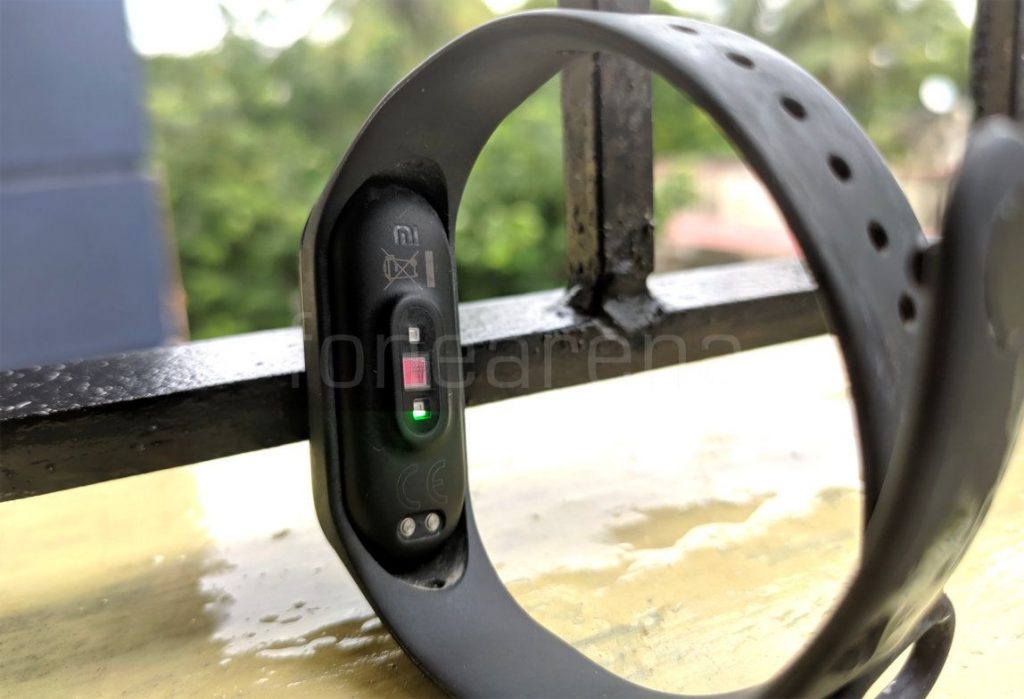 Coming to the band, it is made of skin-friendly thermoplastic polyurethane and the strap is adjustable to extend from 155 to 216mm, depending on your wrist length. Xiaomi says the Mi Band 3 and Mi Band 4 straps are interchangeable. The core unit also fits tightly so it doesn't fall out of the band easily. The holes in the band are perfect and the clasp made of aluminum alloy holds the band securely so it doesn't come out unless you pull it out. You only get Black colored band in the box, but you can purchase different colored straps later.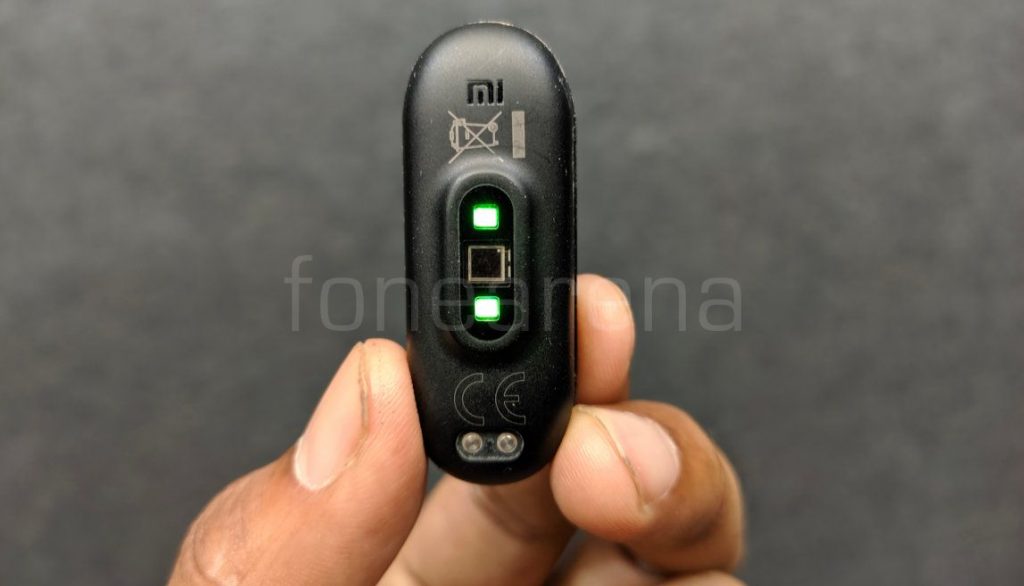 On the back you can see the heart rate sensor that has glowing green LED lights when you are using it to measure heart rate. You can also see the charging pins on the back, which has been moved from the bottom in the previous generations.
Display and features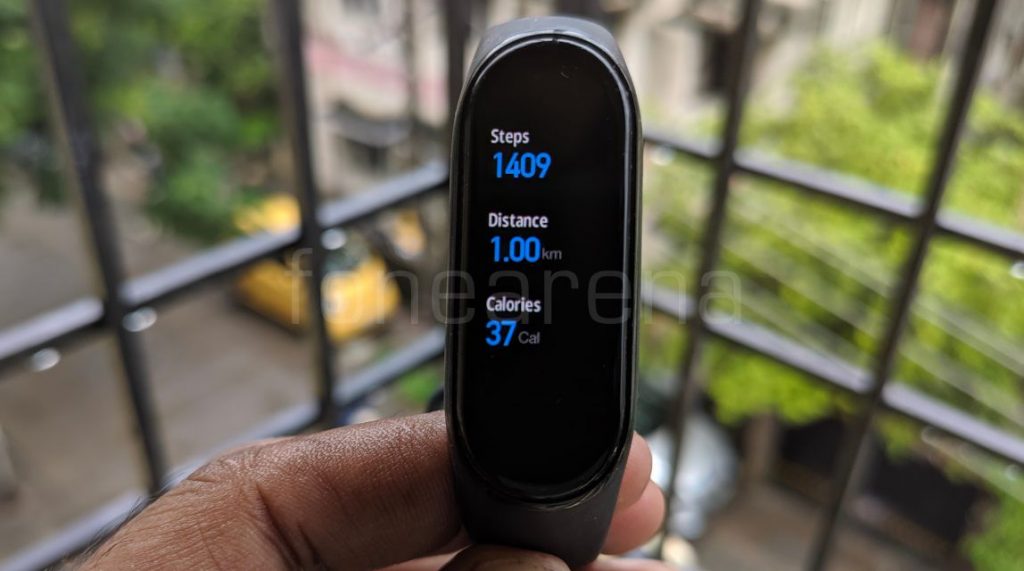 Coming to the display, the Band 4 has a large (120 x 240 pixels) AMOLED 24bit color touch screen display with up to 400 nits brightness and 2.5D scratch-resistant glass and anti-fingerprint coating. Similar to previous Mi Bands, you can set it to turn on when you lift your hand, and the screen turns off in a few seconds to save power. It still attracts fingerprints and is not completely scratch resistant since I can see some tiny scratches on the band. Touch screen is smooth, and the touch button below the screen acts as a back button.
Thanks to 400 nits brightness, you there are no outdoor visibility issues like the Mi Band 3. Even I had faced similar issues with the Mi Band 2. You can adjust the brightness from more->Settings->Brightness. You can adjust it from level 1 till level 5. Level 2 is enough for indoor, but you need to bump up the brightness to 4 or 5 to view the screen when you are in bright outdoors. You can't expect and ambient light sensor for auto brightness adjustment in the price range, but I felt the process of adjusting the brightness a bit tedious since you need to scroll all the saw to the settings and adjust the brightness. Wish there was an easy notification shade-like option to access brightness adjustment like the Amazfit smartwatches.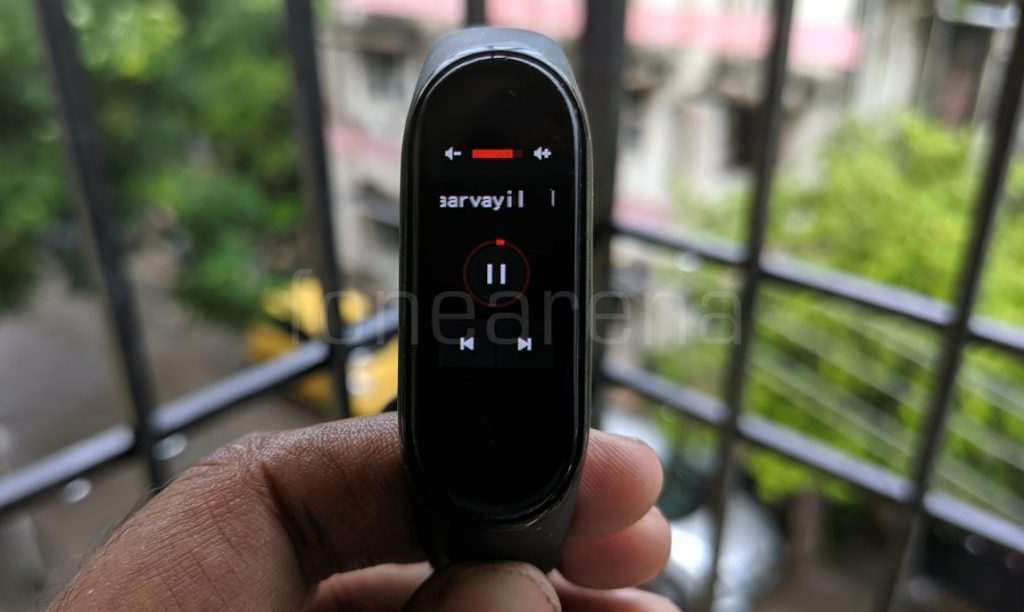 One good addition to the Mi Band 4 is music controls. You can just swipe from left or right on the touch screen to view music control panel that lets you play, pause, skip tracks and also adjust volume when you play any music or any kind of content like YouTube videos or podcasts when the band is connected to the phone.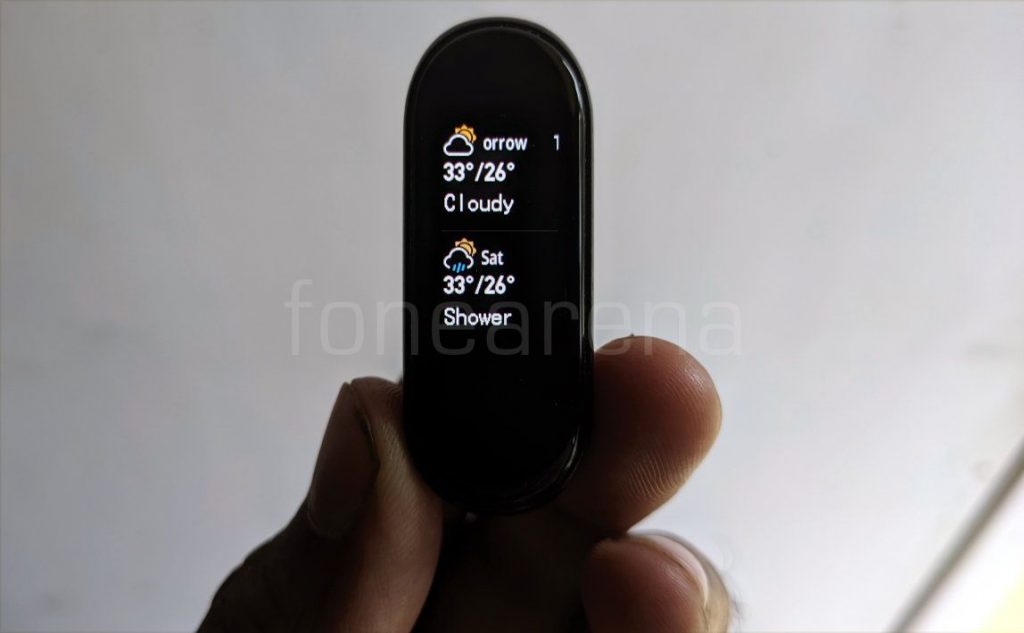 The status option shows steps, distance and calories burnt. There is also idle alerts count to show how long you have been sitting without moving. Duration for this can be controlled using the app, which we will talk in the software part. There is also heart rate option to quickly measure your heart rate in few seconds. There is also weather option that shows when you connect the band to the phone. It also shows forecast for 5 days.
Next up is the workout feature that has outdoor running, treadmill, cycling, walking, exercise and pool swimming, and it is also has capable of recording 12 different data sets including the pace of your swimming, stroke count, distance and more, and you can select the pool size from 10m to 200m. I haven't tried swimming features personally, so can't comment on the performance.
Sleep tracking has improved, and it shows light and deep sleep as well as awake time as usual.. For workouts, it warns that routs won't be recorded for running or walking, if the band is not connected to the phone since it grabs GPS data from the phone due to lack of built-in GPS. It fails to get GPS data from phone sometimes, and I have experienced this when running, so the distance might not be accurate. It shows time, distance and pace for workouts like running. You can press and hold the touch button to pause a workout in the middle, and resume it or stop it.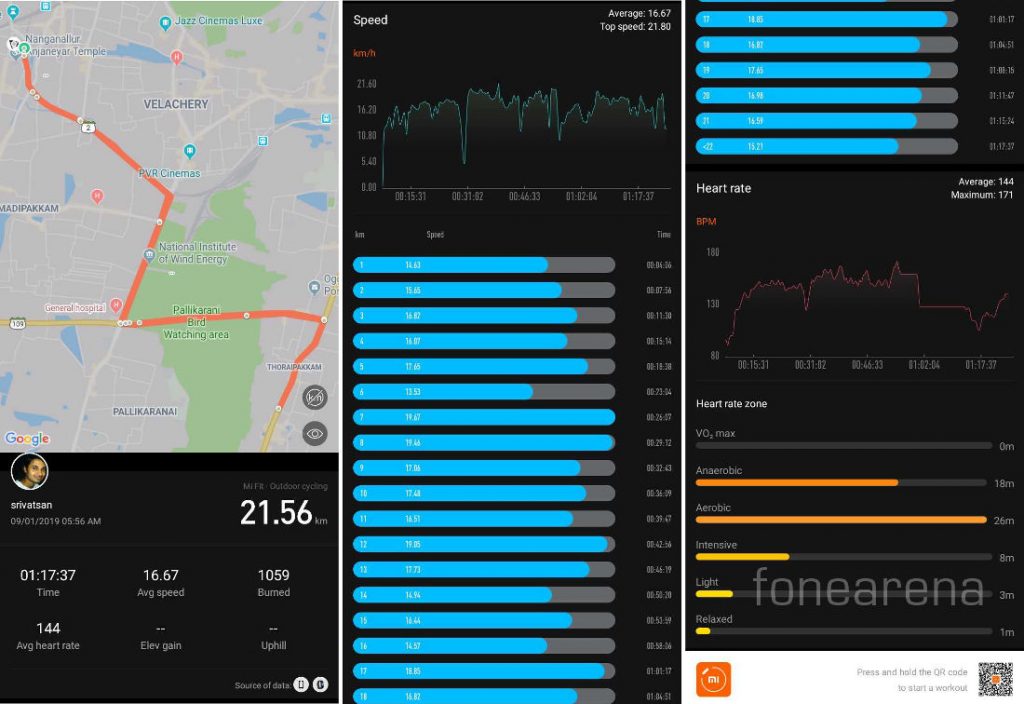 Here is my cycling stats that shows GPS data, total time, average speed, calories burnt, average speed, time for every 1km and heart rate zones. You get similar stats for outdoor running and other workouts.
From the band you can also enable DND with an option for auto DND that is activated when you go to sleep. There is also Alarm, Stopwatch, Timer, Find device that turns on alarm sound on the phone when it is connected to the phone over Bluetooth, Silent to put the phone to silent, band display that lets you change the band's watch face.
Heart Rate Sensor
The Mi Band 4 uses LED lights and photo-diodes to illuminate blood vessel for a while and monitors the heart rate via the change of green light absorbed, similar to the older models. You can't say this is 100% accurate, but heart rate recordings — both resting and active are decent. It is almost similar to the smartwatches like the Verge Lite. For the price this does the job perfectly. You can use the button or use the app to check the heart rate. It stores the data with date and time. It take 5 to 10 seconds to measure heart rate and is not continuous, but you get continuous heart rate tracking during workouts, which will also drain the battery.
Software
Xiaomi keeping improving the Mi Fit app for Android and iPhone adding new features. The Mi Fit 4.0 that was released back in May brought new UI.  This shows the summary in a card on the homepage, it shows steps, sleep, heart rate and weight data. Users can see detailed statistics by clicking on this card. The new UI looks clean and minimal and is certainly a refreshing change.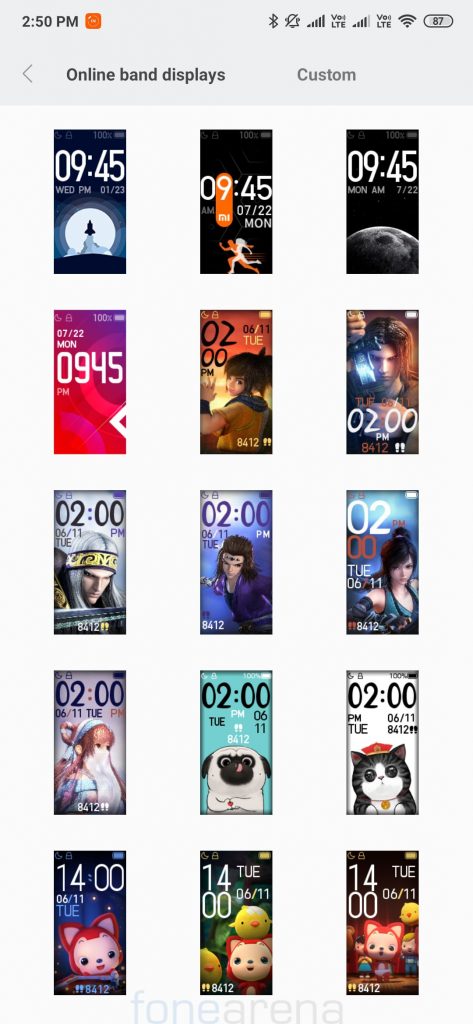 When you go to profile and choose the Mi Smart band 4, you can see a lot of options, including option to change watch band faces. There are lot of watch faces to choose from, and you can also set custom watch face that lets change the background by taking a photo or choose a photo from the gallery to show up in the background. There is also an app called Mi Band 4 Watch Face that lets you choose custom watch bands and export it to the watch. It takes time, but it's worth it if you want a nice band face. You can only view one new face on the band at a time apart from the default ones.
Other features on Mi Band app
Incoming Call Alerts: Band vibrates immediately or set it to vibrate between 3 seconds and 30 seconds after you receive a call. Option to not notify about unknown numbers and show contact information
Event reminder: Set a reminder with date and time
Alarm: Set an alarm
App Alerts and incoming SMS alerts: Set notification alerts for any app and for SMS. Shows the complete message on the screen.
Idle alert: Alerts every one hour. Lets you set custom start and end time and do not disturb time
Goal Notification: Band vibrates when you reach steps goal
Vibration pattern: You can set custom vibration pattern for each notification such as calls, events, alarms, app notification and more
Lift wrist Info: Set the band to turn on display when you lift the wrist. All the time or set custom schedule
Automatic heart rate detection: Detects heart rate automatically at certain intervals, when you are doing exercise and during sleep
Night mode: After sunset or at your preferred time), Mi Band's will be lowered automatically
Battery life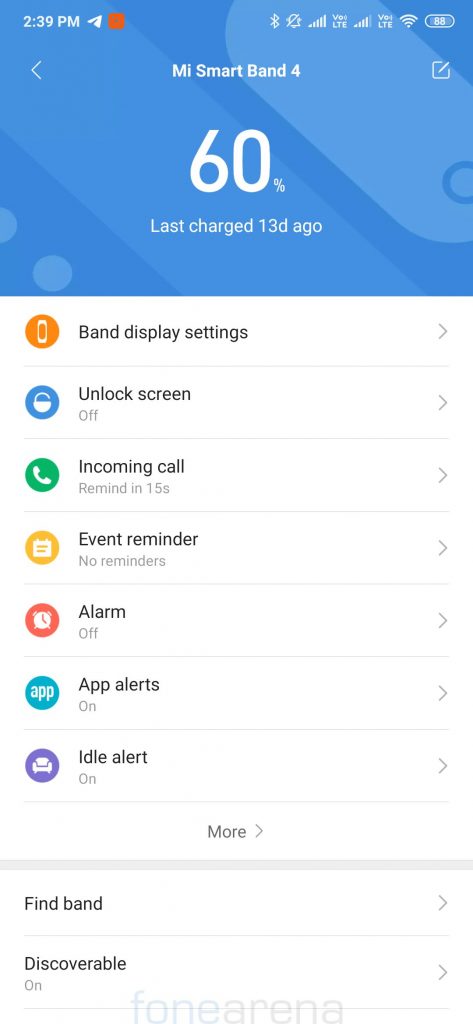 Compared to 110mAh battery on the Mi Band 3, this has a 135mAh battery to compensate for the larger and brighter screen. The company promises 20 days of battery life. I have been using it for about a month, and I have charged only once, since I don't have the band always connected to the phone for notifications. This might vary depending on frequent use of the display with increased brightness, use of heart rate monitor during workouts and notifications turned on.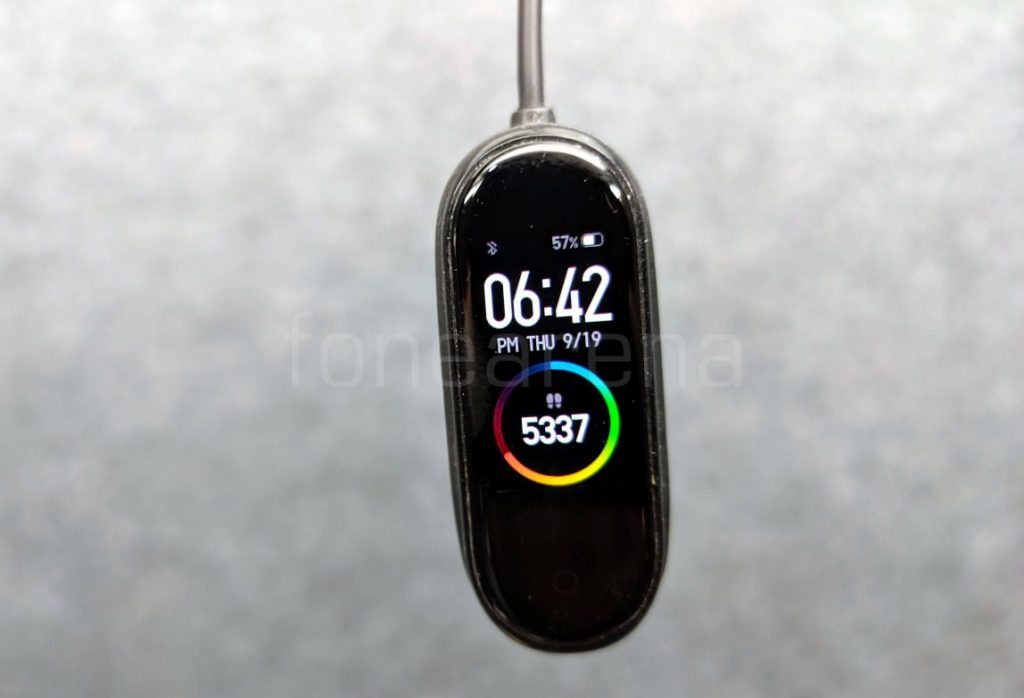 There is a change in the charger, which now hold the core unit inside the box. This is definitely a great improvement, since it firms sits inside the charger without any movement. It shows the charging level when connected, and it takes about 2 hours to charge fully.
Conclusions
The Mi Smart Band 4 is a clear winner for the price of Rs. 2299. It ticks the all the boxes by adding things that were missing in the predecessor. It has a large AMOLED color display with lot of band faces, improved measurement with additional gyroscope sensor, still has 5ATM water resistant and offers a good battery life. The Mi Band 4 is available from Amazon.in and mi.com. The band goes on sale every week since there is a huge demand, but it should be available widely soon.
Pros
Water resistant (5ATM)
Bright OLED color display
Several features and workouts, including Swim tracking with stroke recognition
Good battery life
Cons
No easy shortcut for quick brightness adjustment on the band
GPS lock from phone for workouts doesn't work well all the time