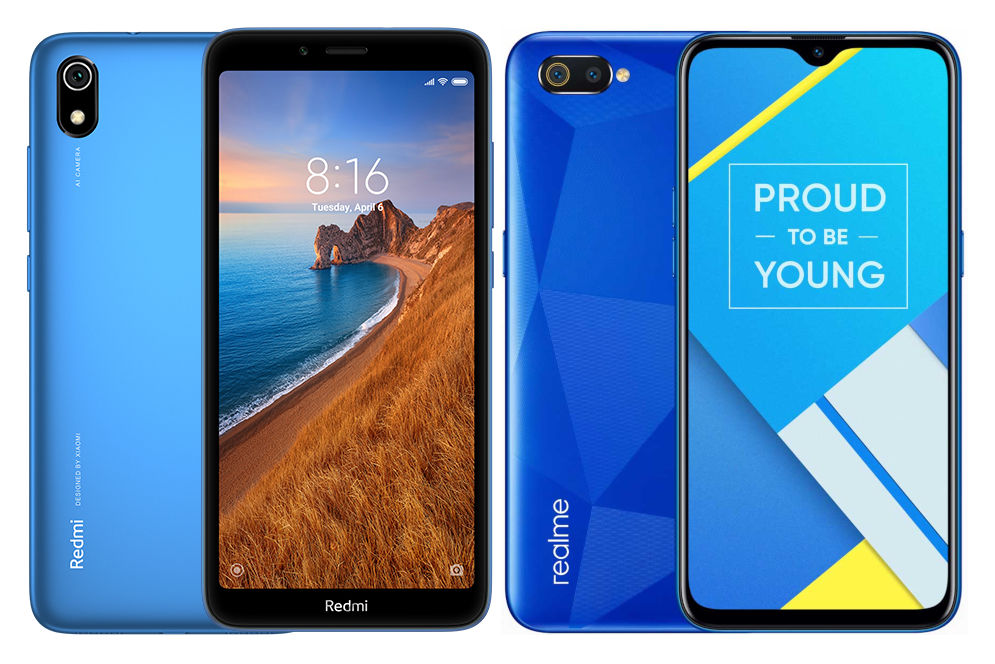 Just after the Redmi 7A launch in the country, Realme India CEO took it to Twitter to compare Realme C2 with 'Smartphone A' in a couple of tweets and referred to Realme C2 as 'Desh ka Real Choice' which was launched back in April. The specifications of the 'Smartphone A' in Madhav's tweets resemble that of Redmi 7A, which Xiaomi is promoting as 'Smart Desh ka Smartphone'.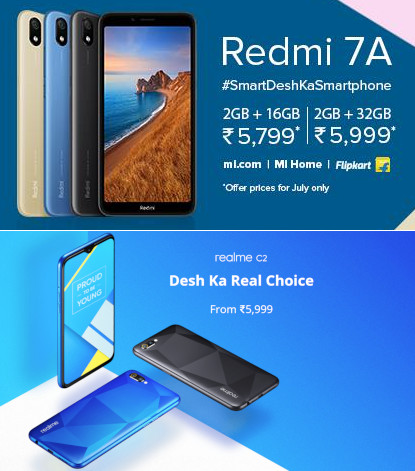 Check out the tweets below,
Let's have the real comparison. #SmartUserSmartComparison #DeshKaRealChoice pic.twitter.com/8ktON9SDYk

— Madhav X (@MadhavSheth1) July 4, 2019
"Two Years Old" display? Time to get smart and leap to realme C2. #DeshKaRealChoice pic.twitter.com/mx5C3iNYer

— Madhav X (@MadhavSheth1) July 4, 2019
What should a real value king have? The smart shall not choose a "2 Years Old" single camera. #DeshKaRealChoice pic.twitter.com/UvNNjcZIcW

— Madhav X (@MadhavSheth1) July 4, 2019
This is not the first incident when such comparisons are made between Realme and Redmi products, before the Realme 3 Pro launch back in April, Madhav posted a tweet regarding the inability of a Pro device to run Fortnite, which was indeed Redmi Note 7 Pro.
How about playing #Fortnite on #realme3Pro? I believe #realme3Pro will be the 1st in its segment that can directly support it. Tried to play this game on some latest "Pro" devices but none of them could manage. When it comes to speed, chipset matters.
RT to win 1 Rm3pro. pic.twitter.com/j5SKOrXA2g

— Madhav X (@MadhavSheth1) April 10, 2019
A few days later Xiaomi India MD, Manu Kumar Jain tweeted with Antutu scores of Snapdragon 675 and Snapdragon 710 and said Snapdragon 710 is a one-year-old processor. At the same time, Redmi India worked with Epic games team and released an OTA to bring Fortnite support to Redmi Note 7 Pro.
Recently a brand has started talking about Qualcomm SD 710.

Here's the thruth: it's a one year old processor! We launched a phone with SD 710 (globally) in Q2 2018.

SD 675 is the latest one: 16% faster than SD 710!! Check out Antutu scores.#WhyLaunch1YearOld? RT if you agree. pic.twitter.com/avhrMbgq4n

— Manu Kumar Jain (@manukumarjain) April 15, 2019
The story did not end there and since then, Manu can be often seen tweeting about the Snapdragon 710. A couple of times he referred to Snapdragon 710 as a new Snapdragon 625, to remind Snapdragon 625 is almost a 3-year-old processor which Xiaomi used in multiple devices released in 2017-18.
Woo-hoo! 🎉 After SD 675, @xiaomindia will also be one of the first (if not the 1st!) to bring a device with @Qualcomm Snapdragon 730 in India. 🇮🇳

It is >40% faster🚀 than one year old SD 710!

RT 🔄 if you are excited. Any guesses which phone is it? 😎#Xiaomi ❤️ #Redmi pic.twitter.com/8sxCOKGdZl

— Manu Kumar Jain (@manukumarjain) June 27, 2019
Realme and Redmi are all set to launch their latest offerings Realme X and Redmi K20, K20 Pro in the country this month, Realme X launch event is scheduled for July 15th. Xiaomi is organizing Mi Pop on July 17th, and we can expect the company to launch Redmi K20 series around that. Realme X sports Qualcomm Snapdragon 710 SoC, Realme India CEO Madhav had hinted towards some specification change for the Indian variant back in May, but we hear that they will likely stick to Snapdragon 710 SoC.
#realmeX may not necessarily launch at the same specs in India.

We are planning to have an #realmeXIndian version and
pricing maybe around 18k.

Apart from Garlic and Onion, 😊

we will also have one more special variant for India.👍
RT and Guess?

— Madhav X (@MadhavSheth1) May 18, 2019
Realme has already announced that it is bringing Realme X Spiderman Edition to India and it would be interesting to see if Xiaomi will bring recently unveiled Redmi K20 Pro Avengers Edition to the country. The smartphone companies and officials may take a few swings on each other but such competition is always good for end consumers, as it leads to the development of great products.