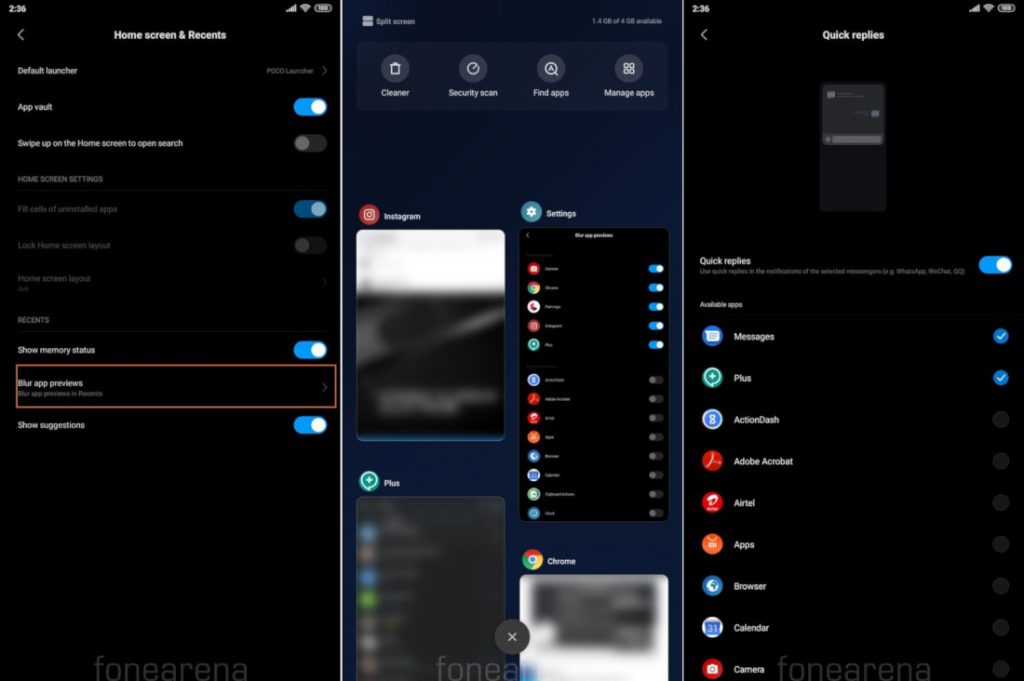 Xiaomi's MIUI is amongst the most popular android skins with more than 300 million worldwide users. MIUI is a heavy skin on top of Android, but what sets it apart from other Android skins is its feature richness and customizations. MIUI gets updated biweekly, including closed beta on every Tuesday and public beta on every Friday, but Xiaomi has decided to cease MIUI Global Beta ROM from July 1.
Last week, Xiaomi introduced Blur App Previews with the MIUI Global Beta ROM. The preview in the recent apps is blurred for the apps for which the user turns on the feature. The option can be found under Home Screen & Recents settings, users can also enable blurred app preview for a particular app from the app setting.
Apart from blur app previews, Xiaomi has also added Quick replies feature under the Explore new features section, that can be found in Settings. Users can now choose the apps for which they want to enable quick reply feature.
Xiaomi has also worked towards making the screenshot editing experience better, the system shows a suggestion to Scroll or Send as soon as a screenshot is taken. Tapping on the floating screenshot directly opens an editing page, the system shows a dialogue box with options Save to Gallery, Delete screenshot and Cancel as soon as you're Done editing it.
Xiaomi has also enabled Fingerprint Authentication for third-party apps such as Paytm and Google Pay. These features are available only in MIUI Global Beta v9.6.13 as of now and are expected to be released to MIUI Global Stable ROM users with future updates. Xiaomi has already kicked off MIUI 11 development, and the company CEO has already confirmed that MIUI 11 will get rid of ads that affect user experience. MIUI 11 is also expected to bring system-wide dark mode, screen time, game turbo, and other features.