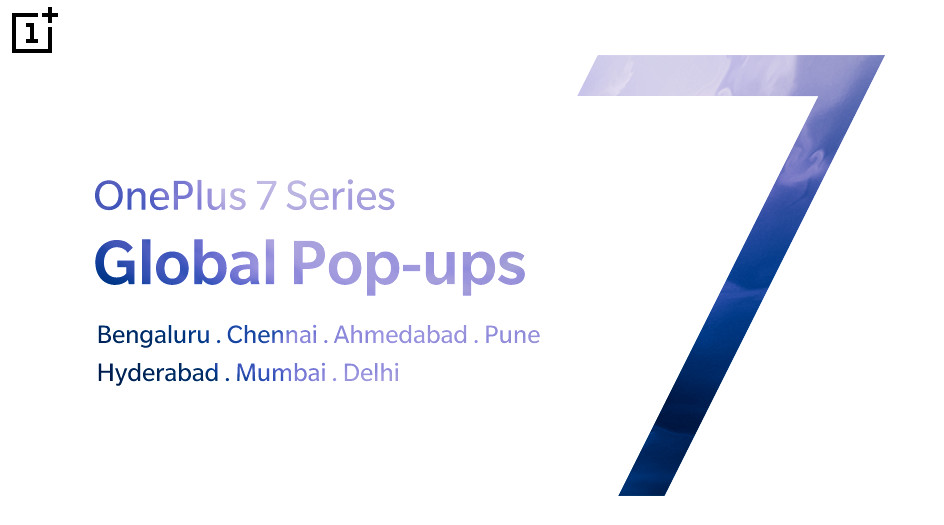 The OnePlus 7 Series is coming next week, and nothing can stop it! Keeping up with the tradition, OnePlus is giving its fans a chance to experience the OnePlus 7 series smartphones with one-of-a-kind 'OnePlus Experience Pop-Up'.
As of this 2019, OnePlus 7 Pro is arguably one of the more curious phones mostly because of its features, including HDR10+ certified screen, A+ certification from DisplayMate, UFS 3.0 and 3x zoom camera .
The OnePlus Pop-up starts at 7 pm on May 17 at Amphitheatre, Select City Walk, New Delhi. Moreover, the Experience Pop-Up will be a unique, experiential zone where users and the community can come together to get their hands on the latest flagship from the company, the OnePlus 7 Pro.
In addition to it, there will also be opportunities to meet up with both OnePlus team members and, of course, like-minded OnePlus fans. To make it more interactive, OnePlus will conduct exclusive workshops and exciting events over the month including gaming leagues, content creation and photography workshops as well.
OnePlus will also be hosting limited stock pop-up stores across 7 major cities in India where attendees will be the first to get their hands on the device. The OnePlus pop-ups, starting at 7 pm on May 15, will be hosted in Bangalore, New Delhi, Mumbai, Hyderabad, Pune, Chennai and Ahmedabad.
Furthermore, the OnePlus 7 Pro will be available for purchase at the Experience Pop-Up as well as other pop-ups. Those who grab the device at the earliest has a chance to receive exclusive goodies including OnePlus Type-C Bullets, Netflix and Amazon Vouchers, along with OnePlus back cases, OnePlus tote bags and OnePlus 'Never Settle' T-shirts.
OnePlus has started OnePlus 7 Pro pre-bookings on Amazon.in and offers 6 months free one-time screen replacement for all pre-bookings.
The much-awaited OnePlus 7 Pro is launching globally in simultaneous launch events in New York, London and Bengaluru on May 14. For those who won't be able to attend the launch, OnePlus will let you witness the event through the live streaming link here starting 8:15 PM IST on May 14th.