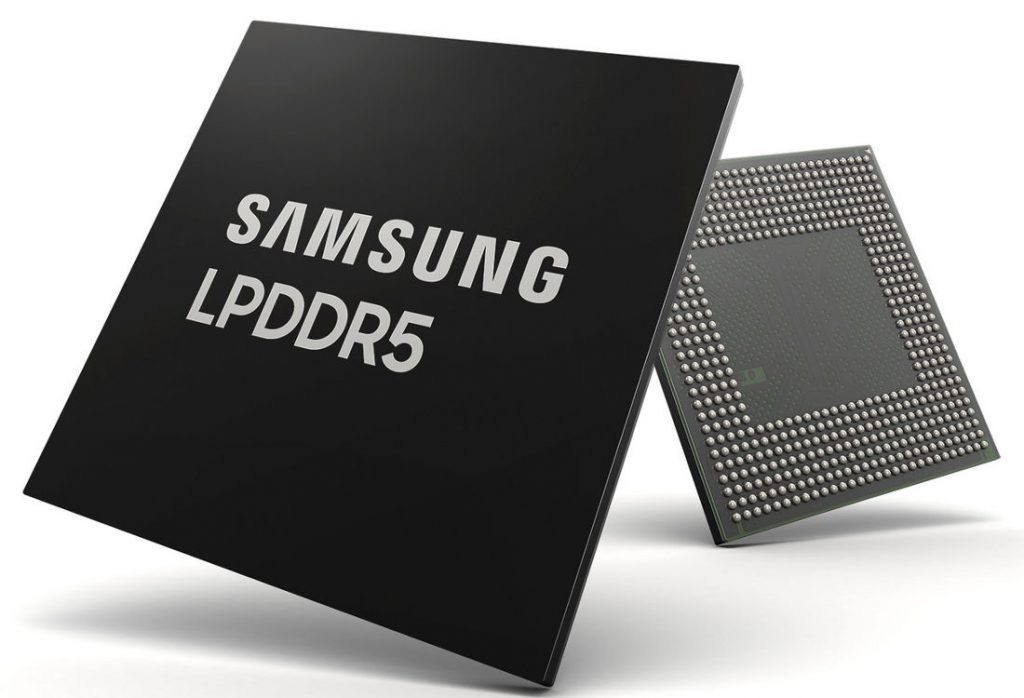 Earlier this year Samsung introduced the first 10nm-class 16Gb GDDR6 DRAM as well as 16Gb DDR5 DRAM. Today the company has introduced the first 10-nanometer (nm) class 8-gigabit (Gb) LPDDR5 DRAM as the successor to the 8Gb LPDDR4 DRAM that was introduced back in 2014 and 8GB LPDDR4 RAM mass production started in 2016. Samsung said that LPDDR5 standard will be used in upcoming 5G and Artificial Intelligence (AI)-powered mobile applications.
Highlights of Samsung 8Gb LPDDR5 10nm-class DRAM
Boasts a data rate of up to 6,400 megabits per second (Mb/s), 1.5 times faster than LPDDR4X at 4266 megabits per second (Mb/s)
With the increased transfer rate, LPDDR5 can send 51.2 gigabytes (GB) of data, or approximately 14 full-HD video files (3.7GB each), in a second
Available in two bandwidths – 6,400Mb/s at a 1.1 operating voltage (V) and 5,500Mb/s at 1.05V
By doubling the number of memory "banks" – subdivisions within a DRAM cell – from eight to 16, the new memory can attain a much higher speed while reducing power consumption.
8Gb LPDDR5 makes use of a highly advanced, speed-optimized circuit architecture that verifies and ensures the chip's ultra-high-speed performance.
To maximize power savings, the 10nm-class LPDDR5 has been engineered to lower its voltage in accordance with the operating speed of the corresponding application processor, when in active mode.
Configured to avoid overwriting cells with '0' values.
Offers a 'deep sleep mode', which cuts the power usage to approximately half the 'idle mode' of the current LPDDR4X DRAM so that power consumption is reduced by up to 30 percent, maximizing mobile device performance and extending the battery life of smartphones
LPDDR5 will be able to power AI and machine learning applications, and will be UHD-compatible for mobile devices worldwide
Samsung said that it has completed testing and validation of a prototype 8GB LPDDR5 DRAM package, which is comprised of eight 8Gb LPDDR5 chips. Samsung said that it plans to begin mass production of its next-generation DRAM lineups (LPDDR5, DDR5 and GDDR6) in line with the demands of global customers. We might not see the 8GB LPDDR5 in the flagship Galaxy Note9 smartphone that will be unveiled next month, but we can see it in the Galaxy S10 that is coming in February next year.