Samsung Electronics introduced industry's first 8 gigabit (Gb) or 1 Gigabyte (1GB) LPDDR4 DRAM for mobile devices such as smartphones and tablets last December. Today the Korean giant has announced that it has started mass producing the first 8 gigabit (Gb) low power (LPDDR4) mobile DRAM based 20-nanometer (nm) process technology.
This will provide the highest level of density, performance and energy efficiency for mobile memory applications, enabling end users to have faster, more responsive applications, more advanced features, and higher resolution displays while maximizing battery life, said Samsung.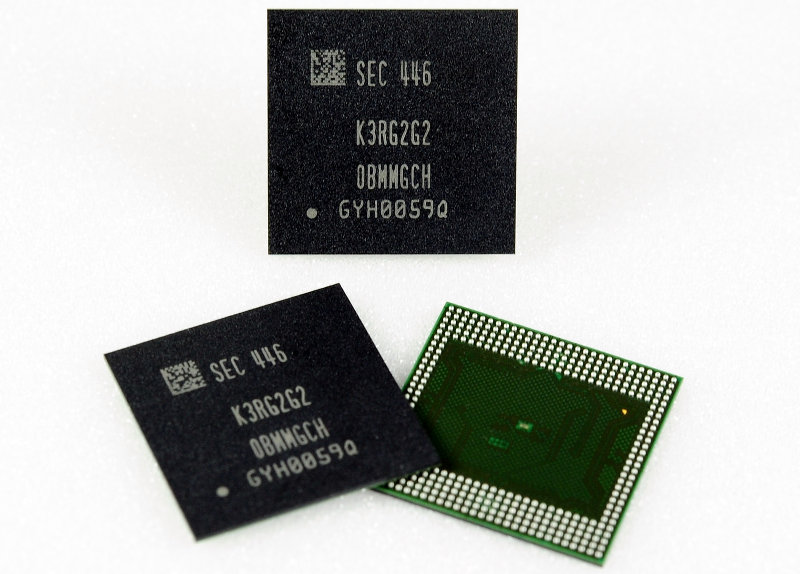 Regarding this, Joo Sun Choi, Executive Vice President of Memory Sales and Marketing at Samsung Electronics, said:
By initiating production of the 20nm 8Gb LPDDR4, which is even faster than the DRAM for PCs and servers and consumes much less energy, we are contributing to the timely launch of UHD, large-screen flagship mobile devices. As this major advancement in mobile memory demonstrates, we will continue to closely collaborate with global mobile device manufacturers to optimize DRAM solutions, making them suitable for next-generation mobile OS environments.
Features of Samsung's new high-speed 8Gb LPDDR4 mobile DRAM
Fabricated on 20-nanometer (nm) class process technology
1 gigabyte (GB) on a single die, which is the largest density available for DRAM components today
With four of the 8Gb chips, a single 4GB LPDDR4 package can provide the highest level of performance
Uses a Low Voltage Swing Terminated Logic (LVSTL) I/O interface, now a standard specification for LPDDR4 DRAM, proposed by Samsung
Data transfer rate of 3,200 megabits per second (Mbps) per pin, twice that of the 20nm-class LPDDR3 DRAM
50 percent higher performance than the fastest LPDDR3 or DDR3 memory
Consumes approximately 40 percent less energy at 1.1 volts.
Samsung unveiled the 3GB LPDDR3 (6Gb) package solution last year year and it started offering 2GB LPDDR4 and 3GB LPDDR4 DRAM packages, based on 8Gb and 6Gb LPDDR4 dies, respectively starting this month. Samsung said that it will provide 4GB LPDDR4 packages in early 2015. The Galaxy Note 4 and the Note Edge had 3GB RAM. Hope we can expect 4GB DDR4 RAM on the Galaxy S6 next year.