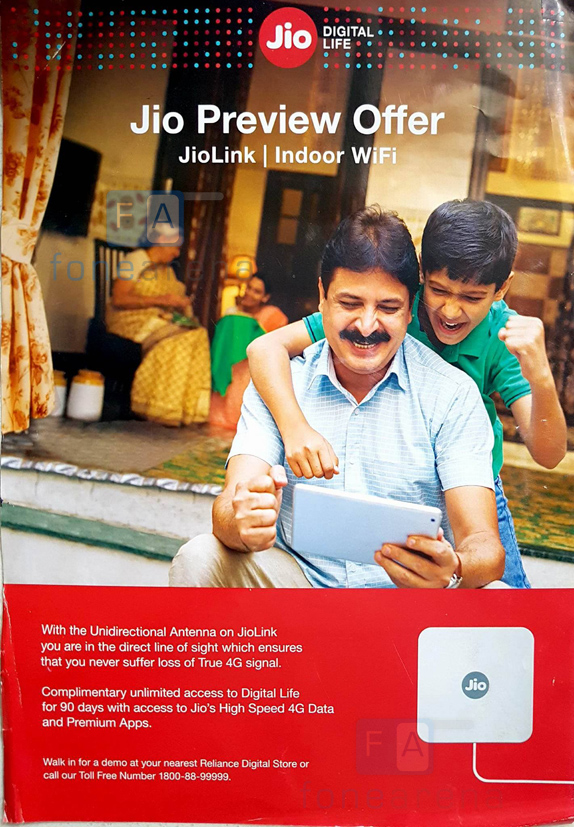 FoneArena has obtained exclusive information regarding the Reliance Jio JioLink Indoor WiFi offering and also a 90 day Jio Preview Offer for the same. Jio is gearing up for a commercial launch soon and this solution could actually solve poor coverage or slow speeds in some areas especially when indoors. I have seen great speeds on Jio outdoors but when indoors , speeds do drop considerably. Let us dive in and find out what is JioLink and why it is big deal.
The JioLink indoor WiFi is a CPE or Customer Premise Equipment which involves a Unidirectional Antenna most likely installed on the roof or terrace of a building and WiFi router which will be at your home / office. The Indoor WiFi router or JioLink unit features a RJ45 port and is connected to the antenna by means of a Cat5 / Cat 6 cable. So in really layman terms , this is basically a 4G MiFi/ Wireless Hotspot with an external antenna and unlimited battery life 😉
Jio is going to offer 4G LTE services in 3 LTE bands – Band 3 – 1800MHz, Band 5 – 850MHz and Band 40 – 2300 MHz. It is likely the the JioLink antenna is optimized for these bands and will get you the best speeds basis the signal strength. This is  very interesting because JioLink will work as a signal booster. Another reason this solution is interesting is because, even users with devices which don't support Jio's LTE bands can experience the high data speeds over WiFi. Note that this is mainly targeted at offering data and not calling, but considering Jio is planning to roll out support for Wi-Fi calling or VoWiFI , this could be a good solution to have.
It is worth mentioning that Jio is not the first to come up with something this in India. Airtel did start offering 4G broadband services in some cities such as Kolkata, Bangalore and Chandigarh using a similar CPE equipment.
Now coming to the preview offer, Jio is offering 90 days of unlimited 4G data and subscription to its premium suit of apps including JioPlay and JioOnDemand. Tariffs beyond the 90 day period are not available currently.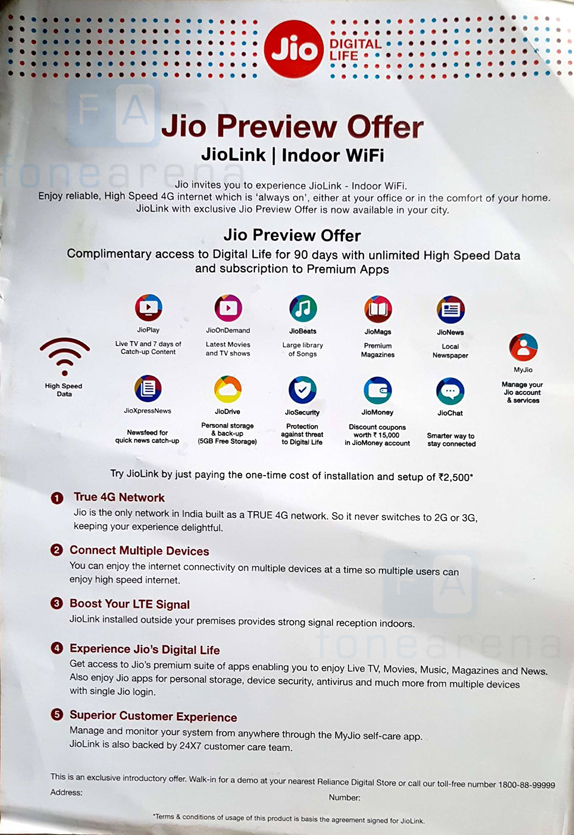 Now for the price part, Jio is going to charge Rs.2500 towards installation and setup of JioLink solution at your home or office. The JioLink Preview Offer is currently available in select cities across India where Jio Preview Offer for Lyf & Samsung are currently offered. It is expected to be available at Reliance Digital stores starting this week.
Thanks to an Anonymous reader who sent this in to FoneArena you can also write to tips@fonearena.com in case you have some interesting stories.