Nokia is still India's Most Trusted Brand, according to a recent survey conducted by research firm Trust Research Advisory (TRA). Nokia retains the first position from the Brand Trust Report 2011 and the Brand Trust Report 2012. Even Airtel retains the same No. 9 spot in the rank list for 3rd consecutive year. The Brand Trust Report, India Study, 2013 is the third in its series and this year the report lists India's 1100 Most Trusted Brands from 211 categories. It comprises comprehensive primary research based on 61 attributes called the Brand Trust Matrix, conducted among 2505 influencer-respondents from 16 cities across the country.
HTC moved to 56th place by gaining 98 positions from last year. In the telecom sector Idea moved to the 33rd places, moving 15 places down and Vodafone moved to 41st position from 17th position. BlackBerry moved down to 66th place from 32nd place. Consumer electronics giants Samsung and Sony holds the 2nd and 3rd spots. LG has lost its 3rd spot and moves 7 spots down to 10th place.
Here are the list of top 20 brands in the survey.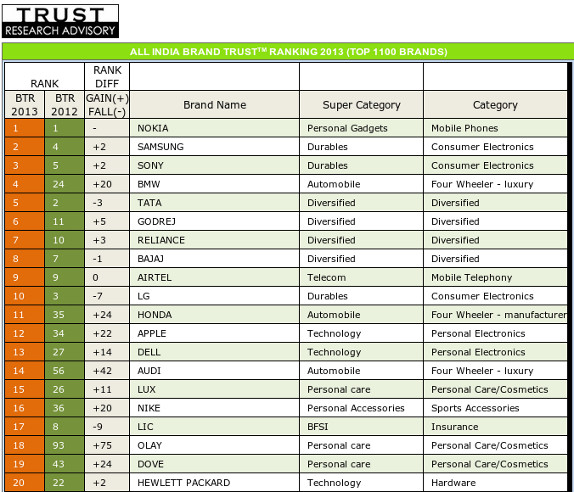 Here is the 2013 Brand Trust Report that lists all the 1100 brands.