Nokia has been voted as India's Most Trusted Brand again and retains their first position from the last year according to a recent survey conducted by research firm Trust Research Advisory (TRA). In the telecom sector, Airtel leads by retaining the same 9th spot as last year. The Brand Trust Report, India Study, 2012 (BTR 2012) has listed India's 1000 Most Trusted Brands and this research was conducted among 2718 'influencer' respondents across 15 cities.
Tata has also retained the 2nd place as last year. Sony has moved to the 5th spot from the 3rd compared to last year in the electronics category. South Korean giants LG and SAMSUNG has moved one spot front that stands at 3rd and 4th place in the household appliance category. BlackBerry saw great improvement. They moved to 32nd spot from the 84th spot last year.
Vodafone moved a step back this year and remains at the 17th place, followed by the Idea at the 18th place that was at the 38th spot last year.
Here are the top 20 rank list of the survey.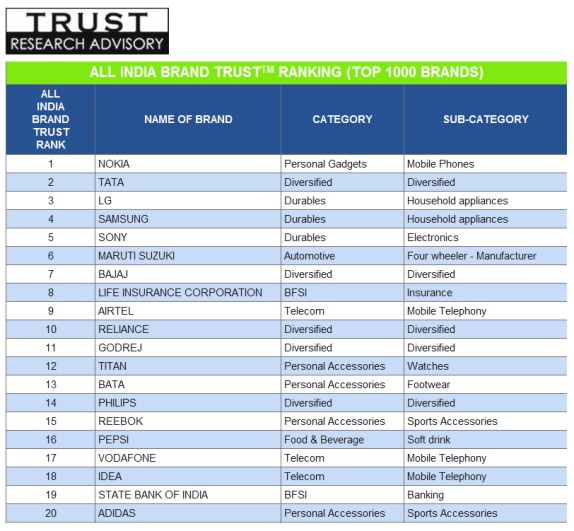 You can view the 2012 Brand Trust Report rank list for all the 1000 brands here.