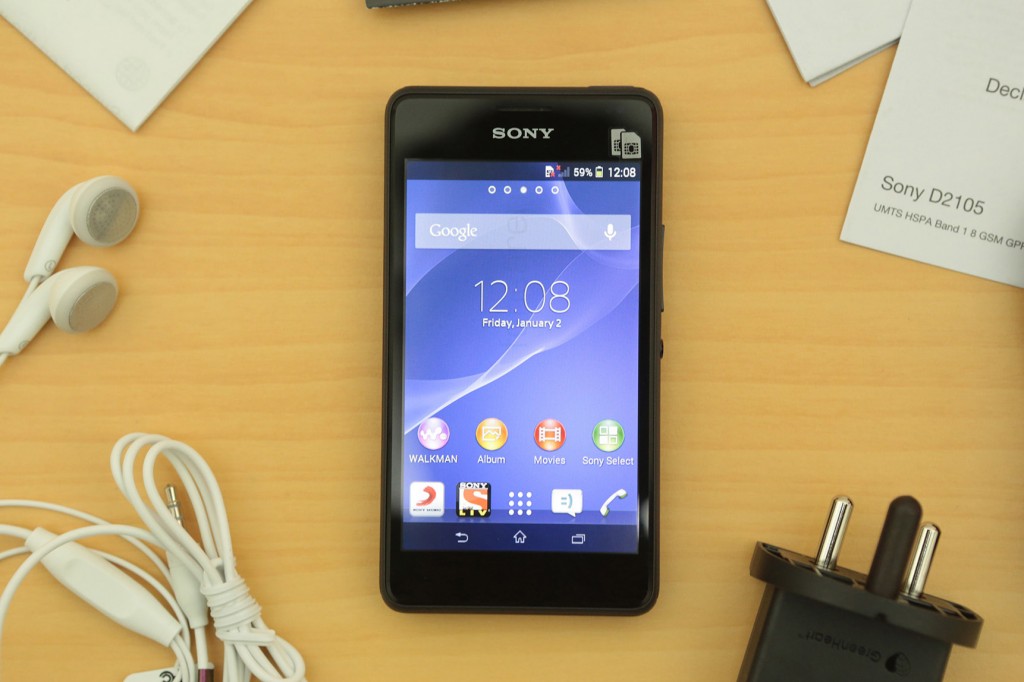 Sony has been doing a lot of things right recently. They launched their latest flagship, the Xperia Z2 at the Mobile World Congress, which really impressed us, and then there was the Xperia Z1 Compact earlier, which is easily the best "mini" device out there. But Sony is not about flagships alone, as they have a whole portfolio to care about, that cover a wide range prices. On that note, we have here, the Sony Xperia E1 Dual, which is the company's entry level model that competes with the various Micromax and Karbonn devices of our market, let alone Samsung or Nokia. Sony has been making devices in this segment for a long time, and the last popular one in this range was the Xperia Tipo Dual. Consider the E1 Dual as a spiritual successor of the Tipo. To see what the device is all about, we unboxed it on video and did a quick hardware overview of it, watch –
httpv://www.youtube.com/watch?v=fG-CQsJAJkM
As you might have noticed in the video, the box contents of the Xperia E1 Dual are pretty expected from a low end phone. Here are the box contents –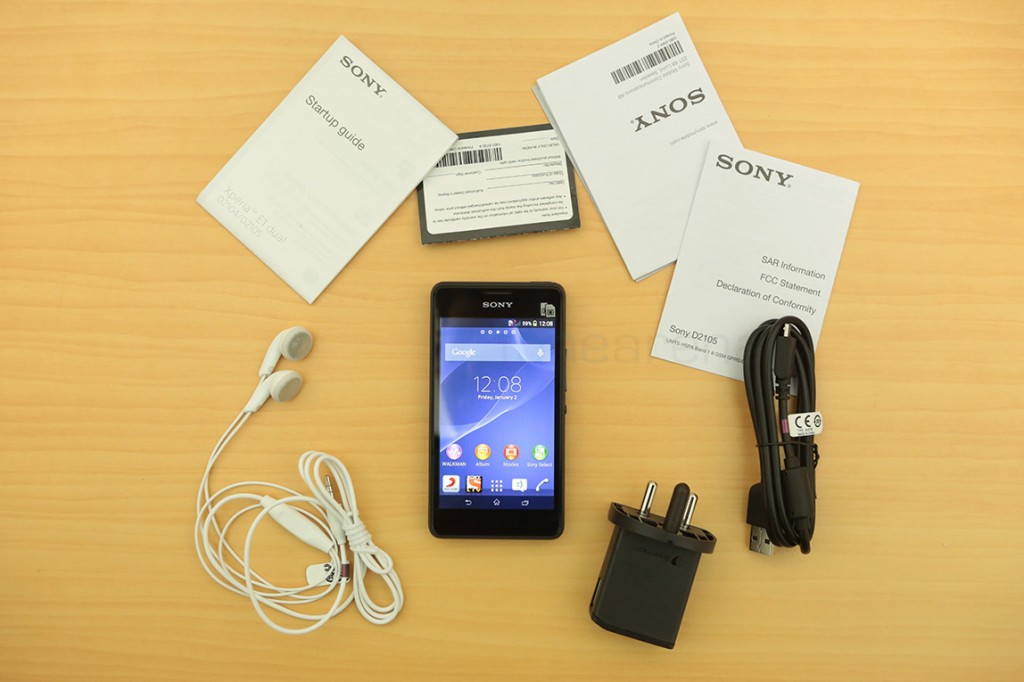 Box Contents
Sony Xperia E1 Dual in Black
Micro USB cable for data transfer and charging
White earphones with mic
Information guides and warranty
USB charging plug – 3 pin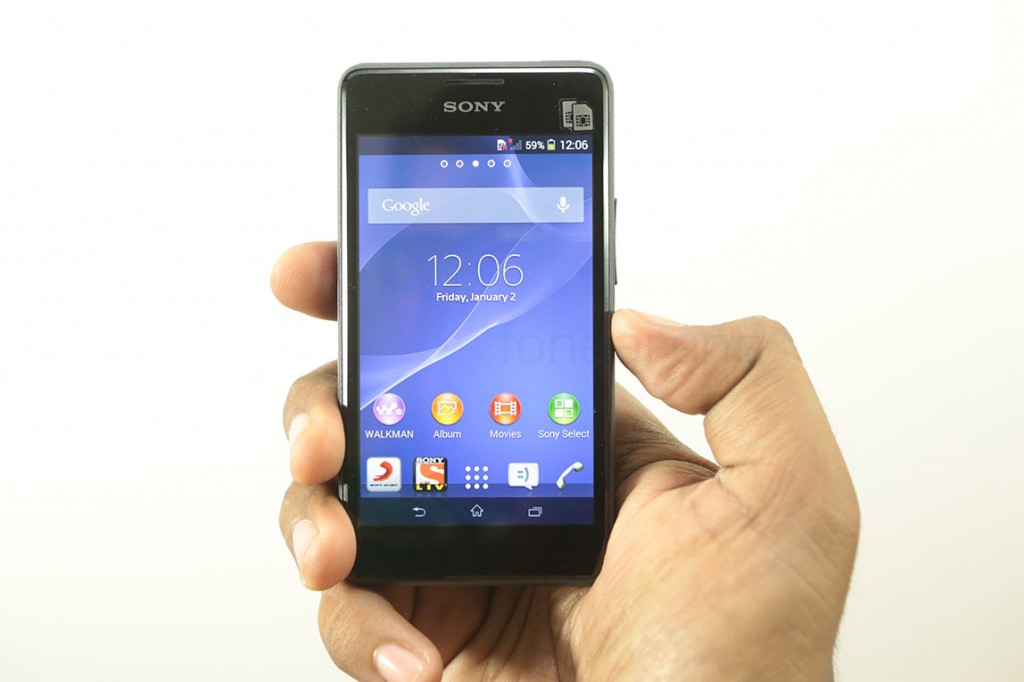 The Xperia E1 Dual is a low end device, and it shows. It is particularly evident in the choice of display, choice of materials used and of course the underlying specifications. This phone runs on a 1.2 GHz dual core Snapdragon MSM8210 processor with Adreno 302 GPU, which is hardly even mid end, and also has a normal 4″ WVGA screen. Think of this as a direct competitor to the Nokia X. But the obvious advantage here is that the phone zips through, thanks to the very low overhead of the Sony UI. The build quality is pleasant for the price, and the phone feels really light and grippy. There is a 3 MP rear camera that has no AF and a 1700 mAH battery underneath, so we are looking at a decent low end phone here.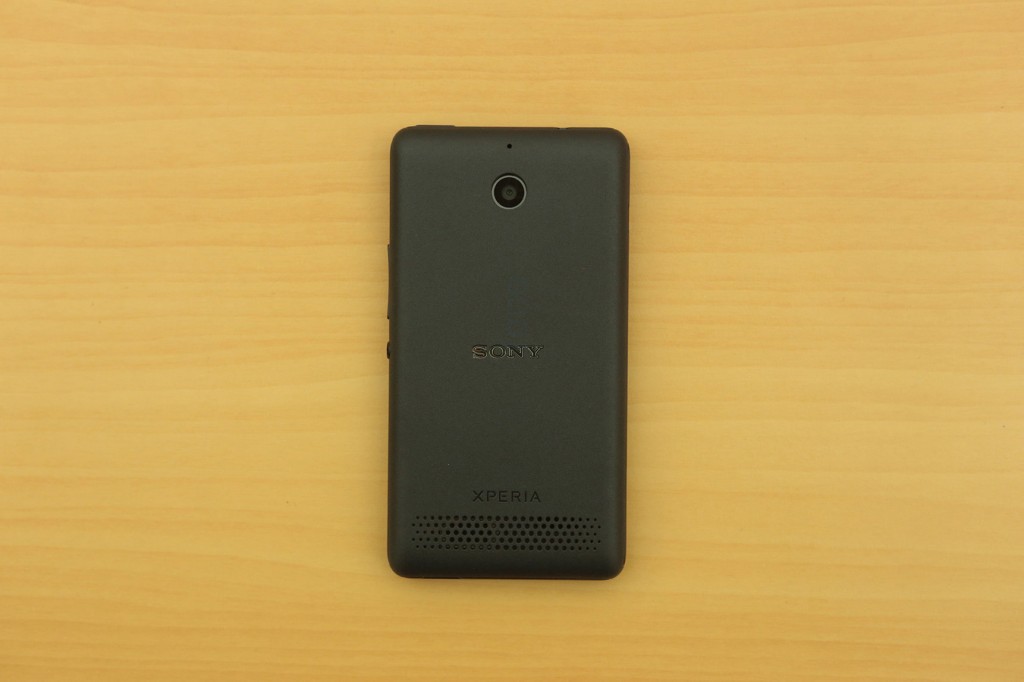 The back houses a 100 dB loudspeaker that aims to appeal to the masses, and even has a dedicated Walkman button over at the top for better music control. Being a cheap device, coming at just around 10,000 rupees, it does have nice Audio related enhancements, making it ideal for the musically inclined, but with a budget. We'll be letting you know all the other aspects of this device in the coming days, so stay tuned to the blog and our YouTube channel for all the latest information on the Xperia E1 Dual. More pics from the box –
P.S – We had received a free Sony headphones along with the device, as we bought this on a special offer from Flipkart. You can check its pics in the gallery above.