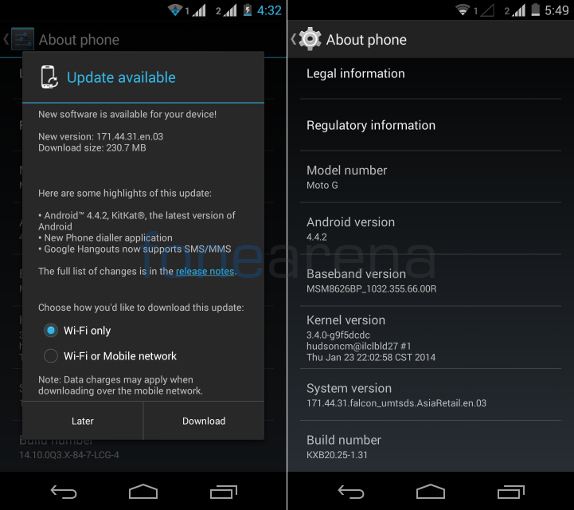 Motorola has finally started rolling out the Android 4.4.2 (KitKat) update for the Dual SIM Moto G users in India. Motorola promised that the India users would get the update in a few weeks, at the launch, earlier this month. The Android 4.4.2 update was first released for the single SIM US variant first, back in December and it started rolling out in Europe, again for the single SIM variant last month. It rolled out for the Dual SIM variant in Malaysia and Taiwan earlier this month.
This update brings new phone dialer, printing, Android KitKat features such as restyled status and navigation bars, full-screen mode, color emoji, smarter power use, new camera features, including the most expected manual focus and exposure control and more.
Check out complete changelog of the update below.
Android 4.4, KitKat – Enhancements such as restyled status and navigation bars, a new full-screen mode, color emoji support, improved closed captioning support, stronger security, smarter power use, and more tools and capabilities for better app development.
Phone dialer – Improved phone app with the ability to look up contacts directly from the dial pad, see and tap frequent contacts, and search your corporate directory easily.
Camera – Locked exposure during Panorama capture, additional language support, Manual control of focus and exposure, Bug fixes
Gallery – New photo editing options including new filter effects, draw on your photos, advanced cropping, and adjustments to color, exposure, contrast and more.
Printing documents and pictures – Support for printing photos, Google Docs, GMail messages, and other content via Wi-Fi, Bluetooth and hosted services like Google Cloud Print and HP ePrinters.
Hangouts – SMS/MMS support Incorporated a new version of Google Hangouts that supports integrated SMS/MMS messaging. Hangouts can be set as the default SMS app under Settings > Wireless > Default SMS app.
The Android 4.4.2 KitKat over-the-air OTA update (v 171.44.31.en.03) for the dual SIM variant is 230.7 MB, similar to the other Asian countries.