The year 2013 has been great for the smartphone market, especially the Indian smartphone market. The year 2013 saw the rise of numerous Indian manufactures thanks to "open-source" Android operating system. Towards the end of 2012, only Karbonn and Micromax had established their grip in the mid-range smartphone segment with value for money smartphones. The year 2013 helped the Indian manufacturers expand their market share by offering Full HD display smartphones with Quad-core processors for affordable price points.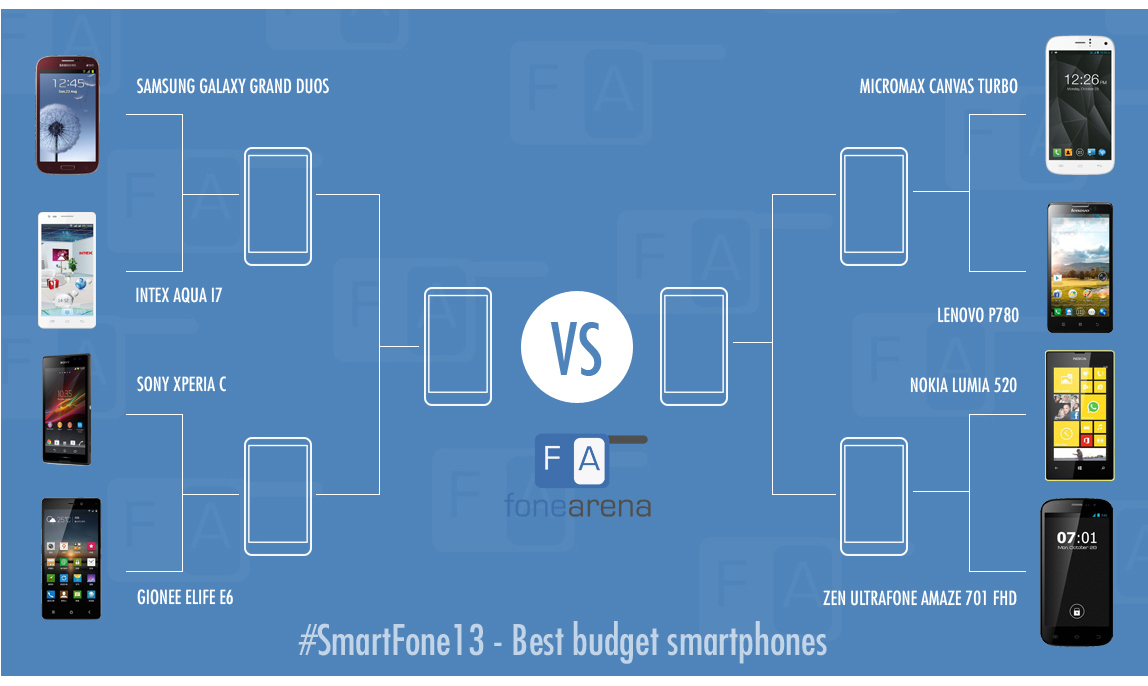 Towards the end of 2013, we saw that almost all the manufacturers had pushed out their 5inch Full HD smartphone within the Rs. 20,000 budget. Today we take a look at the year 2013 and the various value for money products that were released. We have meticulously picked eight smartphones across the mid-range segment and we will let you decide the best budget smartphone in this year.
The eight smartphones that we picked are (in alphabetical order)
Gionee Elife E6 was announced during the middle of the year, but it made its way to the Indian market only a couple of months later. The Gionee Elife E6 comes with a 5inch Full HD display and is powered by the 1.5GHz quad-core MT6589T processor, has 2GB RAM and 32GB internal storage.
Intex Aqua i7 is the company's first Full HD smartphone and has specifications exactly similar to Gionee Elife E6 with a Full HD 5inch display, 1.5GHz Quad-core MT6589T processor, 2GB RAM and 32GB internal storage.
Micromax Canvas Turbo is Micromax's third flagship this year and is the first Full HD smartphone from the company. Canvas Turbo comes with exactly the same specifications like Intex Aqua i7 and Gionee Elife E6 except for the fact that there is just 16GB internal storage.
Lenovo P780 comes with a 5inch 720p HD display and is powered by a 1.2GHz quad-core processor, 1GB RAM and 4GB internal storage with a microSD card slot.
Samsung Galaxy Grand was launched in early 2013 as a mid-range phablet and low price Galaxy Note. Galaxy Grand Duos went on to become one of the most sold devices for Samsung in India mainly because of its huge display and features that it offered at its price. It comes with a 5inch WVGA display, 1.2GHz dual-core processor, 1GB RAM and 8GB internal storage.
Sony Xperia C is the first mid-range phablet from Sony and it is also their first smartphone to be powered by a MediaTek processor. It uses a 1.2GHz Quad-core MT6589 processor, has 1GB RAM and 4GB internal storage.
Zen Ultrafone Amaze 701 FHD is Zen's first full HD smartphone and has exactly similar specifications like Micromax Canvas Turbo, but comes with only 1GB RAM and a microSD card slot.
Among the plethora of cheap droids, a lone non Android Finnish warrior stood out. This budget smartphone helped a falling company make a comeback of sorts by regaining some lost market share. You might be wondering who this Finnish warrior is. I think you know the answer – Nokia Lumia 520. Announced during the MWC 2013, Nokia Lumia 520 was the cheapest(and still is) Windows Phone 8 smartphone and it brought along features of WP8, that its fancied high spec brothers shared, at an affordable price point. Ever since the launch of Lumia 520, the marketshare of Nokia started to grow(though very less). This single device has put back the now Microsoft owned Nokia back in the smartphone race which it once ruled.
Exactly like last year, we will be letting the readers i.e. you, vote for your favorite phone in each duel. The poll for each duel will last a week and the winner will proceed to the next round and one among the eight phones will be crowned as the best budget smartphone of the year 2013.
The following are the first rounds of the battle. (click on each competition to go to the particular post)
Round 1 – Samsung Galaxy Grand Duos vs Intex Aqua i7
Round 1 – Sony Xperia C vs Gionee Elife E6
Round 1 – Micromax Canvas Turbo vs Lenovo P780
Round 1 – Nokia Lumia 520 vs Zen Ultrafone Amaze 701 FHD
The other posts will be going live soon!
Vote for your favorite phone in each of the battles and make your favorite phone win. Do share this competition with your friends and let the voting begin.