Hello readers! Welcome to the first round of Fonearena's Best Budget Smartphone Competition. Fonearena is conducting one of a kind smartphone championship where you get to make your favorite smartphone win. This year we are conducting two championships – one for the flagships and one for the value for money budget smartphones. Among the four interesting first round battles, we have the one between Samsung Galaxy Grand Duos and Intex Aqua i7 right now.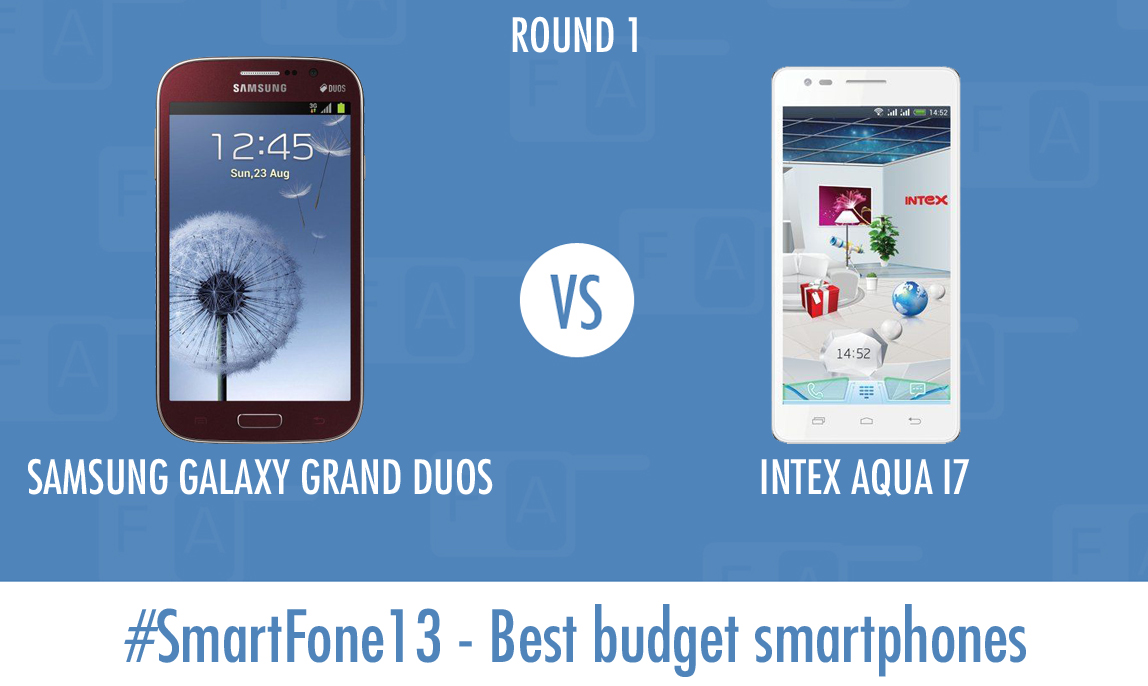 Samsung introduced their Galaxy Grand Duos in the early part of 2013 and ever since, it has been a typical "box office hit" for Samsung because of the way they marketed their product and how it appealed to the consumers. Intex Aqua i7 was announced and launched in October and it was the company's first Full HD smartphone. There are quite a lot of differences between the Samsung Galaxy Grand and Intex Aqua i7 which should make this fight quite an interesting one.
Samsung Galaxy Grand Duos has a 5inch WVGA display and is powered by a 1.2GHz dual-core Broadcomm processor. There is 1GB of RAM and 8GB internal storage with a microSD card slot for expansion of internal storage. When the device was launched, it came with Android 4.1.2 Jellybean overlaid by Samsung's TouchWiz UI and it recently got an update to Android 4.2.2 Jellybean. Combined with Samsung's TouchWiz UI, Galaxy Grand comes with a lot of software features like Multi-Windows, Smart-Stay and Pop up video. There is also a 8MP camera at the back that is capable of recording 1080p videos and a 2MP front facing camera.
Intex Aqua i7 comes with a richer 5inch 1080p Full HD display and features a MediaTek 1.5GHz quad-core MT6589T processor. There is 2GB RAM and 32GB internal storage without any microSD card slot. Intex Aqua i7 runs on a modified version of Android 4.2 Jellbean with a UI that can be described as nothing but a bottleneck hindering the performance. On the back, Aqua i7 sports a 13MP camera that can record 1080p videos and a 5MP front facing camera.
What do you think of the two phones? Vote for your favorite phone among the two and make sure that it goes on to win the championship.
Thanks for voting!