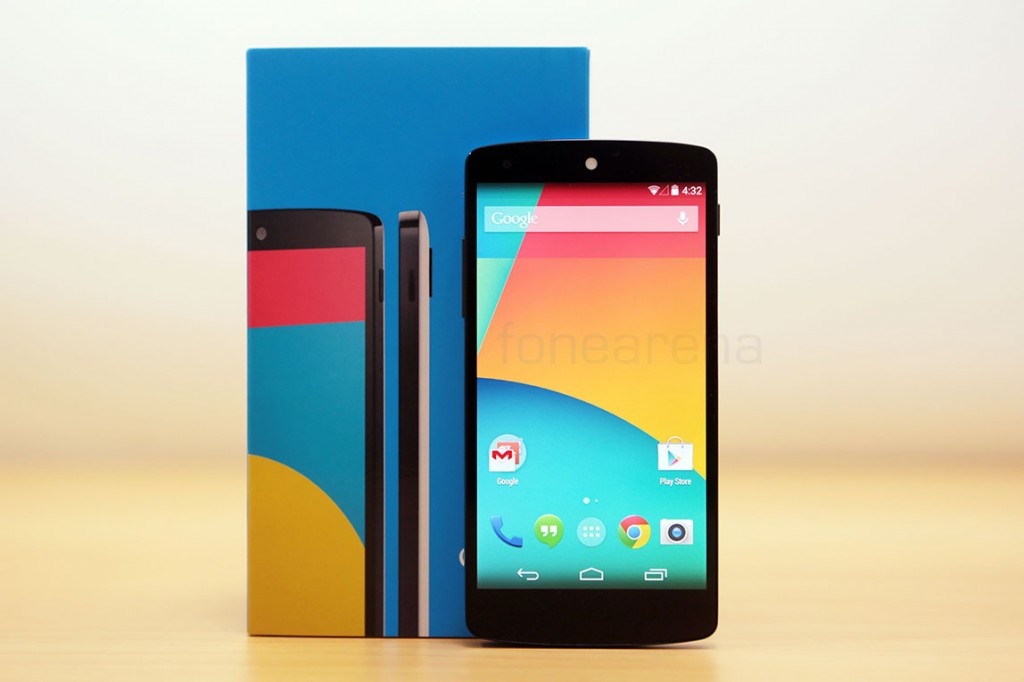 It's been exactly 6 days since the Google Nexus 5 officially launched, but it had leaked out in full glory earlier, with complete details of specifications and even the information about its build quality. So, we surely knew what to expect when the Nexus 5 landed in our labs today. The latest "Pure Google" experience phone has launched with absolutely tons of retail stock this time, so acquiring it was certainly an easier job than it was with the Nexus 4 last year. Costing roughly around 29K for the 16 GB unit from the UK, the Nexus 5 is ready for the FoneArena treatment, so, lets start with the unboxing. We have shot a video of the retail package contents, a quick rundown of specifications and the hardware overview of the White Nexus 5, watch it below.
httpv://www.youtube.com/watch?v=qMzyLzQmX0c
Did you check out our Google Nexus 5 Photo Gallery?
The box and the contents were typical Google-style, with it reminding us of the Nexus 7 2013 box. As expected, there was no headphones in the box, here are all of its contents –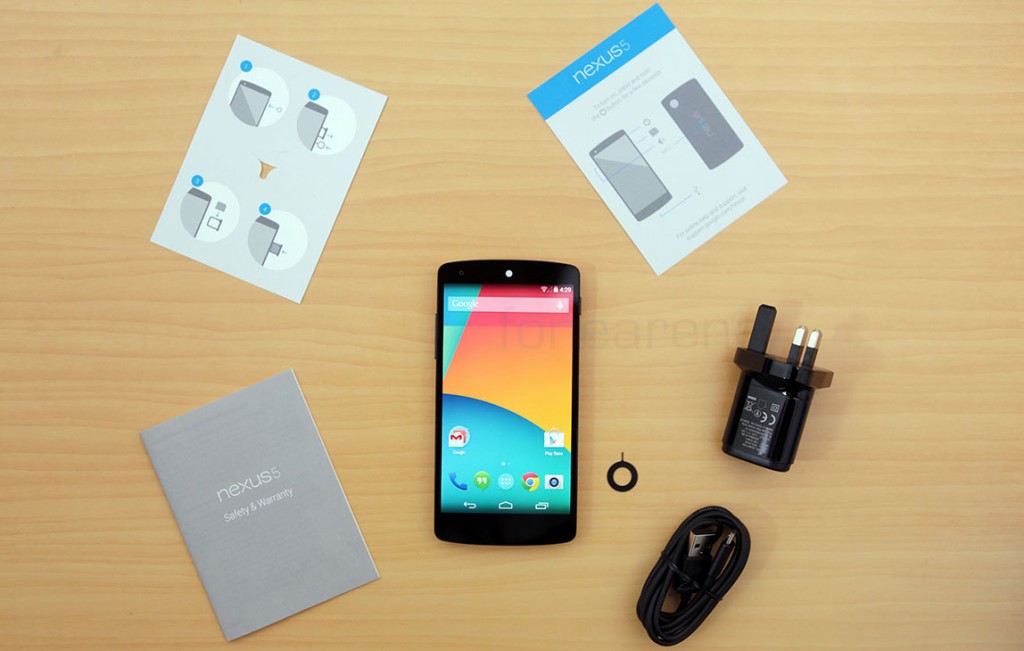 Google Nexus 5 in White
Micro USB cable
Three pin travel charger plug
SIM ejector tool
Information booklets and user manual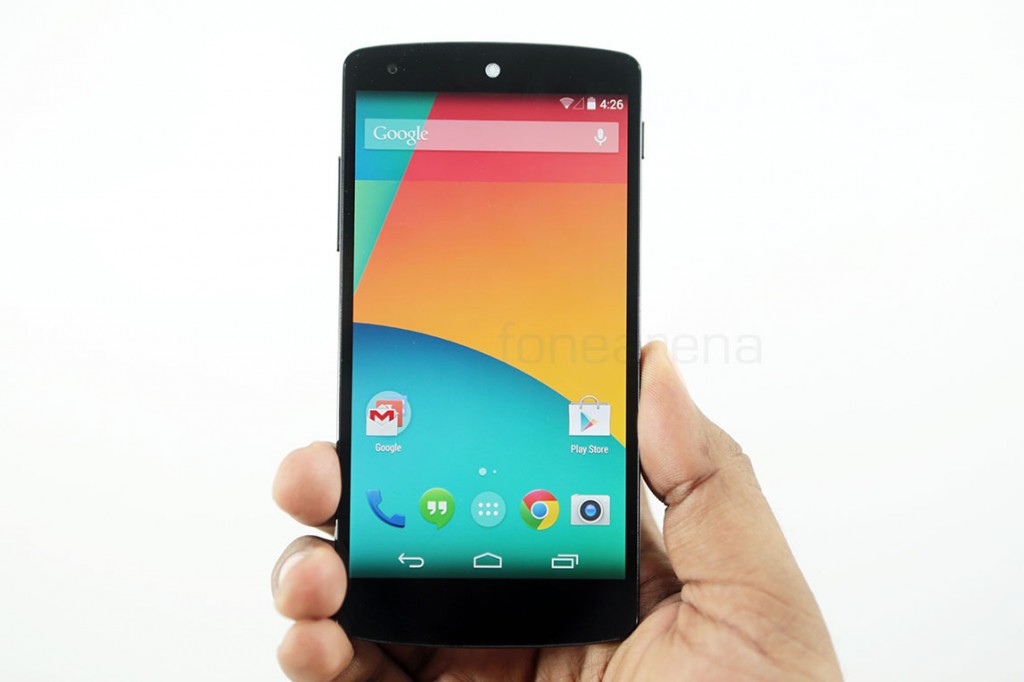 Coming to the phone now, the Nexus 5 has a 16:9 1920×1080 4.95 inch display on the front, so, as you can notice from the image above, it's narrower than the Nexus 4. The display is great to look at, but we were somewhat bothered by the highly reflective glass covering it, pretty similar to that of the Nexus 7 2013 version. While it is a white phone, the front and the sides are still just black, with the only exception being the circular ear piece that's white. Interesting design decision here. Talking of decisions, we wonder why they decided to keep the sides glossy, especially when the back is matte plastic.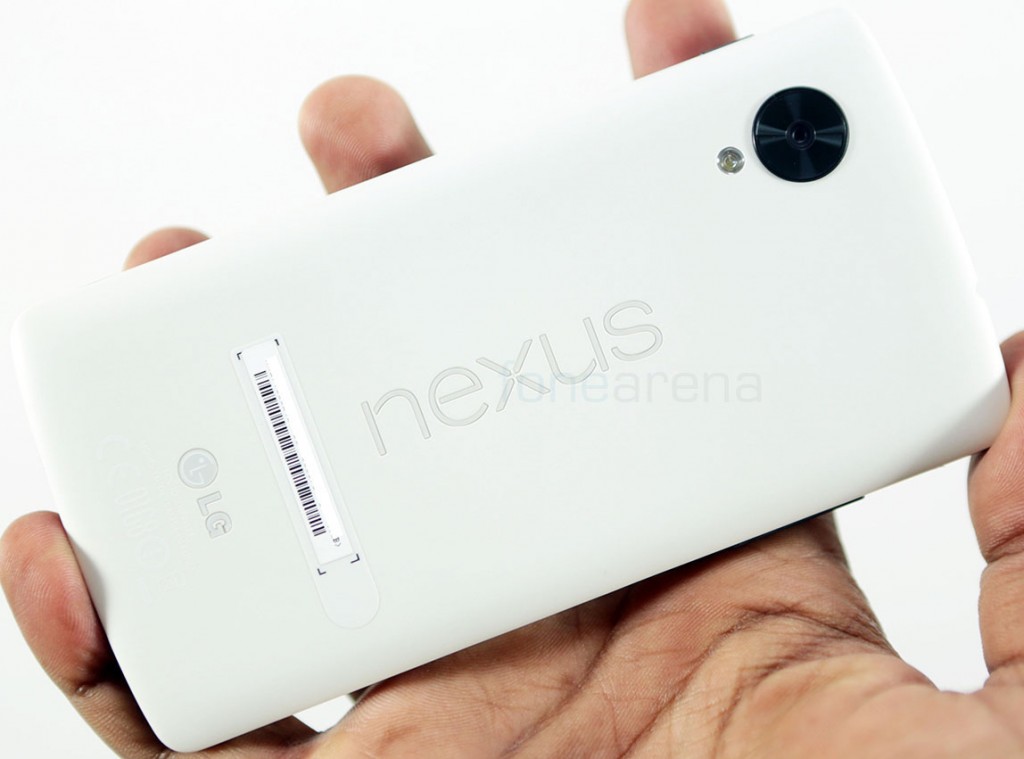 This is the back, which looks very similar to the Nexus 7 2013 in terms of style but actually feels way different. The matte plastic has nice curves to accommodate your hands well, and is smooth to touch rather than soft. The camera unit sits ina sea of black concentric circles, with the single LED flash right below. The feel is great and the white version looks even better in real than in photos. "So far so good" seems to be theme of our first impressions and we hope it doesn't change in the course of time. Anyways, we will have a lot more to talk about, in our full review of the Nexus 5, so keep an eye on the blog for the upcoming updates. Also be sure to subscribe to our YouTube channel where a lot of content around the Nexus 5 is scheduled to go live.
Photos of other box contents here –
Video credits Varun Krish