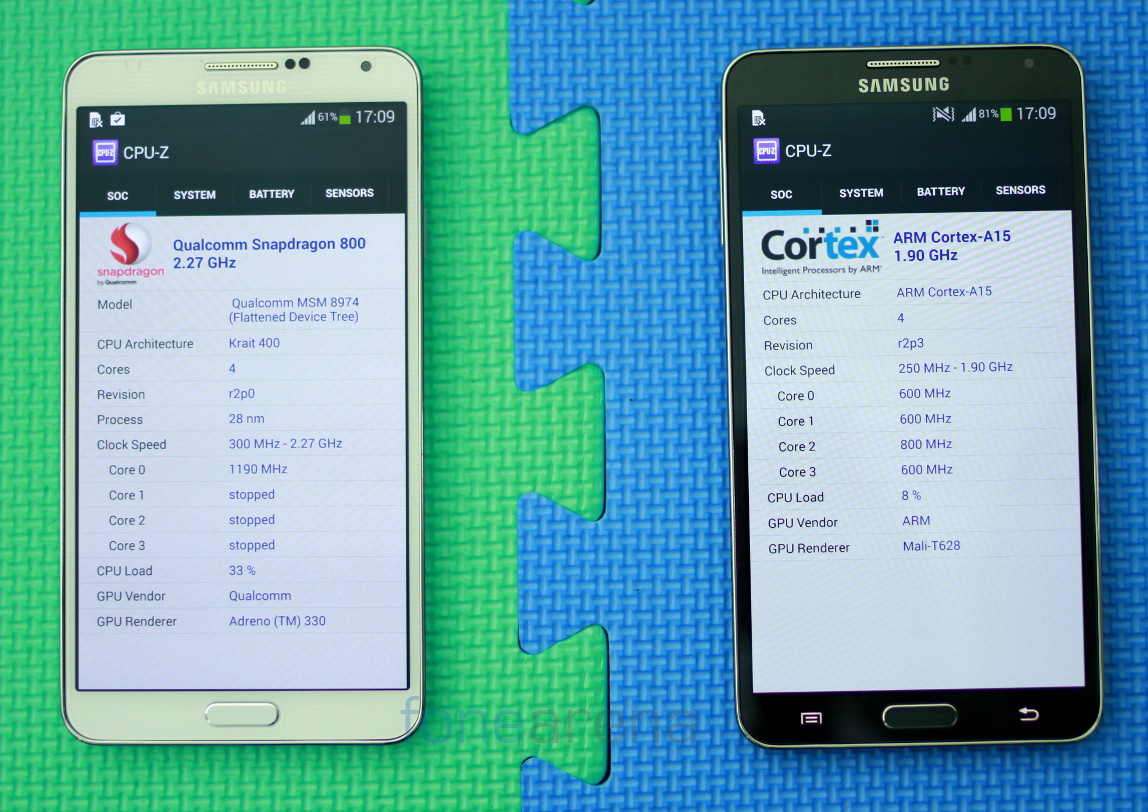 We did a comparison between the Snapdragon 600 and the Exynos 5 Octa 5410 for the Galaxy S4 back in May, here we have the Note 3 to compare the benchmarks of the Snapdragon 800 and the Exynos 5 Octa 5420, the latest high-end chips from both Qualcomm and Samsung. The Snapdragon 800 processor is clocked at 2.3 GHz. The Exynos version uses Samsung's ARM big.LITTLE architecture with fours Cortex A15 chips clocked at 1.9 GHz and four Cortex A7 chips running at 1.3 GHz. The Exnos 5 Octa chip has a ARM Mail T628 GPU instead of PowerVR SGX544MP3 GPU present in the Exynos 5410. The Snapdragon 600 chip has a Adreno 330 GPU, faster than the Adreno 320 present in the S4. Let's see how these two phones perform in various benchmark tests.
Quadrant Benchmark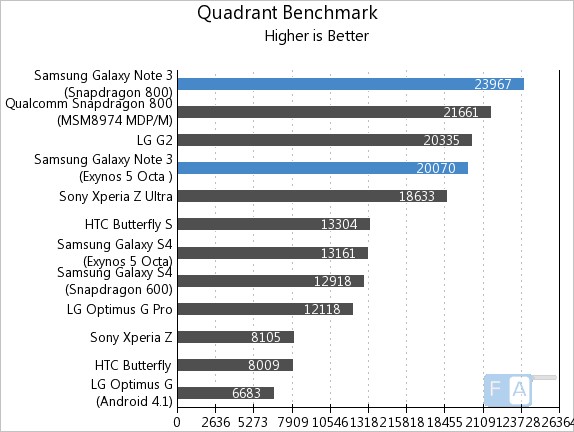 The Snapdragon 800 beats the Exynos version easily in the Quadrant benchmark and scores more than the Snapdragon 800 reference device.
AnTuTu Benchmark 3.3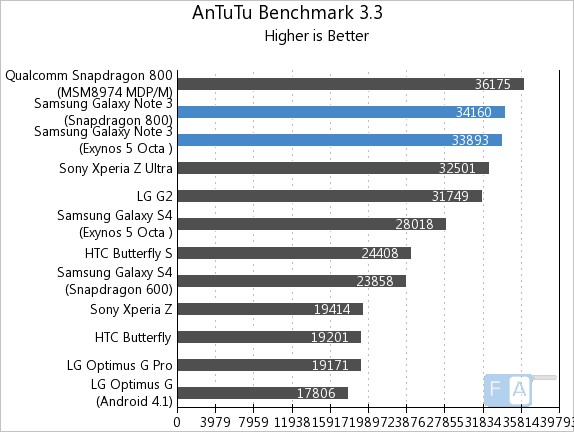 In the AnTuTu 3.3 Benchmark, the Snapdragon 800 version just manages to score a little more than the Exynos version.
Vellamo 2.0 HTML5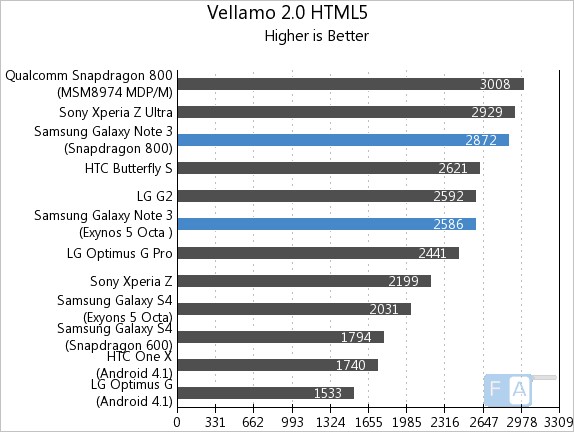 In the Vellamo 2.0 HTML5 benchmarks, the Snapdragon 800 variant scores over 2800 points and the Exynos variant is at 2586 points.
Vellamo 2.0 Metal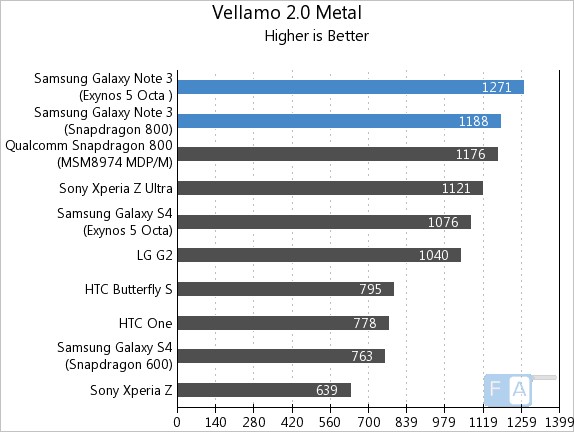 The Exynos 5-powered Note 3 tops the Vellamo 2 benchmark. The Snapdragon 800 grabs the second spot and both these devices are above the Snapdragon 800 reference device.
Linpack Single Thread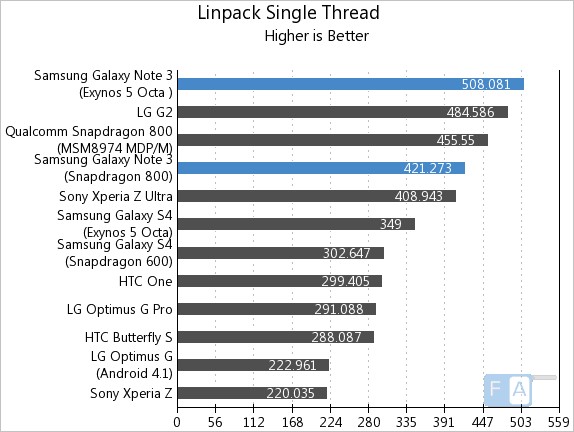 Again the Exynos 5 Octa variant tops in the Linpack single thread benchmark. The Snapdragon variant lies in the third spot, behind the LG G2.
Linpack Multi-Thread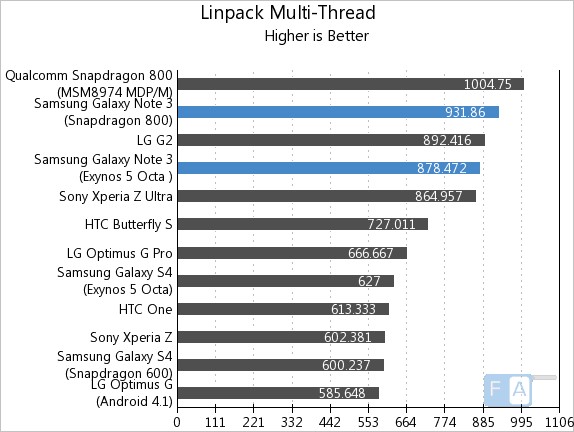 However the Snapdragon 800 variant tops the Linpack multi-thread benchmark.
NenaMark 2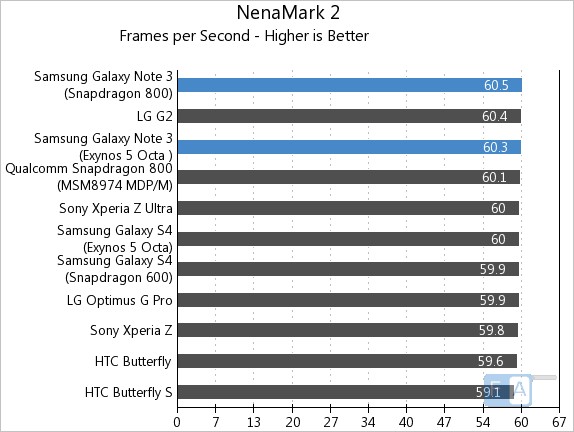 Both the Exynos 5 and Snapdragon 800 variants are almost close in the NenaMark 2 GPU benchmark.
GFXBench 2.7 T-Rex (On screen)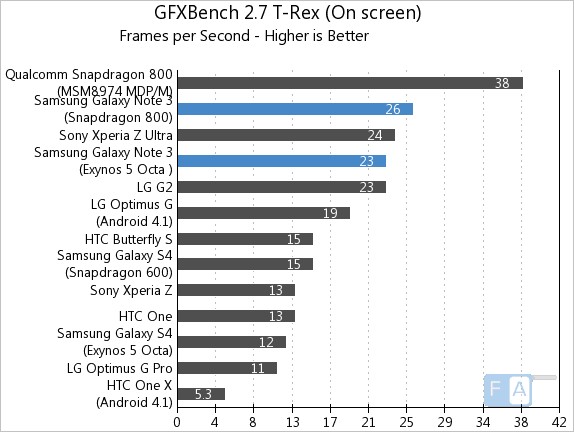 In the GFXBench 2.7 T-Rex , the Snapdragon 800's Adreno 330 GPU is a clear winner since it manages to clock 26 fps.
GFXBench 2.5 Egypt HD (On screen)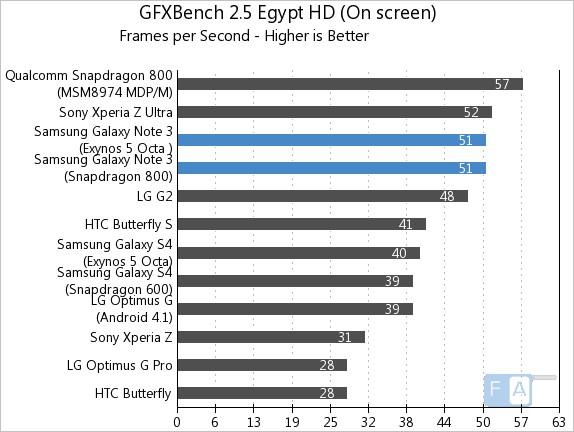 Both the Note 3 variants clock 51 fps GFXBench 2.5 Egypt GPU benchmark.
Basemark X HD (Onscreen)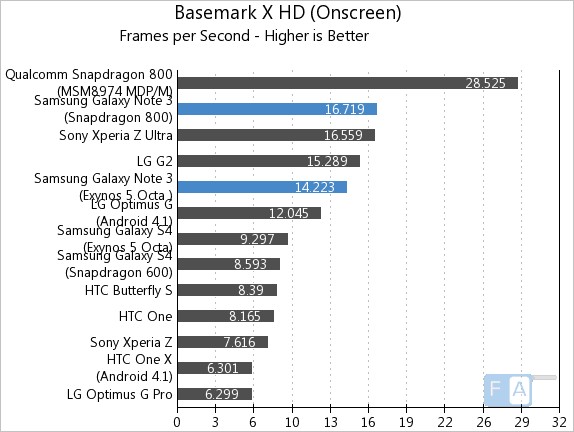 The Snapdragon 800-powered Note 3 grabs the top spot in the Basemark X HD OnScreen benchmark.
Basemark X HD (Offscreen)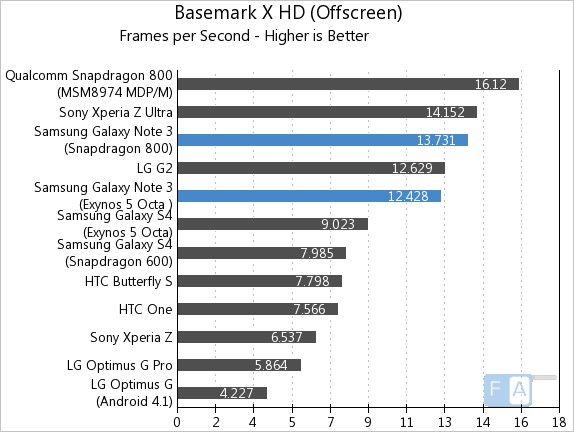 The Snapdragon variant tops even the Basemark X OffScreen Benchmark.
SunSpider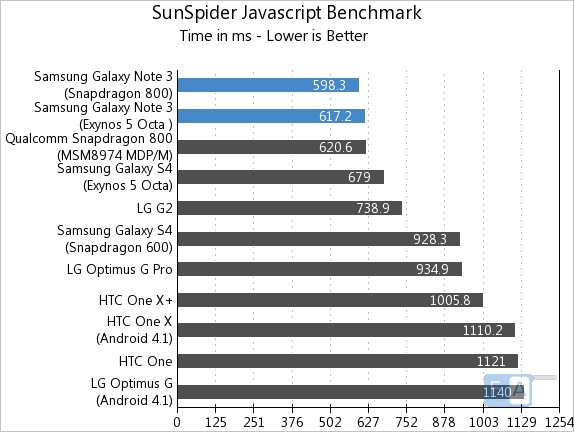 In the SunSpider Javascript benchmark, the Snapdragon 800 version of Note 3 tops the list with the least time taken. The Exynos powered Note 3 comes next.
We will bring you the complete review of the Samsung Galaxy Note 3 soon, in the mean time check out our YouTube Channel for Note 3 videos.
Update: This post has been updated with the newer values for the retail version Snapdragon 800 powered Note 3.