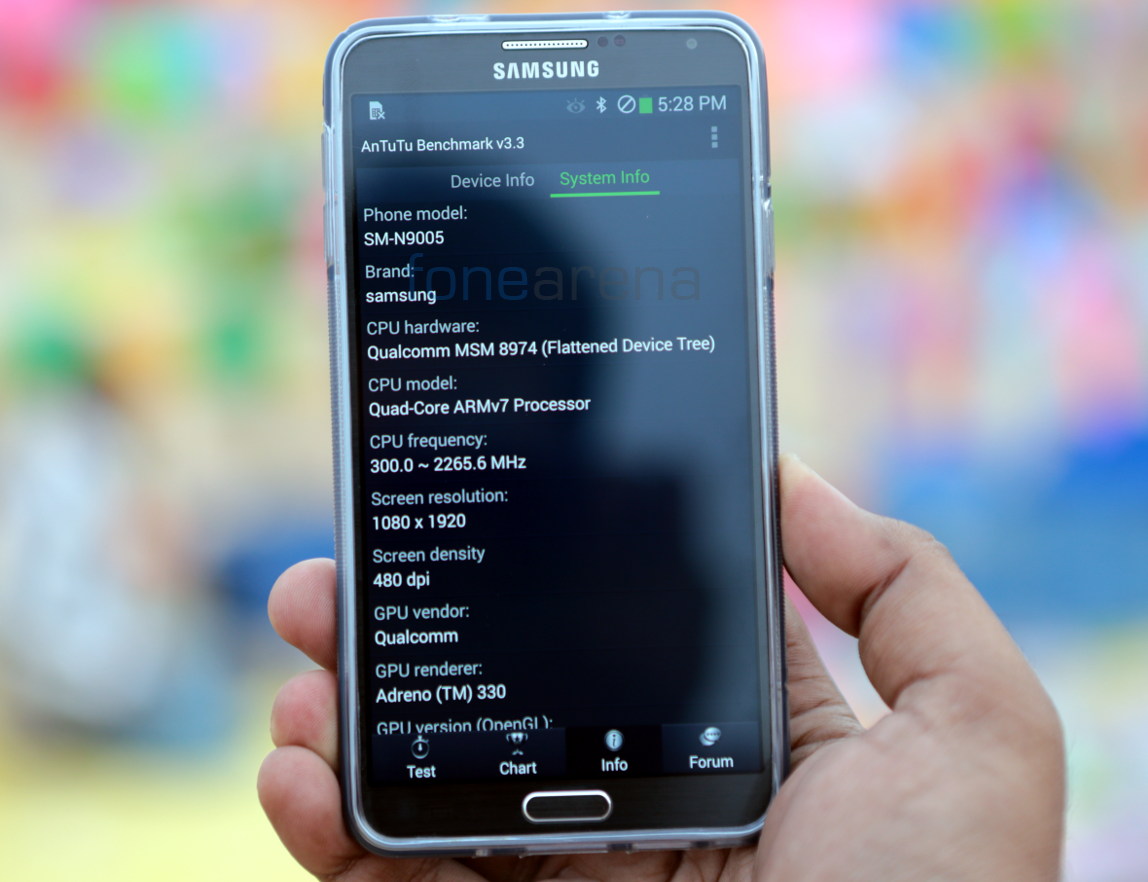 The Samsung Galaxy Note 3 was announced at IFA earlier this month and was launched in India at a price tag of Rs. 49,900. The Indian version is powered by a 1.9 GHz Exynos 5420 Octa ( A15 1.9 GHz + A7 1.3 GHz) processor with ARM Mail T628 GPU. The LTE version has a 2.3 GHz quad-core Snapdragon 800 (MSM8974) processor with Adreno 330 GPU. We managed to get hold of the Snapdragon 800 version to run some synthetic benchmark tests. It packs a 5.7-inch (1920 x 1080 pixels) Full HD Super AMOLED display and runs on Android 4.3 (Jelly Bean). Let's find out how the smartphone performs in several synthetic benchmark tests.
httpv://www.youtube.com/watch?v=GaVX2o2fzmQ

Quadrant Benchmark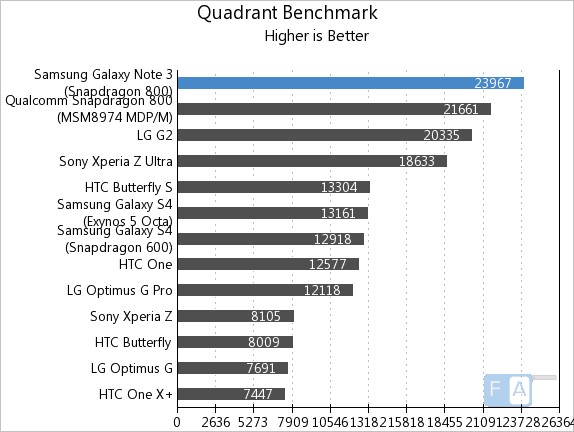 The Note 3 scores around 23k points in the Quadrant benchmark, better than both the LG G2 and the Xperia Z Ultra powered by a similar Snapdragon 800 chip and even the Snapdragon 800 reference device.
AnTuTu Benchmark 3.3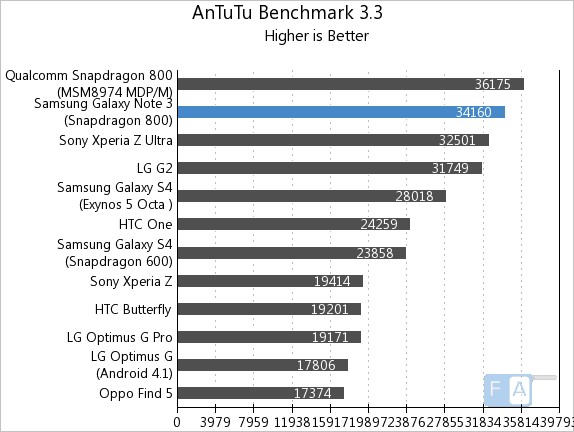 The Samsung Galaxy Note 3 scores 34160 points in the AnTuTu 3.3 Benchmark.
Vellamo 2.0 HTML5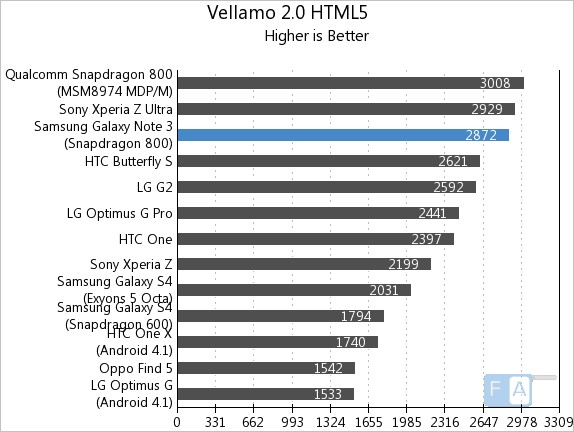 In the Vellamo 2 HTML 5 browser benchmark, the Z Ultra is better than the Note 3.
Vellamo 2.0 Metal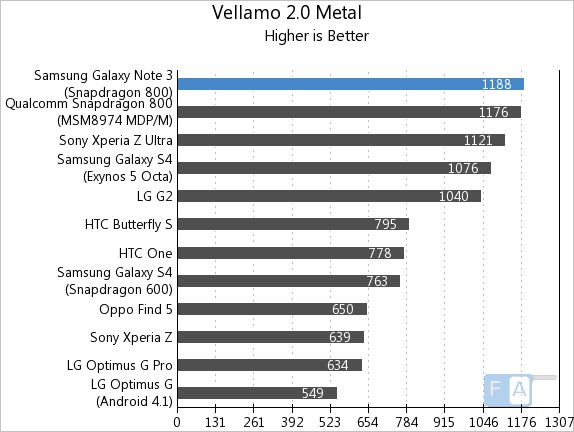 The Note 3 tops the Vellamo 2 CPU subsystem performance test.
Linpack Single Thread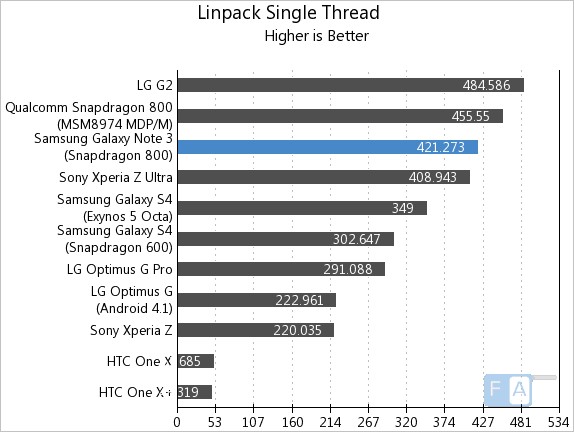 The Note 3 is few points less than the LG G2 in the linpack single thread benchmark and scores 421.273.
Linpack Multi-Thread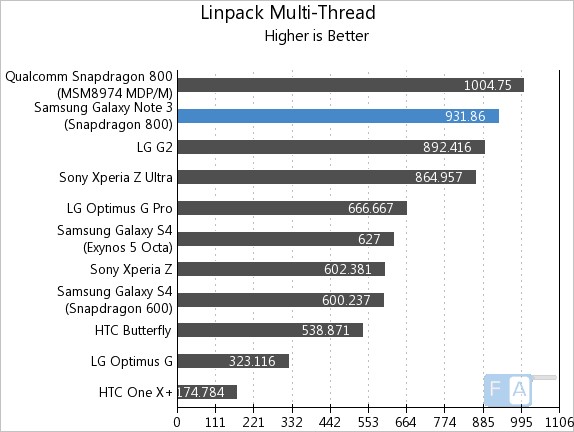 The Galaxy Note 3 tops the linpack Multi-Thread with over 931 MFLOPS.
NenaMark 2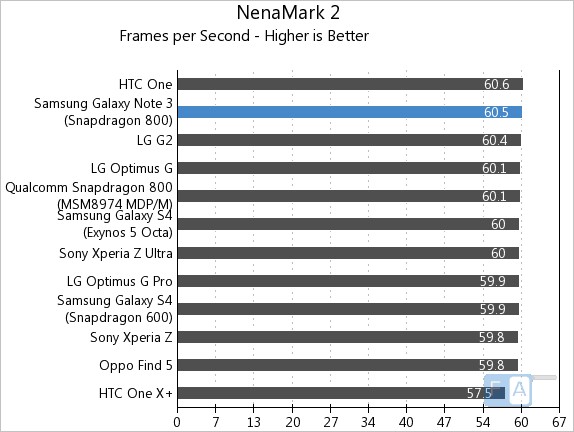 The Note 3 clocked 60.5 fps in the NenaMark 2 GPU benchmark.
GFXBench 2.7 T-Rex (On screen)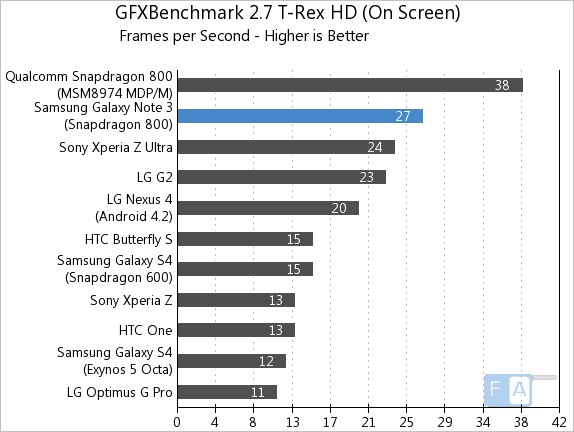 The Snapdragon-powered Samsung Galaxy Note 3 clocked 27 fps in the GFXBench 2.7 T-Rex benchmark, better than the  Z Ultra.
GFXBench 2.5 Egypt HD (On screen)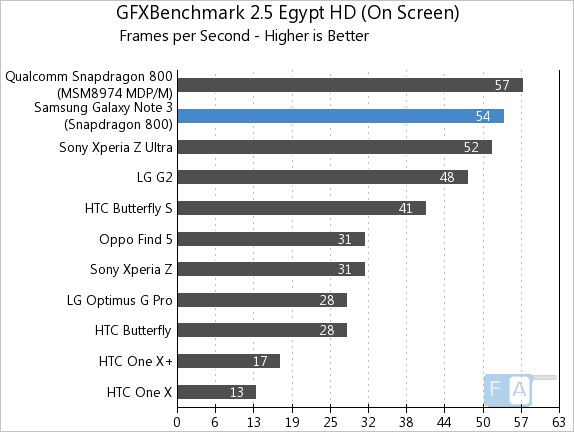 The Note 3 clocked 54fps in the GFXBench 2.5 Egypt GPU benchmark.
Basemark X HD (Onscreen)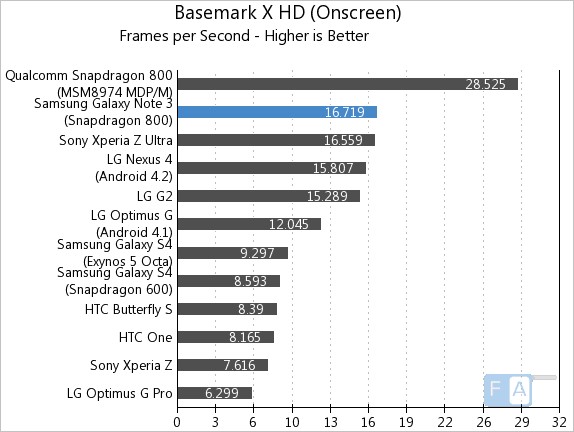 The Note 3 tops the Basemark X HD Offscreen benchmarks when compared to the other phones featuring 1080p displays.
Basemark X HD (Offscreen)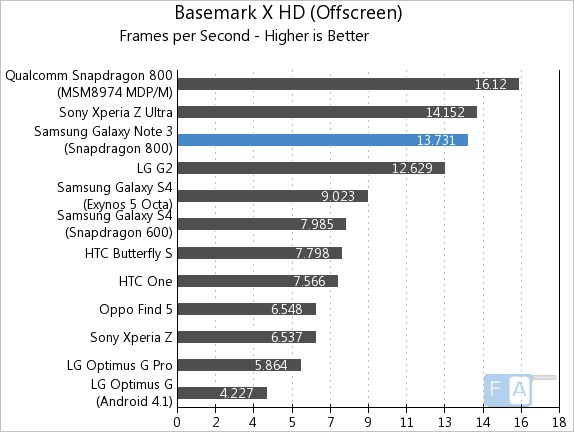 Note 3 clocks 13.731 fps in the Basemark X OffScreen benchmark.
Update: The values of the Galaxy Note 3 benchmarks have been updated with values from the retail unit.