Sony announced its latest flagship device, the Xperia Z1 here at IFA in Berlin and we've already gone hands on with the camera centric device. It competes within its own stable with the Z Ultra that is also a relatively recent launch for the Japanese smartphone manufacturer. While they don't exactly compete with each other, here's a quick break down to see how the handset fare when placed next to each other.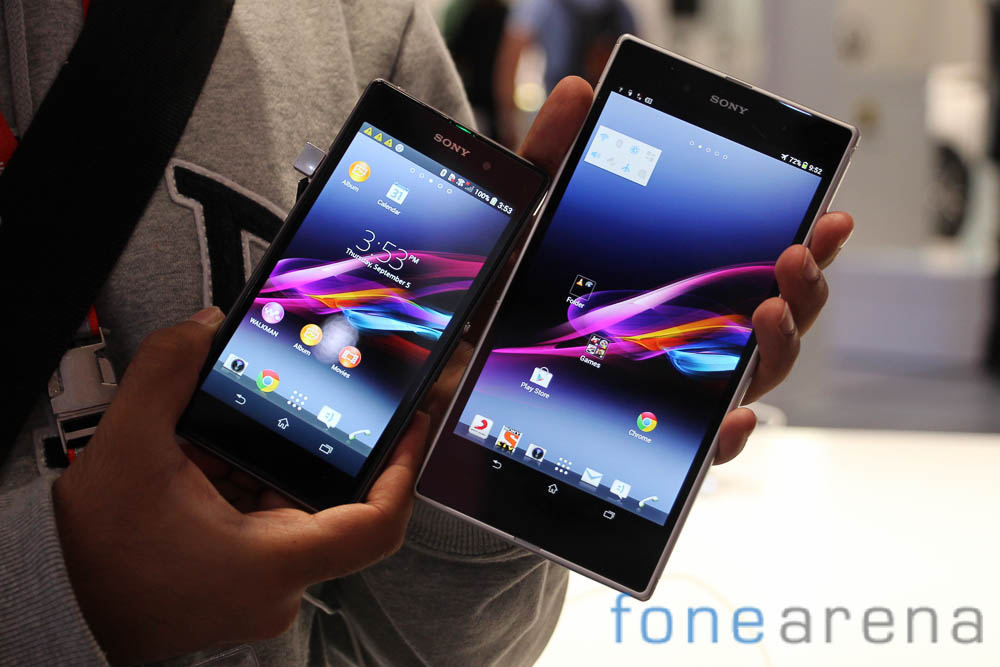 The design language of the Z1 and Z Ultra is very similar and they most definitely do appear like they belong to the same family of smartphones. The front of the Z1 has a 5 inch Full HD Triluminous display with Sony's X-Reality Engine thrown in for good measure.The Z Ultra on the other hand has an absolutely gargantuan 6.44″ screen. The resolution is the same as the Z1 at 1920 x 1080 with the pixel density dropping down to 342ppi versus the 441ppi of the Z1. The screens on both the phones are a much needed improvement over previous gen Sony devices and have fairly wide viewing angles and good color reproduction.
Video demo:
httpv://www.youtube.com/watch?v=UfiGcAYHYYw
Over on the right side of the Xperia Z1 you spot a power lock key, volume rocker and a nice dual stage camera key. The Z Ultra has just the power button and volume rocker here.
The left side of both devices houses the magnetic dock connector. The 3.5mm audio jack on the Z1 is placed at the top while it is on the side of the Xperia Z Ultra.Moving to the back, this is where things get interesting. The Z1 has a hyper gloss finish back made of glass. The surface is highly reflective. The Z Ultra too has a glass back though it isn't as shiny as the one on the Z1. The camera module can be seen in the upper halves of both devices. While the Z1 has a 20.7 Megapixel 1/2.3″ sensor, the Z Ultra has a standard 13MP camera. The Z Ultra lacks an led flash and this is present on the Z1.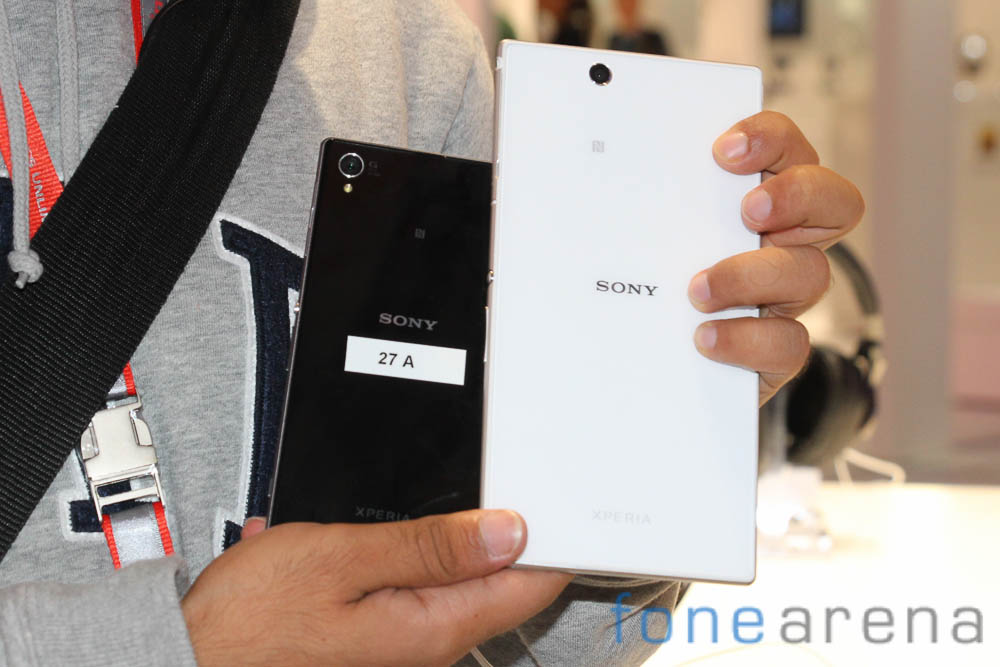 Under the hood, both devices are powered by 2.2 Ghz Snapdragon 800 processors paired with 2 GB of RAM. The GPU is an Adreno 330 chip. There's 16GB of storage built into the two handsets and this can be augmented via the microSD card slot on either phone. Over all specifications wise, both phones are fairly similar. The biggest difference has to do with the camera modules and screen size. The camera unit on the Z1 should widely surpass the relatively poor camera on the Z Ultra as you might have noticed via our Sony Xperia Z Ultra review. Fire off any questions and comments in the section below and we'll be sure to answer them. In the meanwhile, you should also check out our Sony Xperia Z1 hands on.