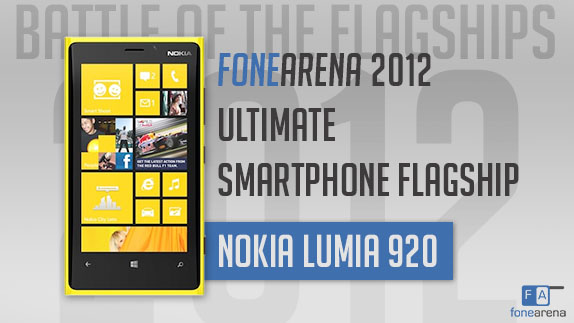 It has finally come to an end, the Nokia Lumia 920 has trumped over all the other smartphone through your votes, the readers' votes and has become the "Ultimate smartphone flagship" of this year's Battle of the Flagships 2012. We have received an enthusiastic response for the polls and we thank you, the readers for putting up with us, through every poll and we hope to continue the tradition next year too!
Yet again, we feel the need to just quickly highlight the USPs of this device, which might explain why the device won the Battle of the flagships.
Highly sensitive HD+ 1280×768 LCD touchscreen that can be used with gloves and various other objects that conduct
High refresh rate screen at 60 Hz
Optical image stabilisation for the camera to enable longer exposures and stabilised video
Wireless charging with Qi standard
Dolby stereo
Not only that, you can check out how it fared in all its earlier polls in which it had fought three other devices here –
Nokia Lumia 920 vs HTC One X+ – Round 1
Nokia Lumia 920 vs Google Nexus 4 – Round 2
Nokia Lumia 920 vs Nokia 808 PureView – FINAL
So, as you can see above, that is how the Lumia 920 survived and won this battle. We thank you again for voting, and we'll be coming back next year, probably with a couple of new ideas and may be crowd sourced phones.
In case you wanted to follow the other battles, you can see them here.