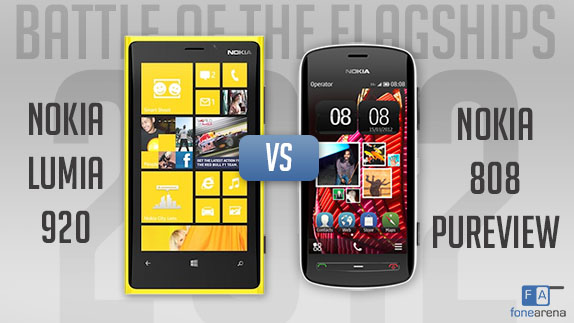 So it has finally come down to this. The grand finale battle of the #BOTF12 is the battle of the Nokia PureViews. After a huge victory over the Google Nexus 4 and the LG Optimus G in the last round, both these Nokia devices are now battling it out for the ultimate flagship title. Yes, it is Nokia Lumia 920 vs the Nokia 808 PureView for the last and final battle of #BOTF12 Battle of the flagships 2012. Both the phones carry the prestigious PureView brand that was created by Nokia to indicate the camera specific innovations in their devices, and as of now there are only two PureView devices, and here they are, locked into battle. So, lets not keep waiting and dive into the battle then!
Nokia Lumia 920 vs Nokia 808 PureView
The Nokia Lumia 920, as we have discussed in our previous posts, is Nokia's flagship device today. Nokia calls it the most innovative smartphone, with a lot of features to back up that claim. With all its eggs in the Windows Phone basket, Nokia had ceased development of all of its legacy smartphone platforms, which includes, mainly Symbian. And after one and a half years of pursuing that path, Nokia has finally created a device that is worthy of a flagship title. The hardware is now top notch and is on terms with modern smartphones, while the software is the latest Windows Phone 8 platform, which runs on the Windows kernel unlike Windows Phone 7 which was based on CE. Like all our earlier articles lets take a look at the highlights of Nokia Lumia 920 quickly –
Highly sensitive HD+ 1280×768 LCD touchscreen that can be used with gloves and various other objects that conduct
High refresh rate screen at 60 Hz
Optical image stabilisation for the camera to enable longer exposures and stabilised video
Wireless charging with Qi standard
Dolby stereo
The Nokia 808 PureView on the other hand is Nokia's innovation flagship that released earlier in the year, at the Mobile world congress 2012. When we say innovation flagship, we mean it, because it is true in every sense. It was a market disruption with its huge 41 megapixel sensor and a camera oversampling algorithm that was unheard of. It was and is also the last Symbian flagship from Nokia, and that is how Symbian ended on a high. True to its camera prowess, it was a worthy successor to the venerable Nokia N8 that wowed cameraphone fans earlier. With that said, lets quickly take a look at the highlights of this device –
World's first 41 MP sensor with a size of 1/1.2″
5 element Carl Zeiss optics
Oversampling technology enables stunning imagery at 100%
Lossless zooming in stills and video enabled by oversampling
4 inch nHD 640×360 CBD AMOLED display
Both these devices are amazing in their own aspects and serve a totally different set of users. The Lumia 920 is a very rounded device that tries to do everything well, with some extra tricks up its sleeve, while the 808 is a purist device that can do everything but can do a single aspect too well. So well that it is instantly the choice when people are looking for a camera centric smartphone. The easiest explanation would be this – The Nokia Lumia 920 competes directly with other company flagships like the Apple iPhone 5 and the Samsung Galaxy S3, while the 808 stands out on its own, with no competition so far. And as usual, lets compare the two devices in terms of aspects that matter to the consumers.
Overall design and feel 
As always, the design and feel of any smartphone is subjected to a matter of personal opinion. The Lumia 920 follows the fabula design language while the Nokia 808 follows an ergonomically apt design that somehow makes you feel you are holding a camera instead of a phone, that was the objective and we had heard this straight from Nokia product managers themselves. So, it is easy to see that the design language itself is in accordance with the target end users in mind. The Lumia 920 is supposed to look beautiful, following the success of the design with earlier flagships, starting from the rebellious N9 and the 808 is supposed to be held like a camera, because Nokia wants you to actually take more photos with the 808 than any other device. Both the devices are bulky, and weigh more than the other flagships, but users don't seem to give it a huge thumbs down. So, in the end, both these device cannot really compete with each other in terms of design and feel because they are tailor made for the target users.
Display
The Nokia Lumia 920 sports one of the best IPS screens on any smartphone. With a 4.5 inch PureMotion HD+ 1280×768 super sensitive clear black display, you get one of the best experiences of interaction on a smartphone. Also notable is the second generation oleo phobic coating that makes the screen grease free and smooth as hell. There is no competition here, the 920 has one of the best screens, and pitting it against the 4 inch nHD AMOLED CBD screen of the 808 wouldn't be fair. So, we can unanimously give it to the Lumia 920 for this round.
Internals
The Lumia 920 is powered by the dual core Qualcomm Snapdragon S4 krait CPU with 1 GB of RAM and Adreno 225 graphics. Lets just give it to the Lumia 920 in this department as the ARM 11 based 1.3 GHz single core processor on the 808 is no match for the 920. But before we skip to the next one, I just want to say that there is a special imaging chip in the 808 that can process way more pixels than any other smartphone, so that is a point to be noted in favour of the 808.
Camera
Here we go, this is going to be tough so lets go by department.
Stills (Daylight) – without comparing raw specs, we can outright say that the 808 PureView  wins this thanks to the 1/1.2″ 41MP sensor with oversampling that renders extremely detailed pictures and allows lossless zoom.
Stills (low light) – Again, without comparing raw specs, we can say that the achilles heel of all smartphone cameras has been solved with the Nokia Lumia 920's PureView camera, thanks to the Optical image stabilisation that allows longer exposures, the backlight illuminated sensor and the f2.0 aperture. However some might argue that the 808, with the right settings and a tripod can take better low light pictures, with way more detail. yes, it can but then when it comes to ease of use, the 920 takes the cake, producing stunning low light pictures with less noise.
Video – The Lumia 920, with Optical image stabilisation takes non shaky videos, and it is of the full HD resolution just like the 808. But the 808 allows loss less zooming thanks to oversampling, which is not possible on the 920. Each has its own advantages but we prefer the 920's output as non shaky video gives us a professional output.
Audio – The Lumia 920 does mono 96 kbps HAAC encoding, while the 808 does 256 kbps stereo HAAC encoding. Clearly, the 808 is the winner here, but then we have heard reports that the 920 is getting better audio recording soon, in an update.
Overall, with each having its own advantages, the winner in this department is certainly the 808 PureView. The PureView phase 1, as it is called by Nokia is a much better implementation of its vision and we can't wait to see the device which has both the PureView features combined into one. With that said, the Lumia 920 is no slouch either, with non-shaky videos and amazing low light performance. In the end, it's up to you to choose what's better for you.
Software
A highly debated factor of Lumia 920 and the 808 is the software. February 2011 announcement had changed a lot of things and Nokia was all set to move away from its legacy. There is no doubt that Symbian still a very good operating system with features that are still not found on any other systems, but then, when it comes to being relevant in a highly competitive smartphone market which has way better user experiences like iOS, Nokia had to move away. Even now, Windows Phone 8 does not have much of the legacy Nokia features like the FM transmitter, USB OTG and HDMI out, that were a part of Nokia N8, the predecessor to the Nokia 808. Nokia 808 though, certainly improves upon, but still there is much left to be desired in Symbian, with the apps and the services ecosystems that people want, restricting themselves to better user experiences. While Windows Phone is still not on par with Android or iOS in terms of apps and services, it still has a better chance and mainly relieves Nokia of all the software duties that it was burdened with. Nokia chose one and stuck with it, now it is time for you to choose one.
Yes, it is time for you to vote for your smartphone of choice, for the title of "Ultimate Smartphone Flagship 2012", selected by you, readers of Fonearena. So, what are you waiting for? Vote away –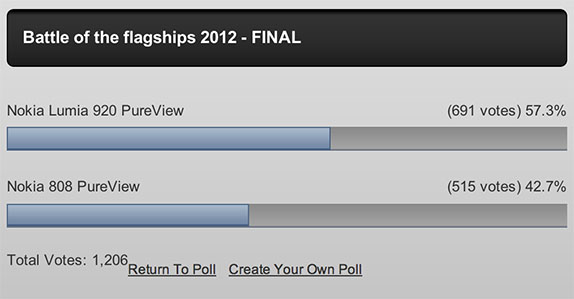 The Nokia Lumia 920 has won the Battle of the flagships 2012! 
Check here for the previous battles in #BOTF12. Here's the final battle chart –