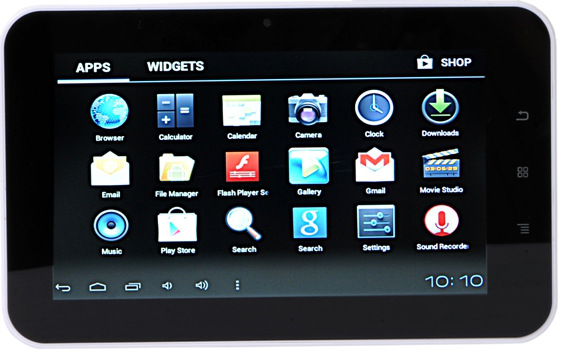 Aakash 2 ultra low-cost tablet, successor of Aaksash tablet was launched by the President of India , Pranab Mukherjee and the Human Resources & Development (HRD) Minister, MM Pallam Raju. It comes at a price tag of Rs. 1,130 for students, while the commercial version, UbiSlate 7Ci is available for purchase at Rs. 4,499. DataWind would supply 100,000 units of Aakash 2 to IIT Bombay and also aims to distribute them to Engineering colleges and universities. It comes with upgraded specifications including a 7-inch (800 x 480 pixels) capacitive touch screen display and runs on Android 4.0.3 (Ice Cream Sandwich). It powered by a 1 GHz Cortex A8 processor and has 512MB of RAM, 4GB of internal memory, 32GB expandable memory and a front-facing camera.
Datawind launched range of UbiSlate tablets, UbiSlate 7Ri, UbiSlate 7R+, UbiSlate 7Ci and UbiSlate 7C+ in September. The UbiSlate 7Ri and UbiSlate 7R+ comes with a restistive touch screen, while the UbiSlate 7Ci and UbiSlate 7C+ have a capacitive touch screen similar to the Aakash 2.
The UbiSlate 7Ci is now available for Rs. 4,499 from UbiSlate website, which would take 1 week to ship (varies depending on backlog) if you make online payment. You can also Pre-Pay by Cheque, Demand-draft or pay Cash on Delivery (COD). The UbiSlate 7C+ with GPRS support is available for pre-order and would take 3 to 4 weeks to ship.