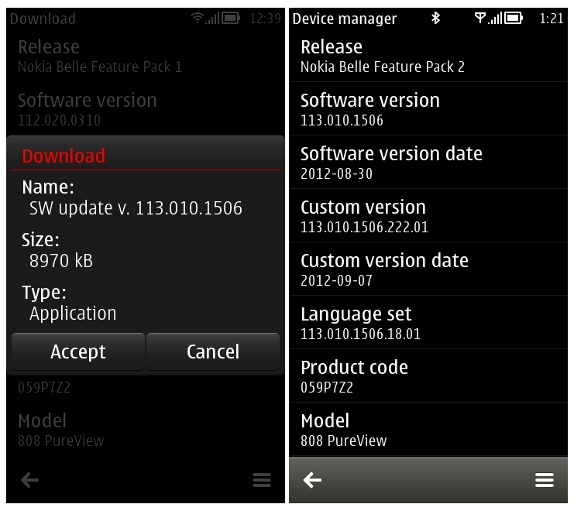 Nokia has started rolling out the Belle Feature pack 2 update (v 113.010.1506/07) for the 808 PureView, 700, 701 and 603. The Nokia Belle Feature Pack 1 update for the Nokia 700, 701 and 603 started rolling out in April, but the 808 PureView came with FP1 out of the box. Some devices that didn't receive the FP1 update got the Belle Refresh update in August.
This update would bring new features including Swipe to Unlock, new Keyboard with word predictions, new Music player, better Gallery, option to select multiple photos for deleting, Video editor and lots more. After the FP2 we also got updates for the New Microsoft Apps 2.1, New calender v10.1 and a Social 1.6 automatically from the Software Update.
The update is now available Over the Air (OTA) and is about 9 MB for 808. You can also update the phone using Nokia Software Updater or Nokia Suite. Do have any of these devices ? Did you get the Belle FP2 update ?
[Update: Nokia Conversations have officially announced the FP2 update saying that the 808 PureView would get new imaging features and gallery enhancements and a Nokia Car Mode. Nokia 603, Nokia 700 and Nokia 701 would get a faster browser and Nokia Car Mode]
[Update 2: Nokia has announced on their Support Forums that they have pulled the FP2 update temporarily due to software issues on the devices after the update. The roll out would resume soon.]