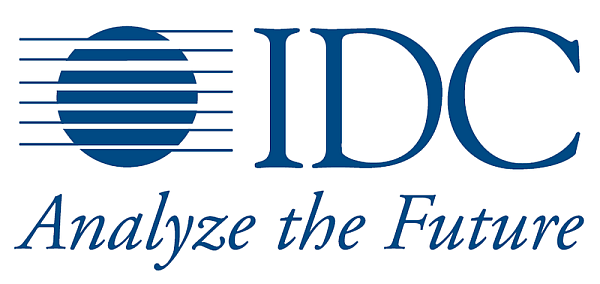 Samsung, Nokia and Apple are the leading Mobile vendors by shipments in Q1 2012, according to a report by Research Firm IDC (International Data Corporation). The Worldwide mobile phone market declined 1.5% year over year in the Q1 2012 with worldwide shipments of 398.4 million units compared to 404.3 million units in the first quarter of 2011.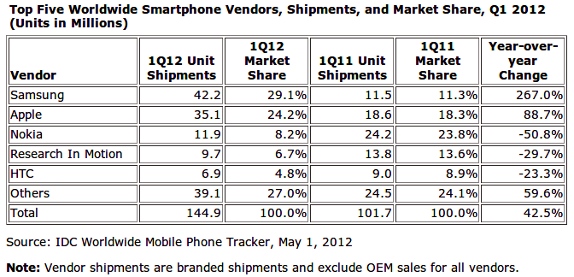 The worldwide smartphone market grew 42.5% year over year in Q1 2012 with 144.9 million smartphones shipped compared to 101.7 million units in Q1 2012.  Samsung overtook Apple and leads as the top smartphone vendor based on Shipments. They have also created a new record for most number of smartphones shipped in a single quarter with 42.2 million shipments and 29.1%. Apple is in second spot with 24.2% market share, followed by Nokia with 8.2% market share that is down by 50.8% compared to Q1 2011.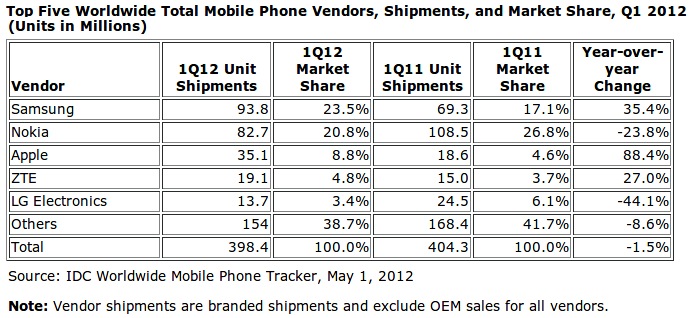 The table above indicates the Worldwide Mobile shipments based on the total unit shipments and market share in Q1 2012. Samsung tops the worldwide Mobile phone shipments with 23.5% market share in Q1 2012 that is 35.4% more than Q1 2011. Nokia is right behind with 82.7 shipments but has 23.8% less market share compared to Q1 2011. Apple is in the same 3rd spot. ZTE pushes LG to 5th spot.