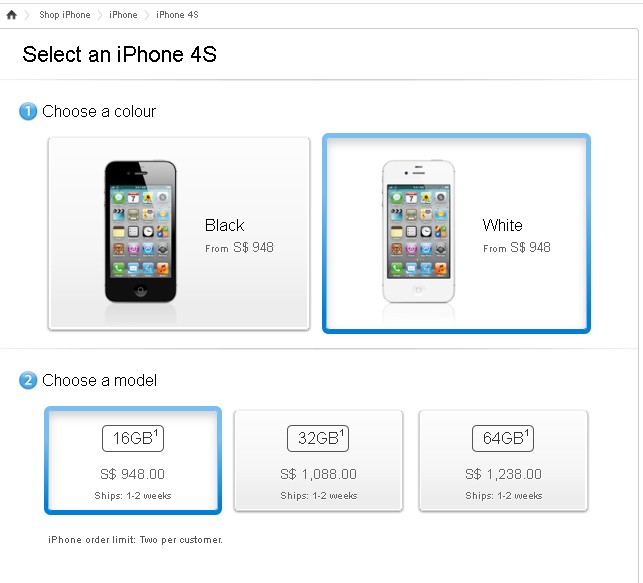 Looks like Apple is all set to launch the iPhone 4S in more countries on October 28th. The pre-order pages for the countries part of the Oct 28 launch went up few hours ago. Amongst those countries , the only country in Asia is Singapore where Apple products are normally priced similar to the United States. Here we have news of the Singapore prices of the iPhone 4S. Prices start from 948 SGD for the 16GB version , 1088 SGD for the 32GB version and 1238 SGD for the 64GB version.This works out to about Rs.38000 approx for the 16GB version , Rs.42500 approx for the 32GB version and Rs.48400 approx for the top-end 64GB variant.  you might also have to pay GST or a Sales Tax in addition to the above price.  From the pricing , one can assume that the device is sold unlocked  but we don't have confirmation of that.But the product family page  mentions the word unlocked.The part number for the basic version is MD235ZA/A.
The price are comparatively higher than iPhone 4 launch time pricing. US pricing for the unlocked device which arrives in November is 649 USD , 749 USD and 849 USD for the 16GB,32GB and 64GB variants.
The iPhone 4S will be available in Austria, Belgium, Czech Republic, Denmark, Estonia, Finland, Hungary, Ireland, Italy, Latvia, Liechtenstein, Lithuania, Luxembourg, Mexico, Netherlands, Norway, Singapore, Slovakia, Slovenia, Spain, Sweden and Switzerland starting from October 28th and you can get it shipped in 1-2 weeks if you pre-order now.