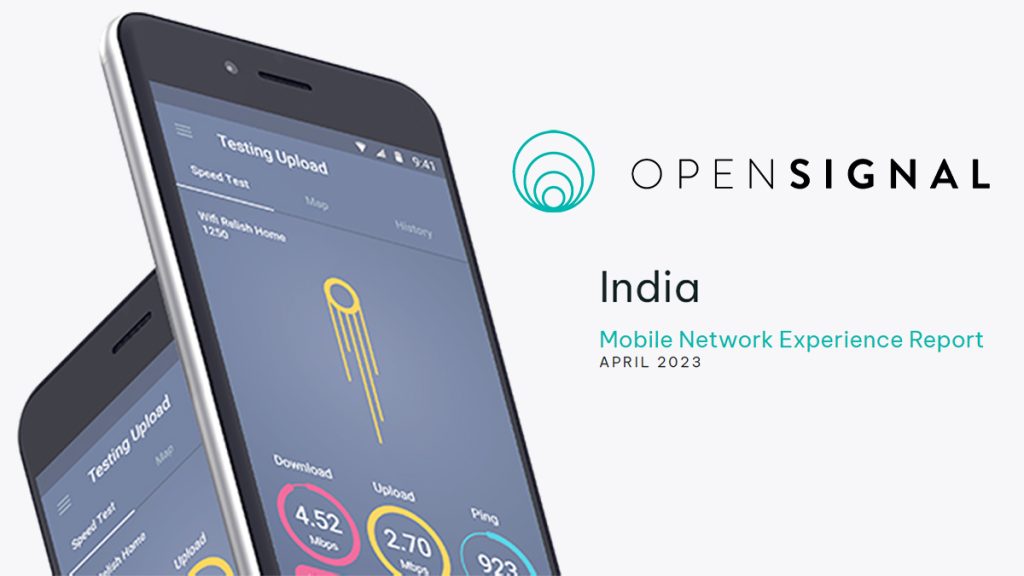 Opensignal, a globally recognized authority for evaluating consumer mobile experience, has released its most recent report on the Mobile Network Experience in India.
This comprehensive report serves as a definitive guide for gaining insight into the actual mobile experience provided by India's mobile operators.
Opensignal's Mobile Network Experience Report: Key Findings
Airtel provides the best Video, Games, and Voice App Experience for 5G and overall in India, according to Opensignal's report. Airtel users enjoy very good Video Experience with 5G and win Video and Voice App Experience awards, as well as jointly winning the Games Experience award with Vi.
Jio offers the fastest download speeds in India, winning the Download Speed Experience and 5G Download Speed awards with significant leads. Jio users experience download speeds that are 4.5Mbps faster on average than Airtel users, and Jio's 5G Download Speed is 54.1Mbps higher than Airtel's.
Jio provides the most consistent mobile experience, winning the Excellent Consistent Quality and Core Consistent Quality awards, although the lead over Airtel has slightly decreased.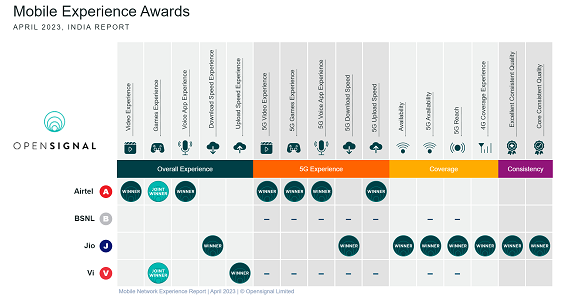 Jio dominates the coverage categories, winning all four coverage awards outright, including Availability, 5G Availability, 4G Coverage Experience, and 5G Reach, with the highest scores among operators. The firm recently announced the launch of its True 5G services in 41 new cities in 16 States / Union Territories across the country.
Airtel leads in 5G Upload Speed, providing the fastest average upload speeds of 23.9Mbps, and wins the 5G Upload Speed award. However, Vi wins the Upload Speed Experience award with a small lead of 0.3Mbps over Airtel in terms of overall upload speeds.
Indian Telecom Landscape: Airtel and Jio's 5G Efforts
Airtel and Jio, two of India's major telecom operators, have launched 5G services using different technologies, with Airtel utilizing non-standalone access (NSA) and Jio using standalone access (SA) in the 700 MHz band. Vi, the third-largest operator, has not announced its 5G launch date, while BSNL aims to launch 5G by 2024.
5G Impact: Opensignal's recent analysis shows that users across India are experiencing significant improvements in their mobile network experience with the launch of 5G, especially in Tier 2 cities.
Combined Analysis: For the first time, Opensignal has analyzed both overall mobile network experience and 5G experience together. The results show that the overall speed experience has improved significantly across India since the launch of 5G, with 5G users spending considerable time on 5G networks.
Methodology: Opensignal analyzed the overall mobile network experience of users on Airtel, BSNL, Jio, and Vi over a 90-day period from December 1, 2022, to February 28, 2023, nationally and in 22 telecom circles. The 5G experience of Airtel and Jio users was also analyzed, including 5G user measures across all generations of mobile technology.
Awards: Opensignal has awarded Airtel and Jio for their 5G experience, including metrics such as download speed experience for 5G users. Airtel claims to have a 5G footprint in 500 cities, while Jio claims to have rolled out 5G in 406 cities. Vi has not announced its 5G launch date, and BSNL is focusing on strengthening its 4G network, with plans to launch 5G by 2024.
Check out Opensignal's India Mobile Network Experience report here.