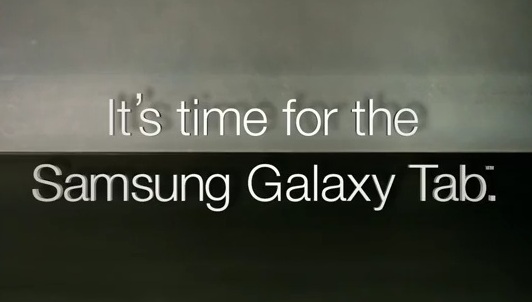 What comes in your mind when someone asks you about Samsung and Apple? Well, if someone asks me that, I would say that both companies are currently going through a hard time. We know that Apple recently sued Samsung over Galaxy S and Galaxy Tab, and then Samsung sued Apple too, so currently there is a cold war going on. Samsung announced Galaxy Tab 10.1 at MWC which is the thinnest tablet available in the market and it's really a big challenge for Apple iPad2. Do you think Samsung will miss any chance to make fun of Apple? I think they will never miss a single chance to do it, and they really didn't miss it. After the break, you will see a promo video of Galaxy Tab 10.1 where Samsung is trying to tell you that it's time to Tab. They will tell you the reasons to buy this tablet and there is also a scene where iPad2 got owned by it. Well, iPad2 users and fans don't take it serious because Samsung is just messing with you, iPad2 is also an amazing tablet and it's still ruling the tablet market, so no hard feelings. Check it out below and I am sure it will put a smile on your face.
httpv://www.youtube.com/watch?v=x1X_q1DM8s8
So, did you like it?