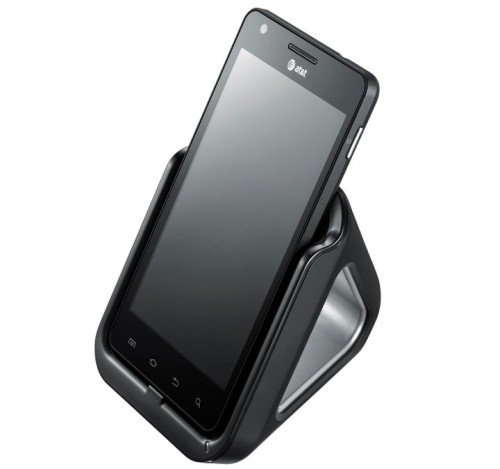 Samsung Galaxy S II is the Samsung's new flagship device, we recently reviewed it and we told you that it's an amazing device. Currently one of the best Android devices available in the market and this device is an arch rival of HTC Sensation. Samsung is planning to launch Galaxy S II in 120 countries and it will be available on 140 operators in the world. Samsung really have some big goals, and that also means that they will bring their amazing device to USA, via major carriers and maybe regional carriers too. We don't know when it's really happening, but I think it's around the corner. Samsung Singapore has posted some shots of Galaxy S II desktop dock on their Facebook page and guess what? The Samsung Galaxy S II on the dock has AT&T branding on it, as you can see that in the image above.
The phone looks a lot like Infuse 4G or should I say it's just like it. Infuse 4G feature a 4.5-Inch screen, and SGS2 has a 4.3-Inch one, so the one in the image looks a little smaller than Infuse 4G. Also look at the power button on the left side, the little power logo is on the left of the button, not on the top like Infuse 4G, so I think it's AT&T Galaxy S II. A pyramid-like desktop dock featuring a 3.5 mm stereo-out and a micro-USB out, not HDMI-out.
There's currently no information when this device will hit AT&T, but you can expect it later this summer. I hope this is AT&T's Galaxy S II and not a Photoshop fail by Samsung Singapore. Well everyone, what you think about this, real or a mistake?