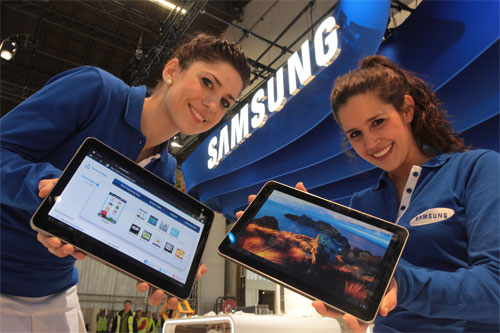 J.K. Shin, president of Samsung's mobile division, said in an interview that, Samsung has plans to launch 4G enabled Galaxy tabs this year. He also said that they may launch third version of its Galaxy S within Q2 of 2012.
Samsung launched their 7 inch Galaxy tab that ran on Android 2.2, last September in IFA in Berlin, Germany. They showcased 10.1 inch Galaxy tab in Mobile World Congress in Barcelona earlier this year.
Later the 8.9 inch and 10.1 inch Galaxy tabs that run Android 3.0 (Honeycomb) OS were announced and prices for the Wi-Fi version of the tablets were announced. The new tablets and the Samsung Galaxy S2 were showcased in India at Southwest Asia Regional Forum, this April.
Samsung Galaxy S2 was launched in most of the countries this month and launched in India last week. Samsung plans to launch this phone in 120 countries by early June. 1 million units of Samsung Galaxy S2 have already been sold in South Korea in just 70 days since its launch.
The new 8.9 inch and 10.1 inch tablets would go on sale this June. The 10.1 inch Galaxy tab would be priced between $499 and $599. There are also reports that it may ship with Android 3.1 which is the latest version of Honeycomb.
The 4G enabled Galaxy Tab and the Samsung Galaxy S3 might feature a 2 GHz dual core processor, according to the earlier reports.
What do you think? Are you ready for a 2GHz processor in your phone ?