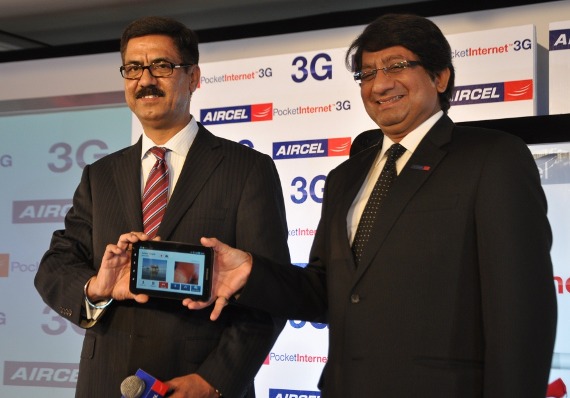 Aircel has launched its 3G services in Punjab, Chandigarh. They have already launched their 3G services in Karnataka, UP East, Chennai, Assam, Kolkata, Cochin , Hyderabad, Srinagar and other north-eastern states.
Airtel Pocket Internet offers video entertainment based on fashion,music, movies and sports. Aircel Pocket TV lets you watch movie songs and dialogues by dialing 56666 and Pocket Videos lets the 3G customers watch several live TV channels of different languages.
The basic plan offers 3G services at 3 paise per 10KB. There are other monthly packs for Rs.132, Rs. 252, Rs. 502 & Rs.802 that offers 75MB, 150MB, 350MB & 1024MB data, aimed at students, executives, and heavy users.
There is also high-speed plan that offers 100MB data for Rs. 92 and unlimited data plan for 3G dongles.
Press release below
CHANDIGARH, April 19, 2011: Aircel, which made its presence felt in the year 2010 with an impressive pan India network rollout, continues its growth momentum by announcing the much awaited launch of its 3G services. Aircel is the undisputed market leader in Chennai and Tamil Nadu, besides Assam and North-East. 2010 was a watershed in the company's history as it crossed an all-India subscriber base of 55million subscribers and was among the fastest growing mobile companies in the country with its strong focus on youth, emerging markets and innovative date offerings. Aircel, during the year made a strong commitment to the potentially fast growing data market in India, by grabbing a strong suite of 3G and BWA licenses. Aircel has already been the first Telco to get consumers to experience 3G, by creating a 3G experience zone in November, 2010.

Aircel is the fastest growing telecom service provider having rolled out 2G services in the shortest time frame in recent times. Aircel has recorded the fastest growth in revenue. In year 2010 revenue grew by 44% over 2009 and the incremental revenue market share grew by 19% in year 2010.

Aircel is a joint venture between Maxis Communications Berhad, a leading regional telecom group headquartered in Malaysia and the Apollo Hospitals Group. Maxis Berhad, its Malaysian subsidiary, the no. 1 operator in Malaysia, was recently voted among the five best run Telcos in the world and has the distinction of being among the top global Telcos with a fine mobile data record. Commemorating the launch, Sandip Das the Group CEO of Maxis said " This has been an important year for us in the Indian market, where we finally established our pan India presence, while keeping a date with India's future by successfully gaining a foothold on 3G and BWA licenses at the auctions. The Aircel team has shown strong execution skills staying much focused on our strategic intent in a crowded market, where we were given little chance to succeed. Our commitment to the market is underlined by the investment of over 8 bn USD we have made already and a further 3 bn USD we plan to spend in the next three years. Maxis has been outstanding data player and Aircel has the unique opportunity to take advantage of this by accessing content on a real time basis, besides building on its own inherent data pedigree. We see ourselves as a leading player in the next phase of India's telecom, internet and broadband play. We see mobile terminal devices giving Internet a new lease of life in a data starved environment as wide band data networks, starting with 3G, shrink distances."

Data has been at the core of Aircel's strategy, built on its astute PocketInternet™ positioning which captured the imagination of the youth, resonating almost instantly. Aircel represents the modern face of India's contemporary youth market, championing the future of telephony in India around the growing potential of the multi-functionality of the ubiquitous mobile terminal device and 'the world of possibilities' it will unleash across multiple segments, with the inclusion of underserved geographies.

Gurdeep Singh, COO, Aircel, who launched the services said, "We have been working very hard in getting this right and have taken every step with deliberation. This is reflected in our success in the years leading up to 2010. 3G is a natural next step. We are excited about 3G, as we see it as something that will begin to transform our lives in many ways. The youth comprise over 50 percent of the country's population and are among active internet users and also avid users of Facebook, YouTube and other social networking sites. The launch of 3G services on Aircel will address the high speed digital needs of the consumers thus unleashing the power of the Internet further creating opportunities for education, employment, engagement and entertainment which will empower the consumers and impact their Lifestyle."

He further added, " At Aircel we have always had a clear focus on the future and have uniquely positioned ourselves by being the first to introduce, products and services that address relevant needs of the consumers be it the Aircel Pocket Internet, Aircel Pocket Apps store, Aircel Apollo Mobile Health Care and the first ever Facebook Voice Updates on Aircel . It has been our constant and consistent endeavor to offer our consumers best in class on the Mobile anytime anywhere."

Aircel 3G services will have something for all segments be the youth, housewives, professionals, children or even the elderly. 3G will open up new vistas by speeding up access, which in itself will enhance experience. Aircel is clear that it is not just broadening a pipe but also offering its consumers enriched content that will be special. The vibrant, colorful Aircel 3G PocketInternet portal experience will reach new heights as it hosts alluring Video entertainment such as fashion, the best in music, movies and sports; on Aircel Pocket Video consumers will get to watch their favorite movie songs or dialogues of favorite stars by dialing 56666; they will enjoy watching a plethora of TV channels live on Aircel 3G network in multiple languages.

"At Aircel we shrink the world for you with a promise to offer you a world of possibilities anytime, anywhere. Aircel 3G data plans will offer to the consumers the best in speed and experience. The base rate which is 3paise per 10KB is an absolute value for money. There are dynamic bundled plans for the students, executives, and heavy users addressing all their needs enabling them with Voice, SMS as well as 3G data on Aircel. At an all-inclusive price of Rs.132, Rs. 252, Rs. 502 & Rs.802 the consumers can enjoy 75MB, 150MB, 350MB & 1024MB data respectively for a month with inbuilt voice & SMS. In addition to this, we have attractive data plans which ensure high speed experience at Rs. 92 for 100 MB. Then there are attractive Aircel 3G Dongle plans for you to stay connected on the move and get the best of high speed surfing".

Apart from a very robust Retail presence Aircel will provide a range of both prepaid and postpaid 3G products and services through its exclusive, vibrant flagship company outlets in Punjab.

Aircel offers a Superior Customer Experience and has set up a specialized 3G Data Call Centre with the latest technology and multilingual Customer care handling capability.