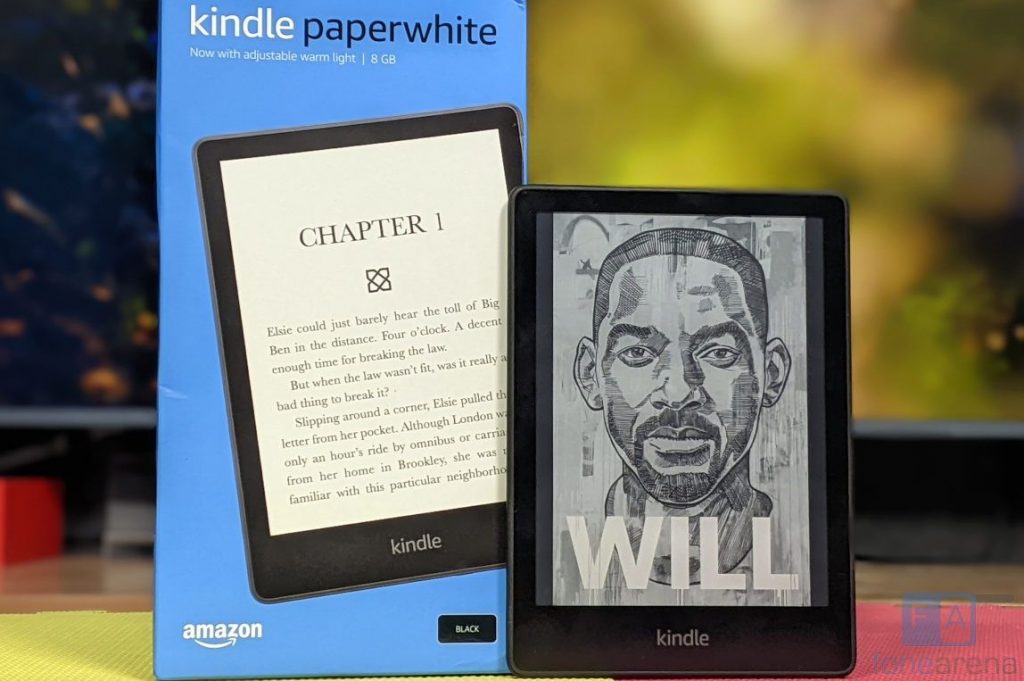 Amazon launched its new Kindle Paperwhite (11th Generation) a few weeks back. The new generation Paperwhite model has a bigger 6.8-inch 300 PPI screen, features an adjustable warm light, comes with smaller bezels, retains IPX8 ratings for water resistance, promises up to 10 weeks of battery life, and it finally adds a USB Type-C port. Is this worth the price? Let us find out in the review.
Box Contents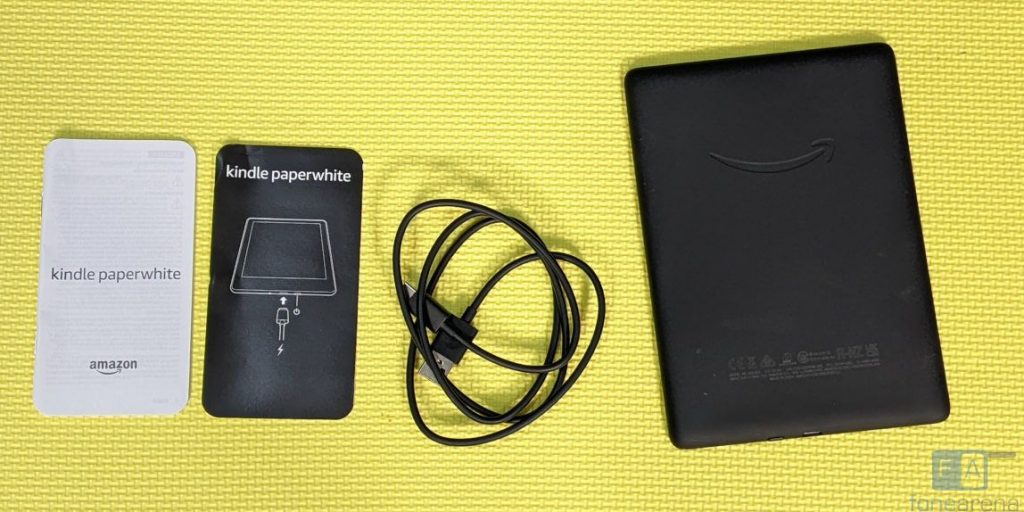 Kindle Paperwhite (2021)
USB Type-C cable
Quick Start Guide
Hardware and Design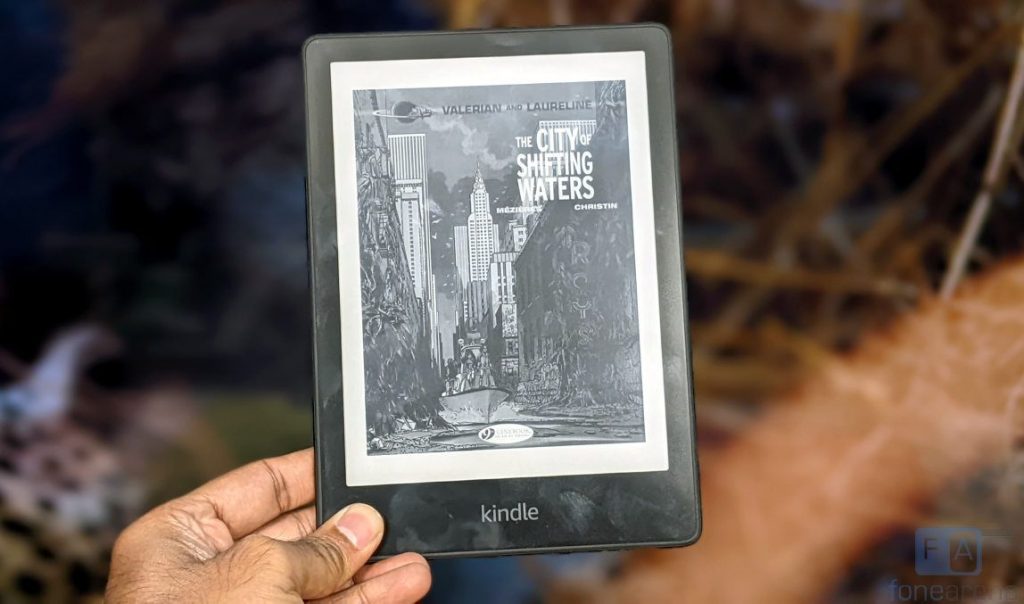 Starting with the design, the latest Kindle Paperwhite has a familiar design without any buttons on the front, but the company says that the bezels have been reduced to 10mm. This has a large 6.8-inch screen compared to a 6-inch touch screen in the predecessor.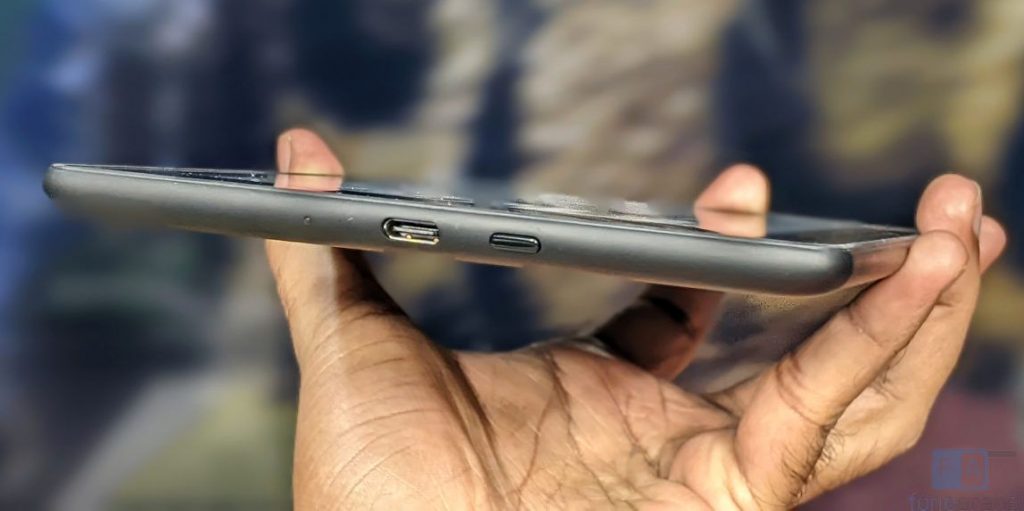 It measures 124.6 x 174.2 x 8.1 mm. Even though it is slightly bigger since it has a larger screen, the thickness is almost the same as the predecessor. The power button is present on the bottom along with a tiny LED light that glows in green and red colours, and it finally comes with a USB Type-C port.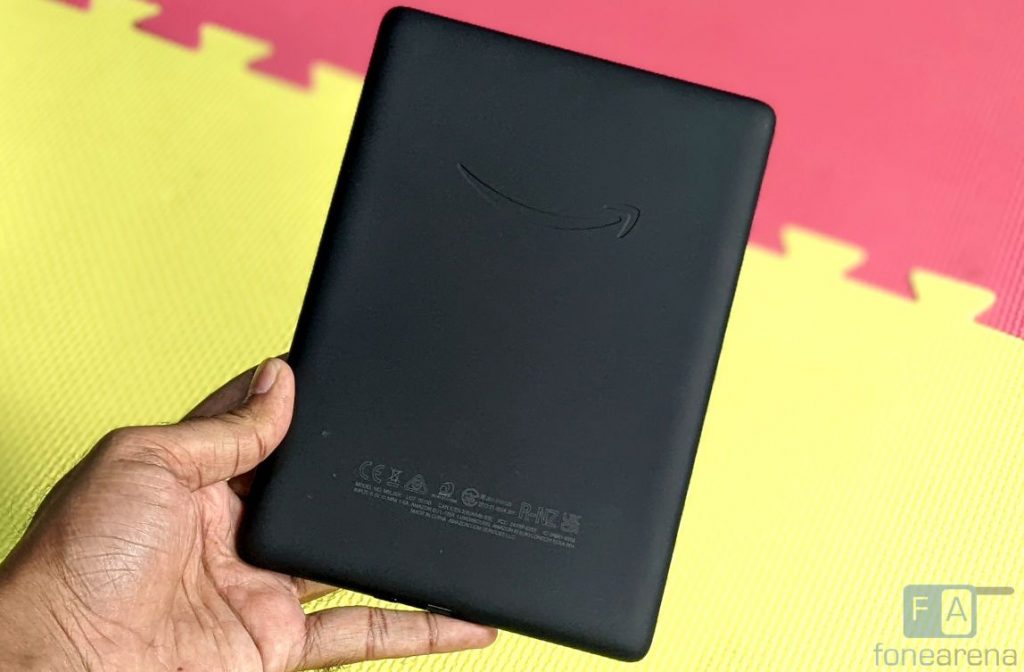 It has a rubber finish on the back with Amazon branding, same as the predecessor. Even though it comes with a bigger screen, it is easy to hold in a single hand, and weighs 205 grams, which makes it 14 grams heavier than the previous generation. It is also waterproof (IPX8) similar to the predecessor, so it can stand immersion in up to 2 meters of fresh water for up to 60 minutes. Overall, the build quality is good.
Display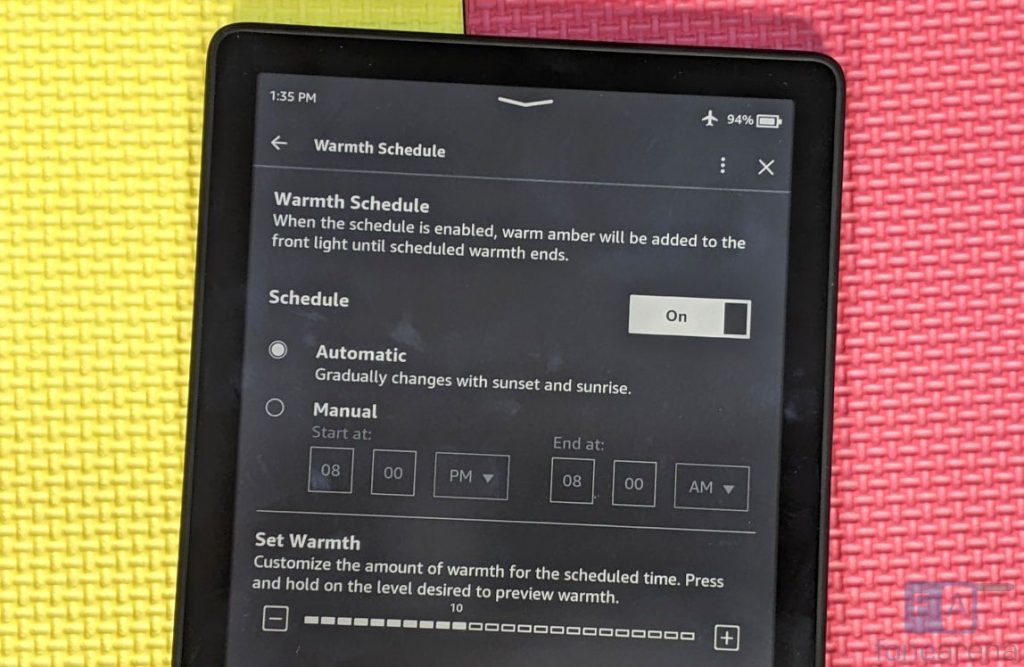 The new Kindle Paperwhite still has a black and white screen, but this uses a large 6.8-inch e-ink Carta 1200 display with resolution of 1236 × 1648 pixel and a pixel density of 300 PPI. It uses front light technology similar to other Kindle models, but this has 17 white and amber LED lights for a brighter experience. The display is bright enough even to read under bright sunlight without refection, and the company says that the display is 10% brighter compared to the predecessor. Compared to flush screen in the Oasis, this has a slight gap in the edges, so it might collect dust. The screen is protected by a scratch-resistant glass. If you need
The built-in warm light from the Oasis is now available in Paperwhite. This works similar to the night light option in mobile phones that reduces the display's blue light emission, so it doesn't cause eye strain when you are reading at night. You can customize the light's warmth and schedule to automatically shift between white and warm amber. In addition to brightness adjustment from 0 to 24, you can also adjust the warmth from 0 to 24.
Software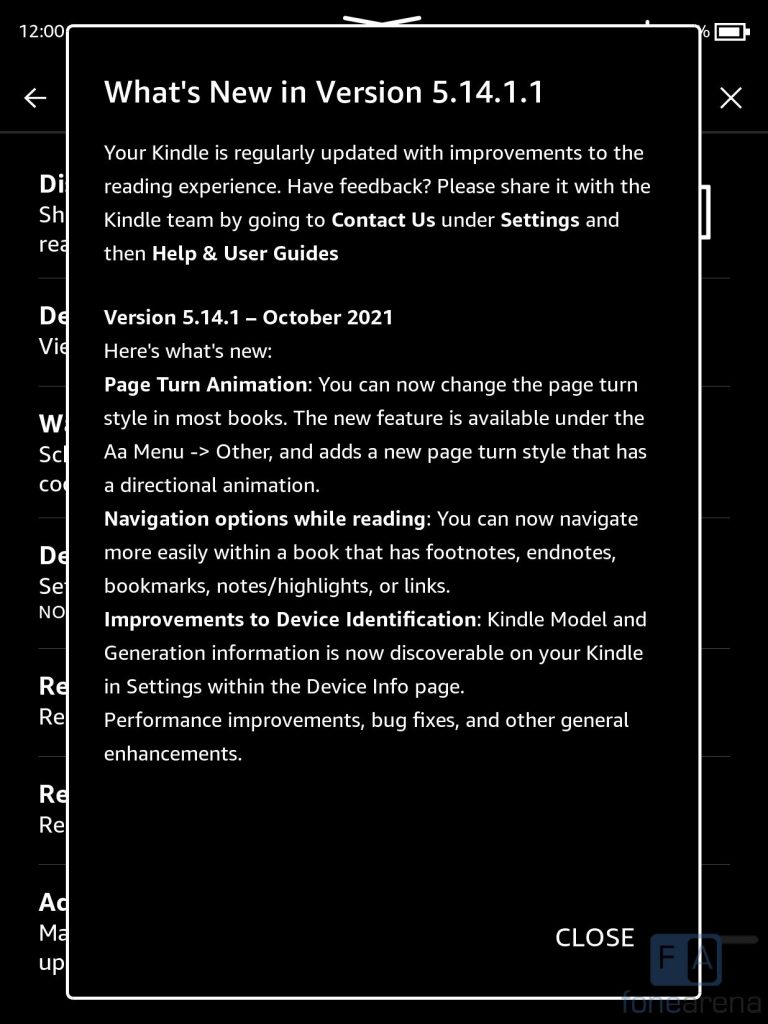 The new Kindle Paperhite now runs 5.14.1.1, after the 5.14.1 that rolled out in October that brought new UI and the animated page turn engine, which seamlessly blends one page into the other. It can be enabled when you are reading an ebook, and clicking on the Aa button and selecting Other.  The update also adds features that lets you navigate more easily within a book that has footnotes, endnotes, bookmarks, notes/highlights, or links.
This also improves device identification, so the Kindle model and generation information is now discoverable on your Kindle in Settings within the device info page. This easily lets you know what generation you have. To remind you, the OS which is based on Linux has received a lot of features in recent times.
It also has Audible built-in, so you can listen to audiobooks and easily switch between reading and listening on Bluetooth headphones or speakers, but sadly audible is yet to launch in India. However, you can use the VoiceView Screen Reader from the accessibility settings for reading, but it is a machine which reads, so it feels like a robot reading.
Performance, Connectivity and Battery Life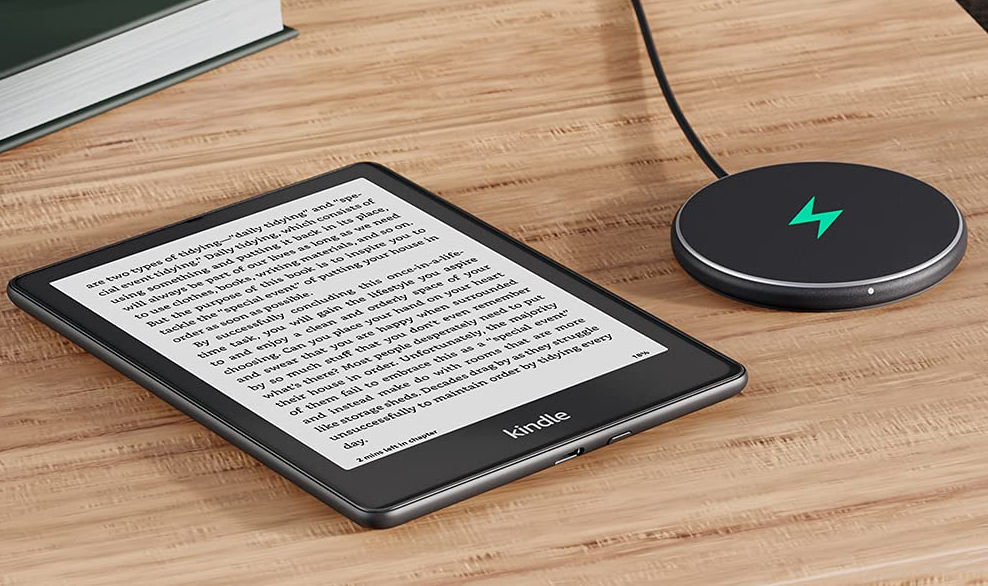 It is powered by 1GHz MediaTek MT8113 processor, 512 MB of RAM and 8GB (5.1GB usable) of storage. The performance is good, and the page turns are fast, but it stakes few seconds to put the Kindle to sleep or wake it up from sleep by pressing the power button, which is common even in high-end models. It has dual-band (2.4GHz + 5GHz) Wi-Fi 802.11 ac support, but this time is is not available in a 4G version. It comes with 8GB of storage.
Coming to the battery life, the Kindle Paperwhite (11th Gen) has a 1700mAh battery, the biggest on any Kindle. Amazon promises up to ten weeks of battery life on a single charge, if you read half an hour daily with wireless off and the light setting at 13. This might vary depending on your usage, such as Wi-Fi or audible, but it is still better than a tablet. It takes 2.5 hours to charge it using a 10W adapter. Even though there is no fast charging, it is acceptable since it offers long battery life.
The company also sells Paperwhite Signature Edition with 32GB storage and support for wireless charging, for the first time in a Kindle so that you can charge it with a compatible Qi wireless charger.
Conclusion
At a price of Rs. 13,999, the 11th generation Kindle Paperwhite offers a much-needed upgrade to the 2018 model. It has a large 6.8-inch 300 PPI screen with new warm light option, finally replaces the micro USB port with a USB Type-C port, offers the longest battery life on a Kindle till date and retains the waterproof body. However, audible support for Kindle is still not available in India, and you need to pay more and get the Signature Edition, if you need ambient light sensor for auto brightness adjustment.
The Kindle Paperwhite (11th Gen) with 8GB storage costs Rs. 13,999 for the 8GB version, and the Kindle Paperwhite Signature Edition with 32GB storage and wireless charging costs Rs. 17,999. These are available from Amazon.in.