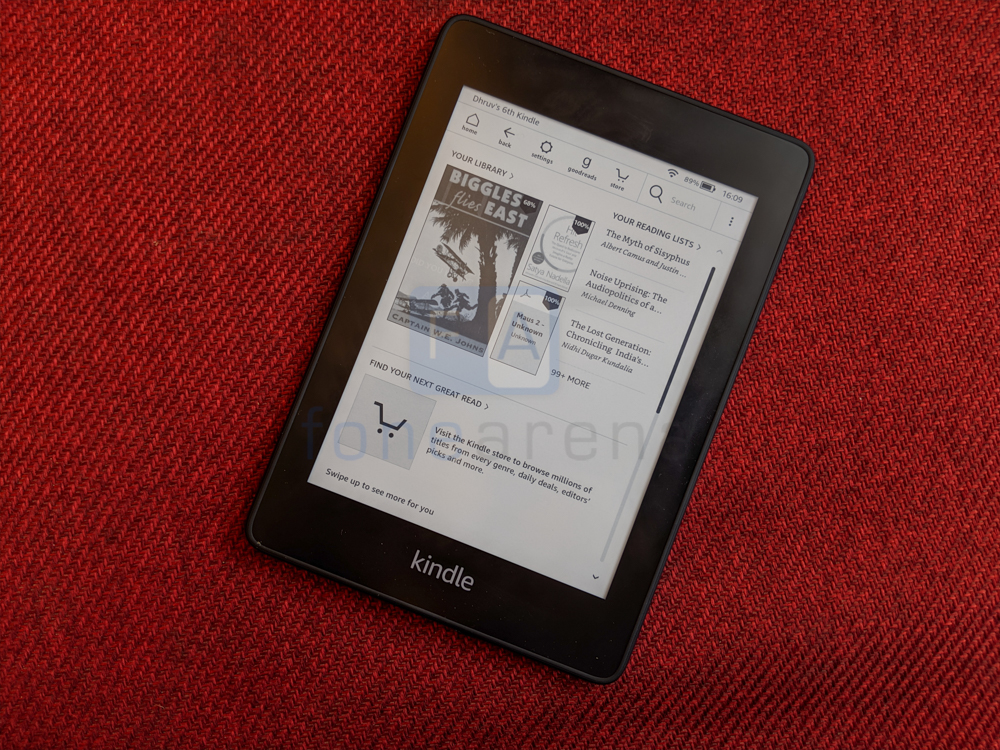 As a long term Kindle user, I have perhaps one complaint with the device. They do only one job but do it so well that there's little reason for users to upgrade. Jokes aside, there's been little reason for most users to buy new Kindles. Sure, there was the Kindle Oasis with its waterproofing but the unconventional design and high price tag made it hard to justify. Enter the 4th Generation Kindle Paperwhite. Thinner, Lighter, Waterproof. Dare I say that this is the perfect Kindle?
Design
Kindles are pretty minimalistic devices by nature. A screen, a decent sized bezel and a rubberized back for a better grip. Pretty straightforward. With every successive generation, Amazon has made subtle tweaks to the formula to ensure a superior reading experience.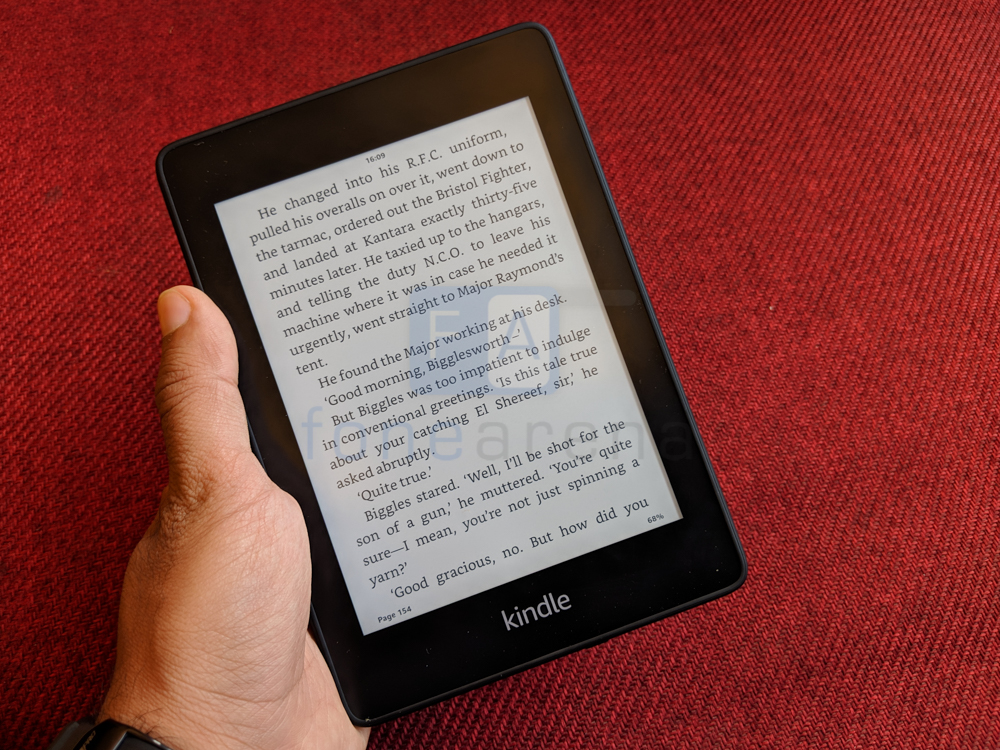 With the 4th generation Kindle, the screen now sits flush with the surface. The raised bezels around the 3rd generation model's screen attracted a lot of lint and dust. Not so this time around. It's not all good though since the matte plastic panel on top of the e-ink display is very prone to smudges and fingerprints. Since the only way you'll be navigating the interface is through touch, there's simply no way to get around this.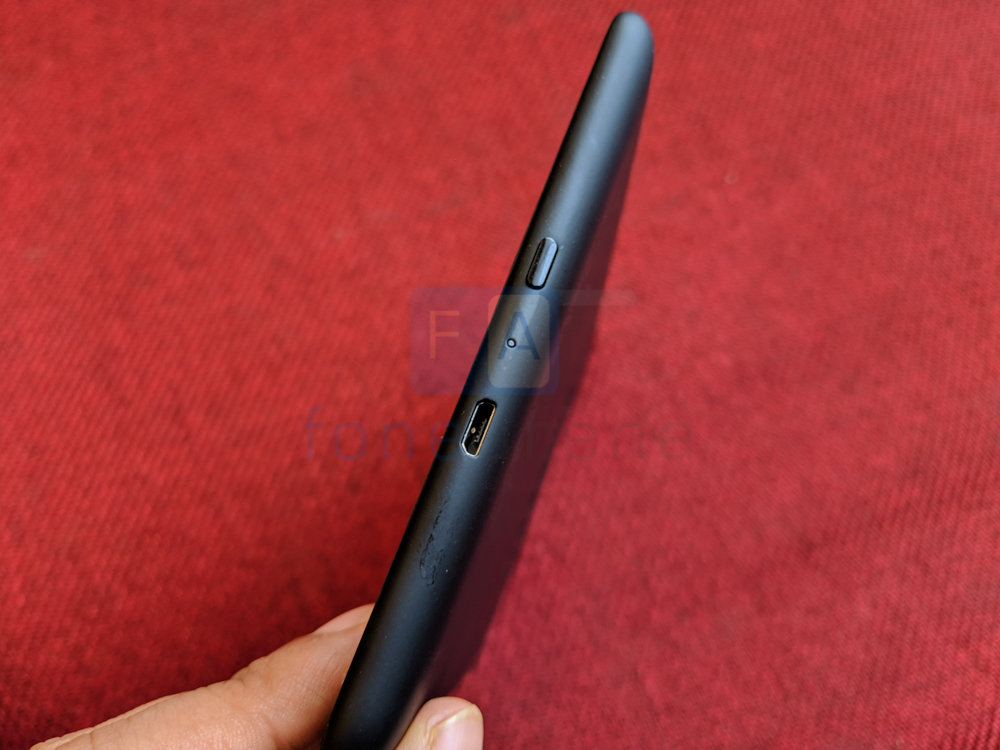 Along the bottom edge lies a power button as well as a micro USB port. A bit antiquated but since the Kindle goes weeks between charges, it's not a huge concern. The back is rubberized as we mentioned earlier and offers enough of a grip to ensure you won't drop the Kindle. Like the front, the back too attracts scuffs.  We would highly advice investing in a good case for it.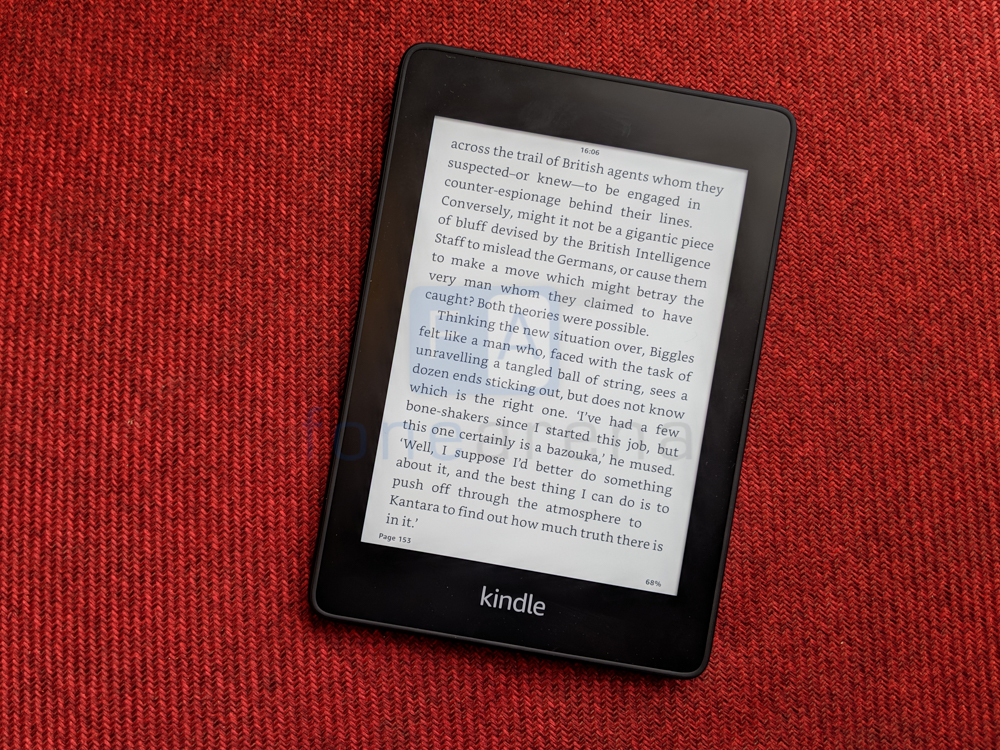 The e-ink display on the new Kindle Paperwhite hasn't changed much. The 6-inch panel delivers 300ppi which makes text rendering look very sharp. In fact, even Manga is perfectly readable on the Kindle. Now that the display is almost flush with the front panel, the text is ever more readable and print like. Even at extreme angles and outdoors in harsh sunlight, the display on the Kindle Paperwhite continues to be perfectly visible. This isn't new to the 4th generation Paperwhite but with every successive generation, Amazon brings the reading experience closer to a physical book.
An additional LED (5 in total) ensures that the screen goes bright enough for outdoor visibility but you'll have to bump up the brightness manually since only the higher end Oasis gets ambient light sensors.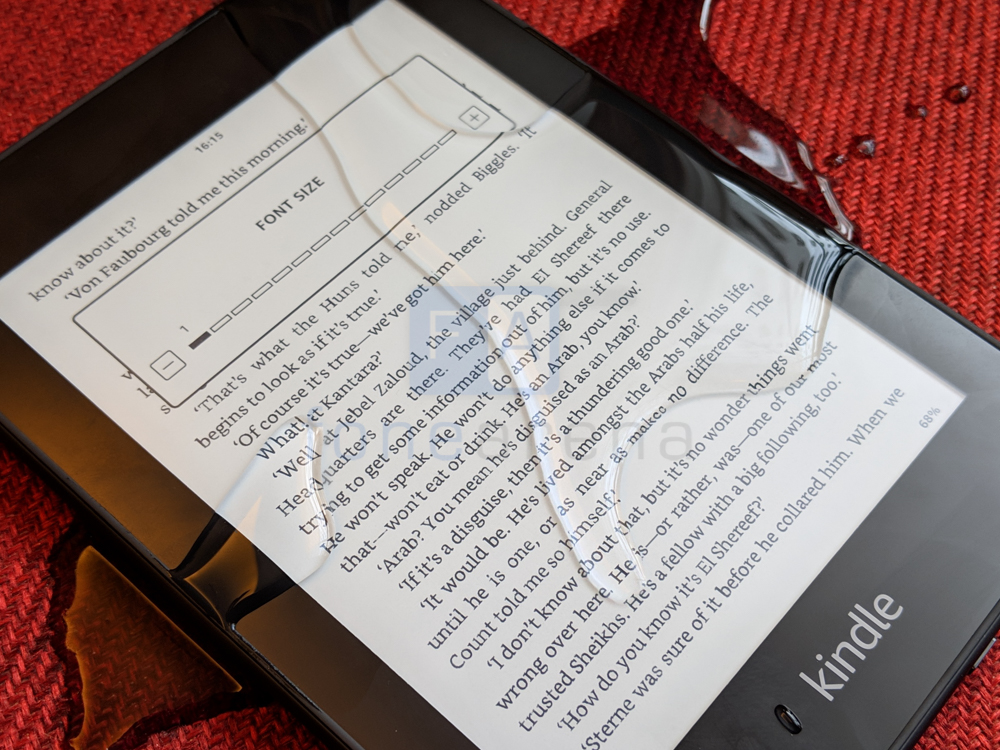 Right, so the new Kindle is IPX8 rated for immersion in 2 meters of fresh water for up to 60 minutes. For the lack of a beach nearby, I tested out Amazon's claim by dropping the Kindle in a bowl of water. True to their claim, the Kindle worked perfectly fine. Well, worked would be a bit of a misnomer. The issue is that water is not really ideal for capacitive touchscreens and navigating the interface becomes an exercise in frustration. Can we please get the physical page turn buttons back, Amazon?
Other changes include support for LTE if you opt for the top end version. You can use this to download books from Amazon on the go or to update your GoodReads shelves. There's always been a Kindle model that supported wireless connectivity and the only noteworthy change here is the shift from 3G to LTE.
Interestingly, the new Kindle Paperwhite supports audiobook playback from Audible but this functionality has been disabled in India. With the launch of the Audible Store, I'd have thought that Amazon would want to push their audiobooks across all possible mediums.
Software
With the latest generation of the Kindle, Amazon is doubling down on their effort to tie you into the Amazon ecosystem. A big step forward in this direction is a new home screen experience that gives you recommendations for books to buy based on your reading history. Taking it a step further, the interface ties into Kindle Unlimited and gives suggestions based on popular new books. For people who prefer to have a more curated and select library on their device, it is possible to switch back to a basic list based home screen.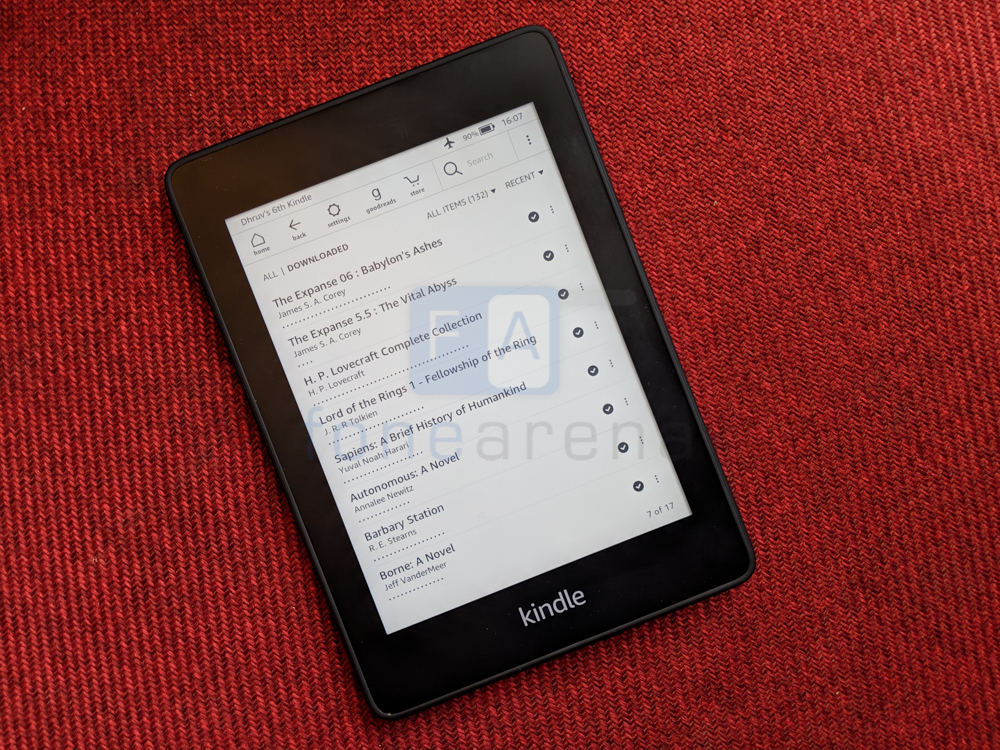 A second addition is the ability to save personalized reading settings. If you share your Kindle with your partner or children, you can easily maintain separate settings for font, boldness levels and more. Of course, like the previous generation Kindle, the new Paperwhite too deeply integrates with Goodreads and lets you rate books, add them to shelves as you please.
Conclusion
The thing about Kindles is that you don't really need to upgrade them all that often. I've still got a Kindle Keyboard and 1st generation PaperWhite that is perfectly functional. It has to be said though that this is the first time in a while that I've been tempted to upgrade. Between the doubled storage (8GB vs 4GB and an option of 32GB storage), the more even lighting, a slightly improved design and the peace of mind that comes with waterproofing, the 4th generation Kindle packs almost everything that readers have been asking for.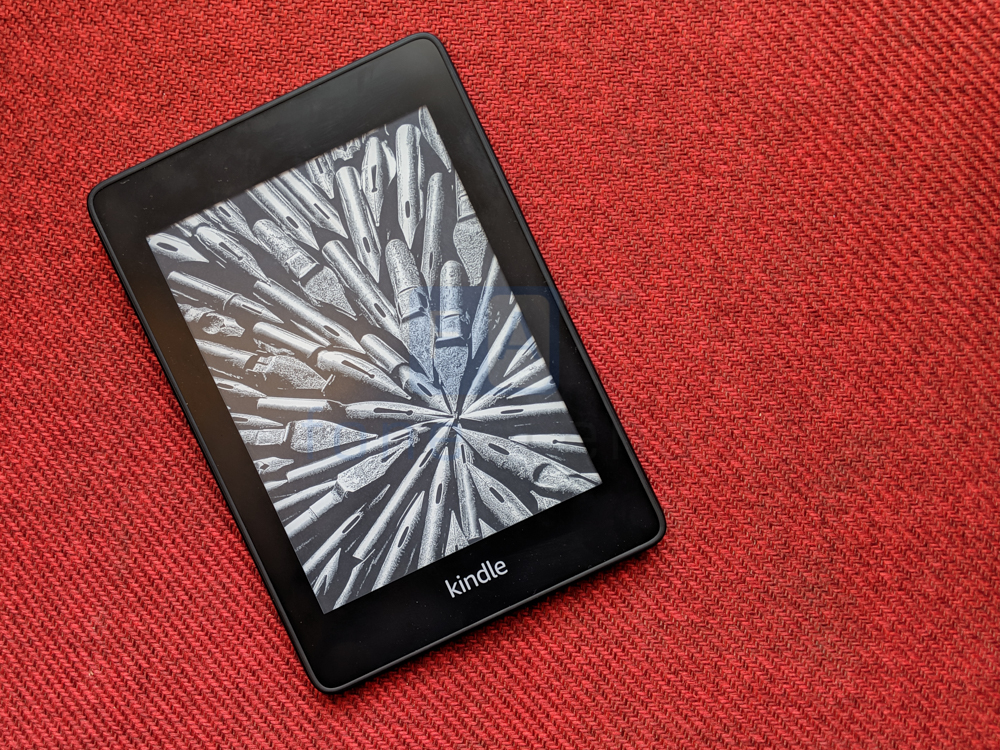 We could nitpick and complain that the screen doesn't offer a yellow tint like the latest Kobos but that would've bumped up the price quite a bit. The 4th generation Amazon Kindle Paperwhite starts at Rs.12,999 for the 8GB WiFi model and goes up to Rs. 17,999 for the 32GB model that supports LTE. If you're in the market for a new Kindle, the Paperwhite is a no-brainer and will be a handy companion to you for years to come. It is available from Amazon.in.