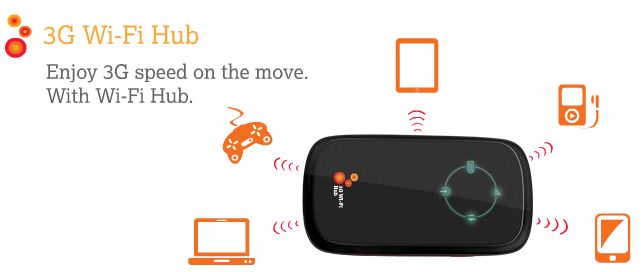 Tata Docomo has launched a device called the 3G Wi-Fi Hub, a Dual-mode device which works on both TATA Photon Plus CDMA and Tata Docomo 3G network. The 3G Wi-Fi Hub is nothing but a pocket WiFi router similar to the Vodafone MiFi and you can share your internet connection with any device that is Wi-Fi enabled.  We think it's a pretty interesting device as you can get reliable data access from either the GSM  network or CDMA network.
Tata Docomo 3G Wi-Fi Hub Features
Tata Docomo 3G: DL up to 7.2Mbps; UL up to 5.76Mbps
Tata Photon Plus: DL up to 3.1Mbps; UL up to 1.8Mbps
99.7mm x 53.7mm x 13.9mm
Weight: 80g
Wi-Fi 802.11b/g (WEP/WPA/WPA2)
USB 2.0
Connects up to 5 devices
Secure and Password protected
Without Wi-Fi, internet surfing with the USB connection mode is only available for the Windows and MAC OS
Supports IE (7.0 or later), Firefox (3.0 or later), Opera (10.0 or later), Safari (4.0 or later), Chrome (5.0 or later)
Battery: 1500mAh (upto 4 hrs of working time, 100hrs of stand-by time)
The device comes with a price tag of Rs. 5,999/- with  monthly Postpay Plans starting from Rs 750 which offers 2GB of free data. A Rs.1000 plan offers 5GB of free data at peak speed and speed is reduced afterwards to 128Kbps till 15GB and to 10Kbps after 15GB.
The device is manufactured by ZTE and has the model number AC30 and is also sold on the Verizon network in USA as the Fivespot. MiFi or Mobile Wireless Hotspots are very popular in USA , Europe and Japan .  Our own Varun who had the chance to try the NTT DOCOMO Mobile Wi-Fi mini-router in Japan.  Tata Docomo , how about sending us one to check out  ?