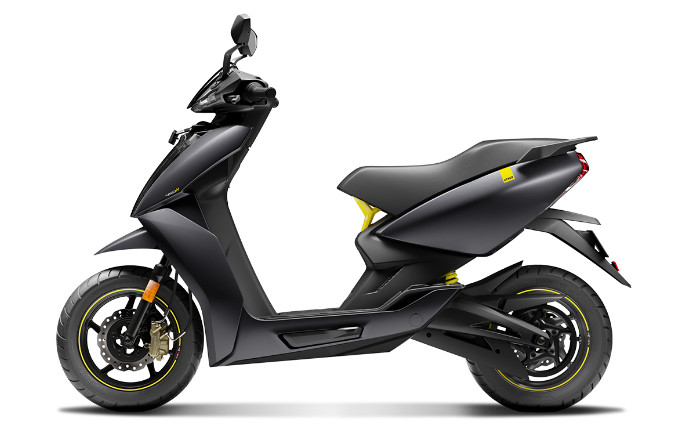 Ather just launched 450x smart electric scooter at an event in Delhi as it had promised. It comes with a range of 85 km with new 21700 battery, and one of the quickest accelerations of 6.5 seconds from 0-60 km/hr. It also has faster charging at 1.5km/ minute. The new model comes with built-in 4G and Wi-Fi support, thanks to Snapdragon 212 processor, compared to 3G in 450 and built-in Bluetooth as well as three new colors.
Models
450x
450
Peak Motor Power
6kW
5.4kW
Peak Torque
26Nm
20.5Nm
Wheel Torque
200Nm
—
Battery
2.9 kWh,21700 Lithium-ion
2.4 kWh,18650 Lithium-ion
Charging Rate
1.45km/min (0-50% SOC)

1.1km/min (50-80% SOC)

1 km/min
Certified Range
116
107
On-Road Range (Eco)
85
75
On-Road Range (Ride)
70
65
0 to 40kmph
3.29 sec
3.84 sec
0 to 60kmph
6.5 sec
8.27 sec
Processor
Snapdragon 212 Quad-core
1.3GHz, 1GB RAM, 8GB storage
—
Operating System
Android Open Source OS (AOSP)
—
Screen Size and Type
7-inch TFT LCD, LED Backlit, Touchscreen
7-inch LCD Touchscreen
Kerb Weight
108Kg
118kg (First version) 111kg (With DoT)
F:R Weight Ratio
47 : 53
49 : 51
Modes
Eco, Ride, Sport, Warp
Eco, Ride, Sport
Bluetooth 4.2
Yes, for music controls and call notification
No
Bluetooth Accessories
Smart Helmet and Tyre Pressure Sensor
No
Connectivity
4G, Wi-Fi 2.4/5G
3G
Colors
White with Green, Grey with Yellow, Green with Orange
White with Green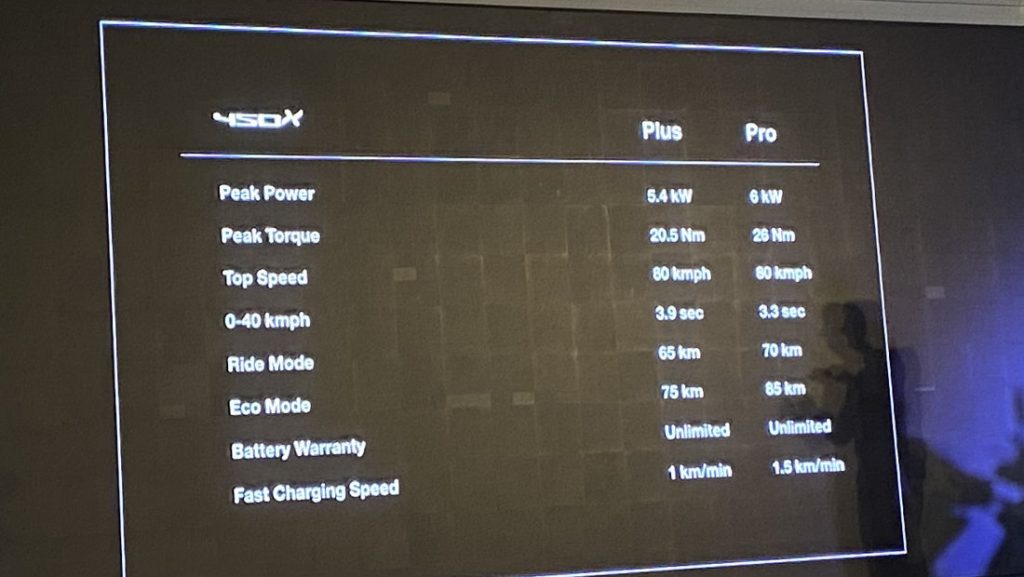 There are new Plus and Pro subscriptions that you can choose. The vehicle alone costs Rs. 99,000, and you can choose to pay monthly subscription of Rs. 1699 or 1999 per month, respectively. Both have similar internal specs, but the subscription model differs, which you can interchange on your app.
Including the subscription, the Ather 450x is priced at Rs. 1.49 lakhs for the Plus model and the Pro model costs Rs. 1.59 lakhs, and the Delhi pricing will be Rs. 1.35 lakhs and Rs. 1.45 lakhs respectively as per new EV policy, if you want to pay upfront. Lease and financing options will be available from day 1, said the company.
It will go on sale from July 2020 in Bengaluru, Chennai, Delhi NCR, Mumbai, Pune and Hyderabad, and specific delivery timelines for cities will be announced later.