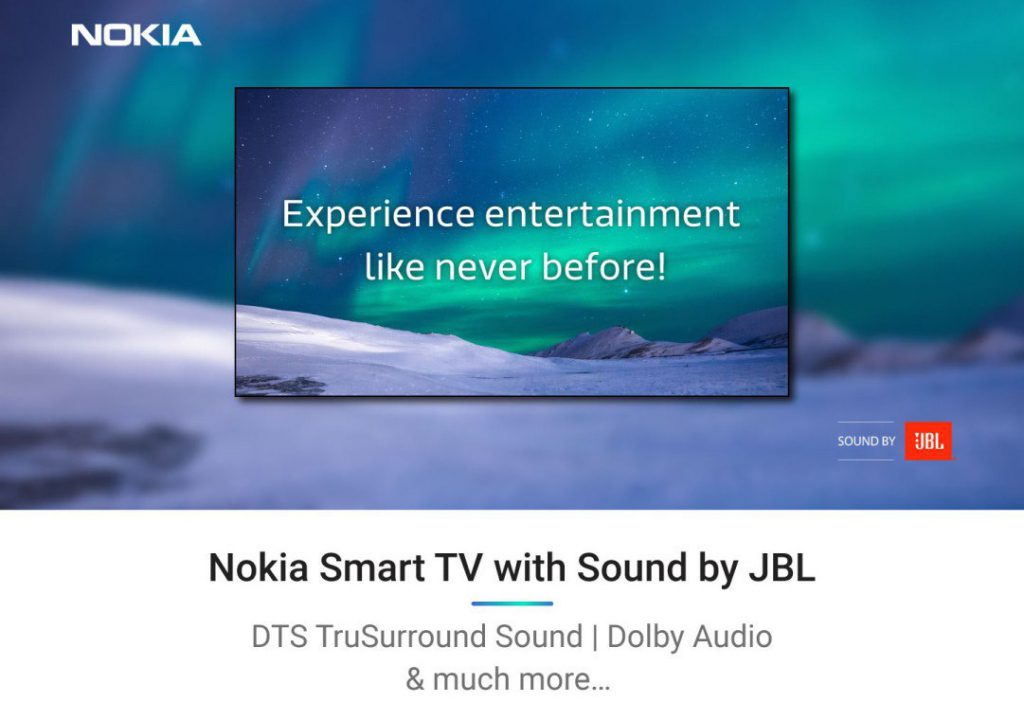 Update: Flipkart has started sending invites for the launch of Nokia Smart TV in India on December 5th. It has also started teasing the TV on its website.
Flipkart has announced that it has entered into a strategic relationship with Nokia for Nokia branded Smart TVs in India, a global first for the brand in the TV category. Flipkart will manufacture, distribute and manage the end-to-end go-to-market strategy of the TVs to help create thousands of new jobs in the country as a part of 'Make in India' initiative. Flipkart recently launched Motorola branded smart TVs in India.
The Nokia branded Smart TVs will feature superior audio quality powered by JBL's sound program, an initiative by HARMAN to expand the uses of its audio expertise further. JBL by HARMAN, known for high-quality audio equipment will be its first foray into the television space in India. The partnership is backed by Flipkart's consumer insights, which found that poor sound quality and experience is a major pain point for customers purchasing televisions, said the company.
We still don't have exact launch date for the Nokia Smart TVs, but we can expect it sometime before the year ends.
Commenting on the partnership, Vipul Mehrotra, Vice President, Nokia Brand Partnerships, said:
We are delighted that Flipkart, the leading e-commerce company in the country, will bring the first-ever Nokia branded Smart TVs to India. Today marks the start of an exciting new chapter for the Nokia brand in a new category. And where better to start than in India, where our brand has been trusted for quality, design and reliability. Flipkart's understanding of the needs and behaviors of Indian consumers, and the power of its reach, will help it make Nokia branded Smart TVs accessible and affordable to many.
Adarsh Menon, Senior Vice President and Head – Private Brands, Electronics and Furniture at Flipkart, said:
Working with Nokia allows us to further expand the choice of high-quality, technologically advanced products for Indian consumers. Nokia is a globally popular technology brand and enjoys immense brand recall, so we're excited to start this journey with them to extend the brand into a fast-growing product segment. We are committed, as always, to bringing best of brands and technology together as we work towards welcoming the next 200 million consumers on our platform.