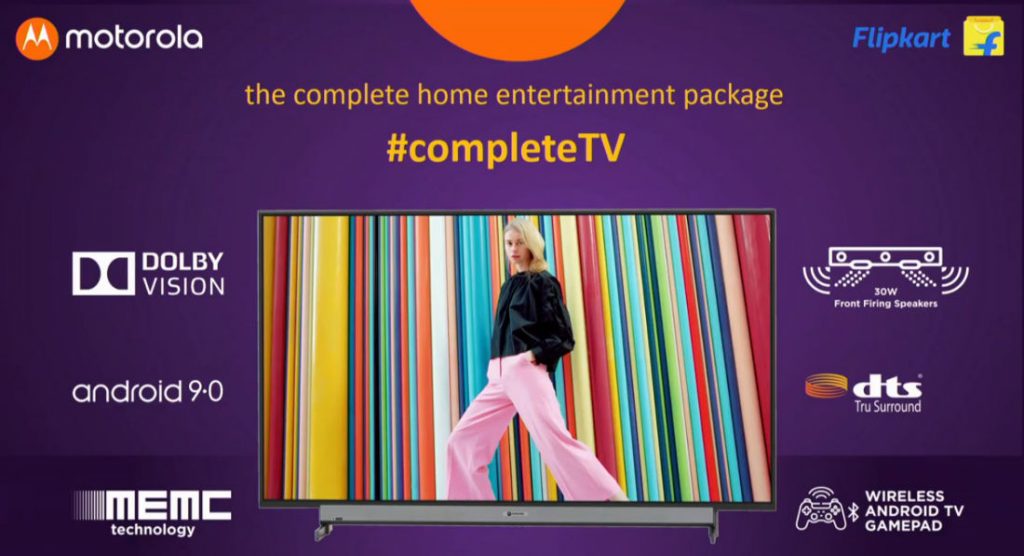 Motorola today launched its new Smart TVs in India, as it had promised. These run Android TV 9.0, feature front firing wireless soundbar on the bottom, comes with DTS TruSurround and support for MEMC (4K models only) that removes latency during the scene shift, thus, making it a smoother viewing and gaming experience. 4K models also support Dolby Vision and HDR10, which the company calls autotunerX .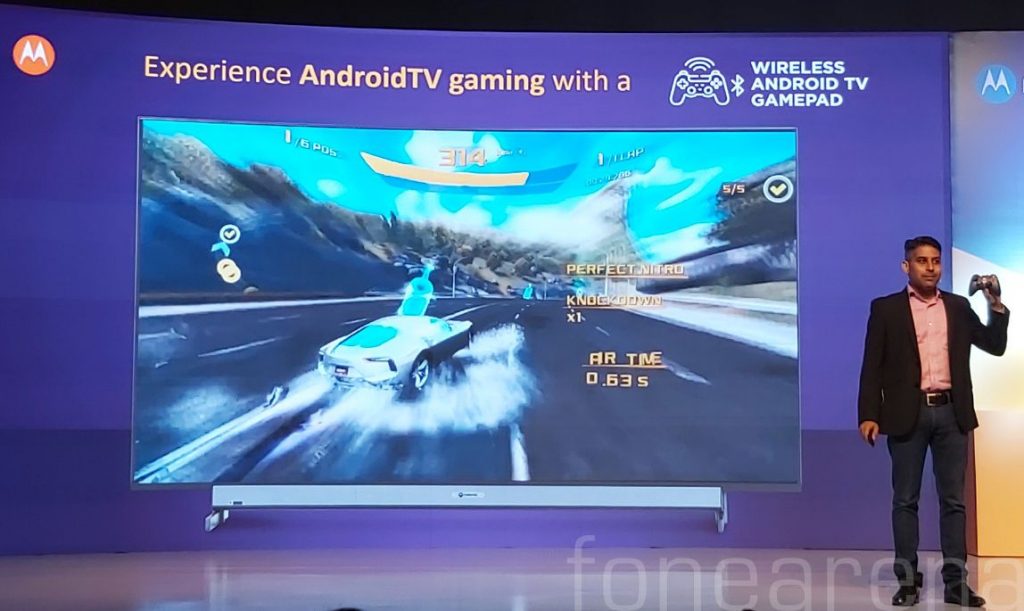 These also have support for wireless gamepad and come with gamepad in the box.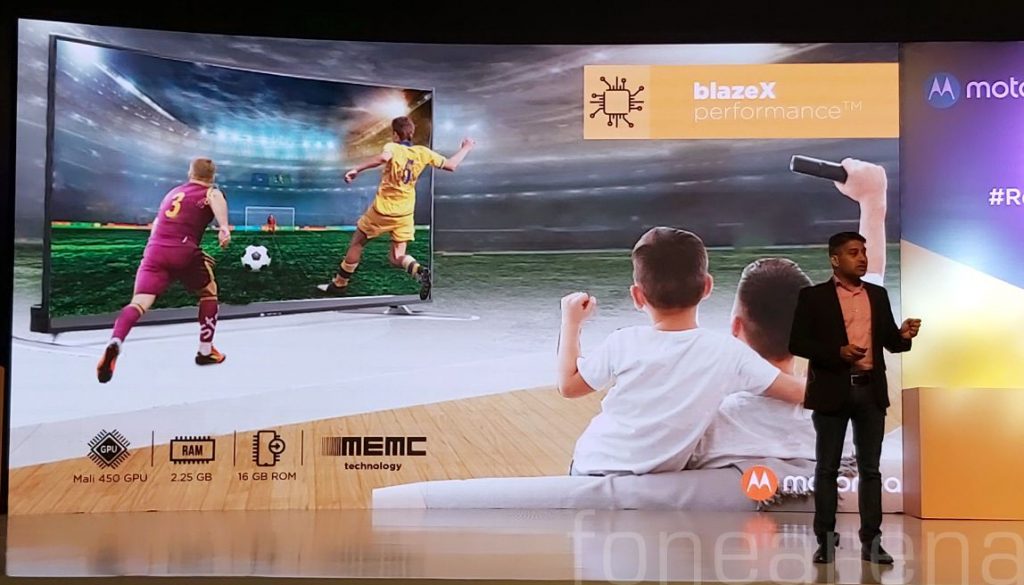 Adarsh Menon, head of private label business at Flipkart, highlighted that the amphisoundX with 30W front firing speakers DTS Tru Sound and Dolby Audio will offer an immersive audio experience. The 4K TV models have 1.1GHz Quad-Core processor with Mali 450 GPU, 2.25GB RAM, 16GB storage and feature MEMC technology.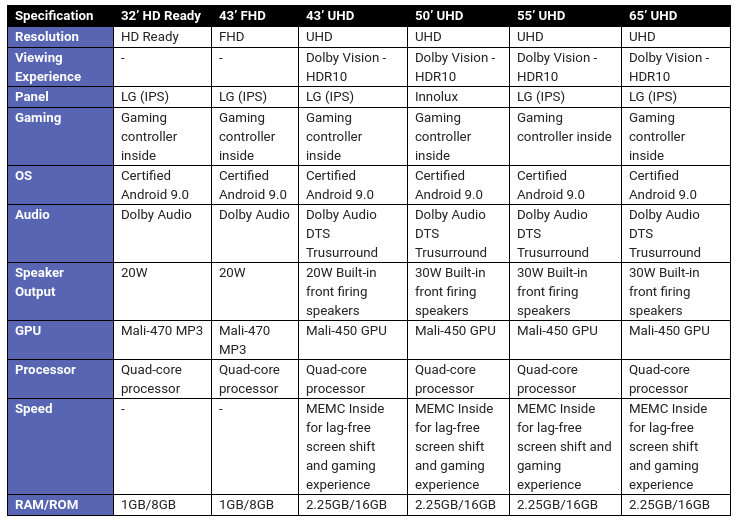 As you can see the specifications chart, the HD and FHD models have quad-core processor with 1.1GHz Quad-Core TEE processor with Mali-470MP3 GPU, 1GB RAM and 8GB storage.
The remote has Netflix, Google Play and YouTube buttons. The gamepad is basic and have buttons that you find on any other gamepad.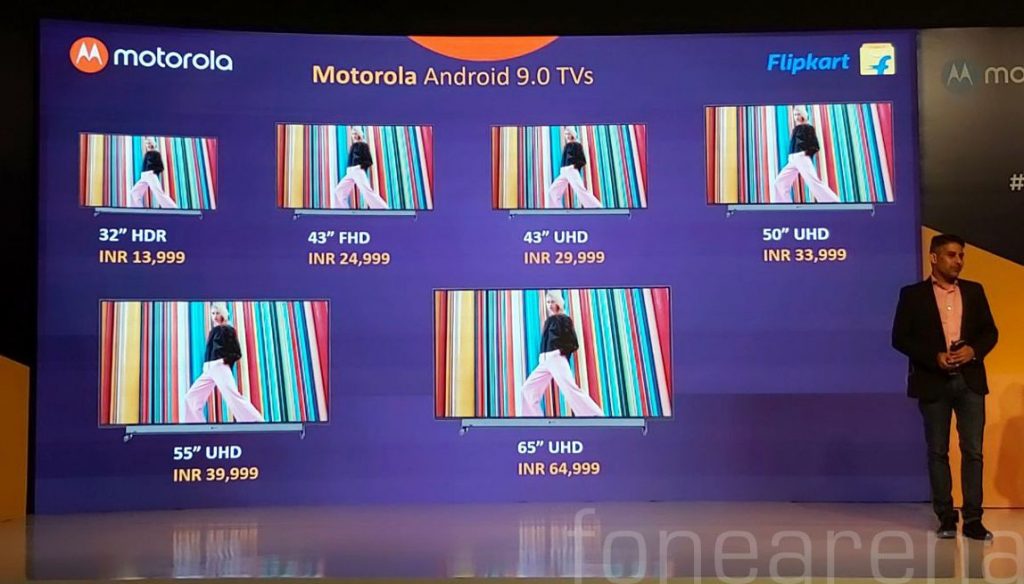 The Motorola 32-inch HD-Ready TV is priced at Rs. 13,999, 43-inch Full HD TV costs Rs. 24,999, 43-inch 4K TV costs Rs. 29,999, 50-inch 4K TV costs Rs. 33,999, 55-inch 4K TV is priced at Rs. 39,999 and the top-end 65-inch 4K TV costs Rs. 64,999. These Motorola TVs will be available from Flipkart during Big Billion Days sales on September 29th.
Commenting on the launch, Adarsh Menon, Vice President and Head – Private Labels, Electronics and Furniture at Flipkart, said:
We at Flipkart are delighted to partner with Motorola to bring this industry-leading Smart TV to the country. This global-first move for the Motorola brand is a strong testament to the power of the Indian consumer and market. We have taken great care to listen to what our customers are looking for and have designed the TV based on their feedback. We look forward to a continued and fruitful relationship with Motorola, a brand that stands for the same values that Flipkart does — innovation and putting the customer first.
With inputs from Bharadwaj