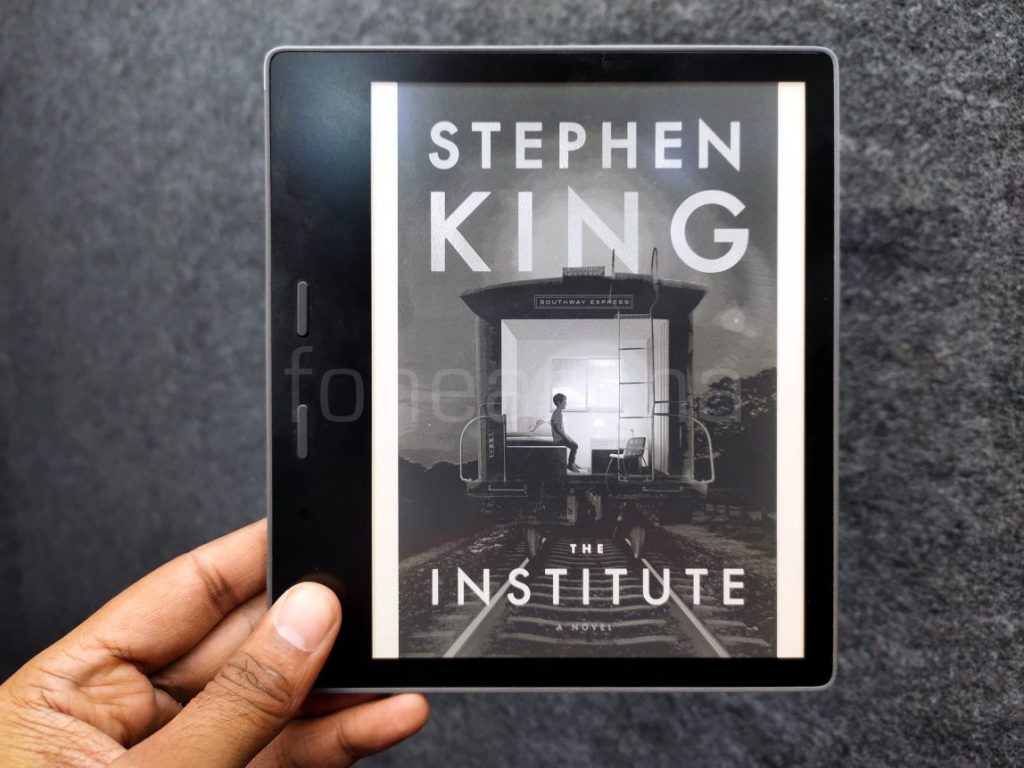 Amazon launched the Kindle Oasis 3 (2019) in June this year. This is the successor of the Oasis that was launched in October 2017. The latest top-end waterproof Kindle Oasis, has a large 7-inch screen and comes with an adjustable color temperature for night reading and more storage options. Does it live up to the expectations? Let us dive into the review to find out.
Box Contents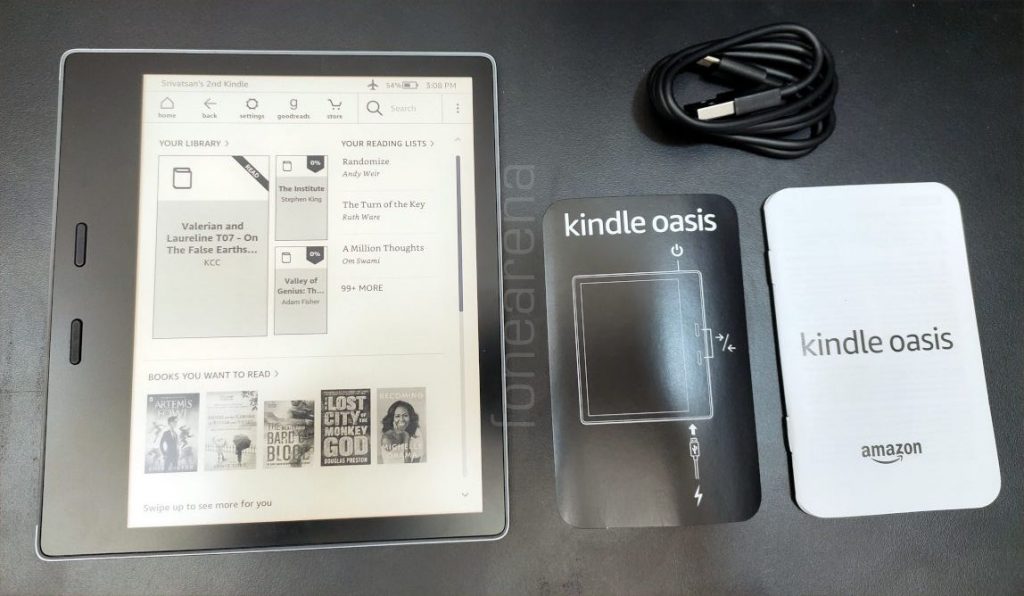 Kindle Oasis (2019)
USB cable
Quick Start Guide
Hardware and Design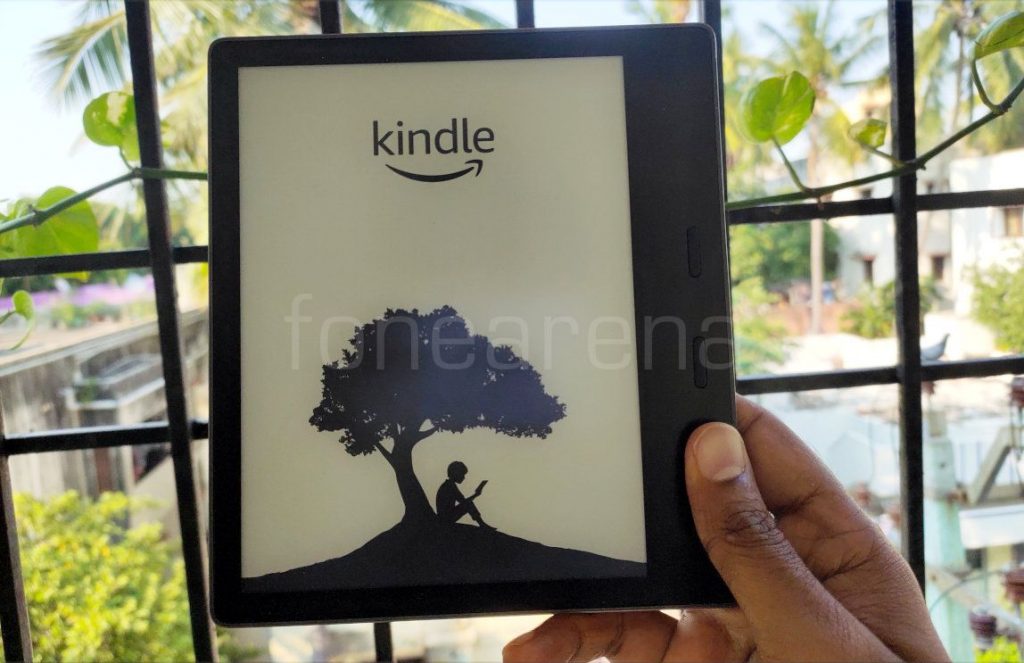 The latest Kindle Oasis has familiar design with hand grip as the first two generations with hardware page-turn buttons. This has a large 7-inch screen with a lot of space near the hardware buttons that lets you hold the Kindle comfortably.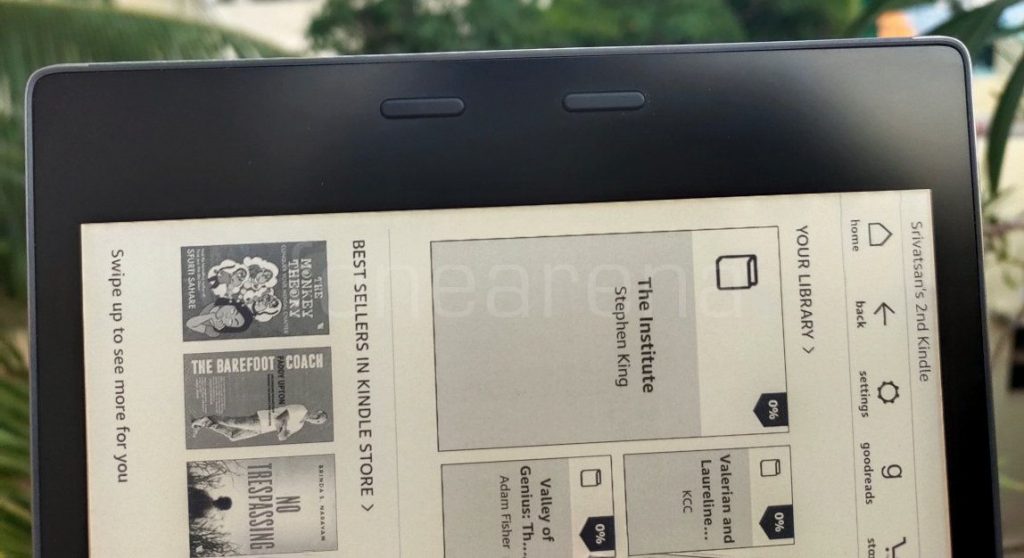 By default, the top page-turn button lets you turn a page forward and the bottom button for backward, which you can reverse from the reading options in the settings. Unlike the PagePress buttons on the Voyage that gives you haptic feedback when pressed, these are real buttons. There are two ambient light sensors next to the buttons for automatic brightness adjustment.
It is 3.4mm at its thinnest point and 8.3 mm at its thickest, same as the predecessor. The power button is present on the top, and it still has a micro USB port on the bottom, instead of a USB Type-C port, which is a trend these days. You can also find a tiny LED indicator next to it that glows in green and red colors.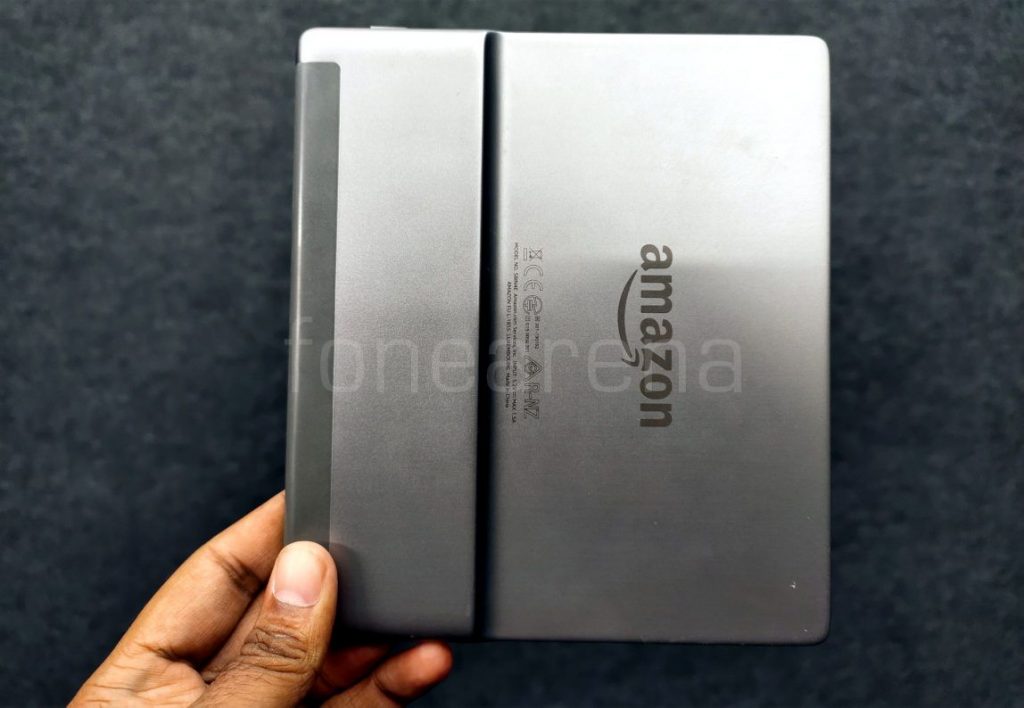 It has a solid metal back with Amazon branding. There is has a large bump on one side where the battery is present. It weighs 194 grams, which is a bit heavier than the cheaper Kindle models. Since the new Oasis has a large screen, it is bigger compared to other Kindles with a 6-inch screen. This makes it hard for single-handed usage compared to the original Oasis and even the Kindle Voyage. The build quality is good, but it might be bulky for some who are used to smaller, light-weight Kindle models.
You can also see a plastic band on the side where the Wi-Fi and 4G antennas are present, since this is the 4G model. It is also waterproof (IPX8) similar to the predecessor, so it can stand immersion in up to 2 meters of fresh water for up to 60 minutes.
Display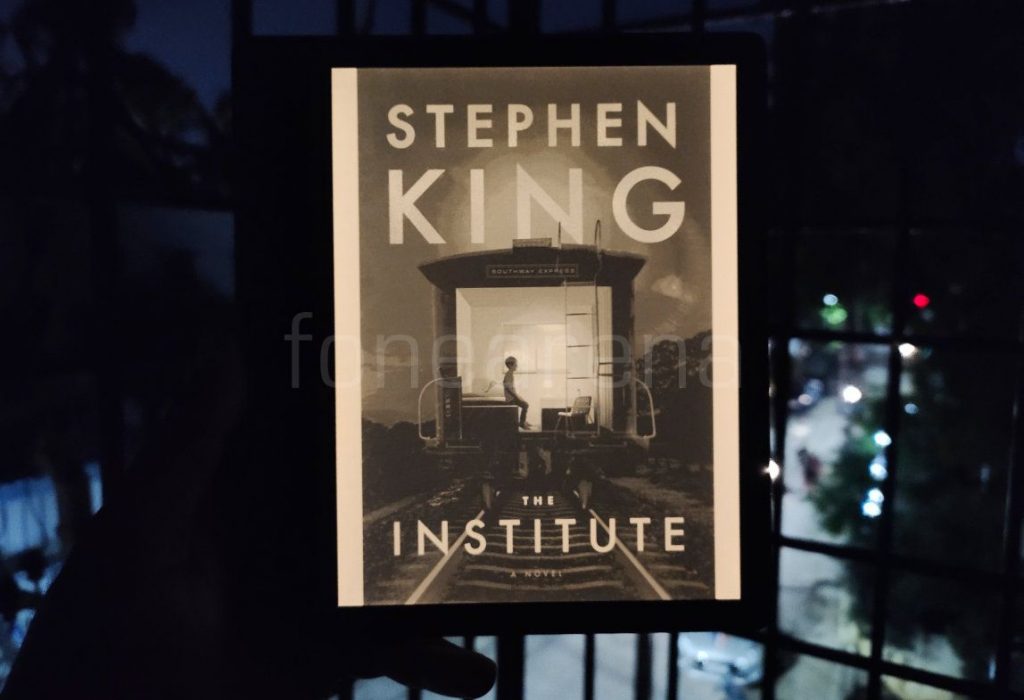 The new Kindle Oasis still has a black and white 7-inch e-ink Carta display with resolution of 1680 × 1264 pixels. It uses front light technology similar to other Kindle models, but this has 25 LEDs for a brighter experience. The display is bright enough even to read under bright sunlight without refection. It has flush screen without any gaps and is protected by a scratch-resistant glass. Since this has accelerometer similar to the predecessor, it can recognize when the Oasis is flipped over and automatically changes the orientation of the page accordingly.
Warm light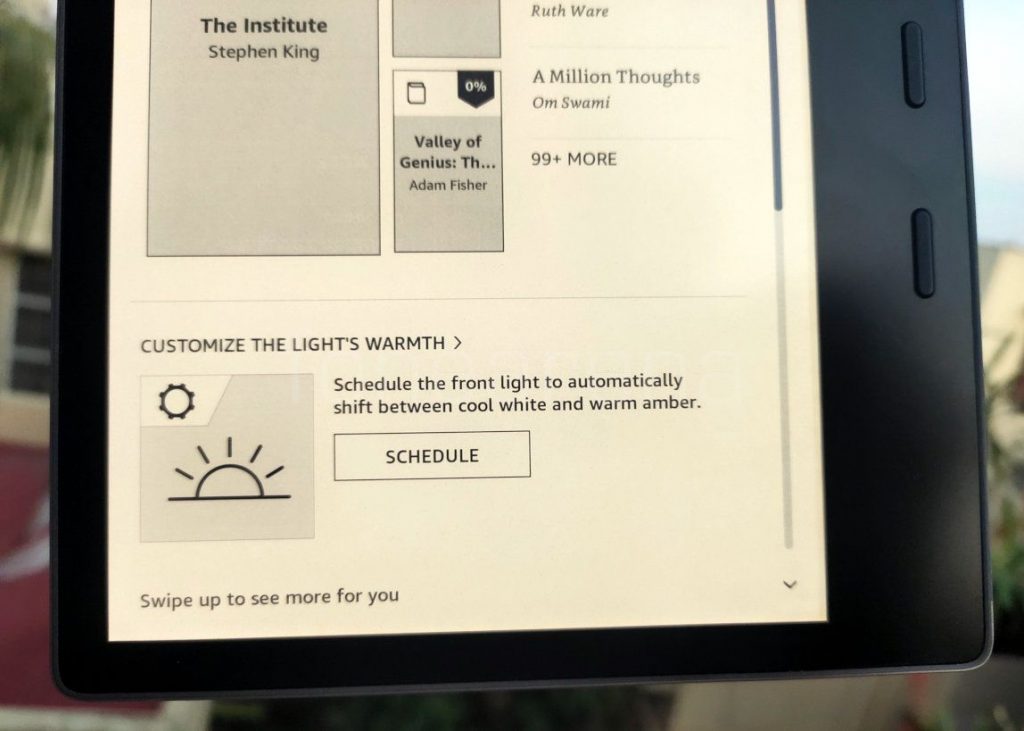 The built-in warm light is the main highlight of this Kindle, which is same as the night light option in mobile phones that reduces the display's blue light emission so it doesn't cause eye strain when you are reading at night. You can customize the light's warmth and schedule to automatically shift between white and warm amber.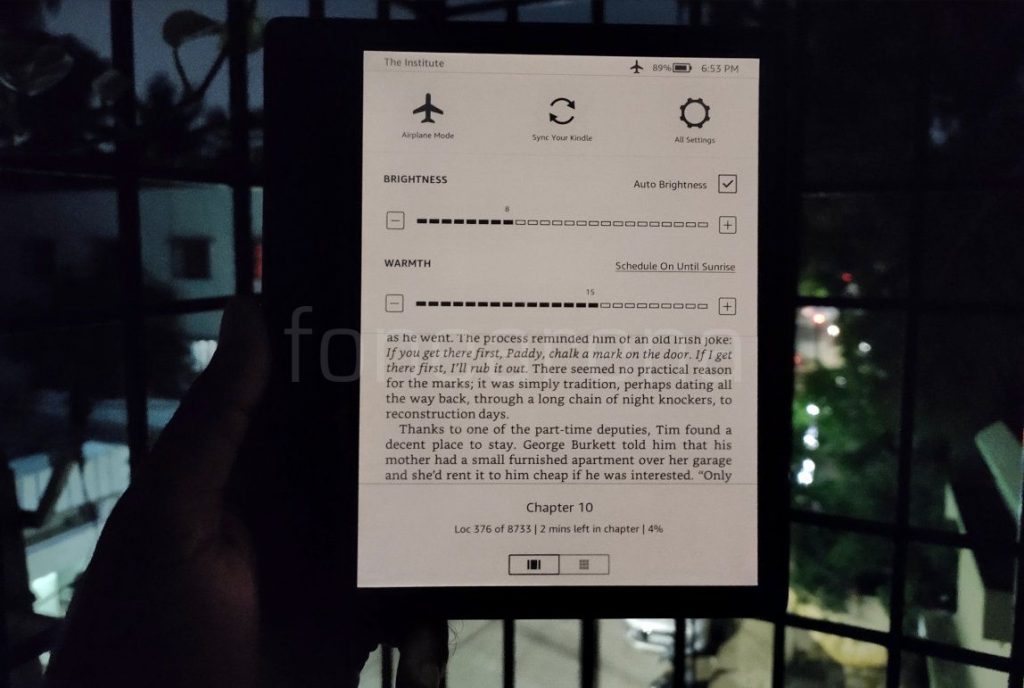 In addition to brightness adjustment from 0 to 24, you can also adjust the warmth from 0 to 24. I like to enable the warmth option even for the day since the warm light feels pleasing to the eyes.
Software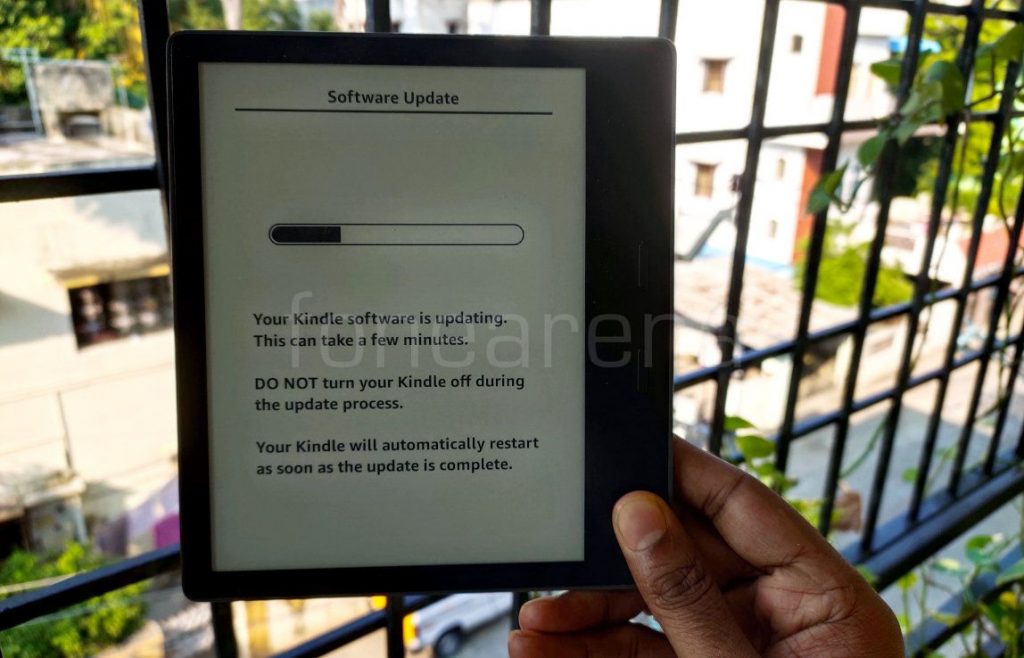 The new Kindle Oasis now runs 5.12.2, after the 5.12.1 update, which added Read Now feature to read items that you own with a single click from the 'Before You Go' dialog as well as performance improvements. The new 5.12.2 that was released a few days back, adds Read Now for Kindle Unlimited/Prime Reading and more performance improvements and bug fixes. The OS which is based on Linux has received a lot of features in recent times.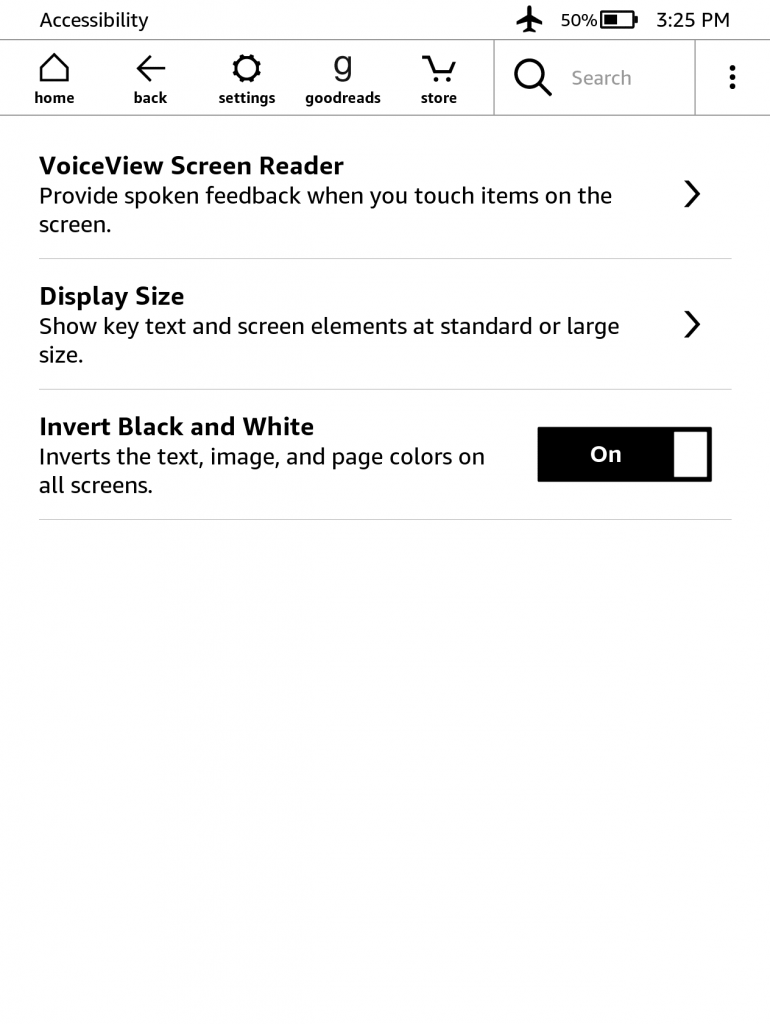 I like the dark mode option, which inverts the black and white colors system-wide. This can be enabled from accessibility section in the settings menu. When you turn on the dark screen on the Kindle, the front-lit display is automatically turned on offering an added contrast, but this can be manually disabled. You won't notice the warm light once the dark mode is enabled.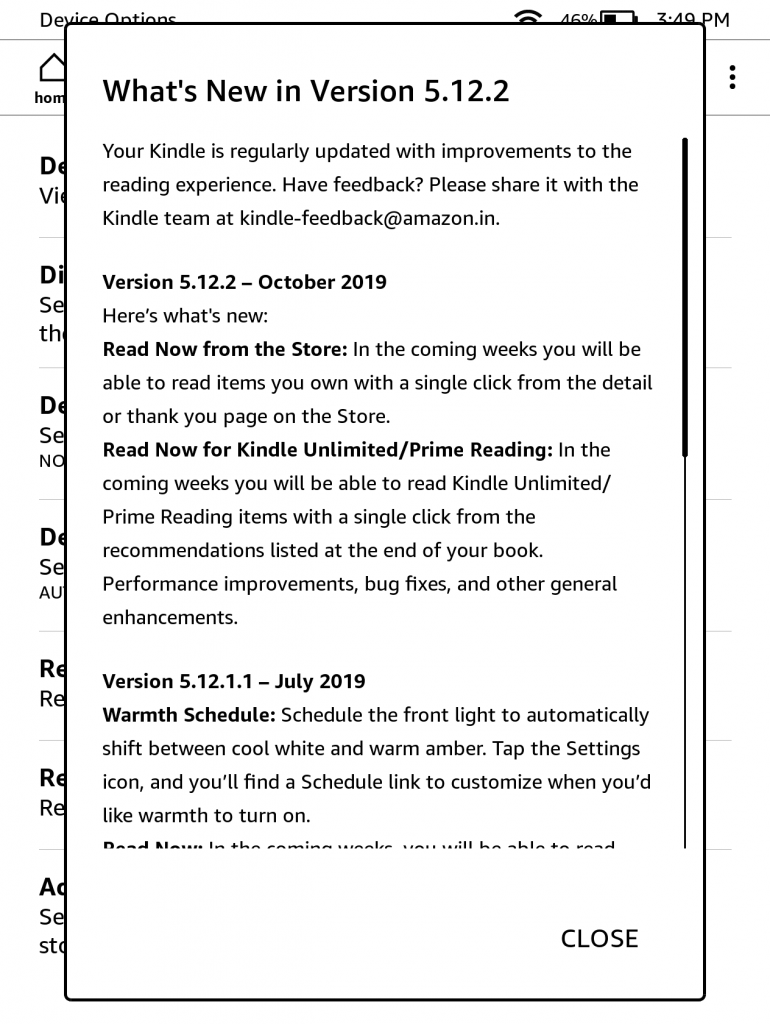 Kindle OS 5.10 update that was released last year brought Swipe-able Home with additional tips, recommendations, and more based on your reading habits, option to save multiple reading settings, selecting the font, boldness level, and orientation settings you prefer all from the main menu and quickly switch between those settings, most needed battery percentage option, instead of just graphical representation, labels for the standard toolbar for improved navigation and more.
It also has Audible built-in so you can listen to audio books and easily switch between reading and listening on Bluetooth headphones or speakers, but sadly audible is yet to launch in India. However, you can use the VoiceView Screen Reader from the accessibility settings for reading, but it is machine which reads so it feels like a robot reading.
It lets you search using Wikipedia and also has the experimental browser that you can use when you are connected to the internet. It has WiFi 802.11 b/g/n support and is also available in 4G version with built-in 4G, which switches to 3G if there is poor network. The WiFi version has 8GB and 32GB storage options, while
Performance and Battery Life
It is powered by 1GHz dual-core Freescale/NXP IMX7 processor and 512 MB of RAM. The performance is good and the page turns are fast, but it stakes few seconds to put the Kindle to sleep or wake it up from sleep by pressing the power button.
Coming to the battery life, the third-generation Oasis has a 1130mAh battery, compared to 1000mAh in the previous generation. Amazon promises up to six weeks of battery life on a single charge, if you read half an hour daily with wireless off and the light setting at 13. This might vary depending on your usage such as WiFi or 4G or audible, but it is still better than a tablet.
Conclusion
At a starting price of Rs. 21,999, the third-generation Kindle Oasis is a just minor upgrade compared to the second-generation model. It has the new warm light option, still offers long battery life and retains the waterproof body. However, it still has a black and white display,comes with a micro USB port, and audible support for Kindle is still not available in India, even though Audible service was launched last year.
It costs Rs. 21,999 for the 8GB Graphite version, Rs. 24,999 for the 32GB WiFi Champagne Gold version and the 32 GB WiFi + 4G Graphite version costs Rs. 28999 and is available from Amazon India.  The water-safe fabric covers in Black, Blue and Red fit both the 2nd and 3rd-gen Oasis cost Rs. 2999 and is available on Amazon.in.
If you need a waterproof e-reader with warm light option and can spend a premium just to read books, go for it, otherwise there are a lot of cheaper Kindle models, including the latest model with built-in light at about one-third of the cost of the Oasis.