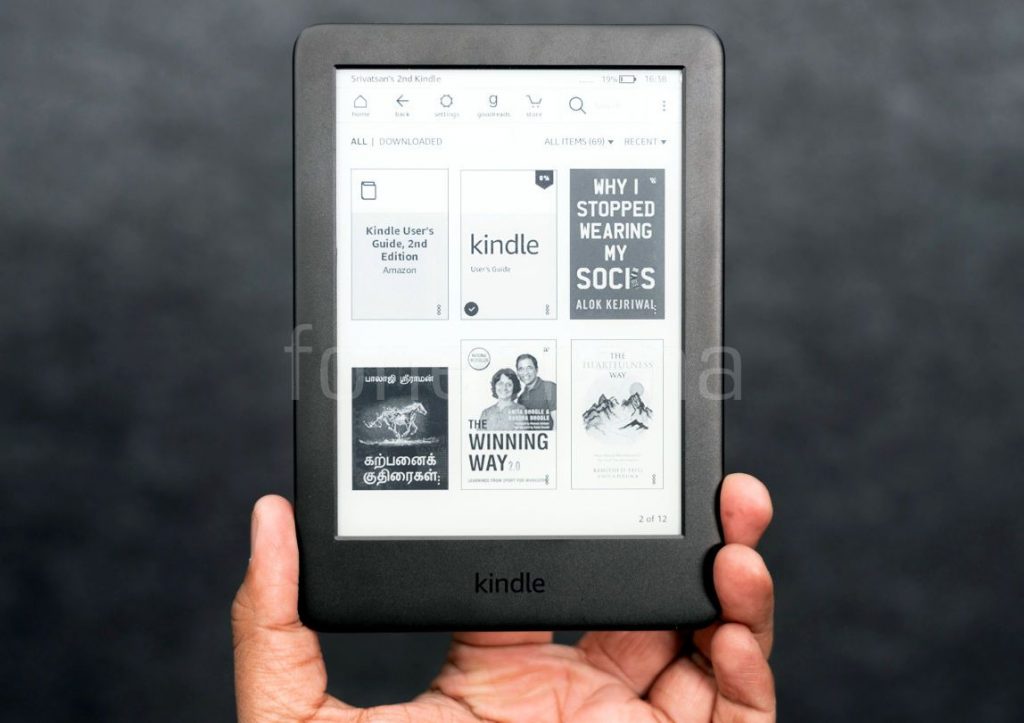 Amazon launched its new Kindle (10th Generation) with a built-in light earlier this year, which is the most affordable Kindle with a front light. This has a same design and screen resolution as the entry-level Kindle, but the built-in light at this price is impressive. Is this worth the price? Let us find out in the review.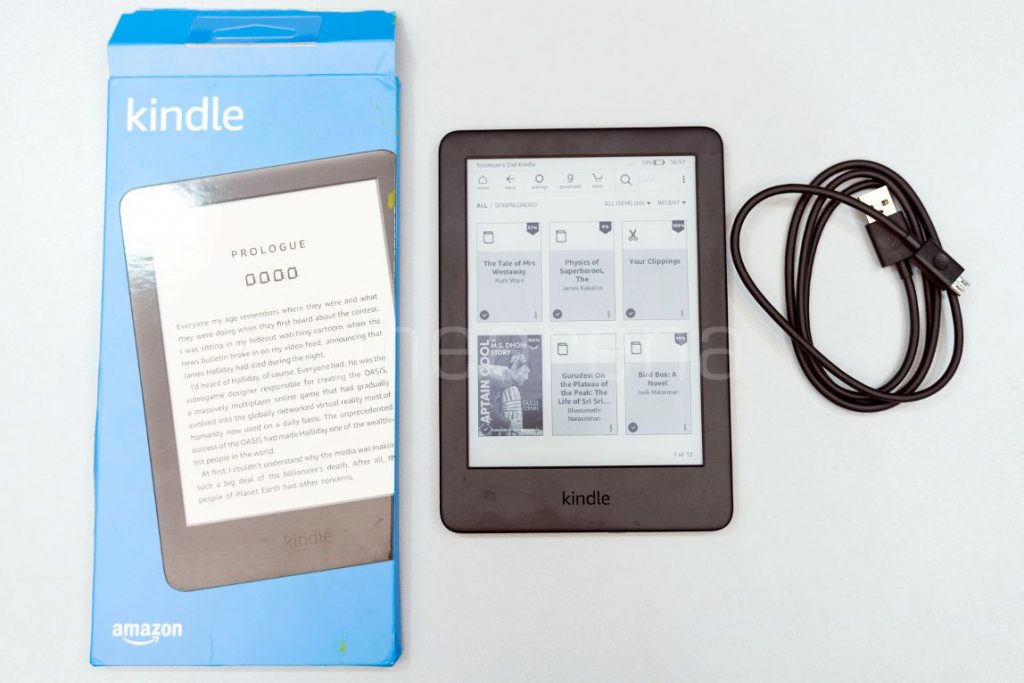 As usual, it comes only with a micro USB cable in the box along with the usual paper documents. We have the black color version, but it also comes in White color.
Display and Design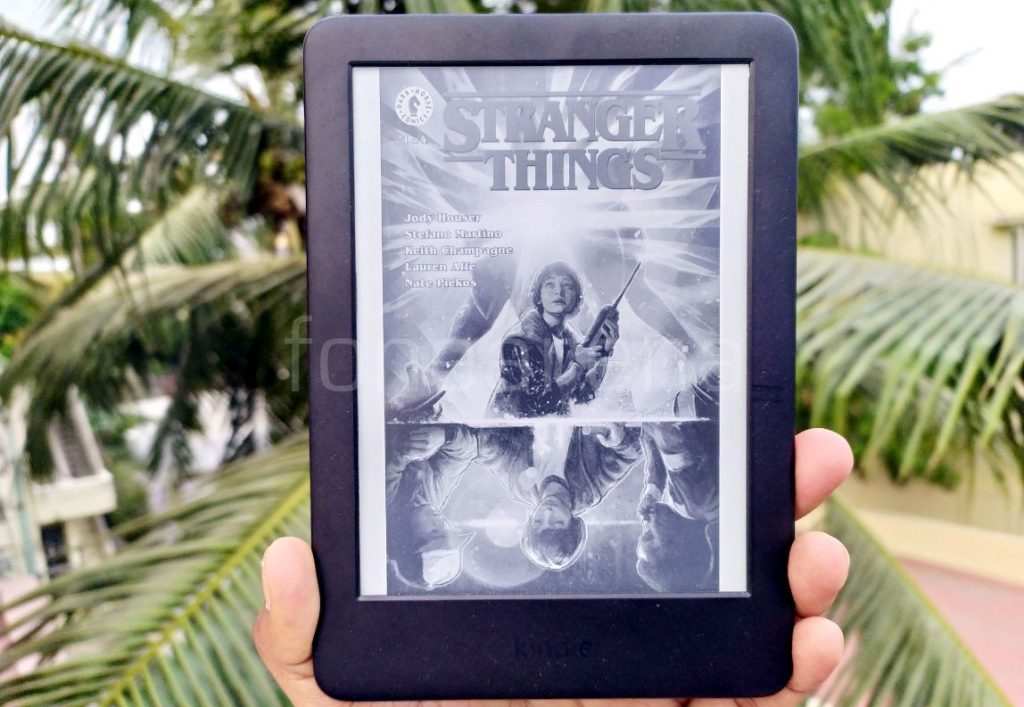 This new Kindle has a 6-inch (600 x 800 pixels) touch screen display at 167 PPI pixel density, similar to the entry-level Kindle (8th Gen), so the text might not be sharper compared to the Kindle Paperwhite with a 300 PPI screen. This is not noticeable in text, but you can clearly see the difference when you are reading comics. It uses the same E Ink Carta panel as the Paperwhite.
Similar to the Paperwhite, this has adjustable front light makes it even more comfortable to read in the dark, but his has 4 LEDs on the bottom, projecting upwards compared to 5 LEDs on the new Kindle Paperwhite, however this is not noticeable since it offers good amount of brightness to read in the dark. It also lets you read in bright sunlight without any glare.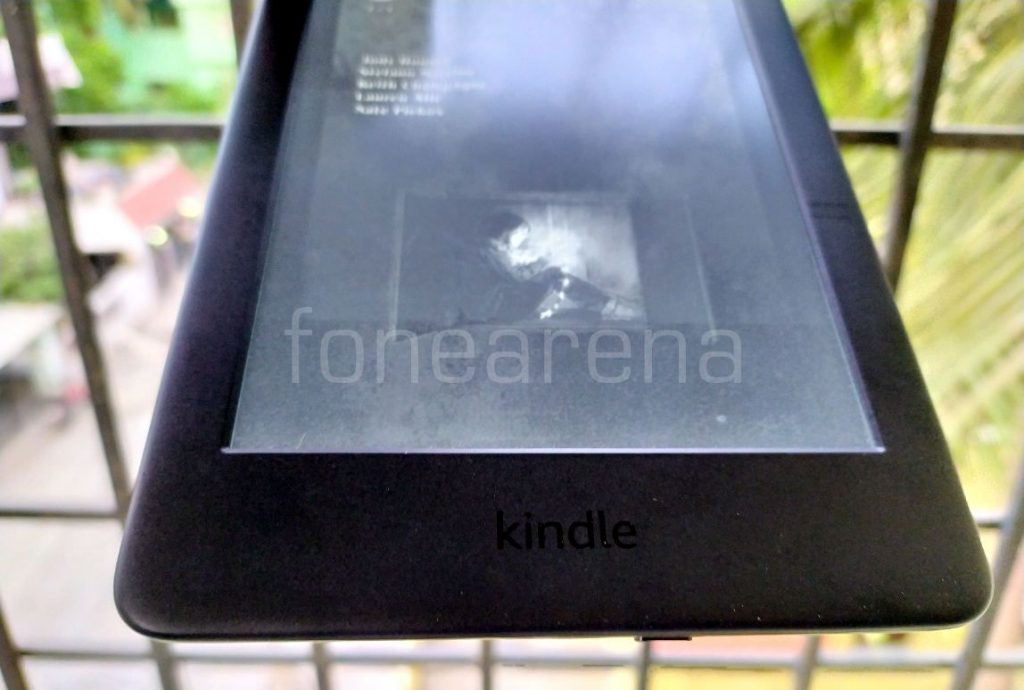 This doesn't have a flush-front design like the Paperwhite and the Oasis, so there is a small gap around the screen that catches and dirt, which needs to be cleaned frequently. We did not face any issues with the screen or the LED light.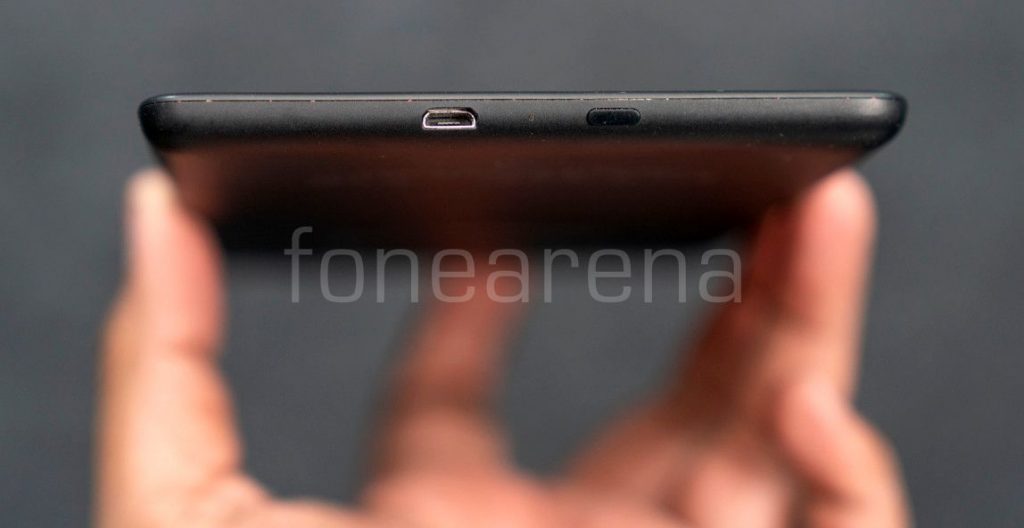 It has a micro USB port on the bottom along with the power button and a tiny light. The new Kindle measures 160 x 113 x 8.7 mm, which is slightly smaller and thinner than the entry-level Kindle, even though this has a front light. However, it weighs 174 grams, which is 13 grams heavier than the entry-level Kindle.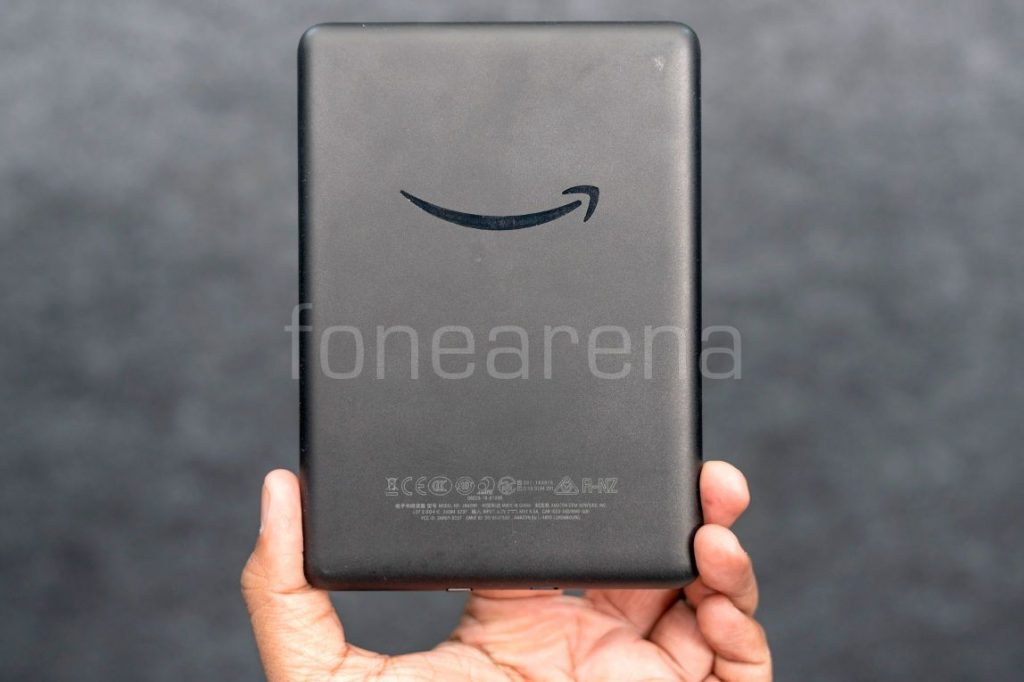 The plastic back has a nice and smooth feel, but it doesn't slip out of your hands easily when reading.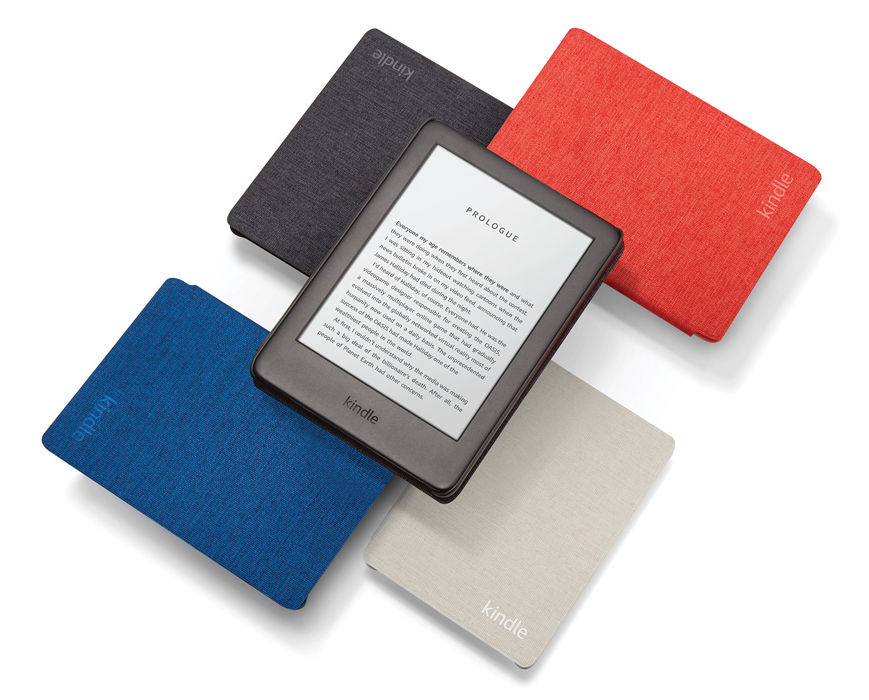 Amazon also sells the official Kindle protective covers made of woven fabric in charcoal black, sandstone white, cobalt blue, and punch red colors at Rs. 1499. It has a magnetic latch, which puts the Kindle to sleep when it is closed and wakes up when it is opened. There is also a Kindle Sleeve at Rs. 625.
Software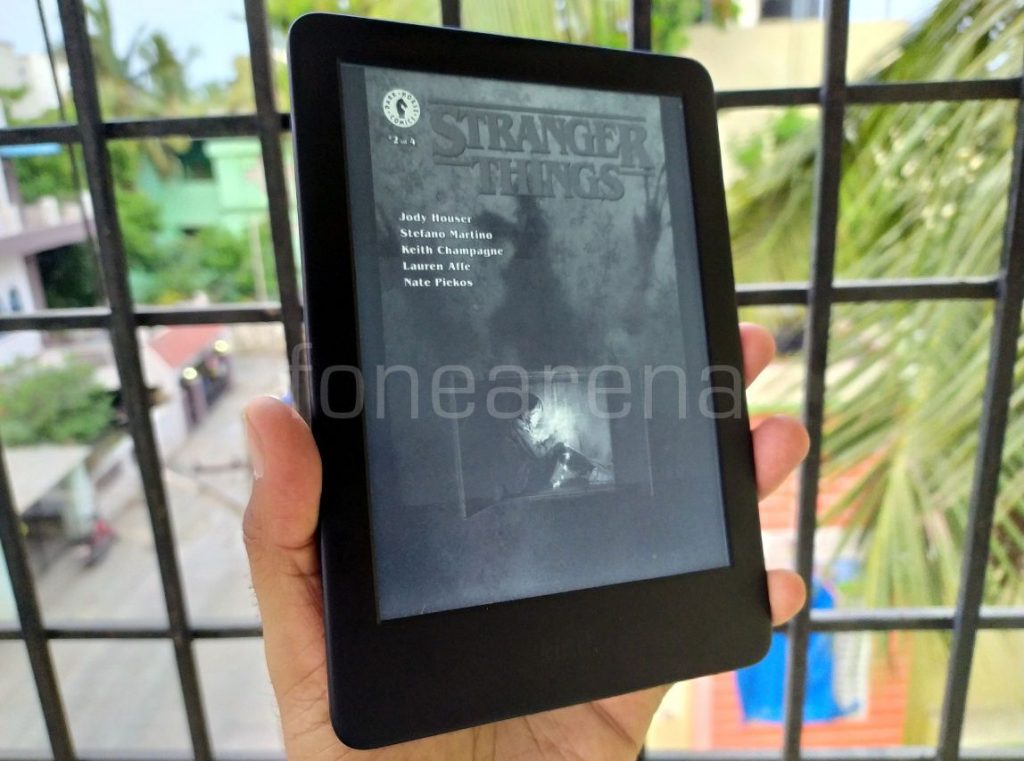 Coming to the software, the new Kindle has several features such as Goodreads integration, Page Flip that lets you preview other pages in a book without leaving your current page or losing your place, vocabulary builder, dictionary definitions within texts, X-Ray, which gives you a list of the people, places and things in an ebook, and lists them all in a book.
Similar to other Kindles, it supports Kindle Format 8 (AZW3), Kindle (AZW), TXT, PDF, unprotected MOBI and PRC natively, while HTML DOC, DOCX, JPEG, GIF, PNG, PMP are supported through conversion. Similar to other Kindles Large PDF files with images takes time to load and zoom.
Performance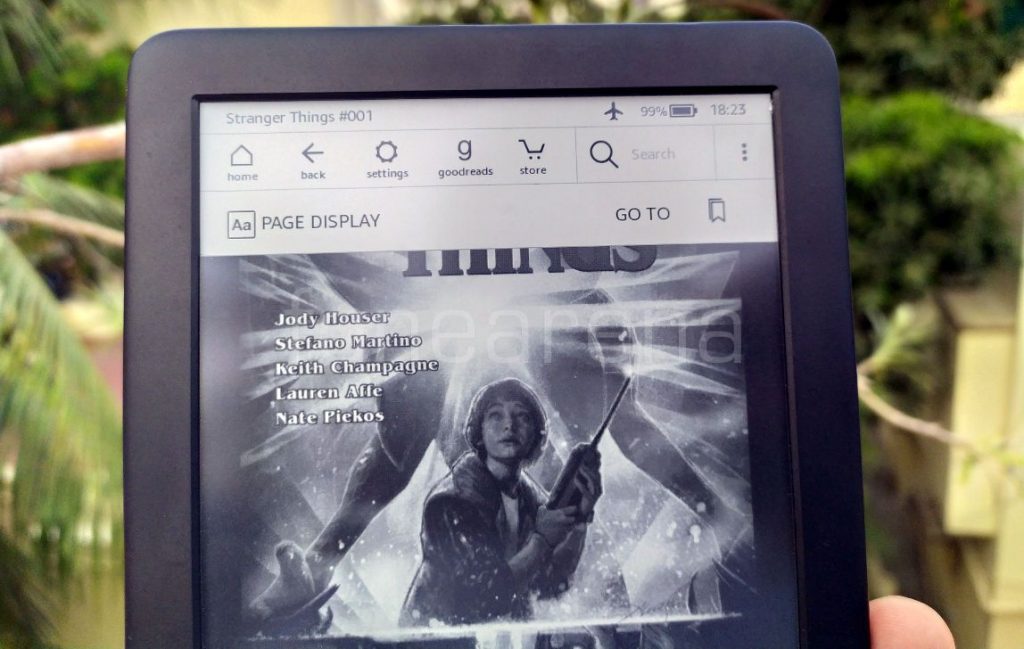 The new Kindle is powered by NXP 6SLL (800MHz/1GHz Cortex-A9 ) processor with 512MB of RAM. There is 4GB of internal storage version, out of which you get about 2.6GB of free space to store thousands of books. It doesn't come in another versions like the Paperwhite or Oasis. Reading the real-life performance, the page turns and loading speeding is quick, but I felt that it was not as quick as my old Kindle Voyage.
It comes with WiFi 802.11 b/g/n support and also features Bluetooth support with VoiceView screen reader works well with a Bluetooth-enabled device like headphones or a speaker, however, it doesn't support playback of Audible audiobooks in India yet.
As usual, you get excellent battery life, thanks to the 1040mAh battery. Amazon promises up to 4 weeks (wireless off) of battery life with half an hour reading with brightness at 13. With brightness settings at 10, I was able to finish reading few comics and two books (around 300 pages) during my usage after it needed a charge. Kindle also shows battery percentage now, so it is easy to keep track.
Conclusion
At a price of Rs. 7999, this is the best Kindle with a built-in light you can get for the price. It is available on Amazon.in. The company will likely offer it at a discounted rate during the Amazon Prime Day sale next month, so if you are a Prime member, wait for it to get it at a cheaper rate. If you need a high-resolution screen, more storage and a waterproof body, go for the new Paperwhite, if you can spend more.